Buttery, tender, and delicious, these easy-baked scallops come together with 4 ingredients in just 15 minutes. Serve them as a tasty appetizer, or pair them with risotto, steak, and vegetables for a complete meal!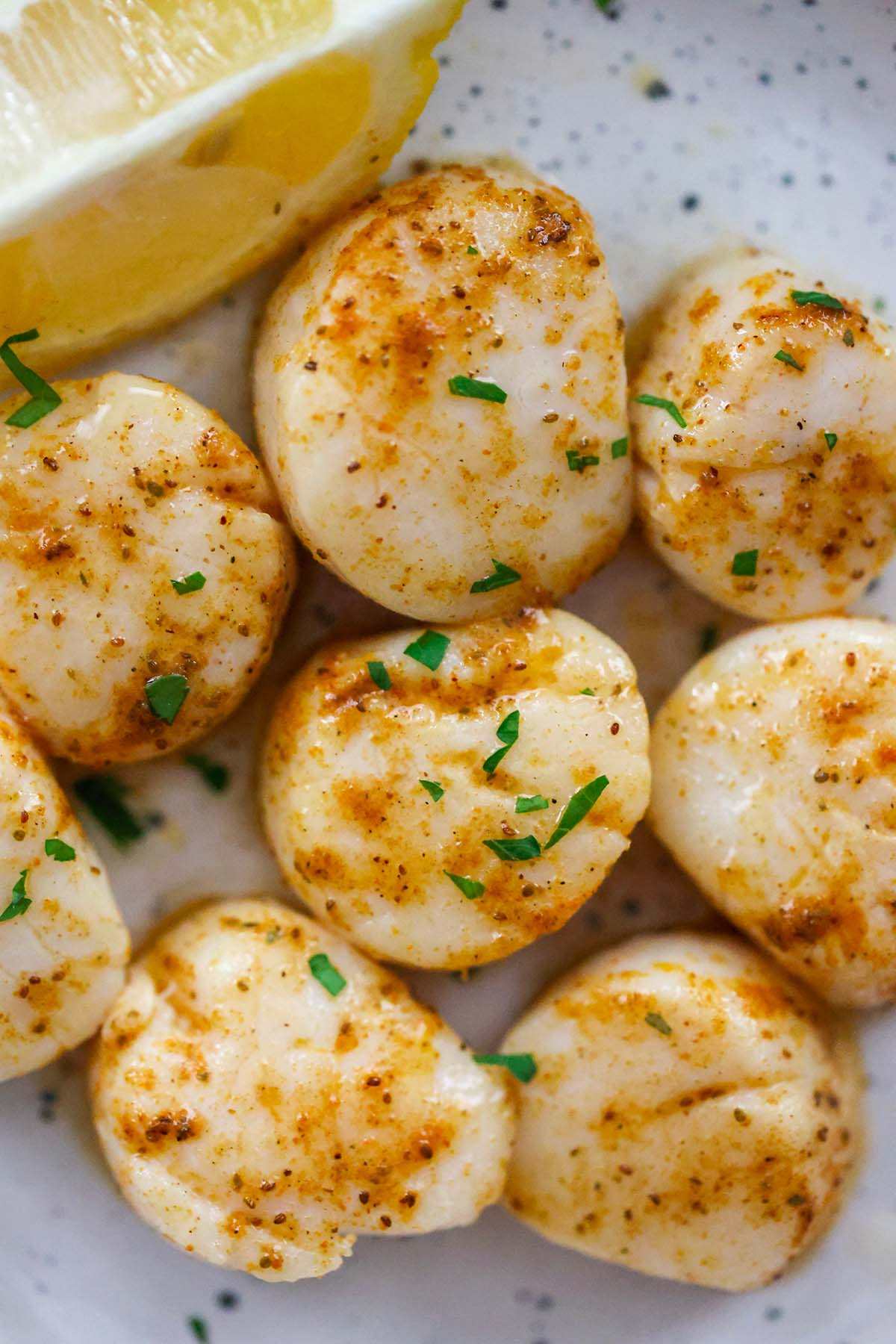 If you think baked scallops are a fancy dish reserved only for high-end restaurants, think again! Contrary to popular belief, they're unbelievably easy to make and super versatile, too. Over the years, I've tried every preparation method including baking, pan-searing, air frying, deep frying, and more. However, baking is the easiest method by far and yields incredibly delicious, tender scallops!
Ingredients You'll Need
One of the best things about baked scallops is that they only require a couple of pantry staples you probably already have on hand. Here's what you'll need:
Scallops – Fresh or frozen sea scallops work for this recipe and taste great. Just be sure to thaw them completely, if using frozen.
Old Bay Seasoning – Adds so much flavor but feel free to use just salt and pepper if you prefer.
Unsalted Butter – It's crucial to use unsalted butter to avoid overpowering the baked scallops. If needed, opt for dairy-free butter or ghee.
Lemon – Optional but it goes great with seafood.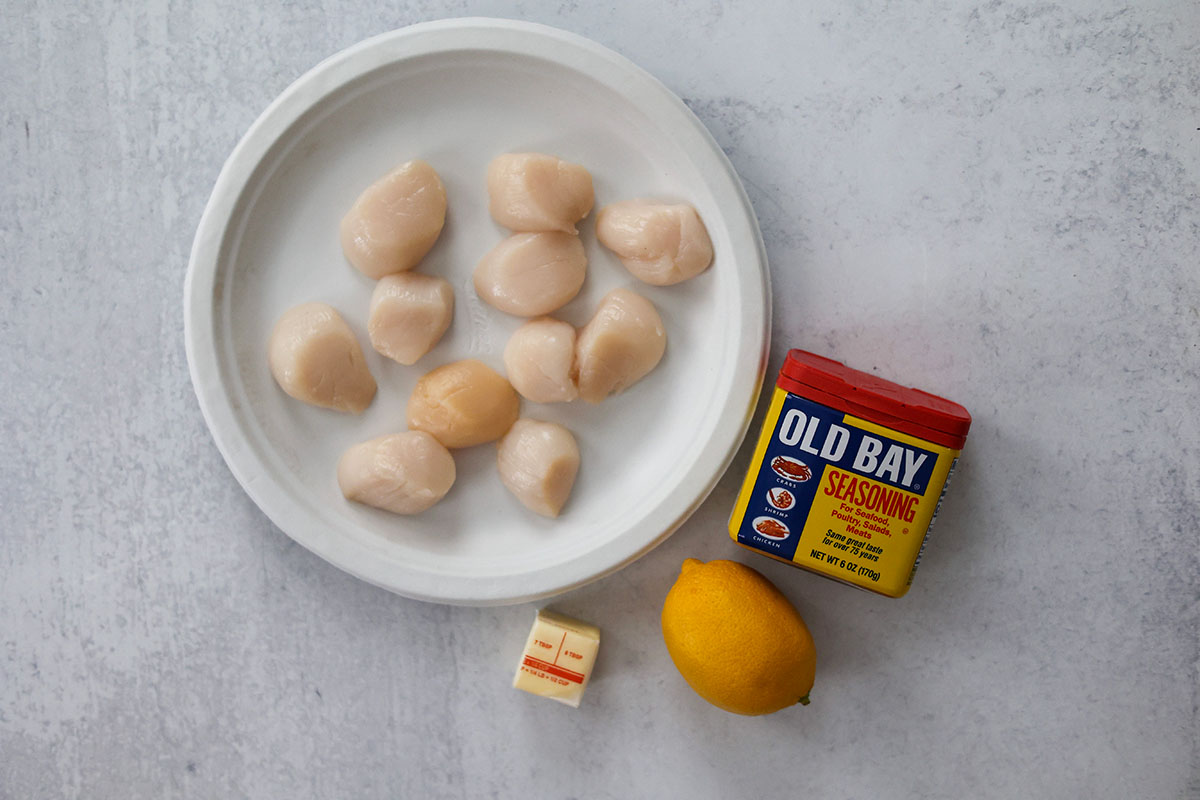 Top Tips For The Ultimate Baked Scallops
It's crucial to prepare your scallops and remove the small muscle located on the side before baking. Fibrous and rectangular or crescent-shaped, it's not pleasant to bite into. Luckily, it's easy to discard! Just pinch the muscle flap between your thumb and index finger, and gently pull it away from the scallop.
Make sure the scallops are all about the same size so they cook evenly.
Season your scallops on both sides for maximum flavor!
To lighten up the dish and create the perfect balance of flavor, garnish your baked scalloped with fresh herbs like parsley, chives, thyme, dill, or tarragon.
To emulate your favorite restaurant and create a fancy dinner, serve your scallops with lemon wedges and melted butter on the side.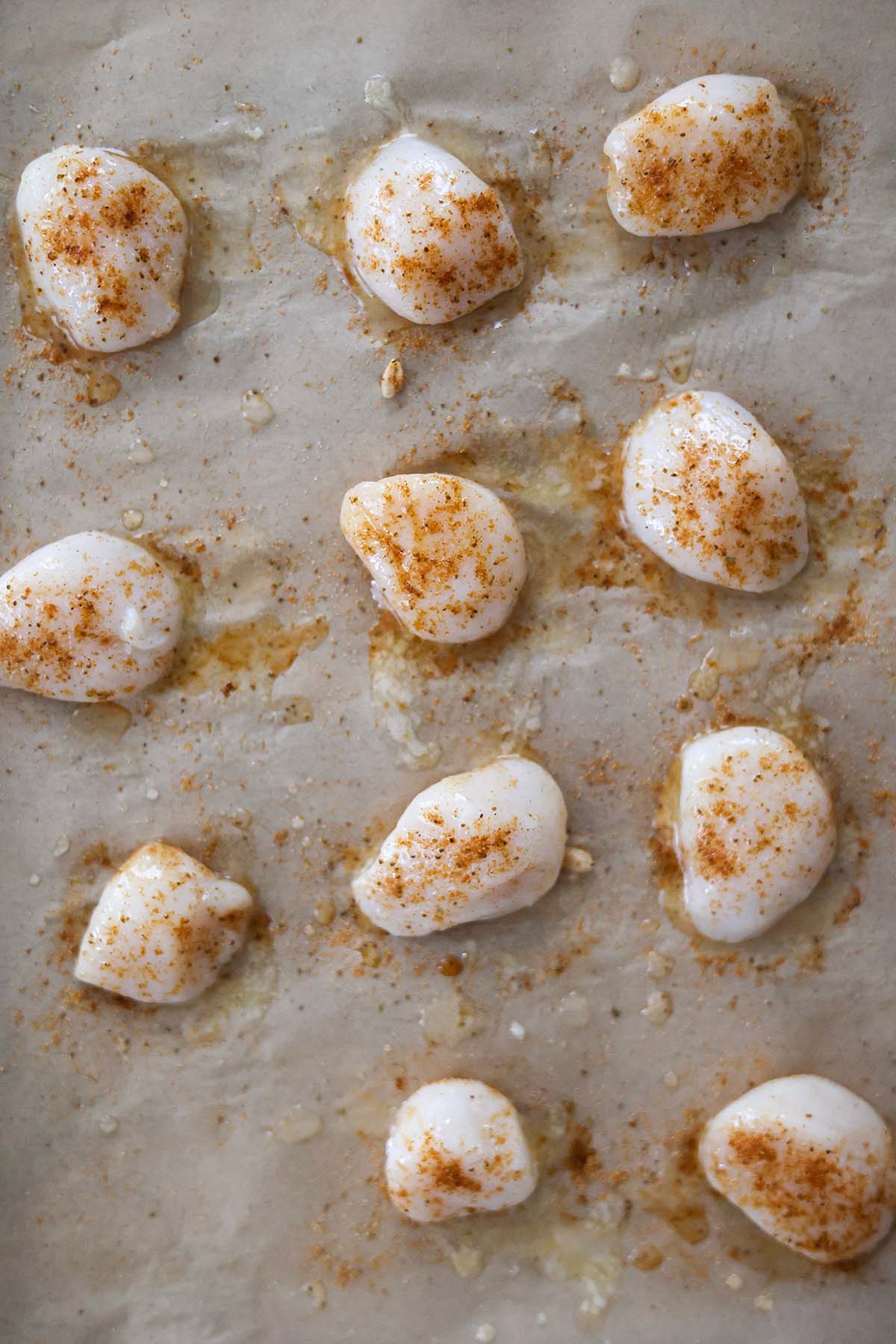 Sea Scallops vs Bay Scallops
Commonly confused, sea scallops and bay scallops are not the same things. Sea scallops are most commonly found in restaurants and are much larger than bay scallops. They're caught all year long in cold, deep waters and range from 1 ½ – 2 inches in diameter. Due to their larger size, they tend to be slightly chewier than bay scallops.
On the other hand, bay scallops are caught in shallow cold waters and average to be roughly ½ inch diameter in size. As a result of their smaller size, they tend to have a much more tender texture and sweeter flavor and cook even faster than sea scallops.
For this baked scallops recipe, I use sea scallops for a slightly more robust flavor. Personally, I recommend using bay scallops in dishes like pasta and this Tuscan Shrimp and Scallops recipe where they are not the main star and can easily be combined with other ingredients. However, if you prefer, bay scallops can be used, too. Just be sure to keep an eye on them in the oven, and be careful not to let them overcook!
Wet vs Dry Scallops
I always recommend using dry-packed scallops, because they taste sweet and natural. Wet scallops tend to taste a little soapy or bitter because they're brined in water and chemicals to help preserve them. Not to mention, they absorb the water in the package and tend to leach it out as they cook. This not only causes anything you're preparing with the scallops to become soggy but also makes them reduce roughly ⅓ in size.
How Long Do I Cook The Scallops For?
Of course, every oven will bake slightly differently. However, I have found the best results when I bake scallops at 400° Fahrenheit for 10-12 minutes or until they reach an internal temperature of 125-130 degrees. You'll know your baked scallops are done when they are no longer translucent in color and are firm but give just slightly when touched.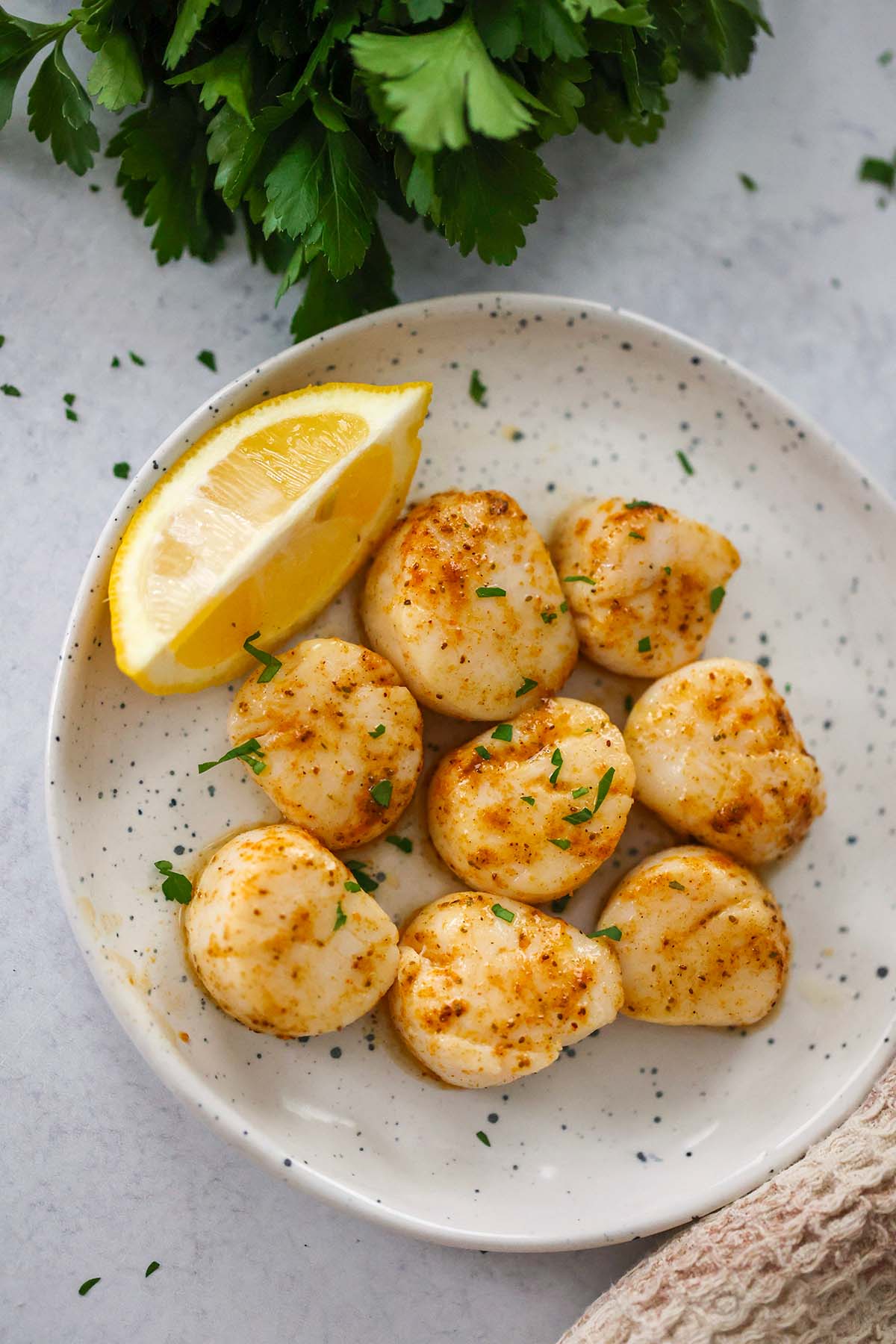 Storage
Baked scallops are best served right away while they're still warm. However, if you happen to have leftovers, you can transfer them to a shallow airtight container or wrap them with aluminum foil or plastic wrap. Stored properly, they will keep in the refrigerator for up to 3-4 days. However, I recommend eating them within two to prevent them from becoming rubbery.
If you don't plan on eating your leftovers within a couple of days, place them in the freezer instead! Baked scallops can be safely frozen in an airtight container or sealable bag for up to 2-3 months.
When you're ready to eat, let your baked scallops thaw in the freezer overnight. Then, allow them to come to room temperature. For the best results, reheat your leftovers in a skillet or covered in a baking dish in the oven at low heat until your desired temperature is reached. Check the internal temperature of the scallops to ensure they have reached somewhere between 125 – 140° Fahrenheit, and serve immediately.
More Recipes You Might Enjoy
Tried this recipe? Please leave a star ⭐️⭐️⭐️⭐️⭐️ rating in the recipe card below and/or a review in the comments section further down the page. And consider following me on Facebook or Pinterest!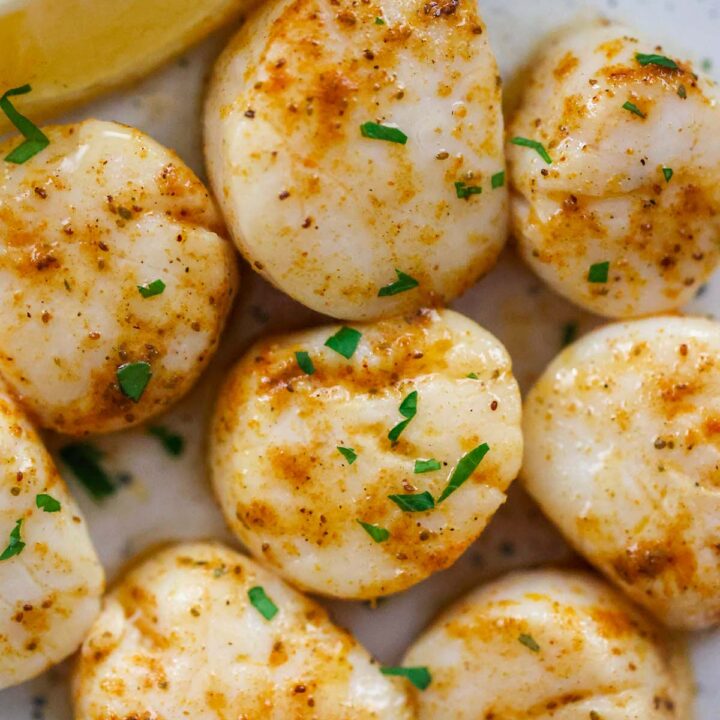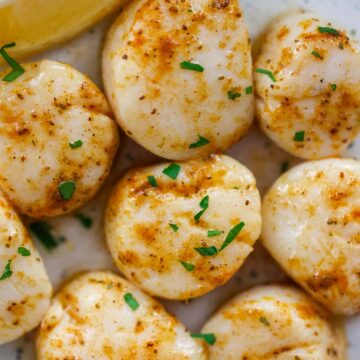 Print Recipe
Pin Recipe
These baked scallops are super easy to make and require just 4 ingredients! They're buttery, tender, and absolutely delicious!
Ingredients
1

lb

sea scallops

side muscle removed

2

tablespoons

unsalted butter

melted and slightly cooled

old bay seasoning

to taste

1

lemon
Instructions
Preheat your oven to 400 degrees F. and line a baking sheet with parchment paper.

Discard the small side muscle from each scallop and pat dry the scallops on both sides with a paper towel.

Brush each scallop with melted butter and squeeze a little bit of lemon juice over each scallop. Do this on both sides.

Season the scallops lightly on both sides with old bay seasoning.

Bake for 10-12 minutes or until the scallops reach an internal temperature of 125-130 degrees.

Serve with lemon wedges and garnish with fresh parsley if desired.
Notes
Season them on both sides for maximum flavor!
Discard the small muscle on the side and dry each scallop with a paper towel before seasoning.
Garnish the scallops with fresh herbs like parsley, chives, thyme, dill, or tarragon.
Make sure the scallops are all about the same size so they cook evenly.
Serve them with lemon wedges and melted butter on the side.
Nutrition
Calories:
128
kcal
|
Carbohydrates:
4
g
|
Protein:
14
g
|
Fat:
6
g
|
Saturated Fat:
4
g
|
Polyunsaturated Fat:
0.4
g
|
Monounsaturated Fat:
2
g
|
Trans Fat:
0.2
g
|
Cholesterol:
42
mg
|
Sodium:
445
mg
|
Potassium:
234
mg
|
Sugar:
0.01
g
|
Vitamin A:
178
IU
|
Calcium:
8
mg
|
Iron:
0.4
mg