This Southern Fried Shrimp recipe is easy, delicious, super easy to make. Crunchy on the outside and bursting with flavor. In about 15 minutes, from start to finish, you'll have a tasty meal of crispy seafood ready to go.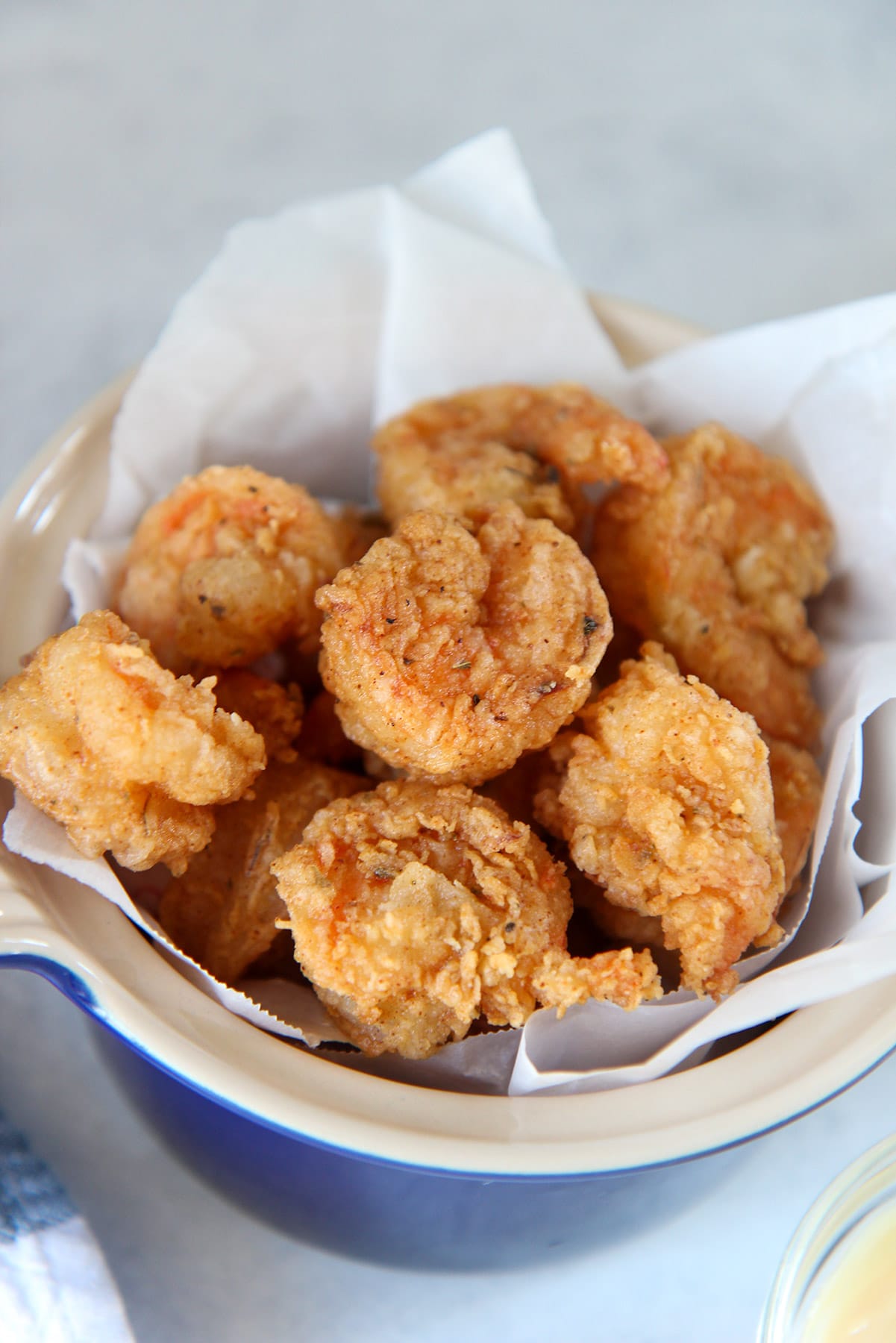 I don't know about you, but I'm obsessed with shrimp and a good majority of people would agree with me. Shrimp is an extremely popular food around the world, and apparently, it has been for thousands of years.
These shrimp are super crispy and I don't know about you but I prefer shrimp fried with just flour. I'm not a fan of a panko or cornmeal coating for fried shrimp.
I have countless shrimp recipes simply because I can't get enough of it and neither can my family. Some of our favorites we like to make often are Crunchy Honey Walnut Shrimp, Saucy Shrimp, and Honey Garlic Shrimp.
How to Make Southern Fried Shrimp
Soak the shrimp – In a large bowl, mix together the milk, ½ teaspoon salt, the black pepper, half the granulated garlic, half the paprika, and half of the oregano. Add in the shrimp and let soak for 10 minutes.
Coat the shrimp – Once the shrimp is finished soaking, shake free of excess milk. Mix together the remaining spices and flour on a plate and coat the shrimp well. Make sure you coat the shrimp really well with flour. Coat them several times with the seasoned flour. You should not be able to see the shrimp under the flour. 
Fry the shrimp – Heat the oil to 375 degrees and fry each batch of shrimp for about 1-2 minutes or until it's nice and crispy.
Serve – Allow the shrimp to cool a bit and serve!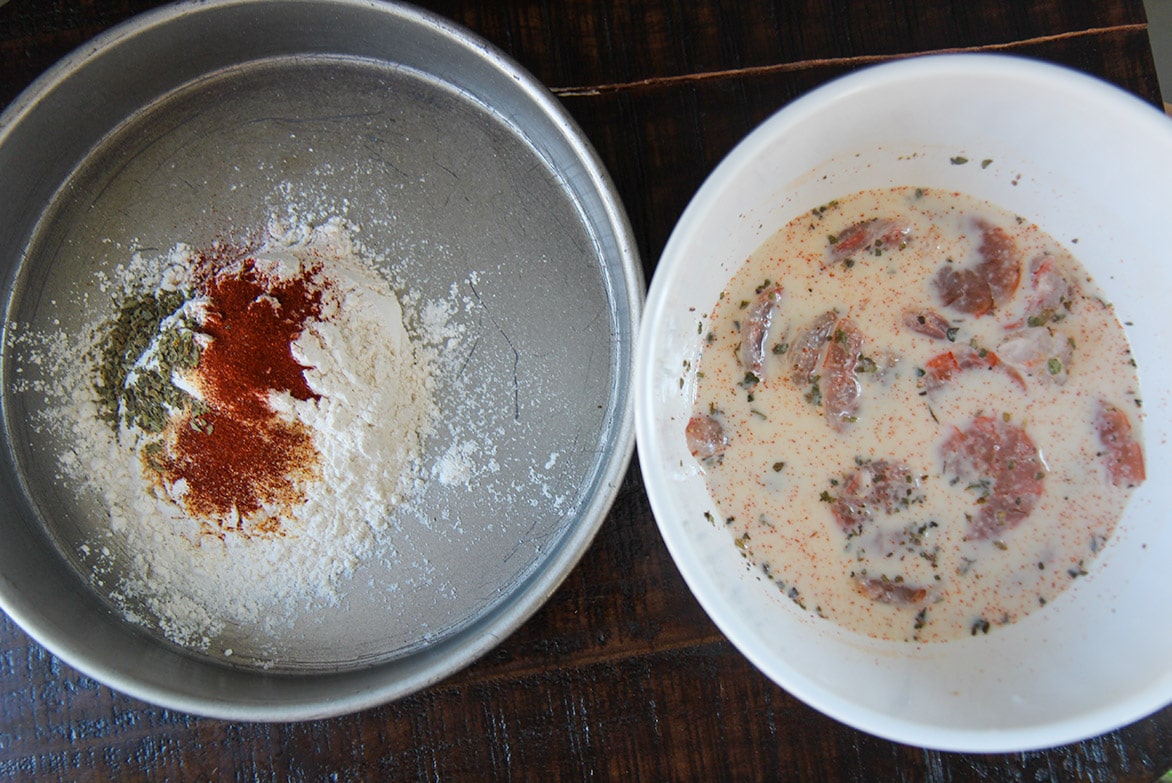 Recipe Tips and Variations
Serving sauces – If you enjoy dipping your shrimp in a sauce, you can serve these fried shrimp with honey mustard, tartar sauce, sriracha mayo, etc. I served it with honey mustard. 
Use uncooked shrimp –

 

In order for your shrimp to really soak up flavor, they need to be the uncooked kind you get from the store. If they're already pink in the package, this means they're cooked and won't really soak up any flavor through the prepping process. If the shrimp are a grey color, then those are the kind you're looking for. Be sure they're deveined and peeled for your convenience. 
Make it spicy – Add some cayenne pepper to the recipe for extra spice.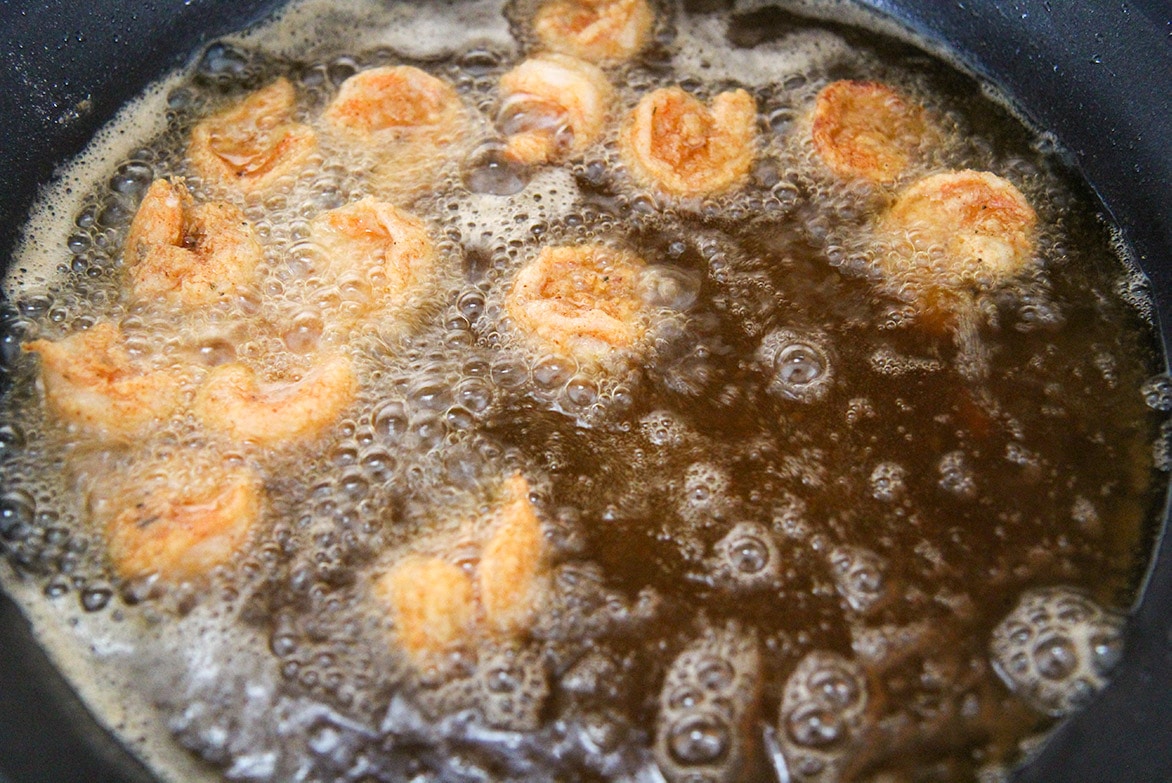 Can You Fry Already Cooked Shrimp?
Of course, you can! Already cooked shrimp is, well, already cooked, so you don't have to wonder if it's already finished. However, for this recipe, it's much better, flavor-wise, to use uncooked shrimp. It's definitely up to you on whether or not you want to use cooked shrimp. I just like to use uncooked because it allows the flavors to soak into the shrimp more for a better flavor.
Top Tip: 
Serve these with honey mustard! So good.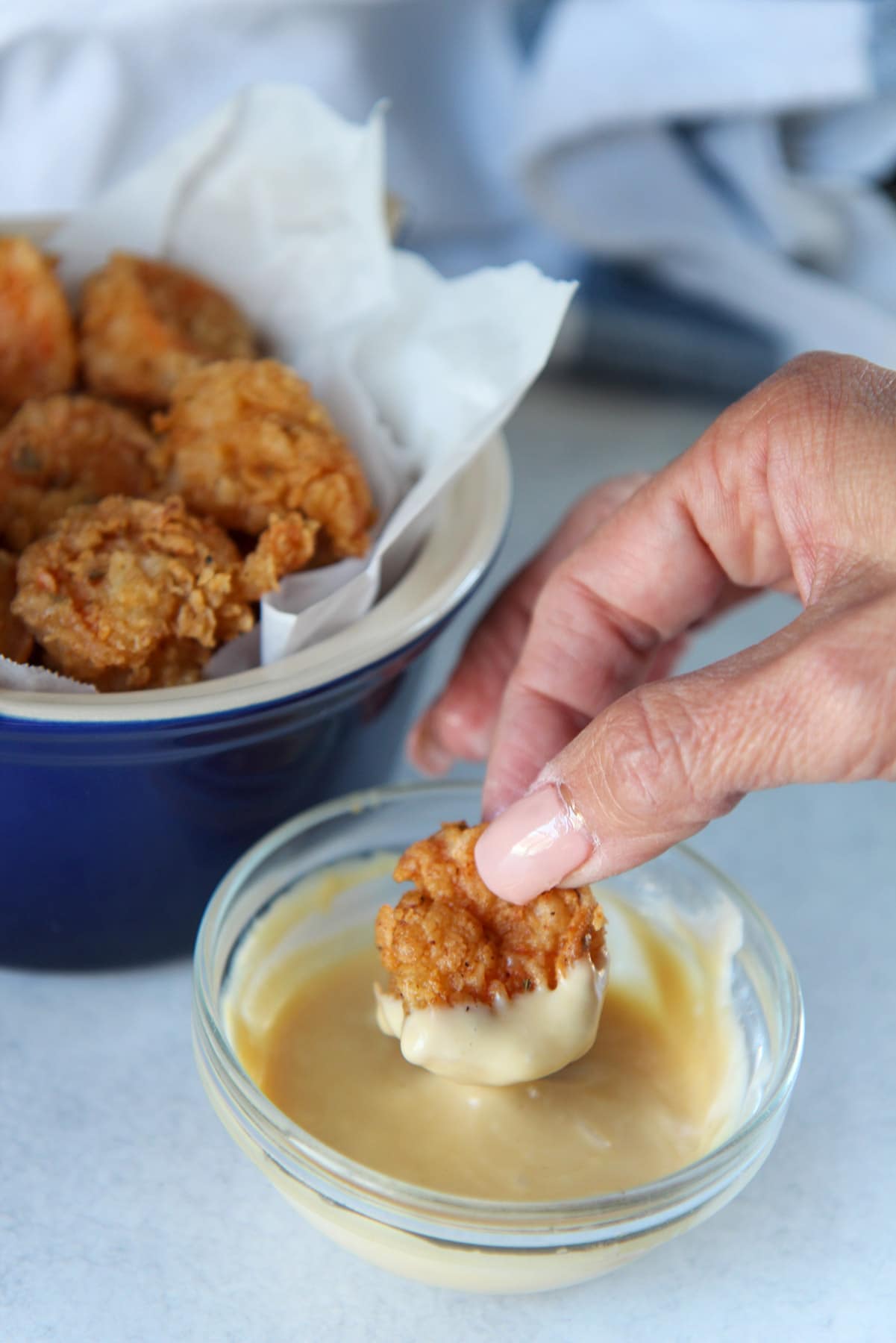 What Goes Good with Southern Fried Shrimp?
Crispy shrimp go well with so many sides. However, there are certain sides that are more popular than others when it comes to shrimp. Some of these sides include Creamy Coleslaw (if you like spicy, try this Creamy Sriracha Coleslaw), Corn on the Cob, Creamed Corn, or even Cheesy Corn. Of course, you can't forget the Hush Puppies, and while you're at it, throw in some Cheese Garlic Biscuits, Deep Fried Mac n Cheese Balls, Honey Jalapeno Cheddar Cornbread, or a Tomato Avocado Salad. You can even use the shrimp to make another meal altogether. For example, you can use your shrimp to make a po'boy sandwich, shrimp salad, sliders, etc. So many ideas and ways to use shrimp – it's crazy!
You can find more delicious recipes and cooking tutorial videos on Youtube and Facebook.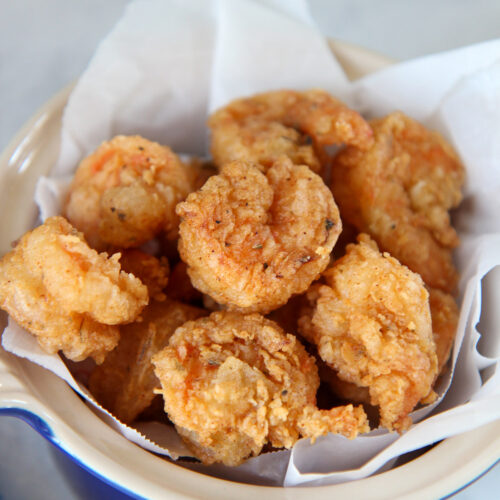 Print Recipe
Pin Recipe
Crunchy flavorful shrimp fried to perfection. Dip these in honey mustard or serve as a main entree.
Ingredients
1

lb

raw shrimp

peeled and deveined

1

cup

all-purpose flour

1 1/2

tsp

salt

or to taste

1/2

tsp

black pepper

or to taste

2

tsp

granulated garlic

2

tsp

paprika

2

tsp

oregano

1/2

cup

whole milk

oil, for frying
Instructions
Add the milk, 1/2 tsp salt, 1 tsp oregano, 1 tsp paprika, 1 tsp granulated garlic, and shrimp to a large bowl and let it sit for 10 minutes.

Season the all purpose flour with the remaining salt, paprika, oregano, granulated garlic, and black pepper.

Remove the shrimp from the milk mixture and coat well with the seasoned flour. Make sure to coat the shrimp really well with lots of seasoned flour. You should not be able to see the shrimp under the flour.

Fry the shrimp for 3-4 minutes or until crispy in oil. The oil should be about 375 degrees F.

Remove the shrimp from the oil and place it on a plate with paper towel.

Serve immediately and enjoy.
Nutrition
Calories:
171
kcal
|
Carbohydrates:
18
g
|
Protein:
19
g
|
Fat:
2
g
|
Saturated Fat:
1
g
|
Cholesterol:
193
mg
|
Sodium:
1179
mg
|
Potassium:
139
mg
|
Fiber:
1
g
|
Sugar:
1
g
|
Vitamin A:
411
IU
|
Vitamin C:
3
mg
|
Calcium:
143
mg
|
Iron:
3
mg