Learn how to bake bacon in the oven, and cut your breakfast or dinner preparation in half. No more standing at the skillet waiting for a few pieces to fry at a time. When prepared in the oven, bacon turns out just as good as when it's fried and makes less mess!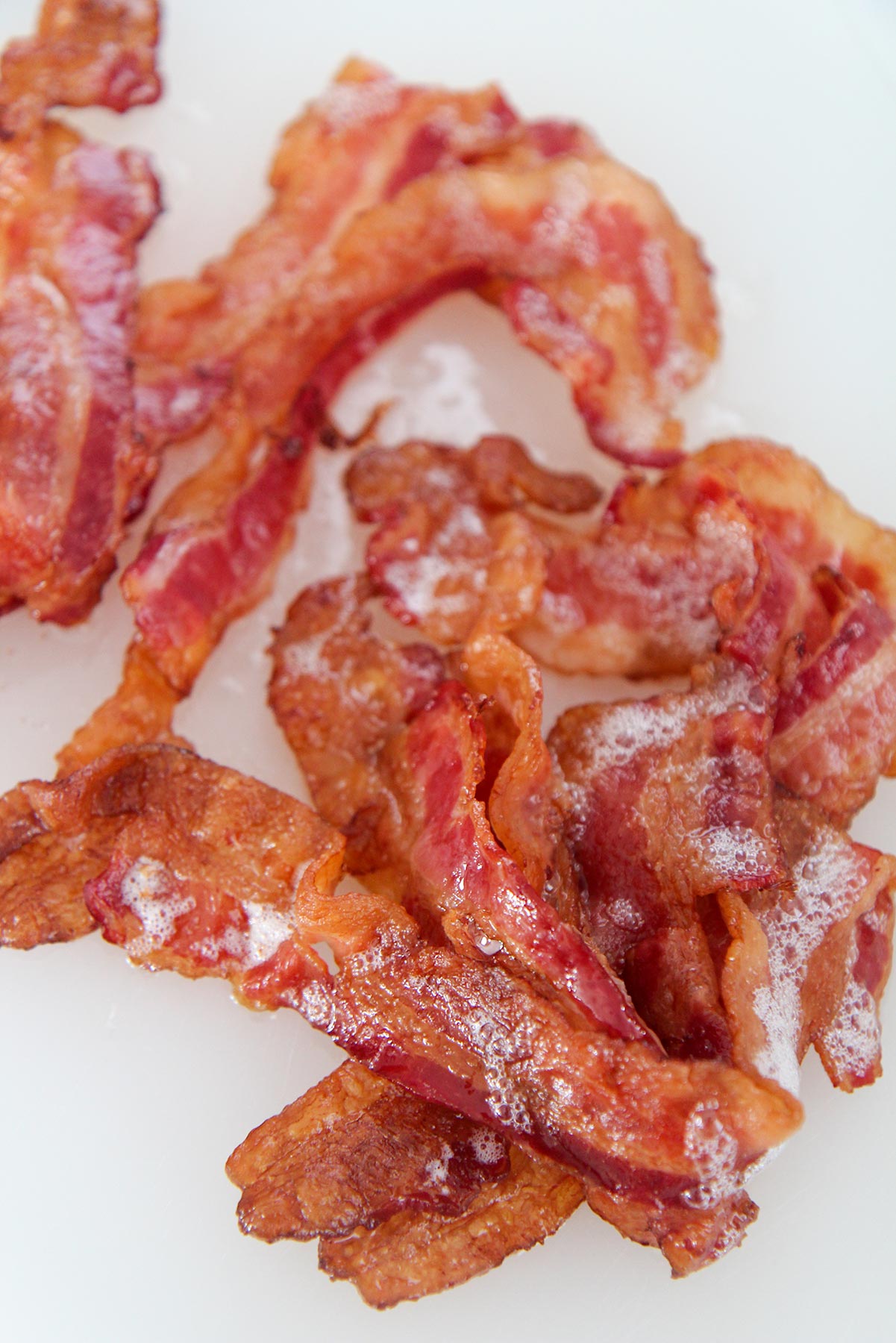 Some of my favorite recipes include bacon therefore I cook it often. Bacon and Corn Pancakes are my absolute favorite! Creamy Chicken and Bacon Pasta is another favorite of mine.
It may sound surprising, but many people don't know how to bake bacon. In fact, quite a few people didn't even know it was possible. That's definitely understandable since most of us grew up with bacon being fried in a skillet.
This method feels like it takes forever because you can only do a few pieces at a time. 
Let's be real here though if there's a way to not have to stand there for a long period of time just waiting for the bacon to finish, I'm going to take it.
How To Bake Bacon In The Oven
There are a couple of different ways you can do this. Depending on how you prefer your bacon will decide on which method you choose.
Foil – Bacon is crispy around the outside and a little chewy in the middle. Makes for easier cleanup.
Wire Rack – Bacon is extra crispy with no chewiness. It allows for an easier cleanup due to still using foil.
Parchment Paper – Allows the bacon to be super crispy and cook quicker in its own grease. This is personally my favorite method. 

Steps 
Prep – Preheat the oven to 400 degrees F. Place parchment paper over an average baking sheet. Arrange the bacon slices side by side touching slightly. 
Bake – Place the bacon in the oven and bake for 15 minutes or until your desired crispness. I believe 15 minutes will give you perfect crispy bacon. 
Drain – Place the bacon on a plate or platter covered in paper towels and allow to drain and cool a bit.
Serve – Once the bacon has drained for a few minutes, it will be cool enough to eat. Serve with your favorite breakfast or on a burger, etc. and enjoy!
Top Tips and Variations 
Adjust baking time – Depending on the type of bacon you use, you'll want to start checking the oven around 14-15 minutes into baking. If you're cooking thick bacon, it will probably take the entire time, if not longer, to bake properly. However, thinner bacon will cook quicker. Plus, you'll want to check to ensure your level of crispness is being accomplished. If you like it chewier, cook it less.
Always preheat your oven. You never want to bake anything in a cold oven.
Save the bacon grease to saute some onions and garlic for future recipes.
Want to make some candied bacon? Add some brown sugar or maple syrup on top of the bacon before baking.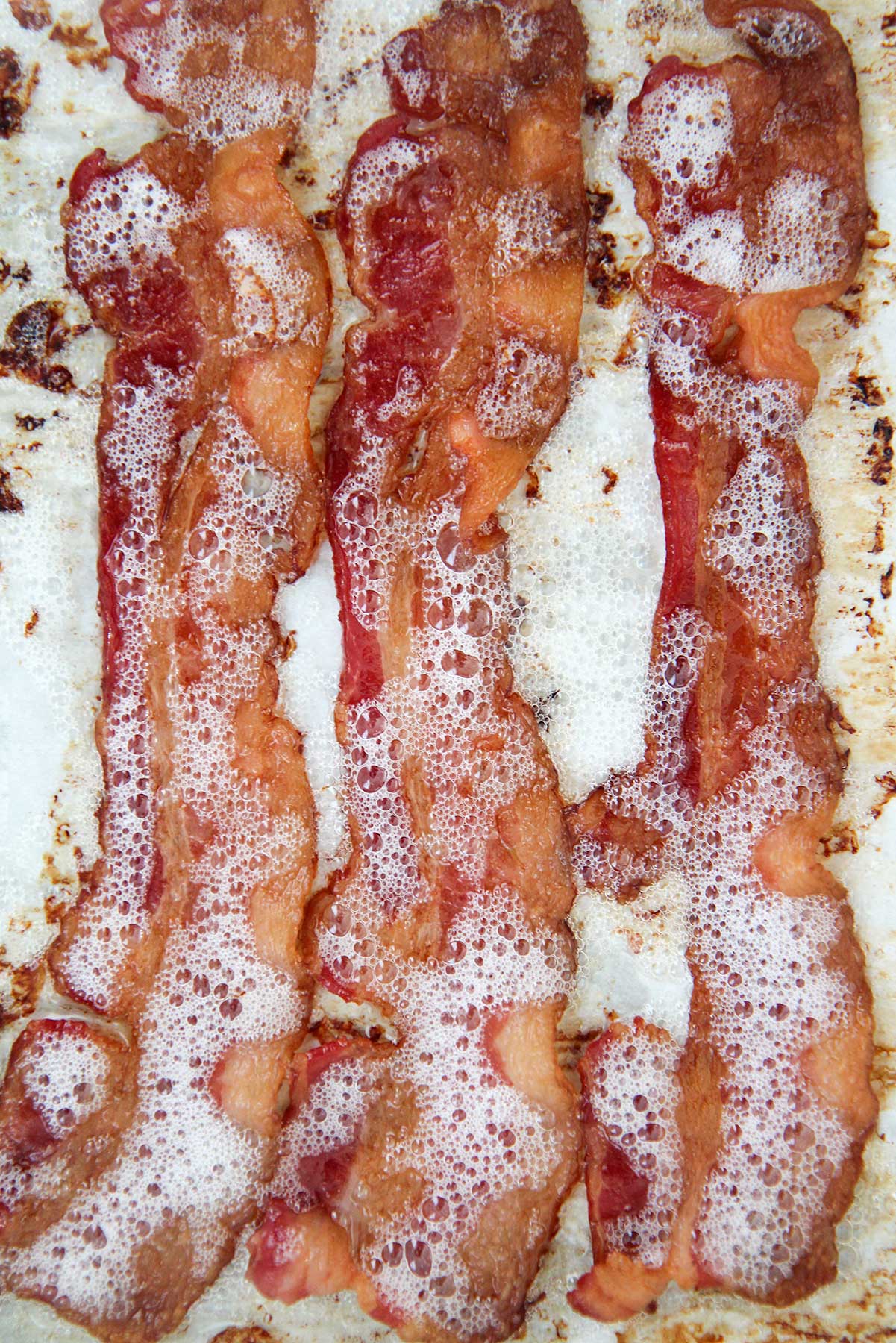 What Temperature Should Bacon Be Cooked To?
It should reach at least 145 degrees Fahrenheit and rest for three minutes before it's consumed. I don't know how many times I've consumed bacon before it's sat for three minutes – whoops. So, baking your bacon based on the directions above should make it perfectly safe to consume.
A Little History…
Did you know bacon can be found throughout history as far back as 1500 B.C.? The Romans even called it "petaso," which was the recipe that was actually carried across the world.
It eventually became the bacon we know and love today. They actually used to boil their bacon instead of fry it. So, bacon has been prepared a great many ways throughout history, but the most popular method was frying.
I definitely love fried bacon and I was pleasantly surprised when I found that baked bacon was just as delicious.
You can find more delicious recipes and cooking tutorial videos on Youtube and Facebook.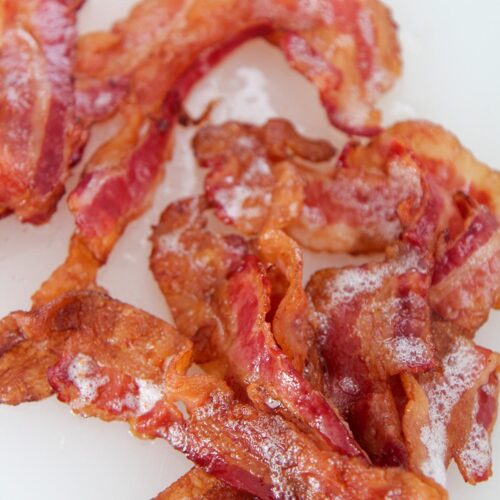 How to Bake Bacon in the Oven
Print Recipe
Pin Recipe
Cooking bacon has never been easier. If you love crispy bacon and want it cooked perfectly every single time then you must bake it. Oven baked bacon is an easy method and fail-proof.
Equipment
baking sheet

Parchment Paper
Instructions
Preheat oven to 400 degrees F.

Line a baking sheet with parchment paper. Place the bacon on the baking sheet and bake for 15 minutes or until crispy.
Nutrition
Calories:
473
kcal
|
Carbohydrates:
1
g
|
Protein:
14
g
|
Fat:
45
g
|
Saturated Fat:
15
g
|
Cholesterol:
75
mg
|
Sodium:
751
mg
|
Potassium:
225
mg
|
Vitamin A:
42
IU
|
Calcium:
6
mg
|
Iron:
1
mg