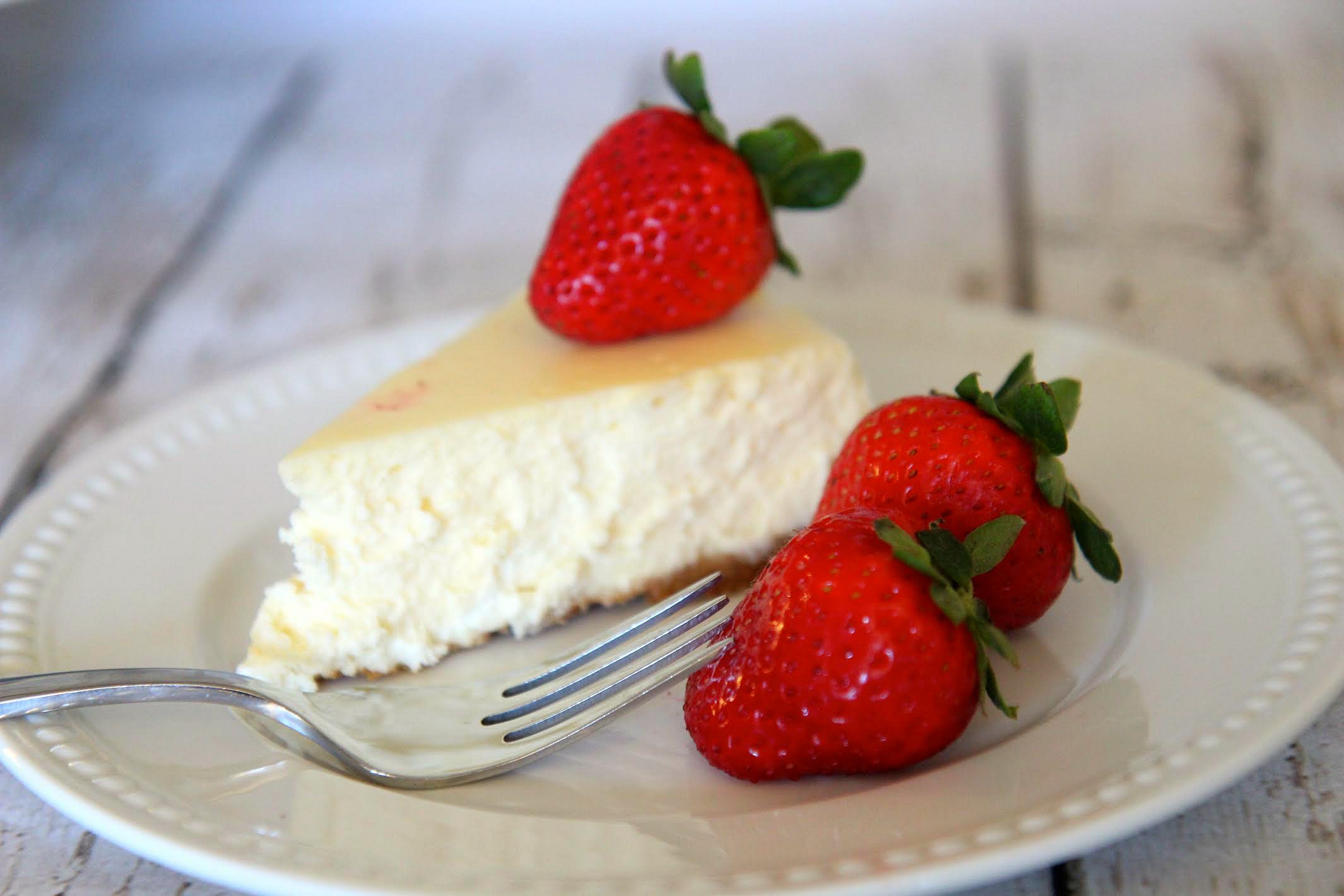 This is the best cheesecake I've ever made hands down. I can say that about all of the cheesecakes I make because I use this base for every single recipe. I love how creamy and rich this cheesecake is. This isn't a crumbly dry cheesecake so be prepared to eat the most delicious, creamy cheesecake ever.
This cheesecake doesn't crack because we prepare a water bath and adjust the baking temperatures etc. You may think "who cares no one is going to see the crack if I cover it up with whipped cream or fruit", sure but you will know. I can't explain how pleased I was with myself the first time I made a crackless cheesecake. I don't care that crackless isn't a word. I'm going to use it.
Plus think about it, you probably make cheesecake once or twice a year so why not make it perfect? Plus, you can show off to friends and family. A delicious, creamy, rich cheesecake that doesn't crack. They'll be all over you.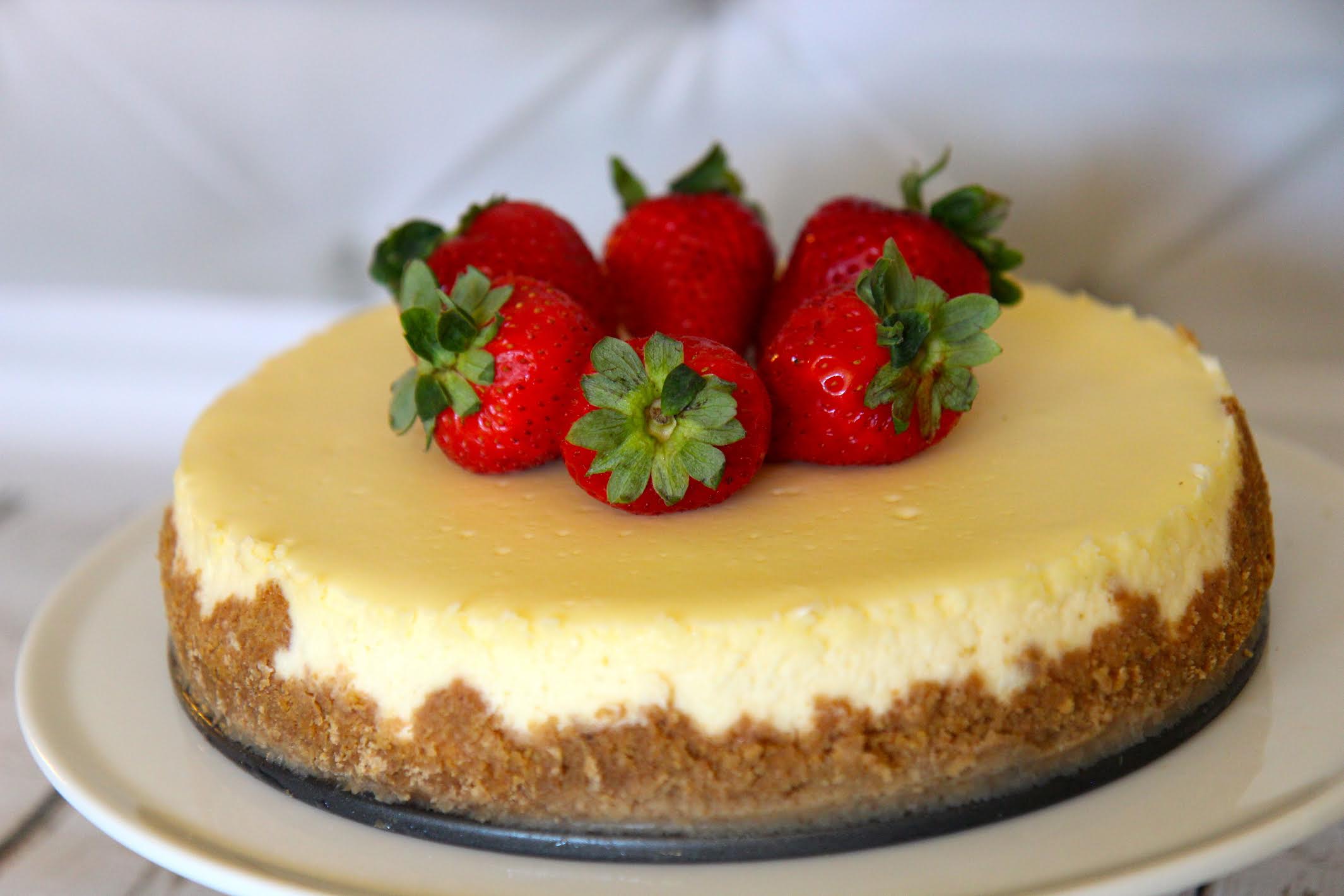 Ok, before I continue bragging about this cheesecake, I'm pretty sure you've noticed the ridiculous crooked crust. Haha, don't know what I was going for. Definitely, need to work on a perfectly even crust.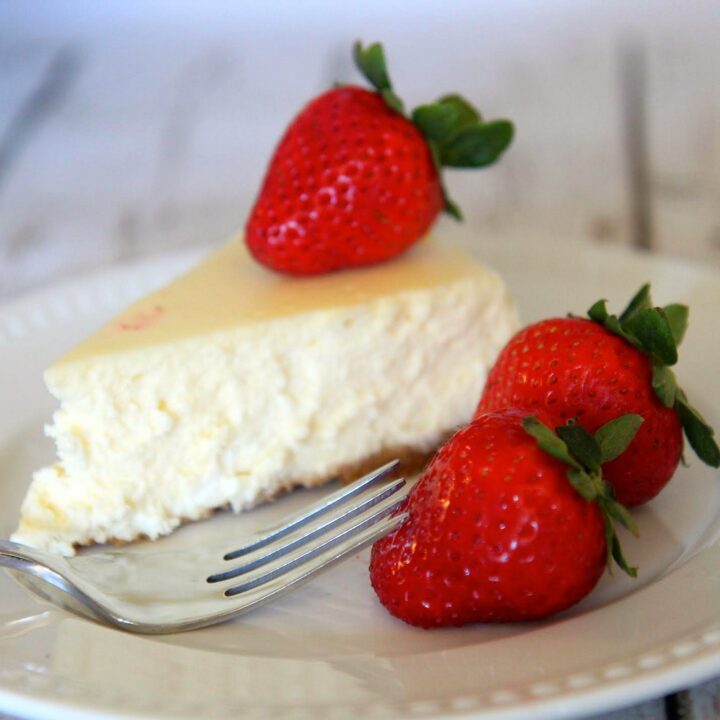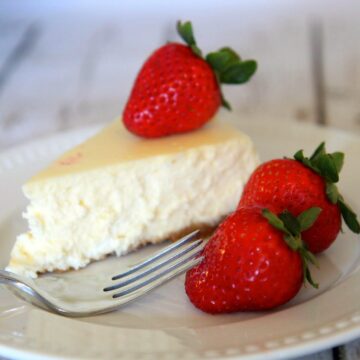 Print Recipe
Pin Recipe
If you love a good ole plain cheesecake, this is the BEST cheesecake recipe you'll find! Light, sweet, and creamy, it makes for the perfect simple dessert. Serve with fresh berries or chocolate drizzle for a delicious dessert.
Ingredients
Crust
1 1/2

cups

graham crackers

7

tbsp

unsalted butter
Filling
24

ounces

softened cream cheese

1

cup

sugar

1

cup

sour cream

3

eggs

1

tsp

vanilla extract
Instructions
Preheat oven to 325 F.

Wrap an 8-inch springform pan with aluminum foil, Set aside.

Add melted butter to the graham cookie crumbs and press onto the bottom of an 8-in. spring form pan, Set aside.

For filling, beat the softened cream cheese until smooth.

Add sugar, sour cream, and vanilla and mix until well incorporated.

Add the eggs one at a time and mix until incorporated, do not overmix.

Pour the filling over the crust.

To prepare the water bath, place the 8-inch springform pan into a larger baking dish and pour in some boiling water, about 1 inch of water.

Place the cheesecake in the prepared water bath in the oven and let it bake for 10 minutes.

1Ten minutes later reduce the heat to 300 F and let it bake for an additional 1 hour and 15 minutes.

1Turn the oven off and let it sit in the oven for 30 minutes.

1Open the oven doors slightly and let it sit for an additional 10 minutes.

1Carefully remove cheesecake from water bath and run a knife along the sides

1Let the cheesecake cool at room temperature for about 1 hour and then place it in the fridge for a minimum of 4 hours.

1Decorate it with fresh strawberries, if desired and enjoy!
Nutrition
Calories:
628
kcal
|
Carbohydrates:
42
g
|
Protein:
8
g
|
Fat:
48
g
|
Saturated Fat:
26
g
|
Cholesterol:
196
mg
|
Sodium:
432
mg
|
Potassium:
210
mg
|
Sugar:
32
g
|
Vitamin A:
1720
IU
|
Vitamin C:
0.2
mg
|
Calcium:
141
mg
|
Iron:
1.4
mg