Make these rich and delicious red velvet cupcakes any time of the year. No need to wait until Valentine's Day or Christmas to enjoy a moist and decadent treat like this. Top them off with a homemade cream cheese frosting and you've got the perfect cupcake.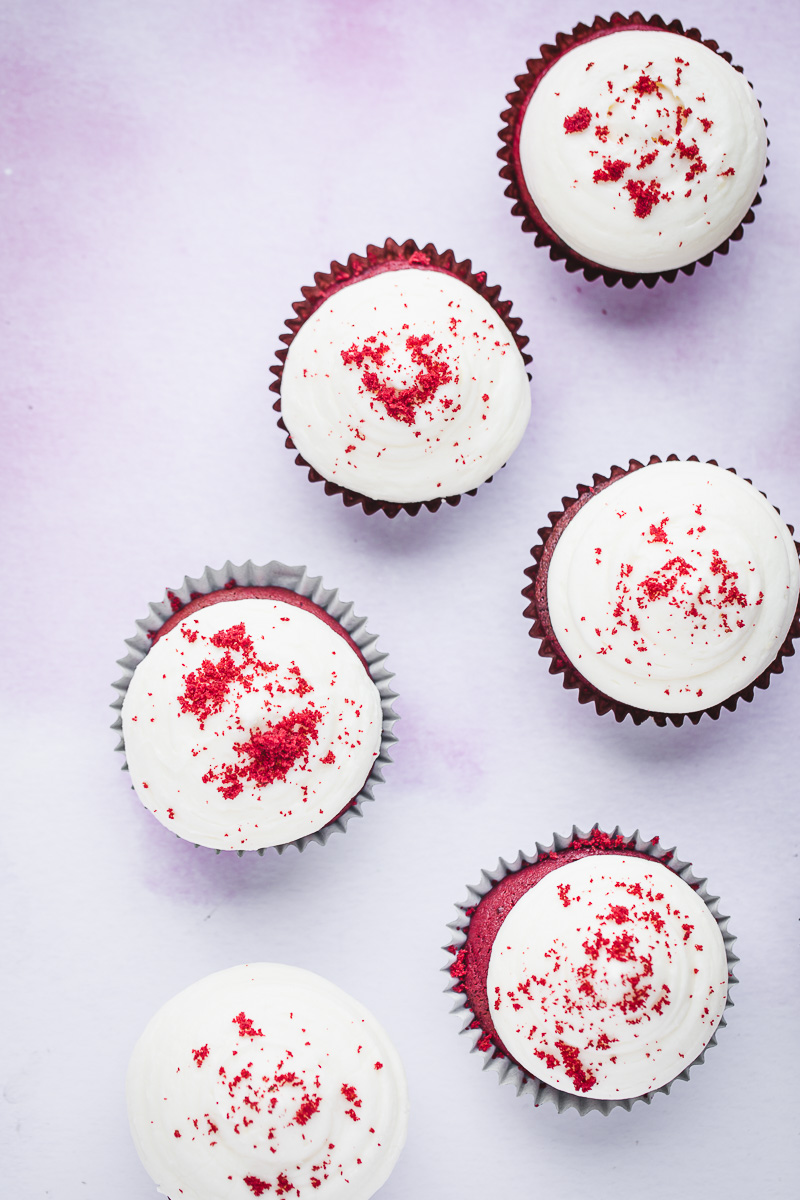 What I love most about these cupcakes is the fact that they are super pretty and kind of taste like chocolate. I highly recommend topping these off with cream cheese frosting because that's what makes these super delicious. Whatever you do, do not overbake these. Perfectly baked cupcakes should be super moist.
How Do You Make These? 
You'll never find an easier red velvet cupcake recipe, here's all you have to do:
Prep – Preheat the oven to 350 degrees.
Start the batter – In a bowl, mix together the cocoa powder, flour, and salt. In another bowl, mix together the eggs, oil, milk, sugar, vanilla, and red food coloring.
Finish the batter – Mix the two bowls of ingredients together. In a small bowl, combine the vinegar and baking soda until foamed up, then add it to the batter.
Bake – Scoop the batter into the cupcake liners and bake for 18-20 minutes or until a toothpick comes out clean.
Make the frosting – In a bowl, mix the softened unsalted butter and cream cheese together for a couple of minutes or until light and fluffy. Add the rest of the ingredients and thoroughly mix again.
Frost the cupcakes – Wait for the cupcakes to thoroughly cool, then use a frosting bag to frost each cupcake.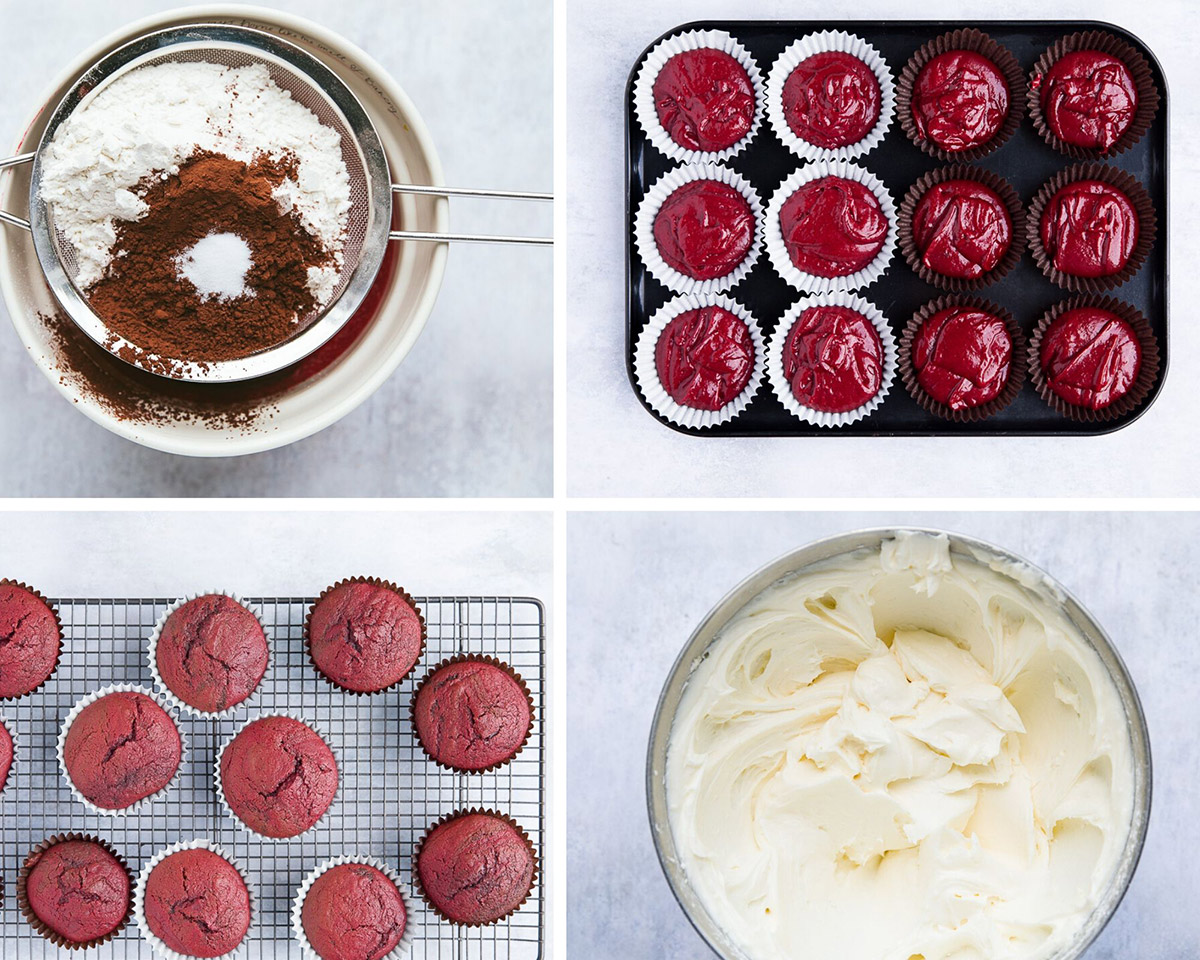 Recipe Tips and Variations
Storage – Store in a cake keeper or airtight container in a cool, dry spot for up to 4 days. You can also store in the fridge for up to 2 weeks in an airtight container. Store in the freezer for up to 3 months in an airtight container.
Reheating – You'll want to let the Red Velvet Cupcakes come to room temperature on their own, whether they're coming from the fridge or freezer. Reheating them in the oven or microwave will melt the frosting and make a mess.
Apple Cider Vinegar Substitute – If you don't have apple cider vinegar, you can always use white vinegar in a pinch.
Garnish Ideas – If you want to add something to the top of the cupcakes, sprinkles are always a great idea. You can also do mini chocolate chips, chocolate shavings, etc.
Make sure to let the cupcakes cool completely before frosting.
Make them different colors – If you want a velvet cupcake of a different color, swap out the red food dye for the color of your choice. Some fun ideas are blue, pink, purple, etc.
What is the Red Velvet Flavor?
The red velvet flavor is a unique combination of vinegar, cocoa powder, and buttermilk. You don't often find these three ingredients together when making cupcakes or cake even. They come together to make the velvety texture that we all know and love in recipes like these red velvet cupcakes.
Why is My Red Velvet Not Red?
When done so naturally, red velvet doesn't turn out a bright red as is commonly seen. It usually ends up with a deep reddish look from the cocoa powder in the batter. Sometimes beets are used in red velvet recipes as well, giving them a more reddish look. However, the bright red seen in this day and age comes from food dye, while still retaining the unique flavors.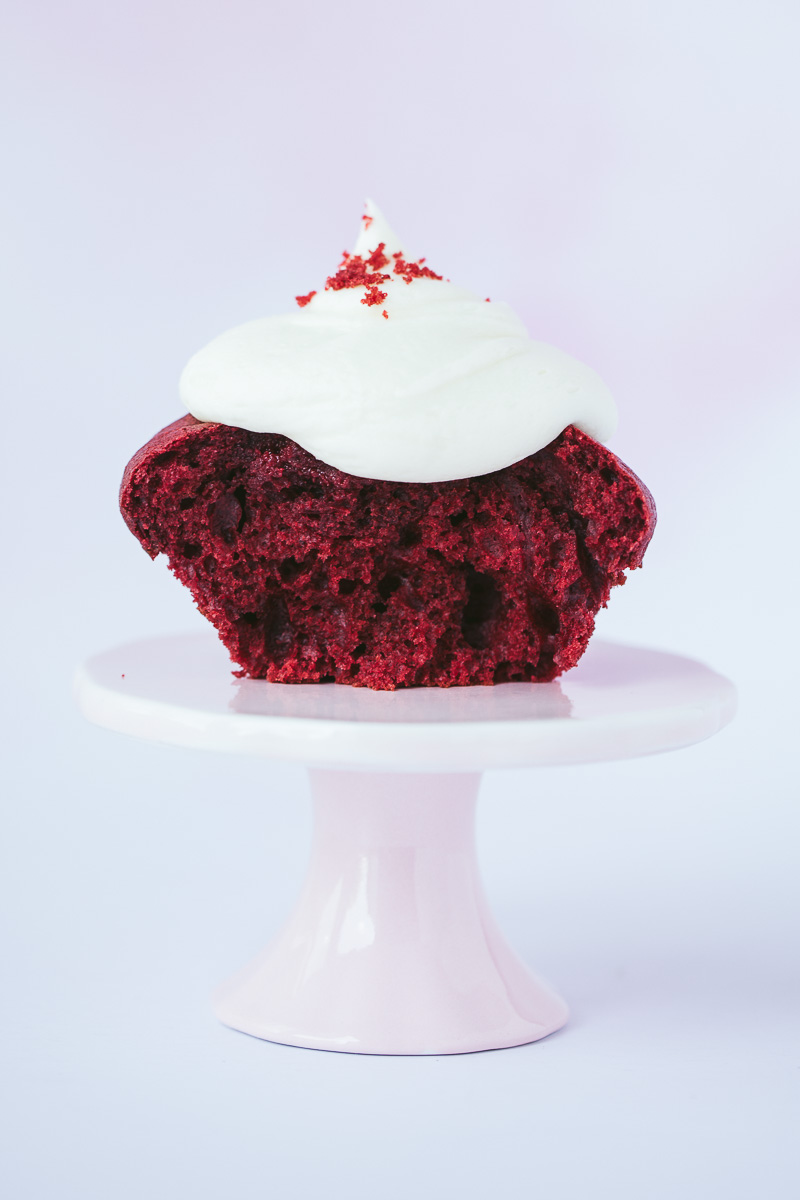 Make a batch of these decadent cupcakes and after you've had one or two, let me know about your experience in the comments below! 
More Cupcake Recipes You're Sure to Love:
You can find more delicious recipes and cooking tutorial videos on Youtube and Facebook.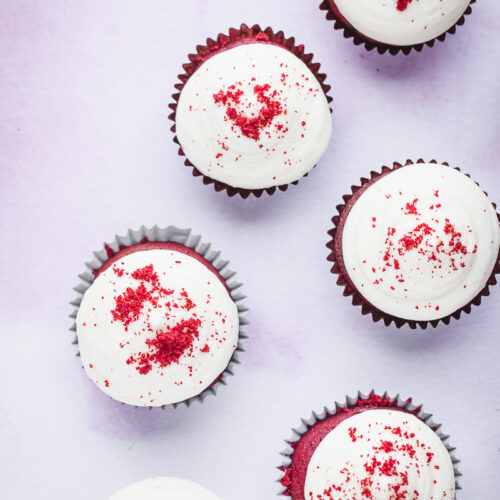 Print Recipe
Pin Recipe
These bright iconic cupcakes with cream cheese frosting are my all-time favorite! Super moist and delicious and ready in under 30 minutes. 
Ingredients
2 1/2

cups

All-Purpose Flour

1 1/2

cups

Sugar

1

tsp

Salt

1

tsp

Baking Soda

1

tsp

Apple Cider Vinegar

1

cup

Vegetable Oil

1 1/2

cups

Buttermilk

1

tsp

Vanilla Extract

1

tbsp

Red Food Coloring

1 1/2

tbsp

Unsweetened Cocoa Powder

2

Eggs
Cream Cheese Frosting
8

ounces

Cream Cheese

4

ounces

Unsalted Butter

3

cups

Powdered Sugar

1

tsp

Vanilla Extract

1

tbsp

Whole Milk
Instructions
Preheat oven to 350 degrees

In a bowl, sift the all-purpose flour, cocoa powder, and salt, set aside

In a bowl, mix the 2 eggs, vegetable oil, buttermilk, vanilla extract, red food coloring, and sugar

Add the dry ingredients to the wet and mix

In a bowl mix the baking soda and apple cider vinegar. once it foams up, add it to the cake batter.

Using an ice-cream scoop, scoop the batter evenly in your muffin tin and bake for 18-20 minutes.

To make the frosting, mix the cream cheese and butter for about 2 minutes

Add the powdered sugar, milk, and vanilla extract, mix for about 3 minutes on high speed

Using a piping bag frost your cooled cupcakes and Enjoy!
Nutrition
Calories:
489
kcal
|
Carbohydrates:
77
g
|
Protein:
5
g
|
Fat:
18
g
|
Saturated Fat:
10
g
|
Cholesterol:
71
mg
|
Sodium:
404
mg
|
Potassium:
114
mg
|
Sugar:
56
g
|
Vitamin A:
580
IU
|
Calcium:
66
mg
|
Iron:
1.5
mg