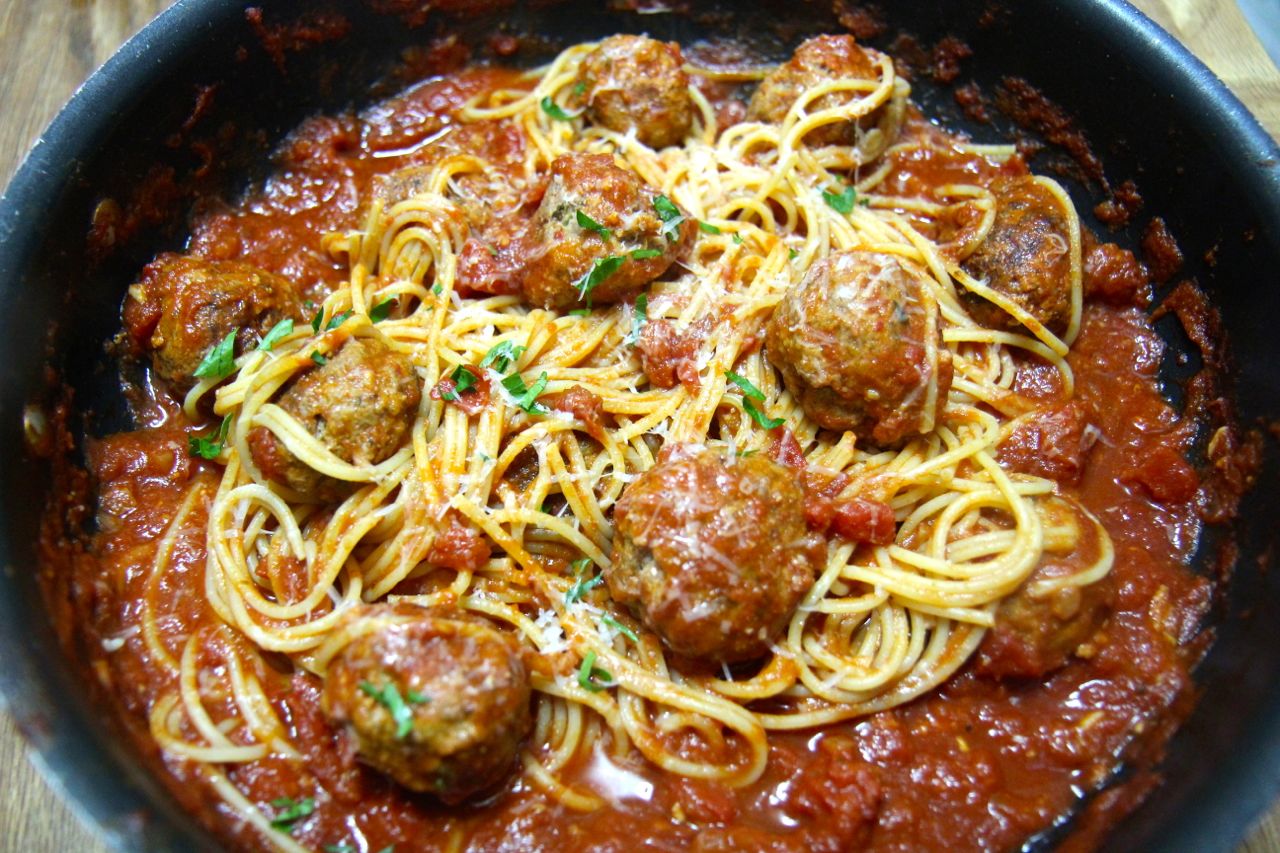 I prefer making meatballs with a blend of veal, pork, and beef but one of my Youtube subscribers requested strictly beef meatballs. I thought spicy meatballs would be a nice twist on traditional spaghetti and meatballs. The meatballs were spicy but it was perfect because the spaghetti wasn't spicy so it all balanced out to a perfect bite. Serve this with bread and wine, light up some candles, and you'll eat better than at a restaurant. Ok, you don't have to light up candles.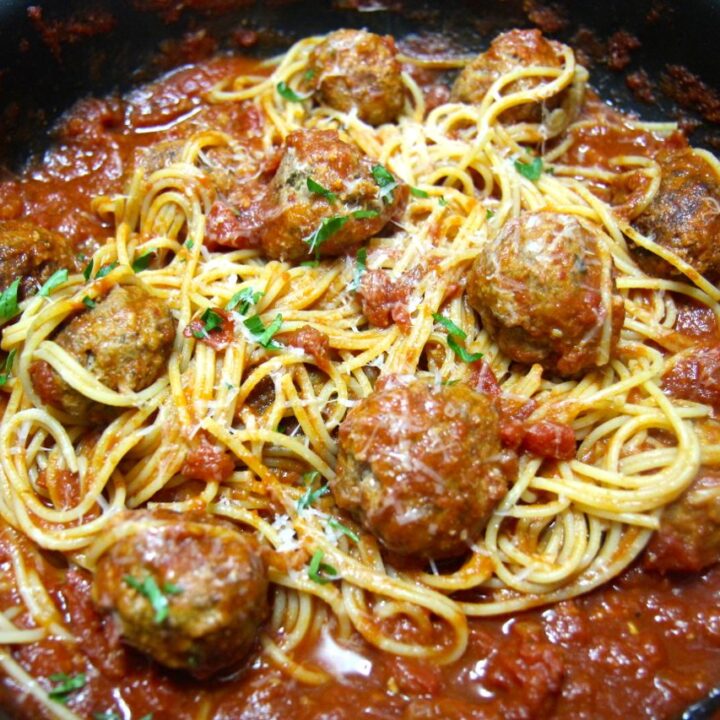 Spicy Spaghetti & Meatballs
Print Recipe
Pin Recipe
This is an unexpected take on traditional spaghetti and meatballs. These meatballs have an added burst of spicy flavor from the peppers. Give it a shot today because you'll see how the spice really adds to the flavor profile when mixed with the sauce.
Ingredients
Meatballs
1

lb

ground beef

2

garlic cloves finely minced

1/2

small onion finely chopped

1

tbsp

parsley

1/2

jalapeno

1/4

cup

bread crumbs

1/4

cup

parmesan cheese

2

tbsp

chili garlic sauce

1

egg

1

tsp

oregano

2

tbsp

whole milk

salt and pepper to taste
Marinara Sauce
28

ounces

crushed tomatoes

2

garlic cloves finely minced

1/2

small onion finely chopped

2

tsp

red chili flakes

1

tsp

sugar

1/4

cup

red wine

1

tbsp

fresh basil

salt and pepper to taste
Instructions
Combine beef, bread crumbs, parsley, fresh minced garlic, onions, jalapeños, chili garlic sauce, egg, milk, parmesan cheese, oregano, and a generous sprinkle of salt and pepper. Using your hands mix gently, careful not to over mix.

Roll meat mixture into golf sized balls and then fry the meatballs in vegetable oil over medium high heat, working in batches. Brown them on all sides. Each batch should take about 7 minutes.

Heat a separate skillet over medium low heat, add onions and cook until translucent

Add fresh minced garlic and red chili flakes, season with salt and pepper and cook until garlic turns golden and fragrant.

Add crushed tomatoes, red wine, sugar, basil, salt, and pepper. Cook for 15-20 minutes before adding the meatballs.

Place the browned meatballs in the sauce and let it cook for an additional 30-40 minutes or until the meatballs are tender and fully cooked through.

Add some fresh basil and serve over Spaghetti
Nutrition
Calories:
454
kcal
|
Carbohydrates:
24
g
|
Protein:
27
g
|
Fat:
26
g
|
Saturated Fat:
10
g
|
Cholesterol:
126
mg
|
Sodium:
941
mg
|
Potassium:
964
mg
|
Fiber:
4
g
|
Sugar:
12
g
|
Vitamin A:
965
IU
|
Vitamin C:
21.6
mg
|
Calcium:
196
mg
|
Iron:
5.7
mg