This green apple martini aka appletini is made with vodka, sweet and sour mix, and sour apple schnapps. Just place those three ingredients into a shaker with some ice and you will have the most delicious alcoholic beverage ever.
The best way to serve this is in a chilled martini glass. You can make these ahead of time, just remove the ice and refrigerate it.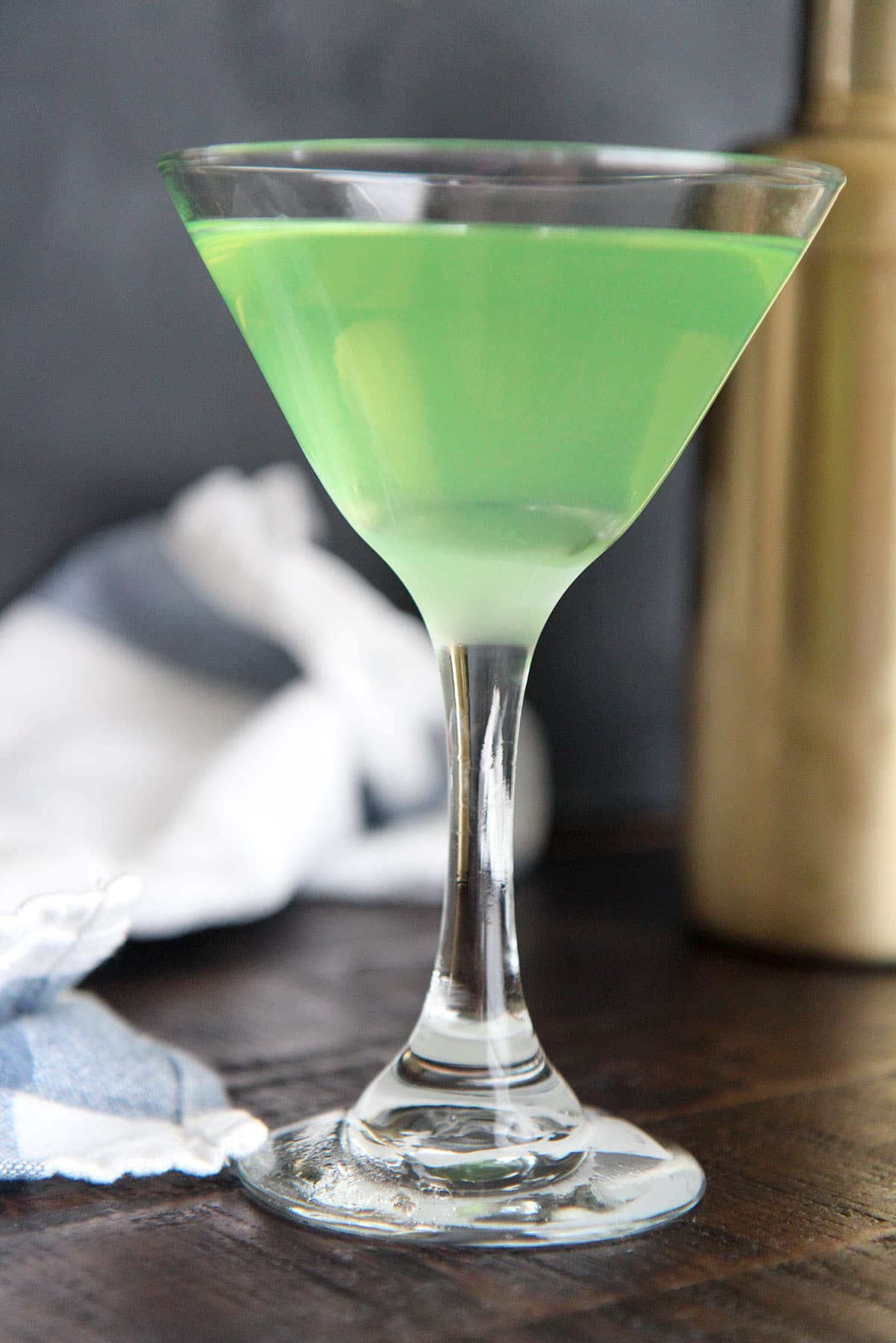 Traditionally green apple martinis are served with sliced apples or maraschino cherries. I honestly never eat the cherry or eat the apple so I serve it on its own. The number one tip I highly recommend is to serve this in a chilled martini glass. It makes such a difference. One of my guilty pleasures is a homemade shrimp cobb salad and an apple martini. Nothing beats that combination. Salads and alcohol just go together.
How Do You Make An Appletini From Scratch?
Add some ice to a cocktail shaker.
Pour two ounces of vodka, two ounces of sweet and sour mix, and two ounces of sour apple schnapps into the shaker. Mix well.
Pour into a glass and enjoy!
Top Tip
1 ounce = 2 tablespoons. For one apple martini, you want to use 4 tablespoons of each ingredient.
What Is A Good Vodka To Use?
I usually use grey goose vodka but feel to use any kind you have on hand.
How Can I Make It Stronger?
If you like a very strong martini feel free to add more vodka than the amount I suggested. However, please drink responsibly. Although I believe this recipe is super delicious because you can certainly taste both the vodka and the apple taste. If you enjoy sour candy and jolly ranchers then you will love this green apple martini.
Can I Use Simple Syrup?
I really don't find it necessary to make simple syrup at home when you can easily find sweet and sour mix at your local liquor store. Most restaurants and bars use these three ingredients to make appletinis. Definitely give store-bought sweet and sour mix a try before you make simple syrup from scratch.
How To Chill Martini Glasses
I simply place the martini glasses in the freezer overnight.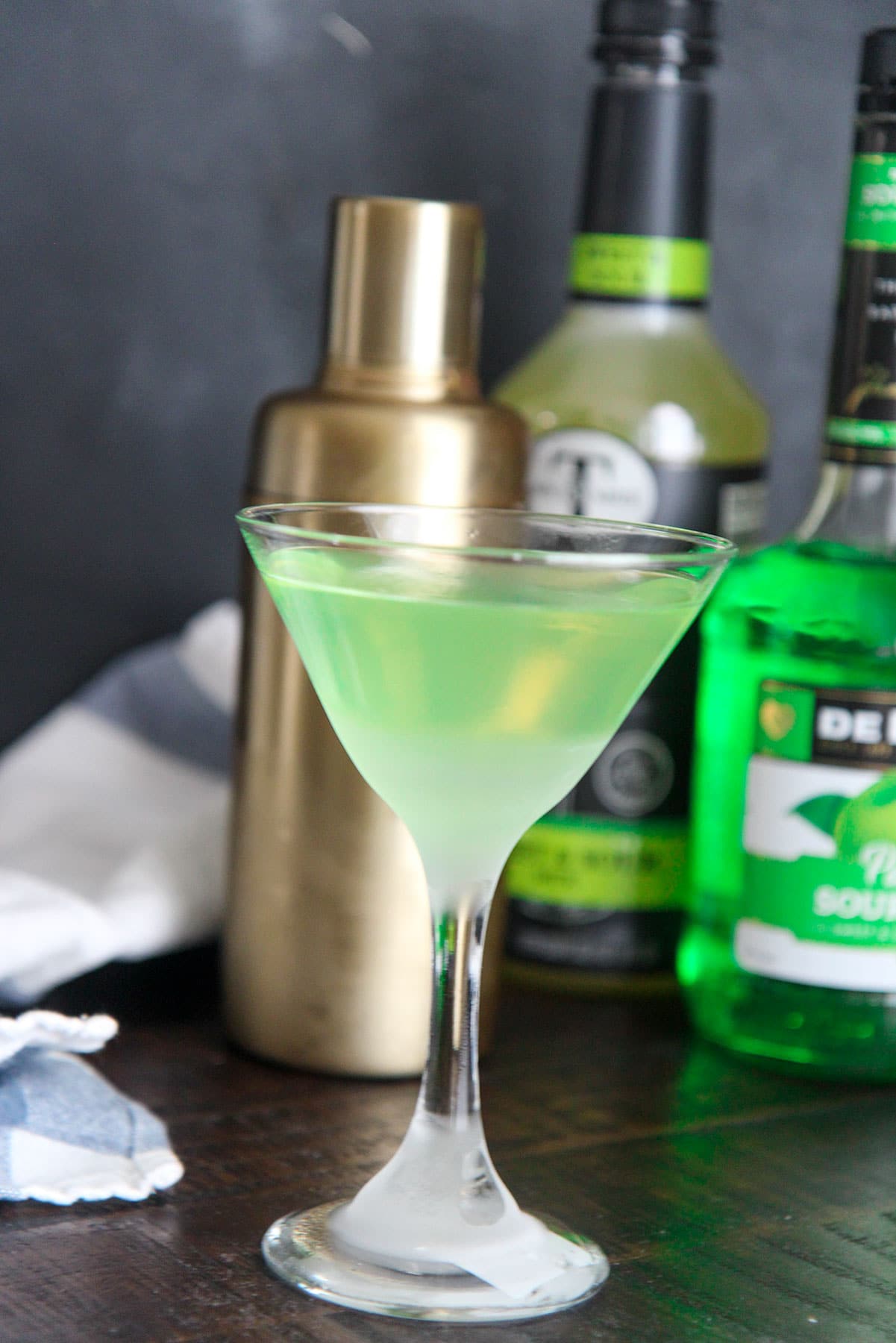 You can find more delicious recipes and cooking tutorial videos on Youtube and Facebook.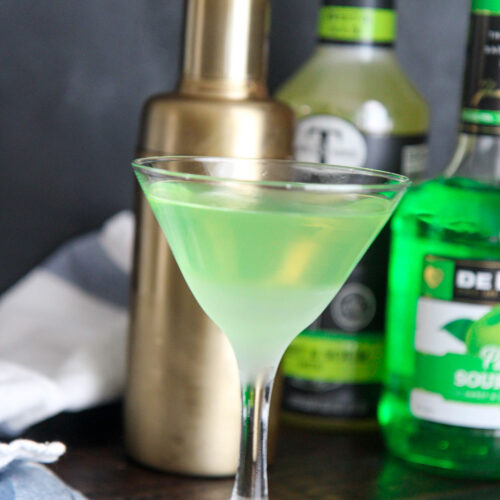 Print Recipe
Pin Recipe
This easy and delicious appletini is made with just three ingredients in under 5 minutes. It's sweet and a little tangy. The best martini you will ever have!
Ingredients
2

ounces

Vodka

2

ounces

Sweet and Sour Mix

2

ounces

Sour Apple Schnapps
Instructions
Add some ice to a cocktail shaker.

Add all of the ingredients into the cocktail shaker and mix well.

Pour in a chilled martini glass and enjoy! Serve with sliced apples or cherries, if desired.