If you want a classic dinner, this Spaghetti and Meatballs is a perfect choice. This recipe has a base of al dente noodles, holding up juicy meatballs made with beef, pork, and veal. Finish it off with the zesty and rich, homemade marinara sauce and you have one amazing dinner.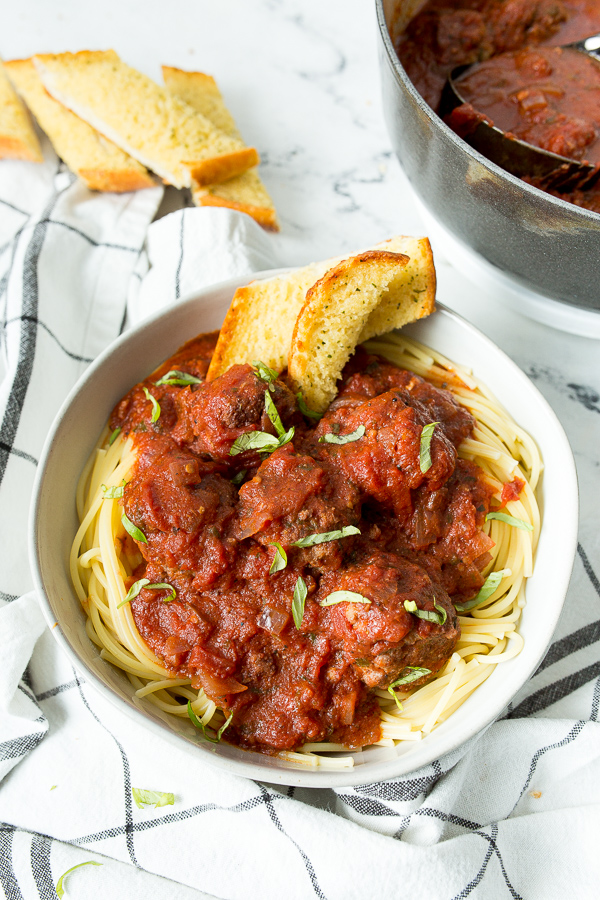 You can never go wrong with choosing a classic for dinner. Classic recipes are those meals countless families reach for when dinner time rolls around and have for dozens of years. Spaghetti and Meatballs is one of those recipes and for good reason. It's easy, but so satisfying. All ages rave over it, and on top of that, it's epic comfort food.
How to Make Spaghetti and Meatballs
Make the sauce – In a large pot over medium heat, cook the onion in heated oil until translucent. Add the garlic, red chili flakes, basil, salt, and pepper. Cook until the garlic is golden. Add the rest of the marinara sauce ingredients, stir, cover, and simmer.
Make the meatballs – Turn the bread to crumbs using a food processor. Add all the ingredients for the meatballs to a bowl, and mix thoroughly using your hands. Roll into balls resembling golf balls then fry in oil for about 7 minutes, working in batches.
Combine the sauce and meatballs – Add the cooked meatballs to the sauce and let the mixture continue to simmer for about 30-40 minutes or until meatballs are tender.
Serve – Prepare spaghetti per the box's instructions. Pour the marinara and meatball mixture of the top of the noodles, garnish with fresh basil, lots of grated parmesan cheese and enjoy!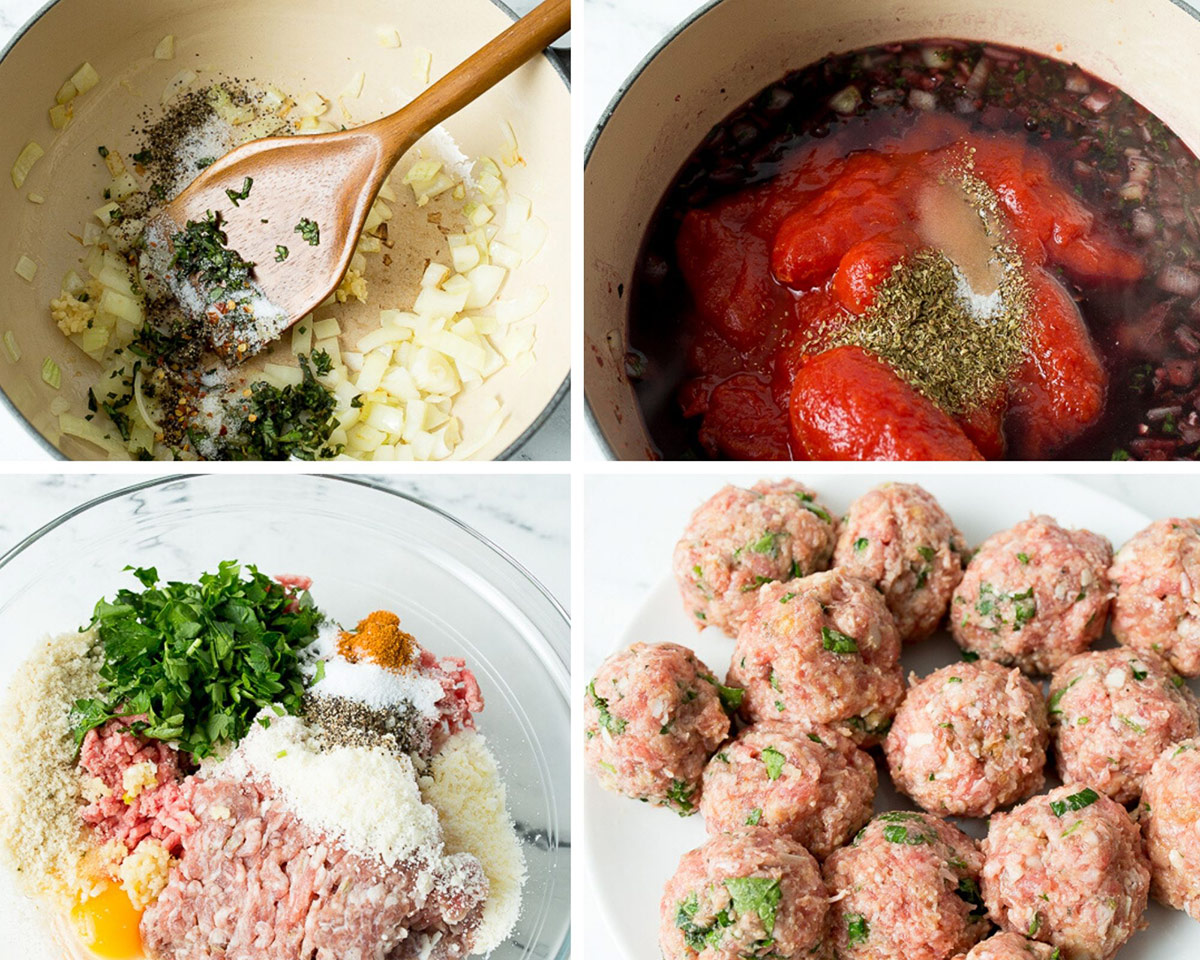 Tips and Recipe Variations
Storage – Place in an airtight container and store in the fridge for up to 5 days. If freezing, keep the sauce and meatballs separate from the noodles and freeze the sauce and noodles together or separate in an airtight container for up to 2 months. Do not freeze the noodles.
Reheating – If reheating from the fridge, simply pop it in the microwave. When reheating the meatballs, cover with a damp close so they don't dry out. If reheating from the freezer, allow the ingredients to come to room temperature on their own before following the other steps.
Garnish – You can top your spaghetti and meatballs recipe with freshly chopped herbs such as parsley, shredded parmesan cheese, shredded mozzarella, etc. 
Make it spicier –

 

If the crushed red pepper wasn't spicy enough for you, dice up a jalapeno and add it to the marinara sauce. This will add a nice extra kick to your meal.
Make it mild – If you don't like any spice at all, remove the red pepper flakes from the recipe. There's no need to replace them with any other ingredients.
Make the sauce thicker – If your marinara sauce is too thin, let it simmer longer uncovered. This will allow some of the extra liquid to evaporate off.
Make the sauce thinner – If your sauce is extra thick, you can always add a bit of water. I wouldn't add too much more as you don't want to dilute the flavor.
What Can I Serve with Spaghetti and Meatballs?
Anything you would serve with an Italian meal or would get at an Italian restaurant is a great idea! Here are a few good ideas to serve as sides:
Garlic bread

Side salad

French bread

Oven Roasted Vegetables

Toasted Ravioli

Sun-Dried Tomatoes
Can I Use Other Pasta in Spaghetti and Meatballs?
Of course! There are not many pasta types that can replace spaghetti, but the marinara sauce and meatballs go well served over most pasta types. Some great options are penne, angel hair, bowtie, corkscrew, rigatoni, etc.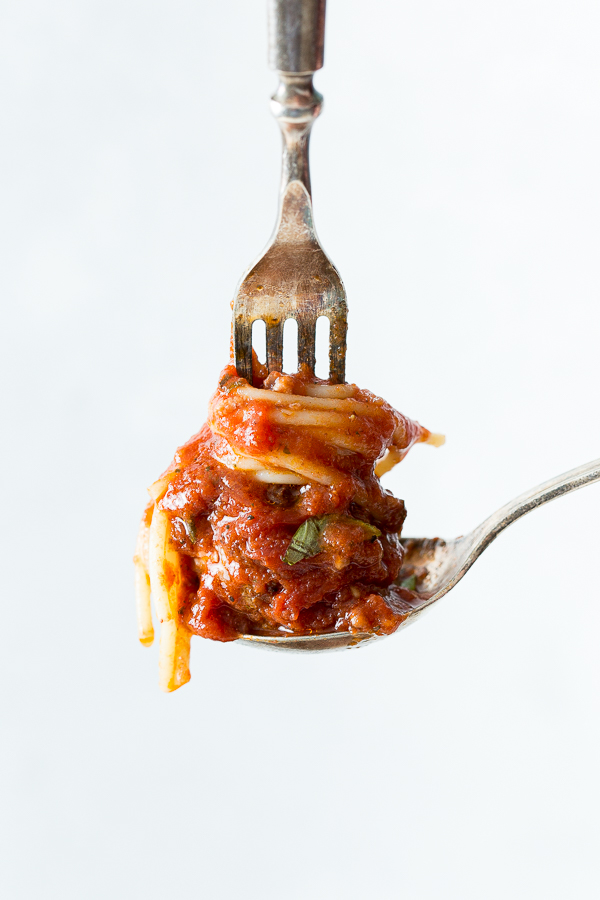 For dinner tonight, go for this Spaghetti and Meatballs recipe, you will enjoy dinner very much! 
More Pasta Recipes You're Sure to Love:
You can find more delicious recipes and cooking tutorial videos on Youtube and Facebook.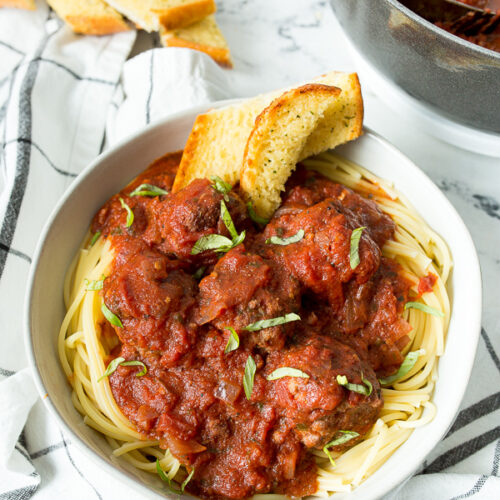 Print Recipe
Pin Recipe
This classic spaghetti & meatballs recipe is a great go-to favorite. Made with rich homemade marinara sauce and the perfect meatballs, this dish is packed with a delicious flavor that's perfect for a family meal.
Ingredients
Marinara Sauce
35

ounce

canned peeled tomatoes

1/2

cup

red wine

2

garlic cloves

1

small onion chopped

1

tsp

oregano

1/2

tsp

sugar

2

tbsp

fresh basil

pinch

red pepper flakes

salt and pepper to taste
Meatballs
1.5

lb

blend of beef

pork, and veal

2

garlic cloves

1

slice

white bread

2

tbsp

milk

1/4

cup

fresh parsley

1/4

tsp

chili powder

optional

1/2

cup

parmesan cheese

1

egg

salt and pepper to taste
Instructions
Heat a large pot over medium-low heat, add onions and cook until translucent

Add fresh minced garlic, basil, and red chili flakes, season with salt, pepper, and cook until garlic turns golden and fragrant.

Add plump tomatoes, oregano, sugar, salt and pepper, and stir, breaking up tomatoes until well combined.

Cover and simmer over medium-low heat

Place the slice of bread in a food processor and mix until fine bread crumbles

Combine beef, veal, pork, bread crumbs, parsley, fresh minced garlic, egg, milk, chili powder, parmesan cheese, and a generous sprinkle of salt and pepper. Using your hands mix gently, careful not to over mix.

Roll meat mixture into golf-sized balls and then fry the meatballs in vegetable oil over medium-high heat, working in batches. Brown them on all sides. Each batch should take about 7 minutes.

Place the browned meatballs in the sauce and let it cook for an additional 30-40 minutes or until the meatballs are tender and fully cooked through.

Add some fresh basil and serve over Spaghetti
Nutrition
Calories:
580
kcal
|
Carbohydrates:
18
g
|
Protein:
38
g
|
Fat:
39
g
|
Saturated Fat:
15
g
|
Cholesterol:
170
mg
|
Sodium:
728
mg
|
Potassium:
1023
mg
|
Fiber:
3
g
|
Sugar:
8
g
|
Vitamin A:
885
IU
|
Vitamin C:
31.3
mg
|
Calcium:
307
mg
|
Iron:
6.6
mg