For a delicious and winning dinner, you're going to want to try these instant pot pork carnitas. They boast soft flour tortillas, wrapped around perfectly seasoned pork shoulder, onions, and cilantro. Add a squeeze of lime for a zesty final touch on this perfect dish.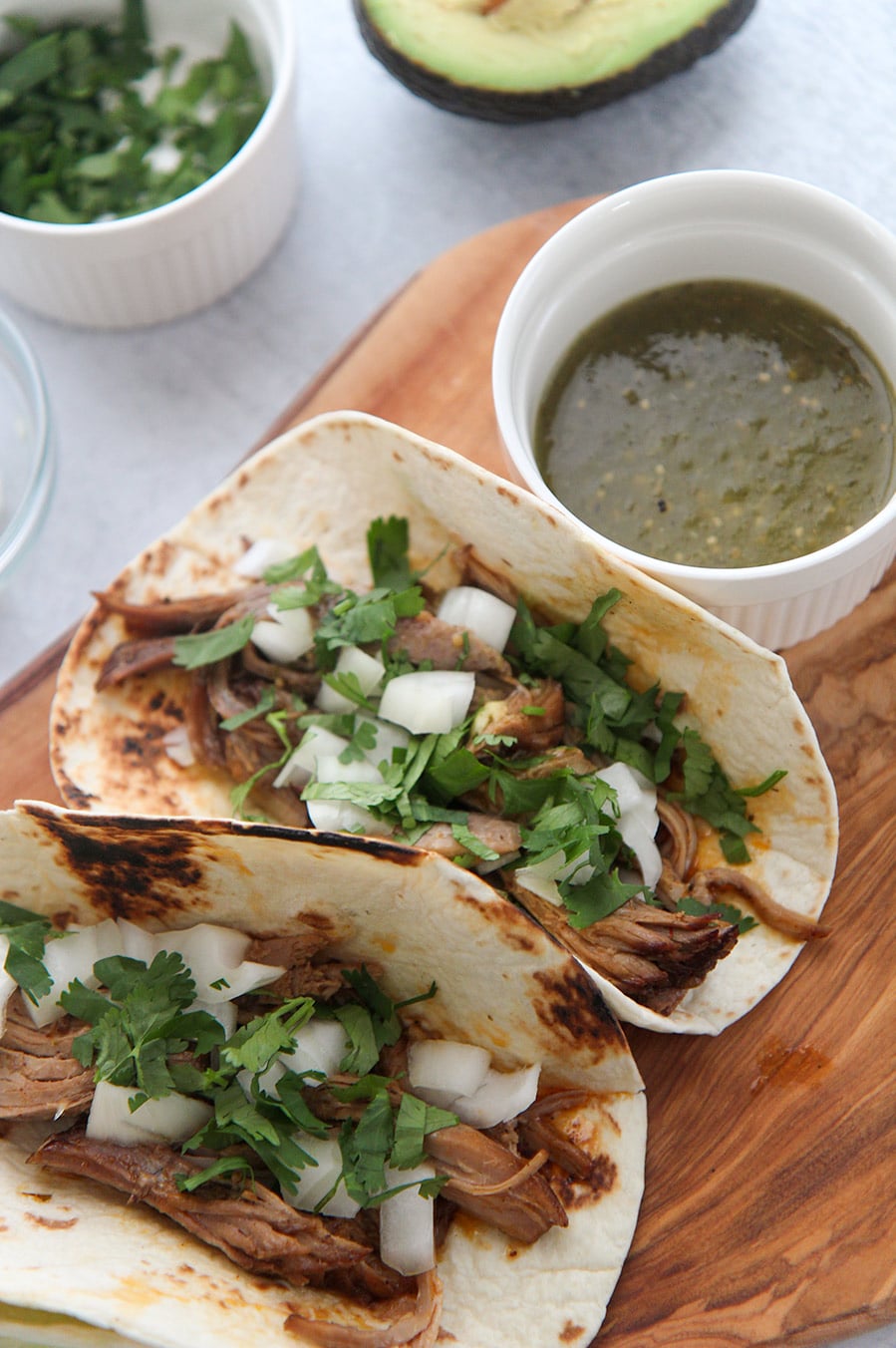 I get very excited about Mexican food and I know that thousands of people are right there with me. I absolutely love whipping up classics such as Cheesy Chicken Quesadillas, or Beef Tostadas for dinner. 
What Are Carnitas?
Let me welcome you to the world of deliciousness. The word "carnitas" directly translates to "little meats." They're a traditional Mexican staple, with a large majority of people have heard of them. The recipe traditionally is made of pork, braised in oil and spices, cooked long and slow for hours. However, making these in the instant pot means that "low and slow for hours" thing is out the window. You can make some delicious carnitas without hours of wait time included.
How Much Carnitas Do You Need Per Person?
This can vary however, I recommend 1/3 lb per person or 2 pork carnitas tacos per person.
Toppings:
Avocado

Lime

Cheese

Cilantro

Onions

Sour Cream

Tomatoes

Mango Salsa

Guacamole
Tips For The Ultimate Instant Pot Pork Carnitas
Add the toppings you like – You don't have to stick with onions and cilantro as your toppings. I know both of those ingredients can be heavily disliked by many. Add whatever toppings you prefer with your taco style recipes.
Sear the pork – It's important for flavor's sake that the pork is seared on each side before the longer cooking process begins.
How much salt to use? – For each pound of meat, you'll want to use about a teaspoon of kosher salt.
Use the right size instant pot – For the best results when making these instant pot pork carnitas, you'll want to use the larger 8-quart size.
Crisp them up – Utilize your broiler or throw them over the stove in some oil in order to give your carnitas a nice and crispy finish.
Make bowls instead of tacos – The leftovers are great for making bowls, salads, etc. I mean, you could even do that from the beginning, not just with the leftovers.
Make them mild – If the chipotle sauce is getting to you, heat-wise, you can swap it out for a mild option. Usually, another Mexican chili sauce will do the trick. Make sure it's a mild chili sauce, as sometimes they won't specify.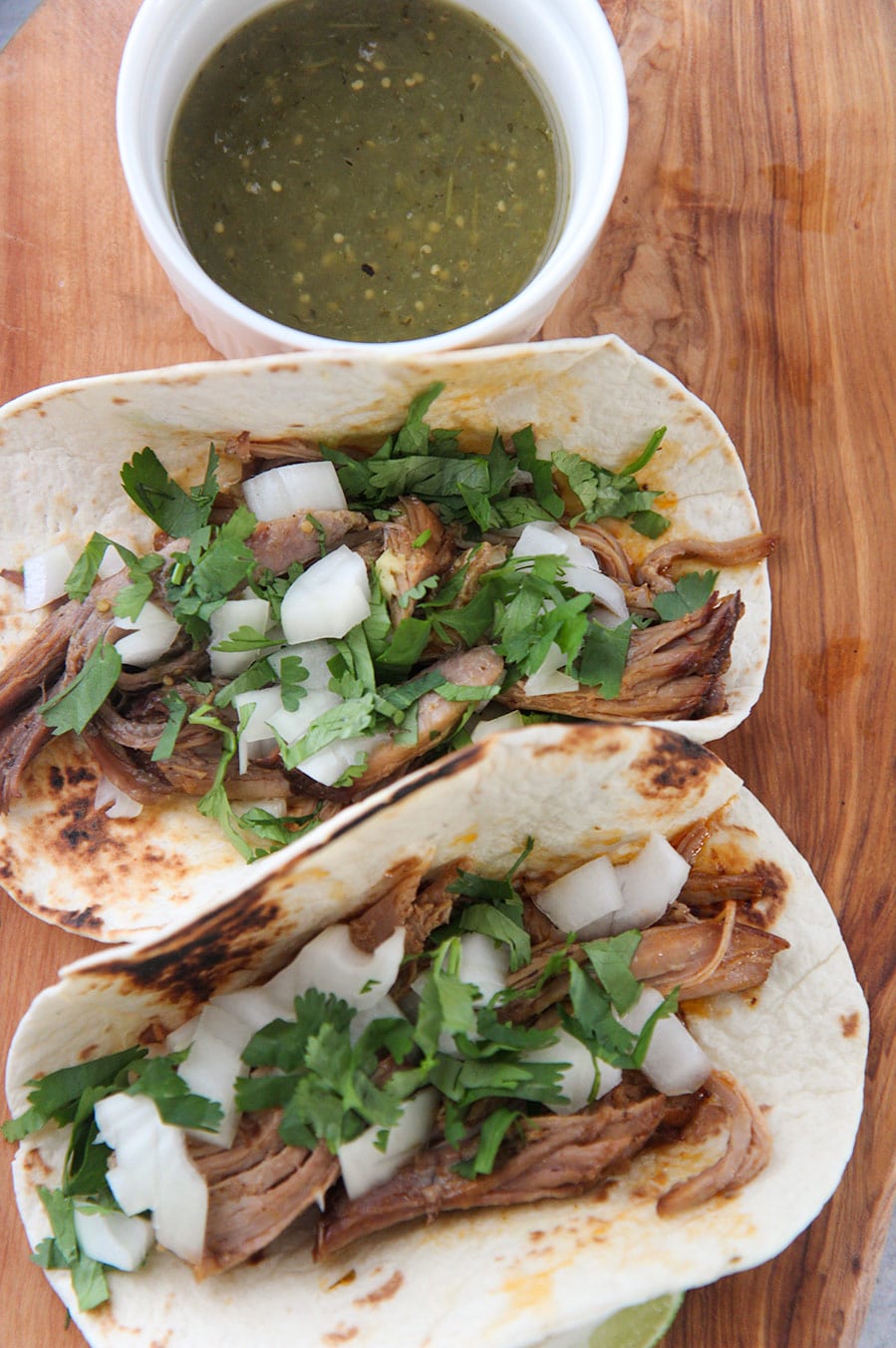 What is the Difference Between Carnitas and Pulled Pork?
One of the largest differences between these two recipes is the fact that carnitas often has a different style seasoning and cooking process. Yes, both are slow-roasted, but the pork for carnitas is commonly browned as a finishing touch. However, the largest difference is definitely the seasoning used for each.
Are Carnitas Healthy?
The only thing not overly healthy about traditional carnitas is the flour tortilla. However, you can easily make them into bowls, salads, or even use corn tortillas. All of these choices remove the unhealthiest part about this dish. Overall, especially if you use fresh ingredients, this is a pretty healthy meal that's very satisfying and tasty at the same time.
Storage
Fridge – Store in an airtight container for up to 3 days.
Freezer – Freeze the beef mixture on its own, in an airtight container, for up to 2 months. 
Reheating – Reheat in the microwave, oven, stove, air fryer, or even the instant pot.
Give these mouth-watering carnitas tacos a try, You'll be glad you did!
You can find more delicious recipes and cooking tutorial videos on Youtube and Facebook.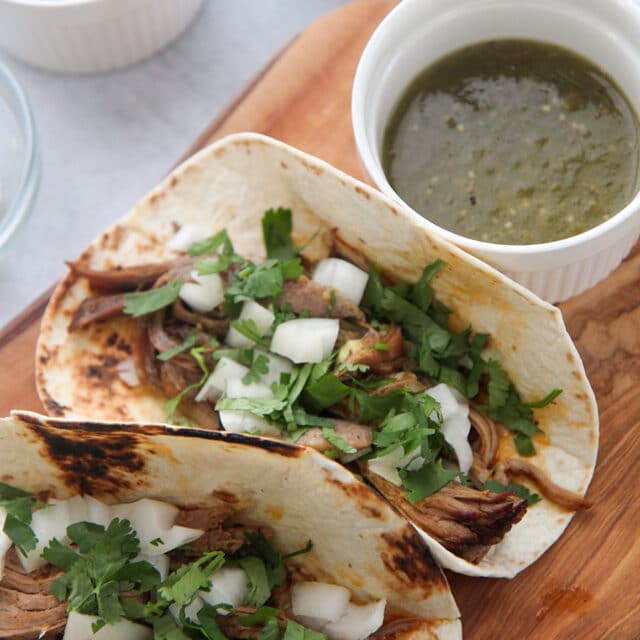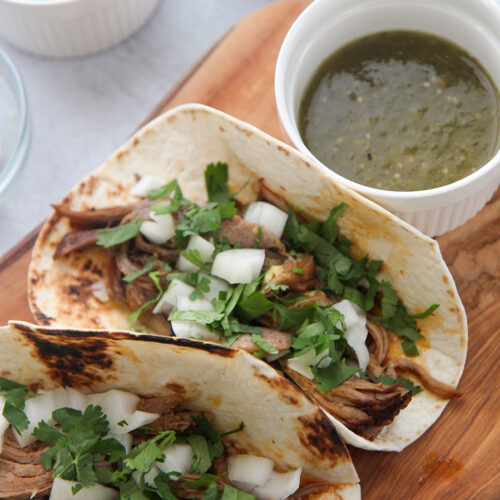 Instant Pot Pork Carnitas
Print Recipe
Pin Recipe
These instant pot pork carnitas are served on grilled tortillas with raw onions, cilantro, and a squeeze of lime. Pork shoulder seasoned and pressure cooked to perfection, your family will love this recipe! 
Ingredients
5

lb

Pork Shoulder

Bone-in

5

tsp

Kosher salt

or to taste

2

tsp

black pepper

2

tsp

granulated garlic

2

tsp

onion powder

2

tsp

cumin

1

tsp

chili powder

1

tsp

oregano

1

tbsp

brown sugar

1

cup

chicken stock

1/4

cup

chipotle sauce

1

bay leaf

1

cup

onions

roughly chopped

6

garlic cloves

finely minced

Oil

lime wedges

cilantro

tortillas
Instructions
In a small bowl, combine the salt, pepper, cumin, oregano, granulated garlic, onion powder, brown sugar, and chili powder.

Season the pork shoulder on all sides, careful not to leave too much seasoning behind.

Press the "saute" function on your instant pot and add some oil. Cook the pork shoulder for 3-4 minutes on each side. Remove the pork shoulder from the instant pot and set it aside.

Add more oil to the instant pot along with the onions and garlic. Stir for 30 seconds and then add the chicken stock, bay leaf, and chipotle sauce. I used the sauce that comes in a can with peppers. Do not add the seeds.

Deglaze the instant pot by scraping the bottom or else you may get a "burn" notice.

Place the pork shoulder back into the pot along with any remaining spices.

Secure the lid, seal the valve, and press the "pressure cook" function. Cook for 90 minutes.

Once the 90 minutes are up, do a quick release by releasing all of the steam. Remove the pork from the instant pot and shred the meat using 2 forks or your fingers. Discard any fat.

Place the meat back into the instant pot and press the "saute" function. Check for seasoning and enjoy with grilled tortillas, raw onions, cilantro, and fresh lime.
Notes
I used an 8 qt instant pot. 
Cooking time does not include the time it takes the instant pot to come to pressure. 
I used a 5 lb bone-in skin-on pork shoulder. 
The green tomatillo sauce in the photos was purchased at my local Mexican restaurant. 
If you want to crisp up the carnitas, simply fry them in hot oil on the stovetop or place it on a baking sheet under the broiler.