Ultimate Lasagna has a name that says it all. If you want an epic dinner that everyone will be singing your praises over, this is the recipe to grab. A zesty, meat sauce paired with pasta and gooey cheese come together to form the Italian food of all Italian foods.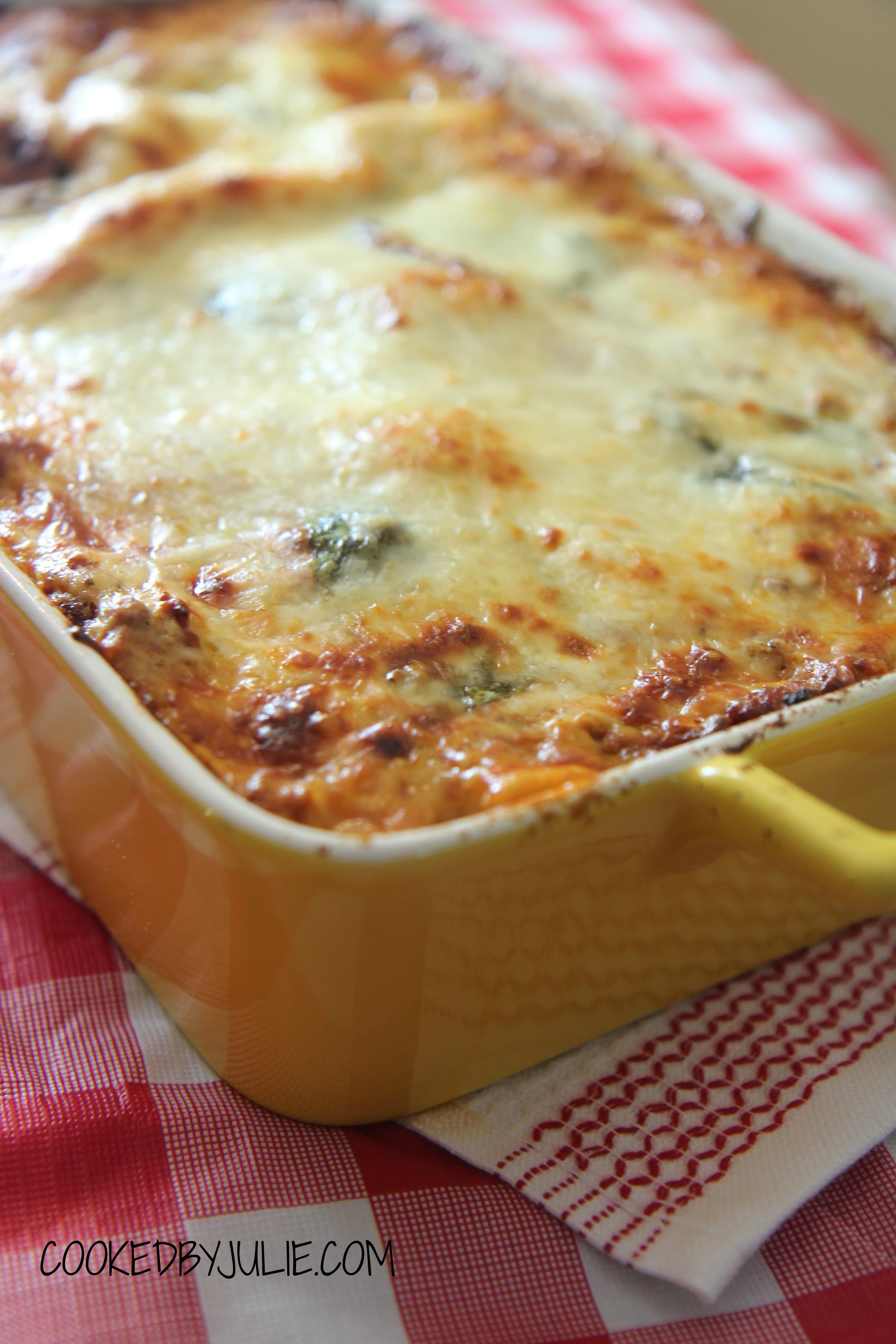 Not every night can have a crazy memorable dinner, especially weekdays. However, that doesn't mean there isn't time for an awesome dinner here and there. Weekends are usually my favorite time for a more labor intense dinner. Outside of that, I still try and keep dinner interesting with what seems to be fancier meals that are actually pretty easy. 
How to Make The Ultimate Lasagna
Brown the beef – In a large skillet, saute the onions with olive oil until translucent. Add in the basil, chili flakes, and garlic and saute another minute or two. Add in the beef and brown until no longer pink. Season with oregano, salt, and pepper. 
Make the sauce – Add the tomatoes to the skillet, breaking them up before adding a cup of water, red wine, salt, and pepper. Stir, cover, and simmer for 2 hours.
Make the bechamel sauce – Melt some butter in a saucepan before adding the flour and whisking it while cooking for about a minute. Add the milk and whisk again. Cook for about 10 minutes over medium heat. Add some fresh ground nutmeg and remove from heat. Add the parmesan and Italian blend cheese along with some salt and pepper.
Layer the lasagna recipe – Preheat the oven to 375 degrees and add some meat sauce to a 9×13 pan. Place a layer of lasagna noodles over the meat sauce, then put another layer of the meat sauce over the layer of noodles. Top with the white roux and top the white sauce with shredded mozzarella. Repeat layers of lasagna noodles, meat sauce, bechamel sauce, and mozzarella until the dish is full.
Bake the lasagna – Add some freshly chopped basil with the last layer of cheese, cover with foil, and bake for 30 minutes. Remove the foil and bake for another 15 minutes. Let rest for 20 minutes. Serve and enjoy!
Tips and Variations
Storage – Place in the fridge or freezer in an airtight container. Will last in the fridge for up to a week, and in the freezer for up to 3 months.
Reheating – When reheating from the freezer, let the lasagna come to room temperature on its own. You can reheat it by popping it in the oven at 350 degrees for about 20 minutes or until heated through. Microwaving it is also an option. Be sure to cover it as it will pop and make a mess. The same can be followed if reheating from the fridge, but letting it come to room temp is not necessary.
Beef substitute – If you prefer, you can always use other meat options. The meat will be added during the sauce portion of the recipe. If using meats like chicken, you'll want to shred it first.
Can I use other noodles? – No, if you're wanting to make lasagna, those are the only noodles that will work as they are large and perfect for layering.
Make it less spicy – If you prefer to have zero spice to this lasagna recipe, you can remove the chili flakes from the recipe.
Make it spicier – If you prefer a bit more kick to your lasagna, you can always add a diced jalapeno to the meat sauce.
Make the white sauce thicker – If your white roux is a little thin, you can keep simmering it to make it thicker.
Make the bechamel sauce thinner – You can add a touch more milk to your white sauce to make it thinner if need be.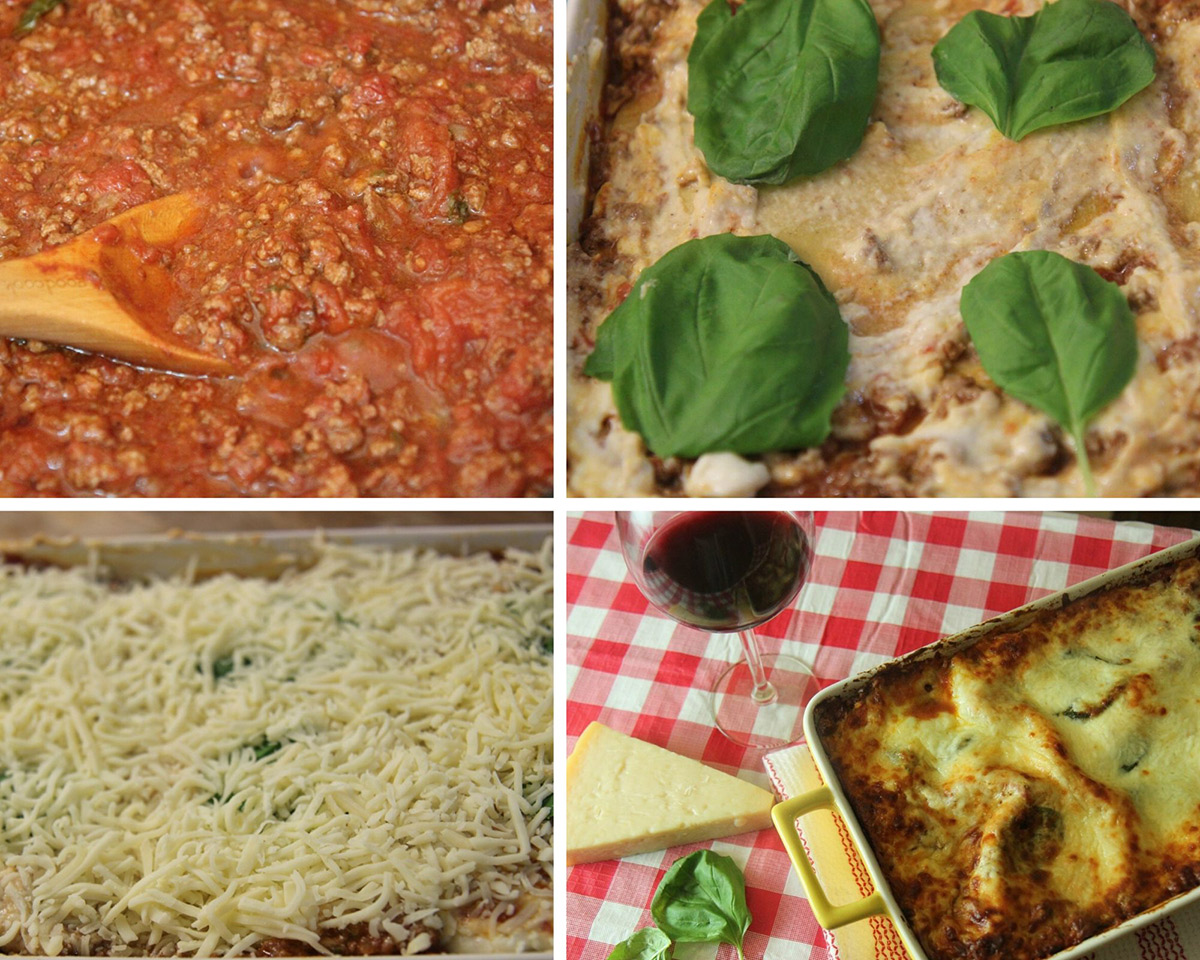 How Many Layers Should Lasagna Have?
This all depends on the size of the pan you're using to make your lasagna. This type of recipe doesn't have a set amount of layers. However, the number of layers will determine the cooking time. Around three layers are the average you'll see with most lasagna recipes and is about the perfect size as well. Again, this is all up to you.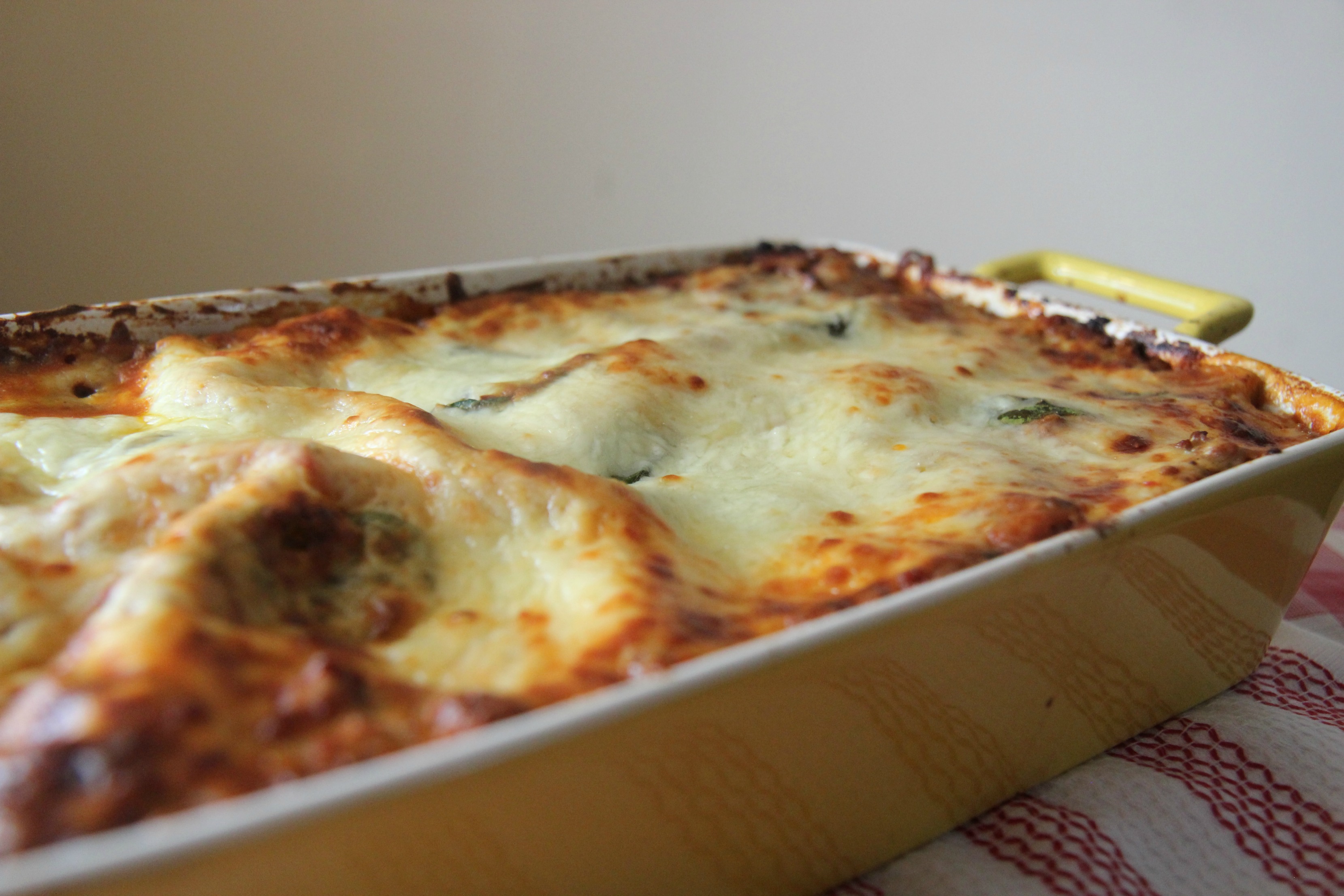 If you loved this Ultimate Lasagna or gave it a whirl, I would love to hear about your experience in the comments below!
More Italian Recipes You're Sure to Love:
You can find more delicious recipes and cooking tutorial videos on Youtube and Facebook.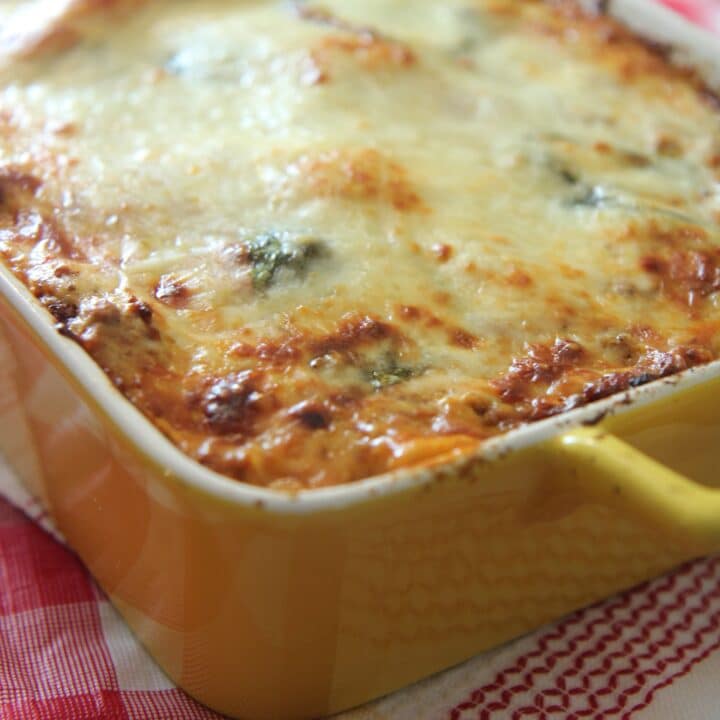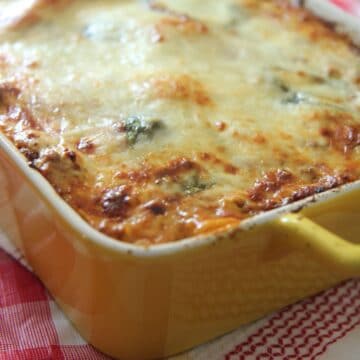 Print Recipe
Pin Recipe
This cheesy, creamy bechamel lasagna is a delicious classic recipe made with San Marzano tomatoes, bechamel, fresh basil, and fresh pasta sheets. It's the best lasagna recipe I've ever made!
Ingredients
2 1/2

lb

ground beef

84

ounces

San Marzano tomatoes

3 cans

2

tbsp

fresh basil

1

tsp

red chili flakes

1

small onion

4

garlic cloves

2

tsp

dried oregano

1

cup

red wine

1

cup

fresh mozzarella cheese

fresh lasagna sheets

salt and pepper to taste
Bechamel Sauce
2

tbsp

all-purpose flour

2

tbsp

butter

2

cups

whole milk

1/2

cup

parmesan cheese

3/4

cup

4 cheese Italian blend

1/8

tsp

fresh nutmeg

salt and pepper to taste
Instructions
Heat a large skillet with some olive oil

Add the onions and cook for 4-5 minutes or until translucent.

Add the chili flakes, fresh basil, and fresh garlic and cook until fragrant.

Add the beef to the skillet crumbling it with your fingers or break it up using a wooden spoon.

Brown the beef completely and then season with dried oregano, salt, and pepper.

Add the san Marzano tomatoes and break them up.

Add about 1 cup of water (optional), red wine, and season with salt and pepper.

Cover and simmer the meat sauce over low heat for 2 hours or until the beef is fork tender.

Once the sauce is almost done, get started on the béchamel sauce.

In a medium saucepan, melt some butter.

Add the all-purpose flour and whisk over high heat.

Cook for about 1 minute and then add the cold milk and whisk.

Cook the sauce for about 10 minutes over medium heat, stirring occasionally.

Grate some fresh nutmeg and then turn the heat off.

Add the parmesan cheese and the 4 cheese Italian blend.

Season with salt and pepper and set aside.

Preheat oven to 375 degrees.

Ladle some meat sauce on a 9x13 baking dish then place a layer of lasagna noodles.

Ladle some meat sauce over the lasagna noodle, then a layer of béchamel sauce, layer with fresh mozzarella and then repeat steps until you reach the top of the baking dish.

Add some fresh basil in the final layer and then cover with shredded mozzarella, if desired.

Cover with aluminum foil and bake for 30 minutes.

Remove the aluminum foil and cook for an additional 15 minutes.

Let the lasagna sit for a minimum of 20 minutes, serve and enjoy!
Nutrition
Calories:
417
kcal
|
Carbohydrates:
19
g
|
Protein:
24
g
|
Fat:
25
g
|
Saturated Fat:
11
g
|
Cholesterol:
86
mg
|
Sodium:
489
mg
|
Potassium:
947
mg
|
Fiber:
4
g
|
Sugar:
11
g
|
Vitamin A:
720
IU
|
Vitamin C:
19.3
mg
|
Calcium:
235
mg
|
Iron:
4.8
mg