This Bistec Encebollado recipe is a delicious Cuban steak piled high with perfectly seasoned onions. This easy and quick dinner dish will change your mind on just settling for slapping the steak on the grill. Lightly sweetened onions and a thin cut steak sauteed perfectly!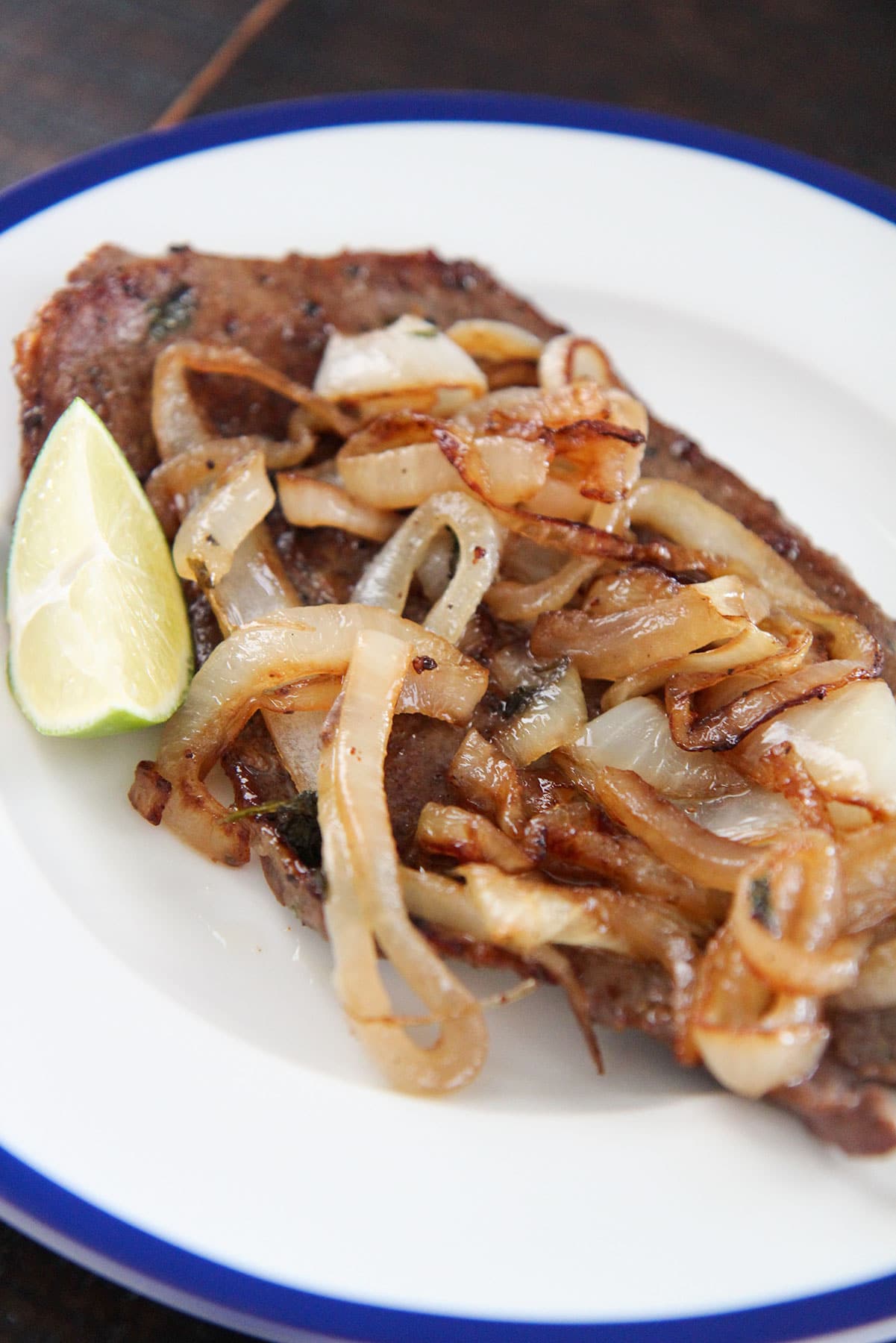 Growing up, I had a lot of favorite dishes, just like any child usually does. However, I had a couple of dishes that stuck with me into adulthood because I loved them so much.
A couple of those are Ropa Vieja and this steak and onions recipe. Of course, I never just ate the Cuban steak by itself; there were always some delicious sides that went along with it.
My two favorite sides were black beans and rice. There's just something about that zesty spiciness of those beans that made the flavor of the steak stand out even more.
What is "Bistec Encebollado"
Don't worry, you're not alone in asking or wondering this, especially if you're not familiar with Cuban cooking. "Bistec Encebollado" is Spanish for "onion steak." The word "bistec" is actually a hybrid word as it was taken from the English term "beef steak" and shortened, or abbreviated. This dish uses a specific cut of steak. Specifically, it uses the same cut like filet mignon or the most expensive cut of a cow.
How To Make 
Prep the onions – In a large bowl, combine the onions, cilantro, garlic, and olive oil. Mix well and set aside.
Prep the steak – Season the steak with salt, pepper, and garlic powder. Add the steak to the bowl with the onions and a dash of fresh lemon juice. Mix well. Place in the fridge for at least 20-30 minutes.
Cook everything – Remove the steak and onions from the fridge and toss everything but the steak in a heated skillet with already heated oil. Sprinkle the onions with sugar, stir, then set them aside. Add the steak to the heated pan and cook for one minute on each side. Add the onions back in for about 20 seconds.
Garnish and serve – Remove everything from the pan. Garnish with some fresh cilantro if desired, serve, and enjoy!
Tips and Recipe Variations
Marinate longer – This dish can be finished in less than an hour. However, if you marinate the steak longer, the better the taste will be. All those flavors will really have time to settle into the meat. You can leave the steak marinating for up to two days.
Other steak options – Round steak, sirloin steak, and very similar steak cuts can be used for this dish. It's important that the steak is a thin cut as cooking time is quick for this recipe.
Add more veggies – If you want to toss in more vegetables with this Cuban steak dish, go right ahead! Some nice additions are peppers and mushrooms.
Make it spicy – If you like a nice kick to your steak, add in some crushed red peppers or slice up a jalapeno and add it in with the onions.

What Kind of Onions Go Best with Steak?
Honestly, just about any onion is going to be amazing with steak. However, it depends on the type of onion you prefer. If you like sweeter onions, go for a red or yellow onion. However, if you like a more potent onion, try a white onion. Yellow onions are more commonly used when it comes to dishes like this, but any onion tastes great when marinated as this recipe calls for.
What Kind of Meat should I use
I recommend using thin cuts of beef steak. Round steak and sirloin steak are common choices when it comes to this dish in America.
If you enjoyed this dish of Bistec Encebollado and gave it a whirl, let me know about your experience in the comments below!
Other Cuban Dishes You'll Love:
You can find more delicious recipes and cooking tutorial videos on Youtube and Facebook.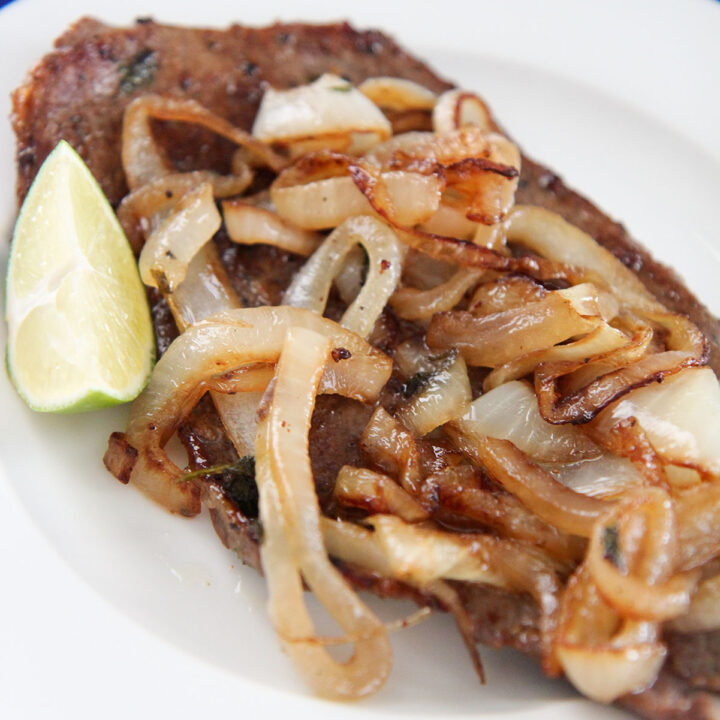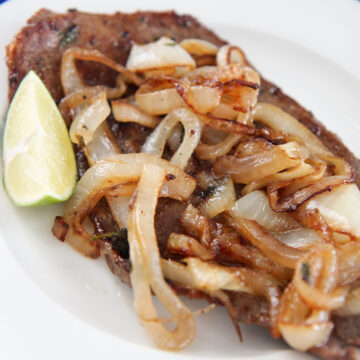 Print Recipe
Pin Recipe
This traditional Bistec Encebollado, or steak an onions, is cooked to perfection. The meat is tender and juicy and the onions are caramelized and mixed with mouth watering spices.
Ingredients
1-2

thinly sliced bottom round steaks

1

clove

garlic

1

onion thinly sliced

3

tbsp

cilantro

3

tsp

olive oil

3

tsp

lemon or lime juice

1/2

tsp

garlic powder

pinch

of sugar for the onions

salt and pepper to taste
Instructions
In a bowl, place your thinly sliced onions, cilantro, fresh garlic, olive oil, and mix, set aside

Season steak with garlic powder, salt and pepper

Place steak in the bowl with onions and squeeze some fresh lemon juice and mix

Refrigerate steak and onions for about 20-30 minutes

Drizzle some oil into a hot iron skillet over medium heat and throw in your onions, cilantro, and garlic mixture

Sprinkle a pinch of sugar over the onions and stir

Remove the onions and place the steak on the skillet and cook for about a minute on each side

Place onions back in the skillet to warm them up a bit for about 20 seconds

Remove the steak and onions and Enjoy!
Nutrition
Calories:
245
kcal
|
Carbohydrates:
6
g
|
Protein:
26
g
|
Fat:
12
g
|
Saturated Fat:
2
g
|
Cholesterol:
71
mg
|
Sodium:
67
mg
|
Potassium:
478
mg
|
Sugar:
2
g
|
Vitamin A:
40
IU
|
Vitamin C:
5.4
mg
|
Calcium:
35
mg
|
Iron:
2.5
mg