Liven up the holiday fun and add in this recipe for coquito! A deliciously rich drink just like eggnog, but with a Puerto Rican touch to it. Three different kinds of milk, cream of coconut, rum, and cinnamon make up this unforgettable holiday recipe.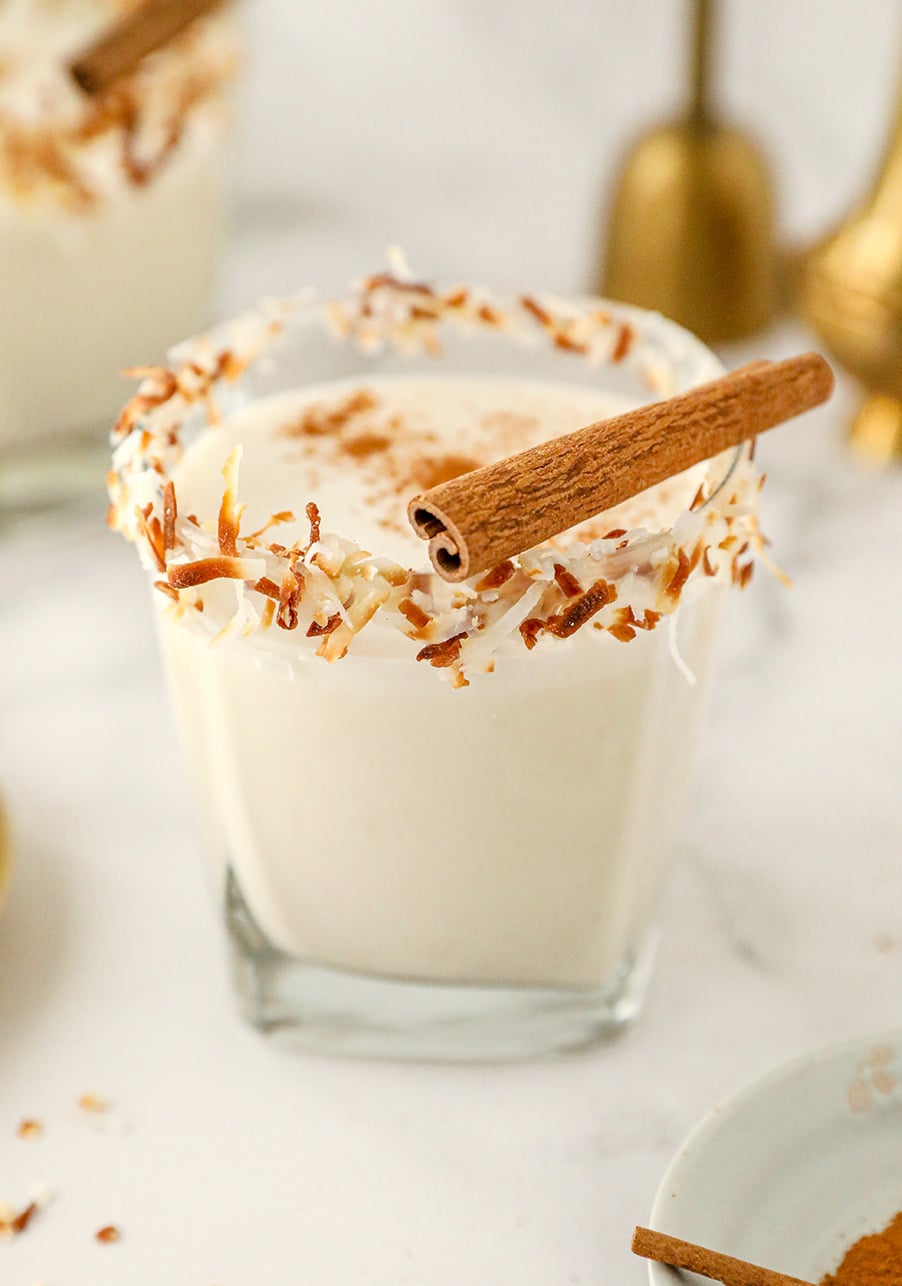 Mix up your traditions a bit this year and instead of making your traditional eggnog, make some Coquito! A decadently rich alcoholic beverage, meant just for the holidays. While you're at it, you can toss in another holiday recipe and make a Peppermint White Russian with some Gingerbread Cupcakes or New Orleans Pecan Pralines on the side. For good measure, of course.
What is Coquito?
Ig you want to go Puerto Rican style with your eggnog, you whip up some Coquito! It's actually referred to as "Puerto Rican Eggnog" although it doesn't contain any eggs. Some people do add eggs, but I'm not a fan of adding them. It's got a coconut flavor base with a little bit of spice thrown in it, and of course, rum. The name "coquito" actually translates as "little coconut." What does it taste like? It is on the sweet side. It almost tastes like melted creamy coconut ice cream. 
How to Make
Blend – Blend all ingredients until fully combined.
Chill – Place in the refrigerator until chilled through and ready to serve.
Serve – Garnish with a coconut-rimmed glass or a dash of cinnamon on the top and enjoy!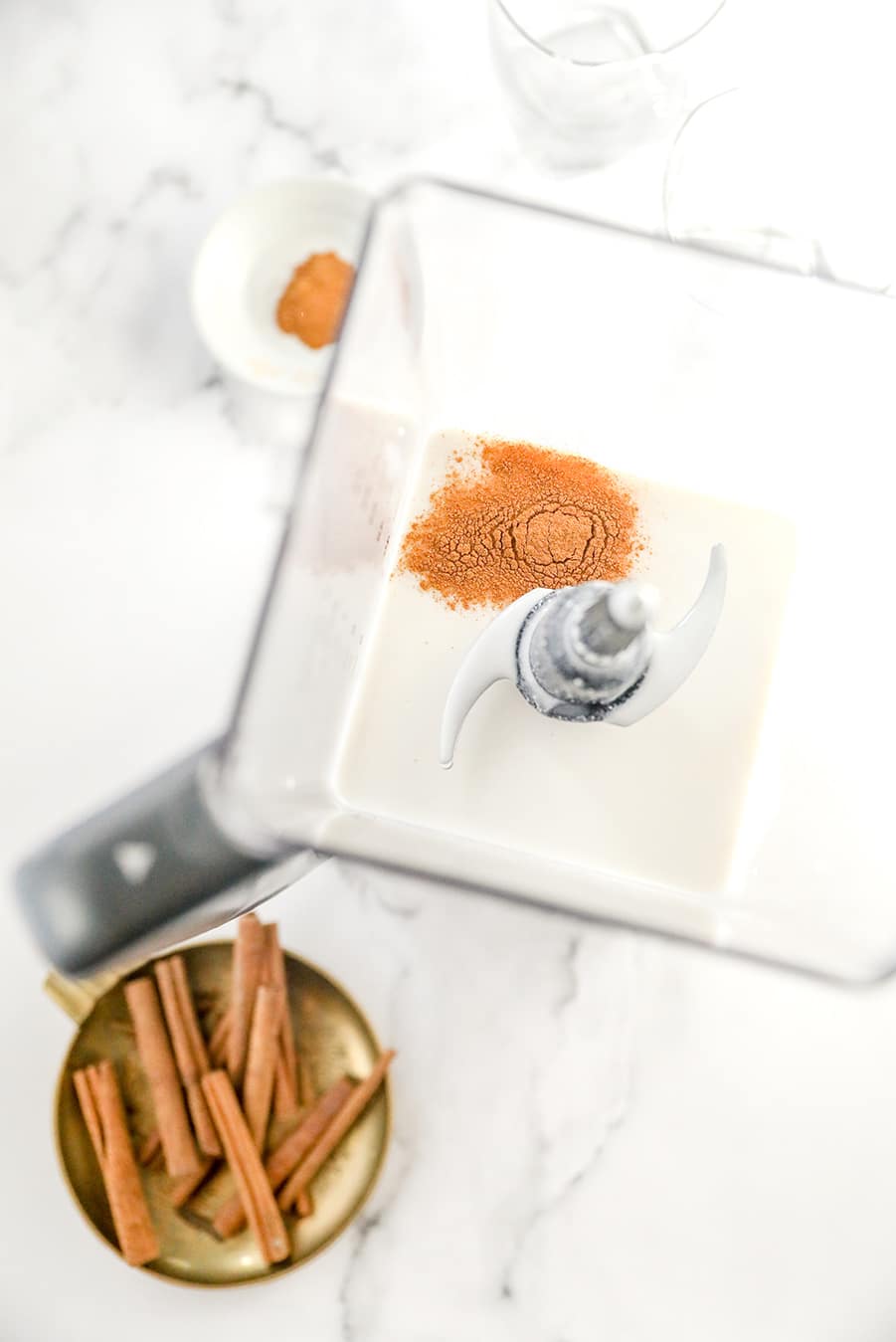 Tips For The Ultimate Coquito  
Adjust the alcohol content – I usually add a cup and a half of Bacardi to start with and then adjust based on taste. I suggest you do the same. Everyone likes it at different levels. I know some who add the entire bottle, while some like it to be a lighter taste.
Add more spices – If you want to go beyond cinnamon, you can add other spices as well. Some great ones are nutmeg, ginger, allspice, etc.
Garnish ideas – You can add a cinnamon stick to the glass, add a sprinkle of nutmeg or cinnamon, or you could add a dollop of whipped cream even. Honestly, I just drink mine plain because there's no time to garnish when you're craving it.
Add rum-soaked raisins – These aren't normally a traditional addition, but I have found that they are a delicious addition nonetheless. Soak raisins in some of the rum for a couple of hours before serving. Drop some in the bottom of the glass and pour the coquito over the top.
Can You Get Drunk Off Coquito?
This depends on how much alcohol you add to the coquito mixture. If you're adding just enough for flavor's sake, you might get a little buzzed, but definitely not drunk. However, if you go heavier on the alcohol, such as the entire bottle, then yes, you'll definitely get drunk. Of course, it also depends on how much you drink the Coquito as well. If you only have one glass, you won't be drunk. Drink responsibly!
What's the Difference Between Coquito and Eggnog?
The largest difference is the egg content. Coquito doesn't contain eggs, but eggnog does. Further, Eggnog requires a cooking period while Coquito is made without cooking and is super easy to toss together. Some of the spices used may differ a little as well. However, there are a couple of Coquito and Eggnog recipes out there, so I can't speak for them all. In general, these are the basic differences you'll come across.
Can I Make This Without Alcohol?
Yes, of course! Feel free to simply omit the rum if you want to serve this to the kiddos or people who don't consume liquor. You can also make two. One with rum and one without, just make sure to label them.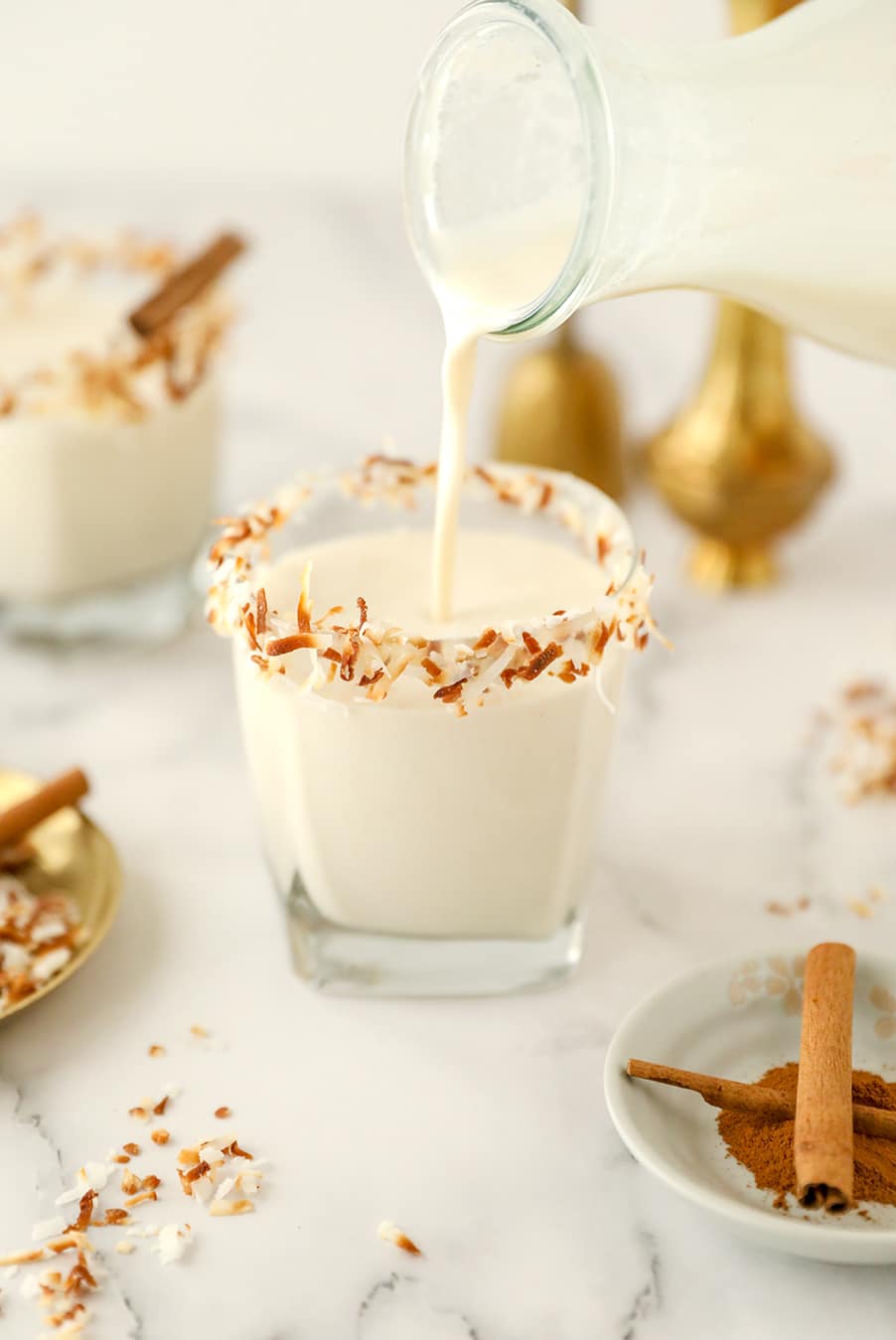 Storage
Fridge – Store in a sealed container or pitcher for up to 3 days.
Freezer – I do not suggest freezing this drink recipe, the milk changes flavors and the drink loses some of its flavors.
Reheating – This Puerto Rican holiday drink is meant to be served chilled, so I don't suggest heating it. If you want to try it heated, you'll want to heat it slowly in the microwave or over the stove so as not to curdle the milk.
If you love Puerto Rican recipes then you will love this pernil. This arroz con gandules is another Puerto Rican classic. You can find more delicious recipes and cooking tutorial videos on Youtube and Facebook.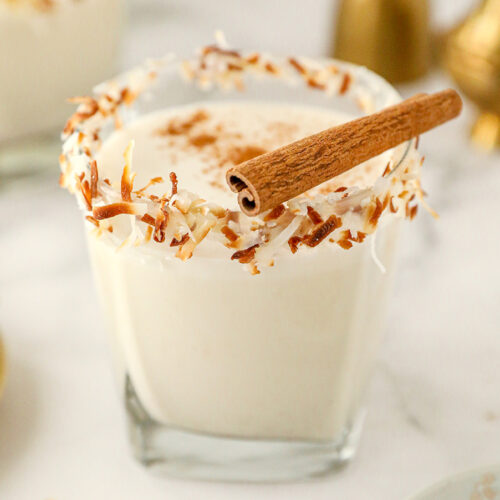 Print Recipe
Pin Recipe
Liven up the holiday fun and add in this recipe for coquito! A deliciously rich drink just like eggnog, but with a Puerto Rican touch to it. Three different kinds of milk, rum, and cinnamon make up this unforgettable holiday recipe.
Ingredients
1 (12 oz) can

evaporated milk

1 (14 oz) can

sweetened condensed milk

1 (15 oz) can

cream of coconut

1 (13.5 oz) can

coconut milk

1 1/2

cups

white rum

1

tsp

vanilla extract

1/2

tsp

ground cinnamon

1/2

cup

shredded coconut

optional
Instructions
Place all of the ingredients into a blender and blend until smooth.

Refrigerate for a minimum of one hour before serving. Serve in chilled glasses.

Place the shredded coconut in a small skillet and cook over medium-high heat for 5 minutes. Run a lime slice over the top of the glass rim and coat the rim with the toasted coconut, if desired.