Put a little burst of color in your dessert with these funfetti cupcakes! They're full of bright little spots of color, wrapped in a decadent and classic vanilla cake. Topped with a creamy and rich buttercream frosting.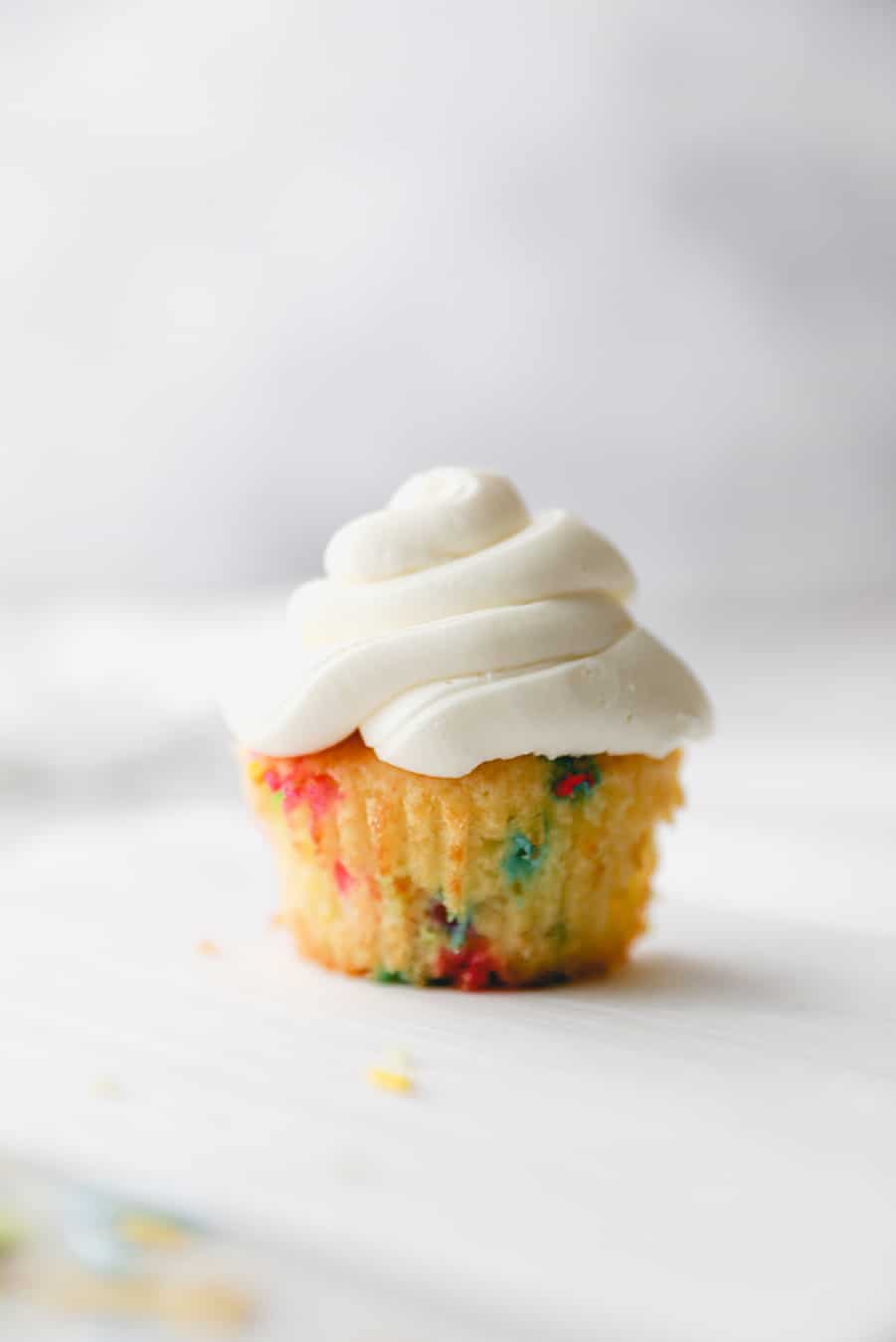 Cupcakes are my dessert muse and funfetti cupcakes are one of my all-time favorites. Who can resist their splashes of color? Ok, let's be real here, I can't resist any cupcakes because they're all so addicting. Soft cake and delicious, rich frosting to match – gives me shivers!
How Do You Make Funfetti Cupcakes From Scratch?
Prep – Preheat the oven to 350 degrees and line a cupcake pan with liners.
Work the vanilla bean – Combine the vanilla bean seeds and sugar in a bowl and use a spoon to break up the seeds.
Start the batter – In a stand mixer, add the flour, salt, baking powder, and baking soda. Mix then add the sugar mixture and mix again. Add the butter and mix for 3 minutes.
Finish the batter – In a separate bowl, whisk together the eggs, vanilla, oil, and sour cream. Add to the flour mixture and beat. Add the milk and mix until just combined. Fold in sprinkles.
Bake – Fill each liner a little over ½ of the way full with the batter. Bake for 14 minutes or until a toothpick comes out with a touch of wet batter on it. Remove to a wire rack to cool.
Make the frosting – In a mixer with a paddle attachment, beat the butter until creamy. Add in the rest of the ingredients and beat on slow until slightly combined and then increase the speed and beat for a couple of minutes. Fold in sprinkles.
Frost and serve – Once the cupcakes are cool, frost them however you like and enjoy!
Top Tips
Use other frosting flavors – You don't have to stick with buttercream for these delicious cupcakes. You can use other frosting choices. Just about any flavor will match these really well.
Make colored frosting – Add some food coloring to your frosting to adjust it from a cream color to any color you like. This won't change the flavor, just the color. Great for using at birthday parties, themed events, or even the holidays.
Make your cupcakes a different color – The sprinkles will add their own bits of color throughout the cupcakes. However, you can always make the cupcakes a different color as well. I would suggest not making them too dark or the bits of color from the sprinkles won't shine through. Use food coloring to adjust your cupcake's color.
Use cake flour – Cake flour is great for all things cake related. It's specifically designed to make a softer, fluffier cake. I sometimes will take 2 tablespoons out of my all purpose flour (per cup) and add in 2 tablespoons of cornstarch in its place. This is similar to cake flour. Cake flour simply has less protein in it, making it a finer flour than all purpose.
Canola oil substitute – You can use canola oil in place of vegetable oil. Just about any oil will do, but be sure you don't use an oil that will produce an added taste to your cupcakes.
How to thicken the frosting – Add up to ½ cup more of powdered sugar.
How to thin out the frosting – Add a tablespoon of cream.
Is the cupcake batter supposed to be that thin? – Yes, it will be very thin. This makes for fluffy cupcakes. Don't worry.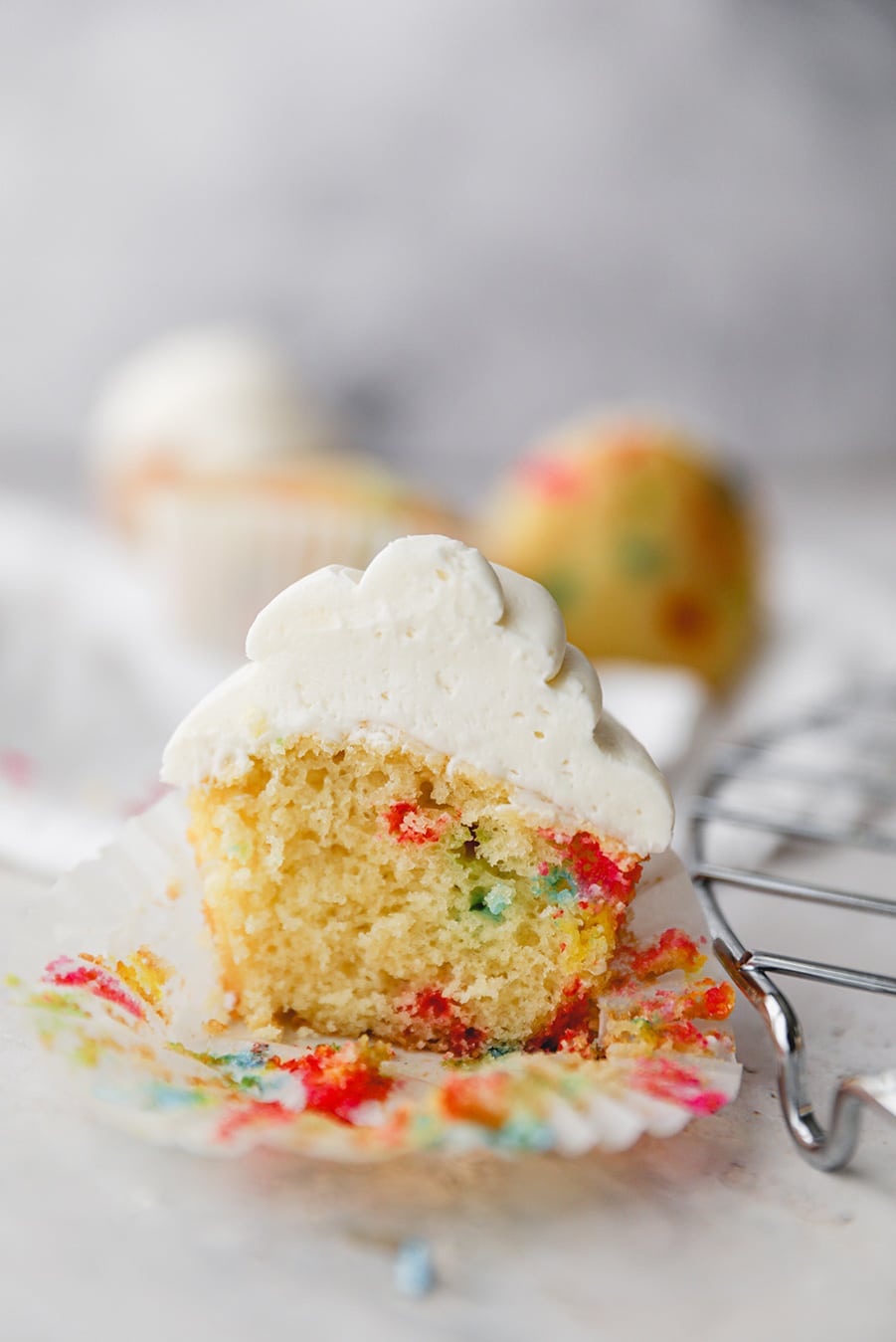 Is Funfetti Cake Just Vanilla Cake With Sprinkles?
For all intents and purposes, yes, funfetti cake is just vanilla cake with sprinkles. Or rather, fun bits of color throughout the soft cake, since the sprinkles melt. When they melt, it results in fun spots of color throughout the dessert. I know, it feels like there should be more to it, but that's all there is to it. It's one of the most popular types of cake and cupcakes. Just goes to show that a little bit of color can make a world of difference.
Storage
Pantry – Store, unfrosted, in a cake or cupcake keeper, for up to 3 days.
Fridge – Store in a sealed container for up to 5 days.
Freezer – Store in an airtight container for up to 2 months.
Go ahead and try some Red Velvet Cupcakes, Banana Cupcakes, Oreo Cupcakes, or Bacon French Toast Cupcakes. There's a cupcake for everyone, I promise you that. However, you can never fail with Funfetti Cupcakes. Don't just take my word for it, make and share your own batch, and watch the smiles appear.
You can find more delicious recipes and cooking tutorial videos on Youtube and Facebook.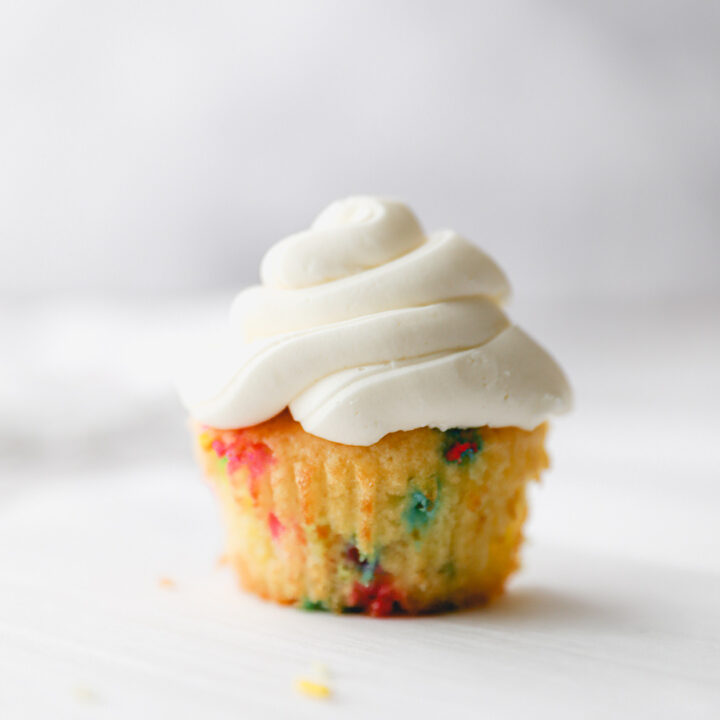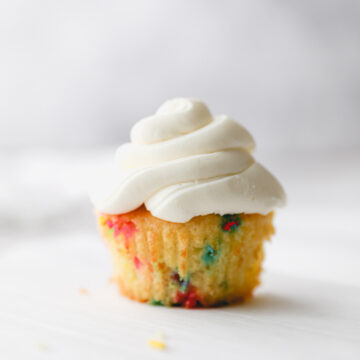 Print Recipe
Pin Recipe
Put a little burst of color in your dessert with these Funfetti Cupcakes! They're full of bright little spots of color, wrapped in a decadent and classic vanilla cake. Topped with a creamy and rich buttercream frosting.
Ingredients
1 3/4

cups

all-purpose flour

1

cup

sugar

1 1/2

tsp

baking powder

1/2

tsp

baking soda

1/2

tsp

salt

1/4

cup

unsalted butter

1/3

cup

sour cream

1/4

cup

vegetable oil

2/3

cup

whole milk

2

eggs

1

tbsp

vanilla extract

1/2

cup

rainbow sprinkles
Vanilla Buttercream Frosting
1

cup

unsalted butter

softened

4

cups

powdered sugar

1/4

cup

heavy cream

1

tsp

vanilla extract
Instructions
Preheat oven to 350 degrees F.

In a large bowl, sift the all-purpose flour, baking soda, baking powder, salt, and set aside.

In a large separate bowl, combine the eggs, milk, sour cream, vegetable oil, and vanilla extract, set aside.

In a standing mixer, mix the butter and sugar until well combined.

Add the flour mixture and the wet ingredients to the butter mixture and mix until well incorporated.

Fold in the rainbow sprinkles.

Using an ice-cream scoop, scoop the batter evenly into your muffin tin and bake for 16-18 minutes.

To make the frosting, mix the butter for about 2 minutes or until smooth.

Add the powdered sugar, vanilla extract, heavy cream, and mix on medium-high speed for about 3-4 minutes or until nice and fluffy. 
Use a piping bag or offset spatula to frost the cooled cupcakes and Enjoy!
Nutrition
Serving:
8
g
|
Calories:
864
kcal
|
Carbohydrates:
117
g
|
Protein:
6
g
|
Fat:
43
g
|
Saturated Fat:
28
g
|
Cholesterol:
134
mg
|
Sodium:
266
mg
|
Potassium:
192
mg
|
Fiber:
1
g
|
Sugar:
94
g
|
Vitamin A:
1148
IU
|
Calcium:
98
mg
|
Iron:
2
mg