This easy Crock Pot Beef Chili is perfect for a comfy day inside, as a quick dinner, or as a dish to warm you up during a cold evening. Chock full of hearty ingredients like red kidney beans, ground beef, onions, and tomatoes, this recipe is extremely satisfying. So, don't worry about a fussy dinner tonight – make this toss and go recipe instead!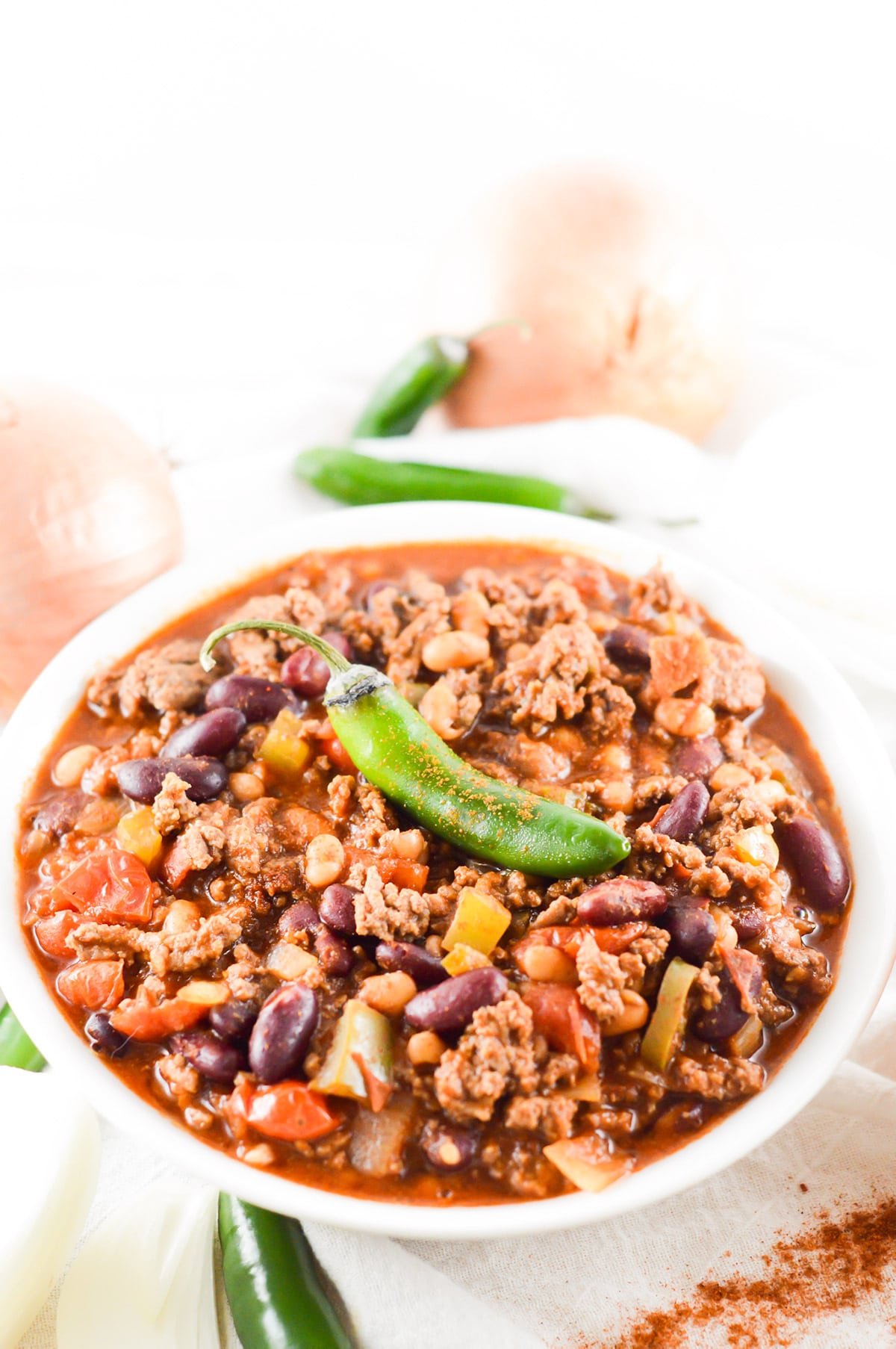 Homemade slow cooker chili is one of those dishes that's hard to mess up.  It doesn't take a lot of effort or focus to make a nice big pot of crockpot chili. The entire family loves it and each can eat it in their own way.
Whether that's with Honey Jalapeno Cheddar Cornbread, crackers, or plain – it's easy to please. The only thing I might change up is the spice level. I like a spicy chili, but sometimes make it mild depending on those I'm cooking for.
This CrockPot Chili is also nice for using up random veggies and such before they go bad. I am constantly getting produce since we love to cook fresh in this house. However, the thing about fresh ingredients is that they can go bad in a flash.
When I say flash. I'm not one to waste, so I often try to make recipes like this slow cooker chili that will allow me to use up some of those random veggies in bulk. I mean, chili isn't the only recipe that's good for this. I make a mean Beef Stew that works for this as well.
How to Make Crock Pot Chili
Brown and saute – In a large skillet, brown and drain the ground beef. Next, add the butter to the same skillet and once it's melted, add the onions, bell pepper, garlic, jalapenos and saute for a few minutes.
Add everything to the pot – Place the drained ground beef in the crockpot, place all the seasonings on top, then add the onion mixture, and end with all the rest of the ingredients.
Stir and cook – Give the ingredients a good stir and set on low to cook for 4 hours.
Taste and serve – Once the chili has finished cooking, taste it to see if more seasoning is needed and add more if need be. Garnish with some jalapeno slices or minced herbs, serve, and enjoy!
Tips and Variations
Use El Pato Sauce – If you want to mix things up and enjoy a nice spicy chili, swap out half of the tomato sauce for a can of El Pato sauce. This sauce gets spicier the longer it cooks, making it a delicious option for a spicy crockpot chili.
Make it milder – You can skip the jalapenos or remove their seeds if you would like to make the chili less spicy.
Add other seasonings – If you enjoy other seasonings in your chili, feel free to add them, although this chili recipe is already bursting with flavor. Some other seasoning options you might like are cayenne pepper, coriander, etc.
Mix the beans – If you're not a bean person, mix the beans. The chili won't be as thick if you do, but a good slice of cornbread can fix that.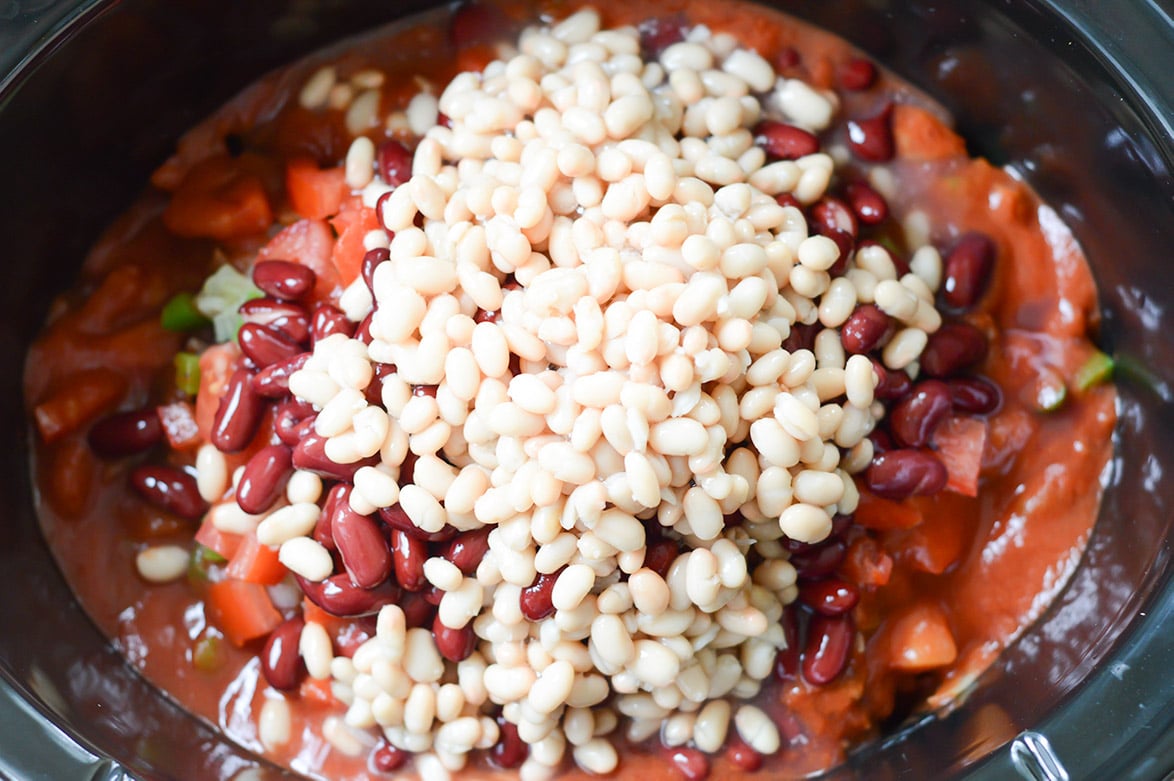 What Do You Serve with Chili?
Chili is a pretty well-rounded dish, which is often only accompanied by crackers, bread, cornbread, etc. However, if you would like a nice side dish to go along with your chili dinner, some great options are Cheese Garlic Biscuits, Creamed Corn, Five Cheese Macaroni and Cheese, or Loaded Mac & Cheese.
Most veggie options or side dishes that are heavy on bread go well with chili. Of course, there are countless other options if you so desire – each person has their own preferences. However, nothing beats a nice, big glass of cold milk, a thick slice of cornbread, and a heaping bowl of chili. The best combination for a wonderful night, if you ask me. Also, some sour cream, cheddar cheese, and scallions on top would be fantastic! 
Can I Make This On The Stovetop? 
If you're planning on making this on the stovetop, follow all of these exact steps. The only difference is the cooking time. The chili should be perfectly cooked in about 55 minutes over medium-low heat.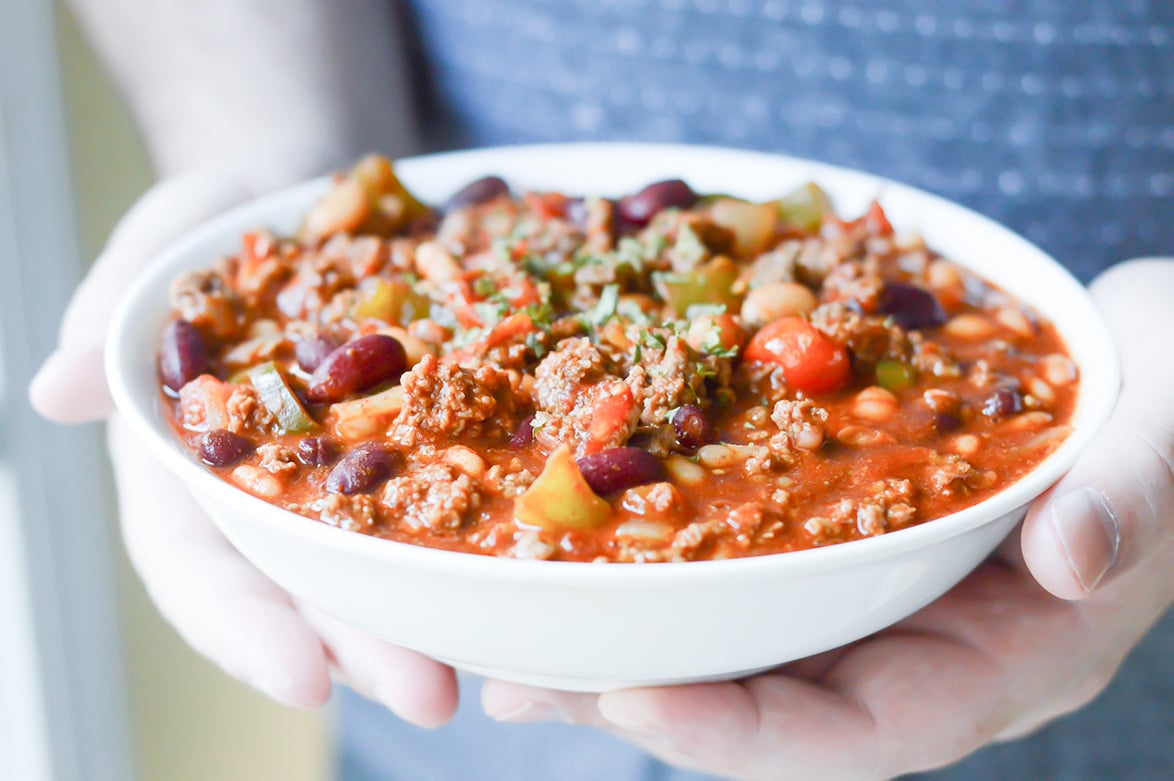 Top Tip: 
Please made sure to read the crockpot manual before using it.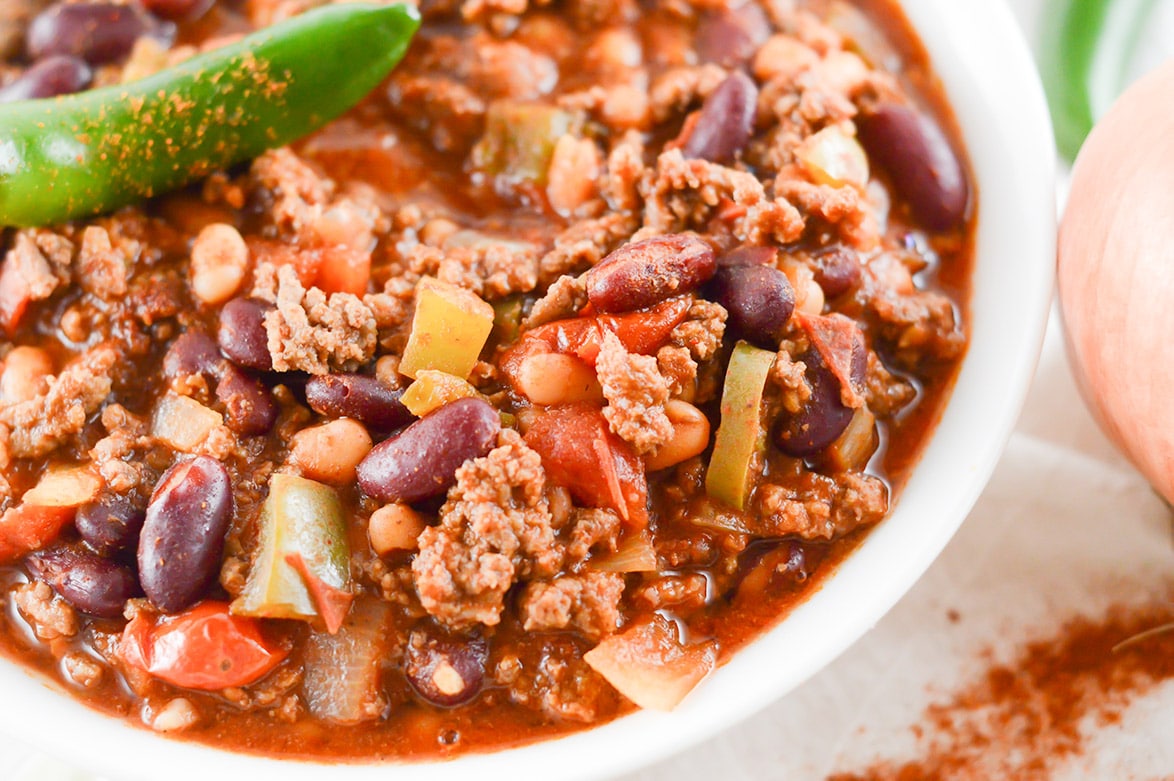 You can find more delicious recipes and cooking tutorial videos on Youtube and Facebook.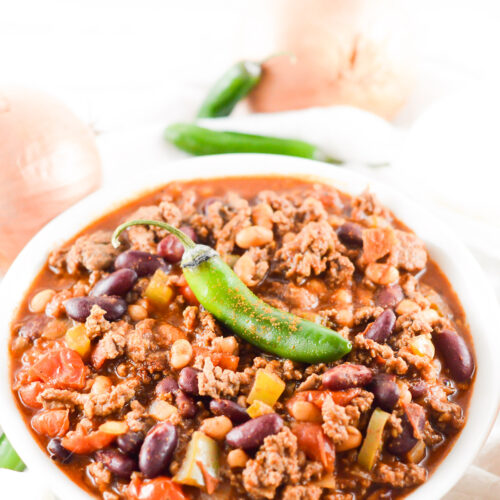 Crockpot Chili
Print Recipe
Pin Recipe
Hearty and delicious homemade chili made in the crockpot. Super easy to make and slow-cooked to perfection!
Ingredients
2.5

lbs

ground beef

15

ounces

red kidney beans

Canned

15

ounces

white beans

Canned

2

jalapenos

sliced

1

green bell pepper

diced

1

large onion

finely diced

4

garlic cloves

minced

2

14.5 oz

canned diced tomatoes

3

8 oz

canned tomato sauce

4

tbsp

chili powder

1/2

tbsp

granulated garlic

2

tsp

cumin

1

tsp

paprika

1

tsp

oregano

1

tsp

sugar

2

tbsp

butter

salt and pepper to taste
Instructions
Brown the ground beef in a large skillet until cooked through. Drain thoroughly and place in the bottom of the crock pot.

Add the seasonings on top of the beef.

In the same skillet, melt the butter then saute the onion, garlic, bell pepper, and jalapenos until the onions are somewhat translucent. Place these on top of the beef in the crock pot. 

Add in the tomatoes, beans, and tomato sauce. Mix well.

Heat on low for 4 hours. Taste for seasonings at this point and add more if needed and let cook for a few minutes longer if you more seasonings are added.
Notes
Please read the crockpot manual before using it. 
Nutrition
Calories:
425
kcal
|
Carbohydrates:
25
g
|
Protein:
28
g
|
Fat:
24
g
|
Saturated Fat:
9
g
|
Cholesterol:
81
mg
|
Sodium:
136
mg
|
Potassium:
844
mg
|
Fiber:
8
g
|
Sugar:
2
g
|
Vitamin A:
1127
IU
|
Vitamin C:
15
mg
|
Calcium:
94
mg
|
Iron:
6
mg