Warm yourself up this winter with decadent crockpot hot chocolate. Rich chocolate chips, milk, cream, and cocoa powder combine to make a delicious cold-weather staple. Top with whipped cream or marshmallows for the perfect cup of comfort.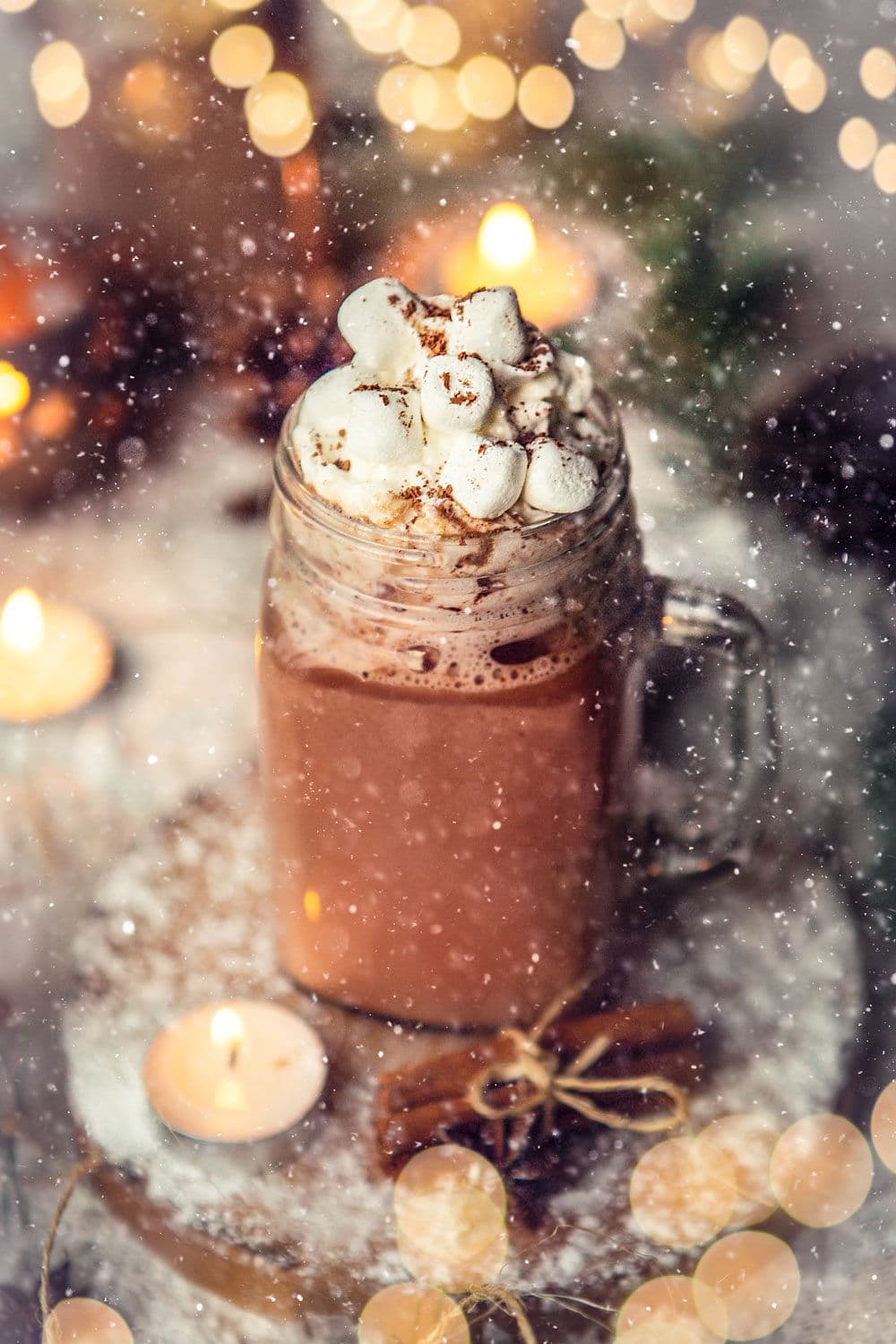 I don't know anyone that hasn't had a nice, hot cup of cocoa. Of course, I'm sure there is someone out there who hasn't. However, my point is that hot cocoa is a beverage that a large number of people adore. It's a constant during the colder months, and I can't imagine a holiday without it. Coquito and Peppermint White Russians are also a staple around the holidays for me. I like to pair any one of these beverages with a Gingerbread Cupcake, a slice of Coquito Cake, or some Sugar Cookies with Icing.
I definitely prefer making it in batches, but having to reheat it is a bummer too. That's why Crockpot Hot Chocolate is the best answer to serving hot chocolate to more than one person. The slow cooking makes the flavor much richer, and the warm setting on a crockpot keeps you from having to reheat it every time someone wants another cup.
How Do You Make Crockpot Hot Chocolate From Scratch?
Add ingredients – Place all the ingredients except the garnishes in the slow cooker.
Cook – Cook on low for 2 hours. Set on "keep warm" until ready to serve.
Serve – Garnish with your choice of toppings and enjoy!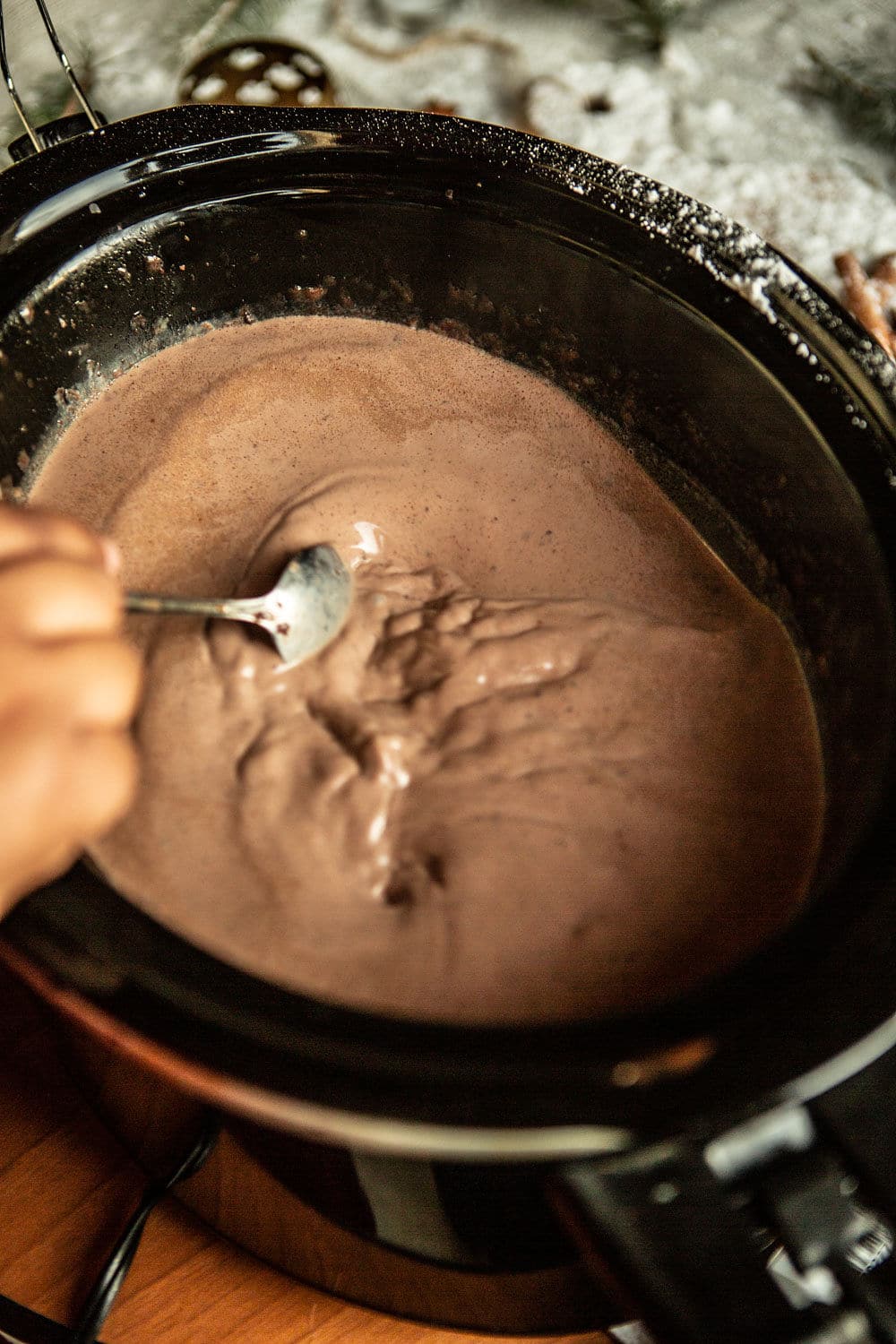 Top Tips
Use other chocolate flavors – You can swap out the chocolate chips for other chocolate flavors such as dark chocolate chips or white chocolate. Dark chocolate will make it richer.
Mix it with coffee – Add some brewed coffee turns this hot chocolate into a mocha style beverage. It's so good and still tastes great with any of the toppings you might add.
Toppings – Some delicious topping ideas are whipped cream, mini chocolate chips, marshmallows, marshmallow cream, hot fudge,

Caramel Sauce

, etc.
Swap out the condensed milk – The sweetened condensed milk is what sweetens the hot chocolate recipe. If you don't have any on hand, you can add some more cream in its place and add a cup of granulated white sugar. You can taste it to see if you want to add more sugar but start with only half a cup.
Swap out the cream – If you don't want a thicker feel to your hot chocolate, similar to whole chocolate milk, you can swap out the heavy cream. You can simply use more whole milk in its place.
Add cinnamon – I know it might sound strange, but a bit of cinnamon to the mixture adds just the right amount of light spice. It really boosts that rich vanilla and chocolate flavor in the recipe.
Make it on the stovetop! If you don't have a slow cooker simply make this recipe in a saucepan on the stovetop.
Is it Better to Make Hot Chocolate with Milk or Water?
Milk is definitely the way to go when making hot chocolate. You can also do a mixture of milk and heavy cream if you like a thicker, richer hot chocolate. Of course, if water is what you have, it's still delicious. Milk makes it bold in flavor, rich, and so creamy. It really hits the spot, and although water works, it definitely leaves it lacking in the flavor department.
What Can I Add to Hot Chocolate to Make it Better?
Marshmallows are always a classic addition to hot chocolate. However, a drizzle of fudge or chocolate sauce also adds a tasty aspect to the beverage. I often like to add a sprinkle of cinnamon as it pairs well with the savory, sweet drink. Mini chocolate chips are another fun and tasty addition. Don't forget the whipped cream! It's the queen of hot chocolate toppings.
What's the Difference Between Hot Cocoa and Hot Chocolate?
Hot cocoa is made with cocoa powder while hot chocolate is typically made with chocolate chips or a chocolate sauce. Although you can call it whatever you want, especially if using both chocolate chips and cocoa powder.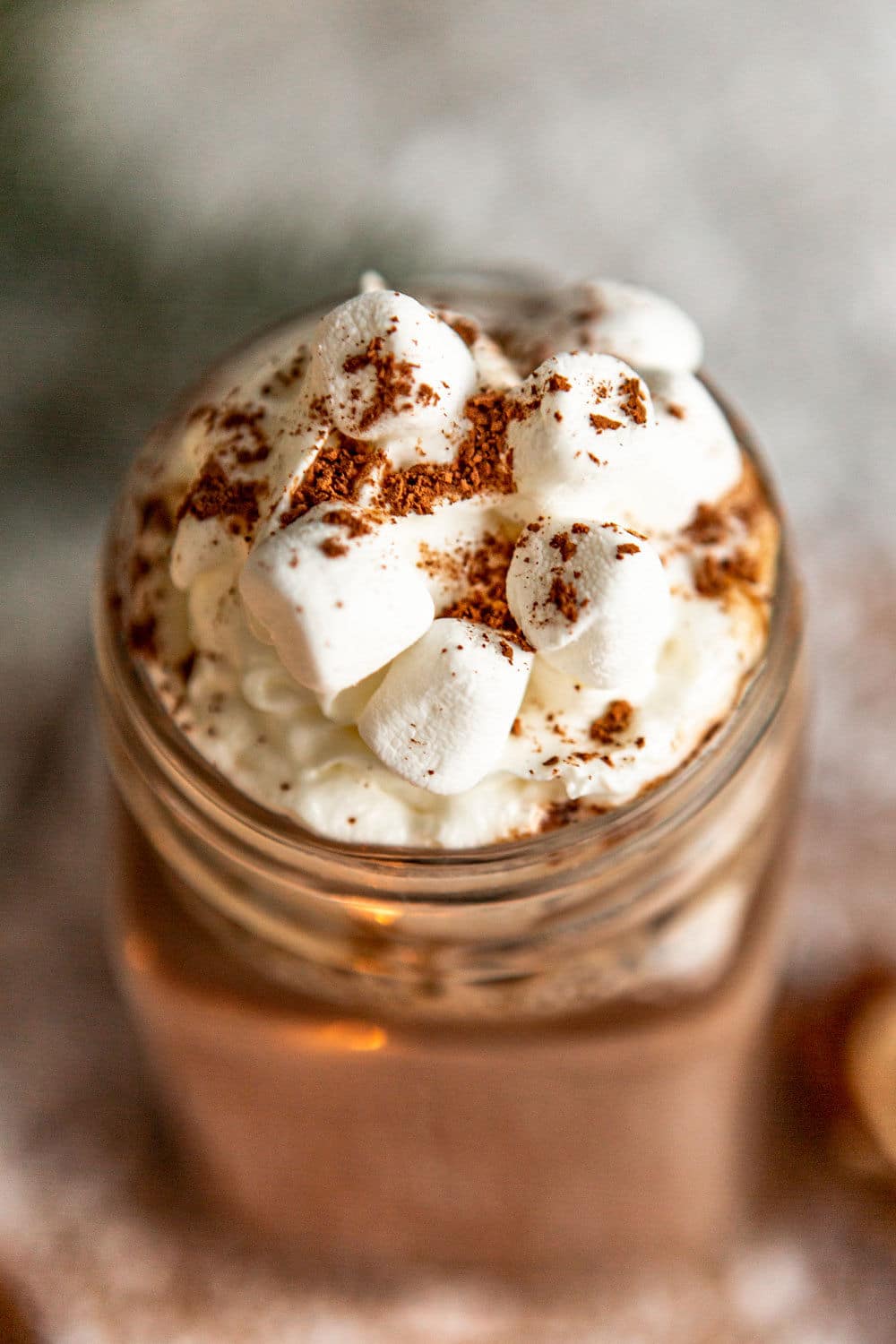 Storage and Reheating
Fridge – Store in a picture or container, covered/sealed, for up to a week.
Freezer – Freeze in an airtight container for up to 2 months.
Reheating – Reheat in the microwave, in a pot over the stove, or you can rewarm it in the slow cooker.
More Drinks You'll Enjoy
You can find more delicious recipes and cooking tutorial videos on Youtube and Facebook.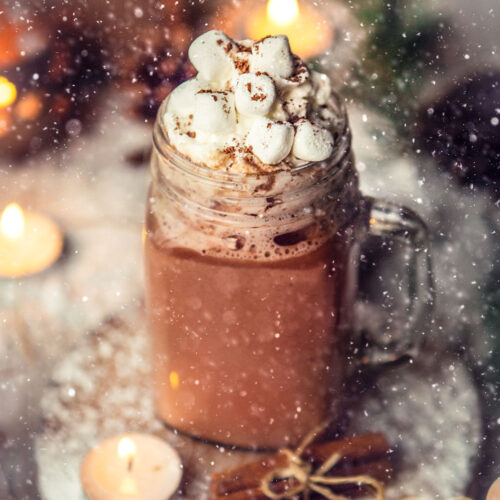 Print Recipe
Pin Recipe
Warm yourself up this winter with decadent crockpot hot chocolate. Rich chocolate chips, milk, cream, and cocoa powder combine to make a delicious cold-weather staple. Top with whipped cream or marshmallows for the perfect cup of comfort.
Ingredients
1/4

cup

cocoa powder

sifted

6

cups

whole milk

2

cups

heavy cream

1

14 ounce

sweetened condensed milk

1/2

cup

semi-sweet chocolate chips

1

cup

milk chocolate chips

1

tsp

vanilla extract

Marshmallows and Whipped Cream
Instructions
Place the whole milk, heavy cream, cocoa powder, sweetened condensed milk, and chocolate chips in the crockpot. Mix well.

Cook on low for two hours, turn the crockpot to the "keep warm" function, and stir in the vanilla extract. Enjoy with marshmallows, whipped cream, and sifted cocoa powder, if desired!
Nutrition
Calories:
402
kcal
|
Carbohydrates:
27
g
|
Protein:
7
g
|
Fat:
30
g
|
Saturated Fat:
18
g
|
Cholesterol:
83
mg
|
Sodium:
95
mg
|
Potassium:
313
mg
|
Fiber:
2
g
|
Sugar:
22
g
|
Vitamin A:
977
IU
|
Vitamin C:
1
mg
|
Calcium:
226
mg
|
Iron:
1
mg