Japanese Cotton Cheesecake is light and fluffy, a souffle style cheesecake.  Eat it warm or cold, no need to wait 4 hours. Enjoy it with some fresh fruit and powdered sugar.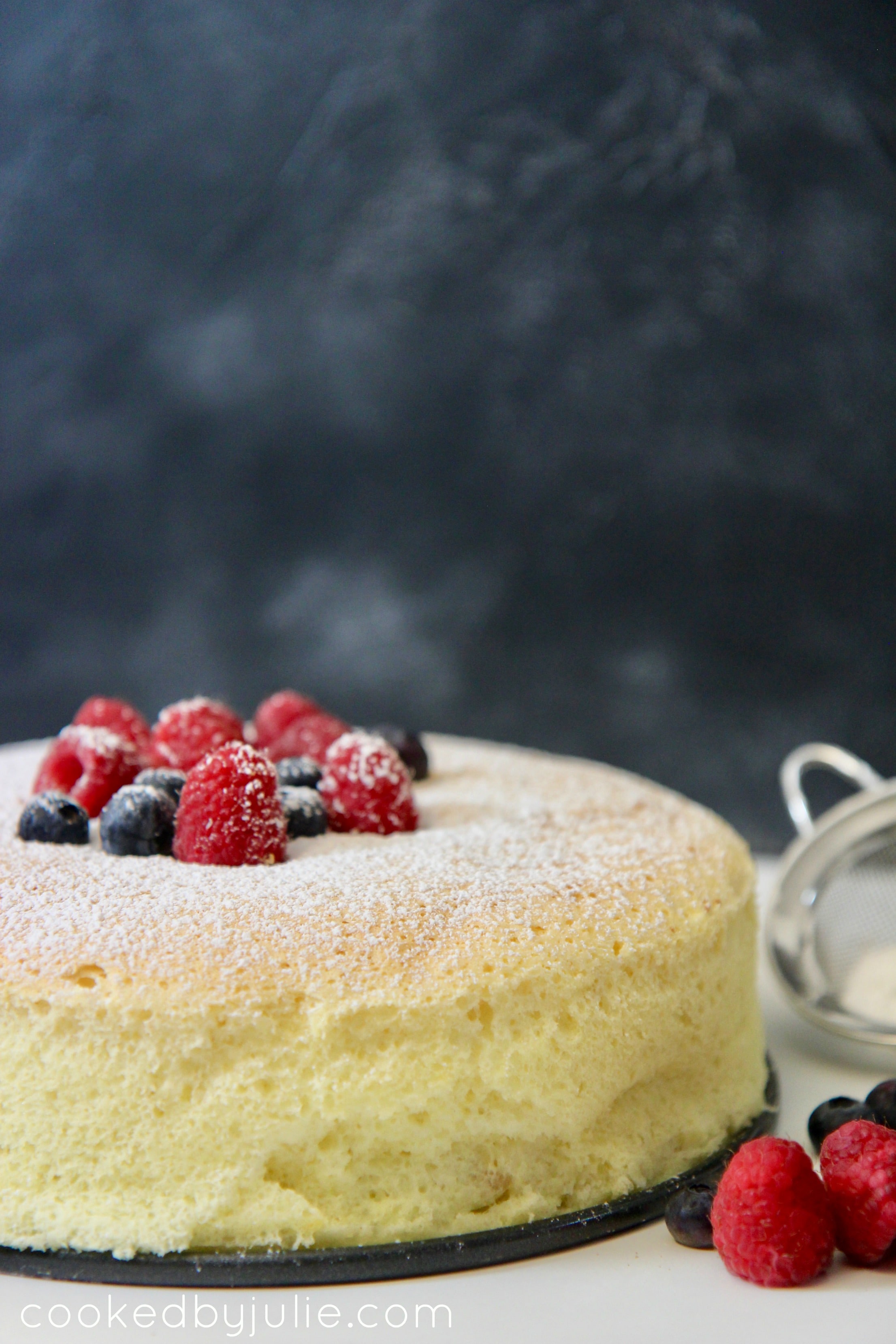 What is Japanese Cheesecake?
Japanese cheesecake aka cotton cheesecake is cheesecake with folded egg whites and cooked cream cheese and butter.
Japanese cheesecake is completely different from plain cheesecake. Some call this cotton cheesecake, souffle cheesecake, Japanese cheesecake, etc. I once heard someone calling it "egg cake".
Anyway, I've been making lots of cakes lately but this one certainly stands out. Eat it with fresh fruit and powdered sugar, so good that way. You can also serve this with vanilla ice cream. I find this Japanese cheesecake recipe super easy. A bit tedious but nonetheless simple.
I enjoy Japanese Cotton Cheesecake both warm and cold. Cold was better in my opinion, but I love the fact that you don't have to refrigerate it for 4 hours before enjoying a slice.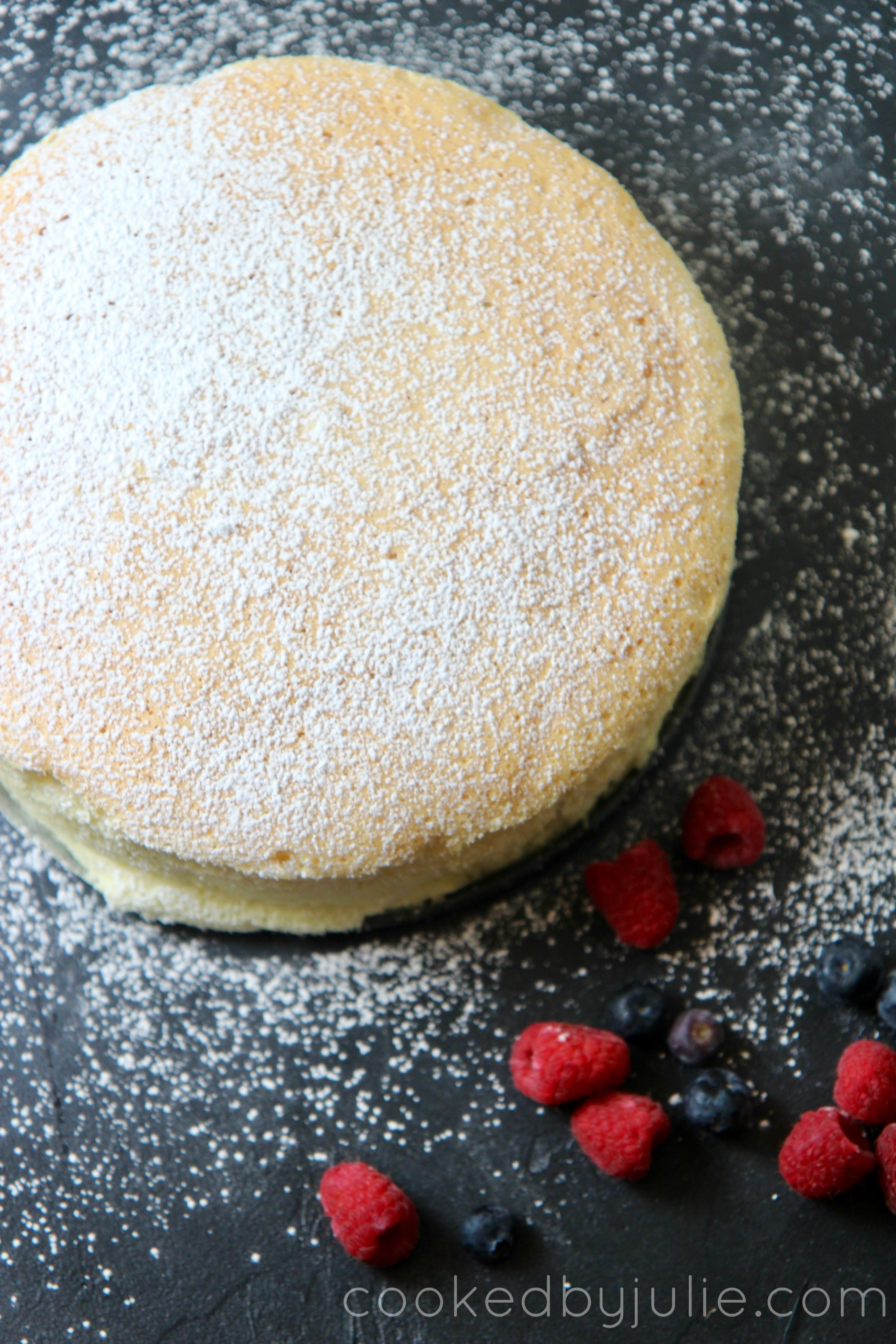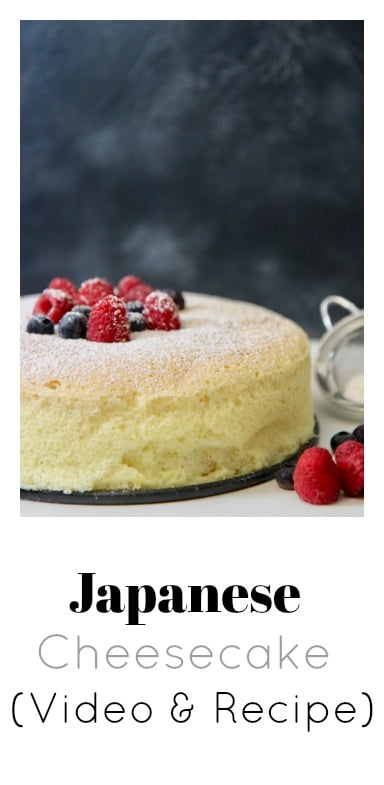 Check out these other delicious cheesecakes: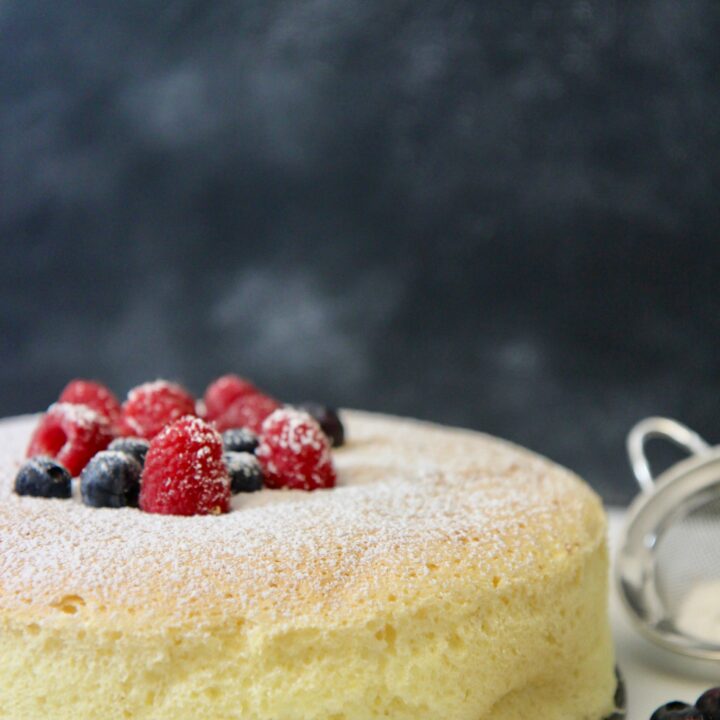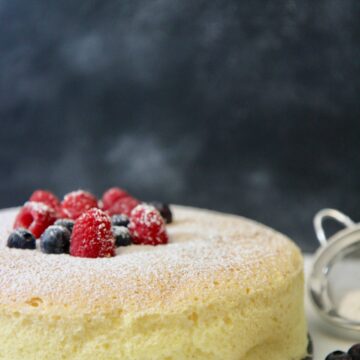 Japanese Cotton Cheesecake
Print Recipe
Pin Recipe
This Japanese Cheesecake recipe is super easy to make and can be enjoyed warm or cold. Your friends and family will be super impressed with this marvelous cake.
Ingredients
4

ounces

unsalted butter

2/3

cup

milk

8

ounces

cream cheese

12

egg whites

8

egg yolks

1

tbsp

vanilla

1/2

cup

flour

1/2

cup

cornstarch

2/3

cup

sugar

1/4

tsp 

cream of tartar
Instructions
Preheat oven to 320 degrees F.

Sift the corn starch and flour, set aside.

Line the bottom and sides of an 8-inch springform pan with parchment paper. Wrap the outside of the springform with aluminum foil, set aside.

In a saucepan add the cream cheese, butter, and milk. Cook over medium-low heat until melted and completely smooth. Allow it to cool completely.

In the bowl of a standing mixer, whisk the egg whites, cream of tartar, and sugar until soft peaks.

Add the egg yolks to the cooled cream cheese mixture and whisk until pale.

Add the vanilla extract, cornstarch, and flour to the egg yolk mixture.

Fold 1/2 cup at a time of the egg white mixture into the yolk and cream cheese mixture until it is all incorporated.

Place the mixture into the prepared springform pan.

Place the springform pan in a large oven-safe skillet with high sides.

Pour boiling hot water around the sides of the skillet until it reaches halfway up.

Bake the cheesecake for 20 minutes.

Reduce the heat to 280 degrees F and cook for an additional hour and 20 minutes or until the top is golden brown.

Serve warm or cold and enjoy with fresh fruit and powdered sugar, if desired.
Notes
Bake until the top has a nice golden color.
Nutrition
Calories:
420
kcal
|
Carbohydrates:
33
g
|
Protein:
11
g
|
Fat:
26
g
|
Saturated Fat:
14
g
|
Cholesterol:
258
mg
|
Sodium:
185
mg
|
Potassium:
192
mg
|
Sugar:
19
g
|
Vitamin A:
1030
IU
|
Calcium:
81
mg
|
Iron:
1
mg