Mix up your Italian dinner ideas with this pizza lasagna! Layers of pepperoni, pasta, mozzarella, and homemade tomato sauce make this recipe sing. All the classic flavors of pizza combined with your favorite Italian dish for one successful dinner.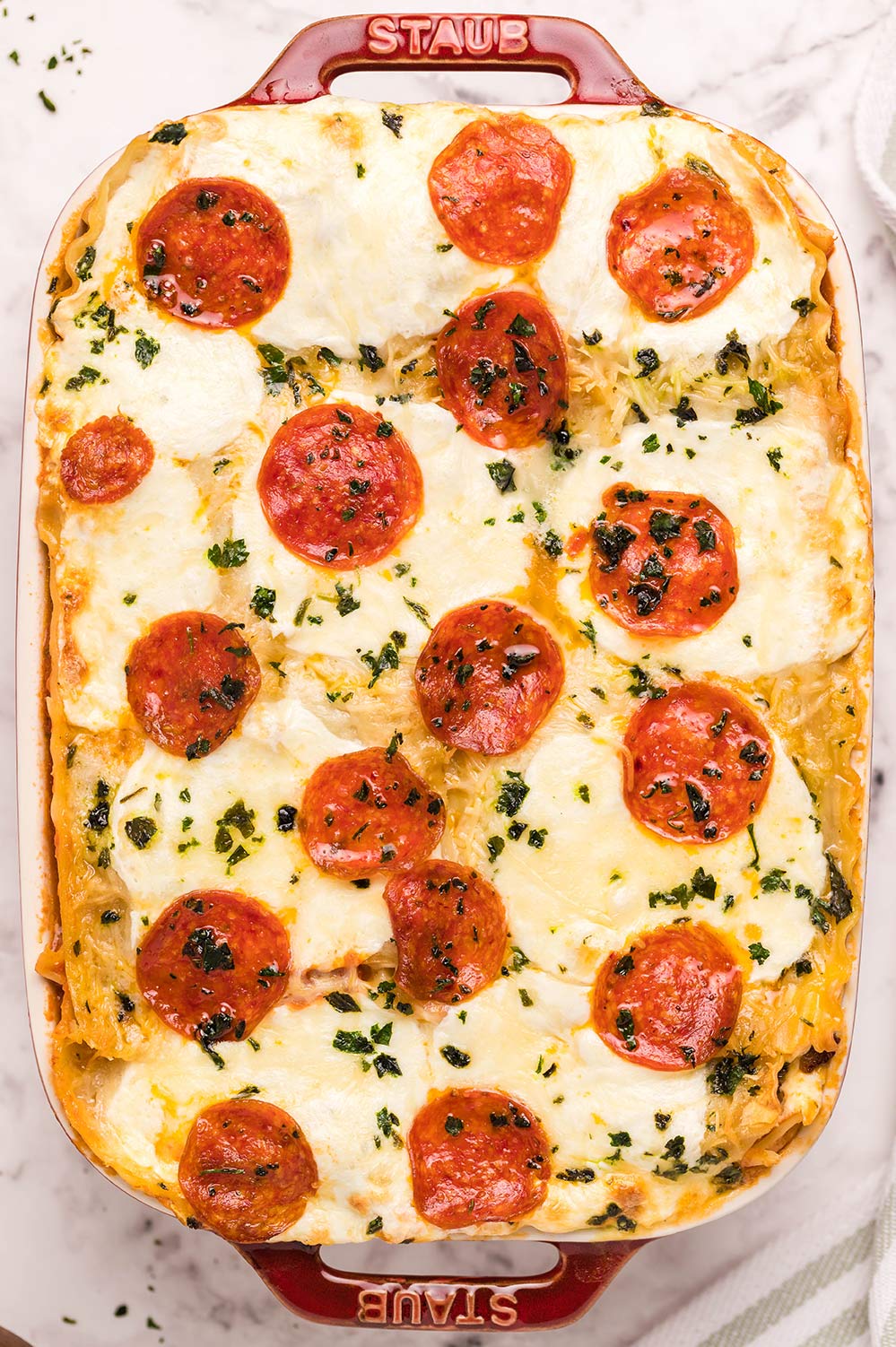 Ok, so pizza anything is pretty much the perfect meal, especially when kids are involved. So, instead of just straight pizza, I like to find ways to mix it up.
This is how Pizza Lasagna, Pull Apart Pizza Monkey Bread, and Instant Pot Pizza Pasta were born! Some delicious comfort food for the adults and the pizza aspect to appease the kiddos. It makes for one satisfied and happy family.
You can definitely make normal lasagna from this recipe as well. This tomato sauce is so good and goes well with Italian dishes in general. Basically, grab some noodles and roll on dinner. I love a good homemade sauce that works for a lot of recipes, and you can't go wrong with this one.
How to Make
Prep – Preheat the oven, then cook and drain the sausage. Set aside. Boil and trim the noodles to size.
Make the sauce – Puree and simmer all ingredients for the sauce.
Assemble – Starting with the sauce, layer the lasagna recipe as directed.
Bake – Top the lasagna with Italian herbs. Bake, cool, and enjoy!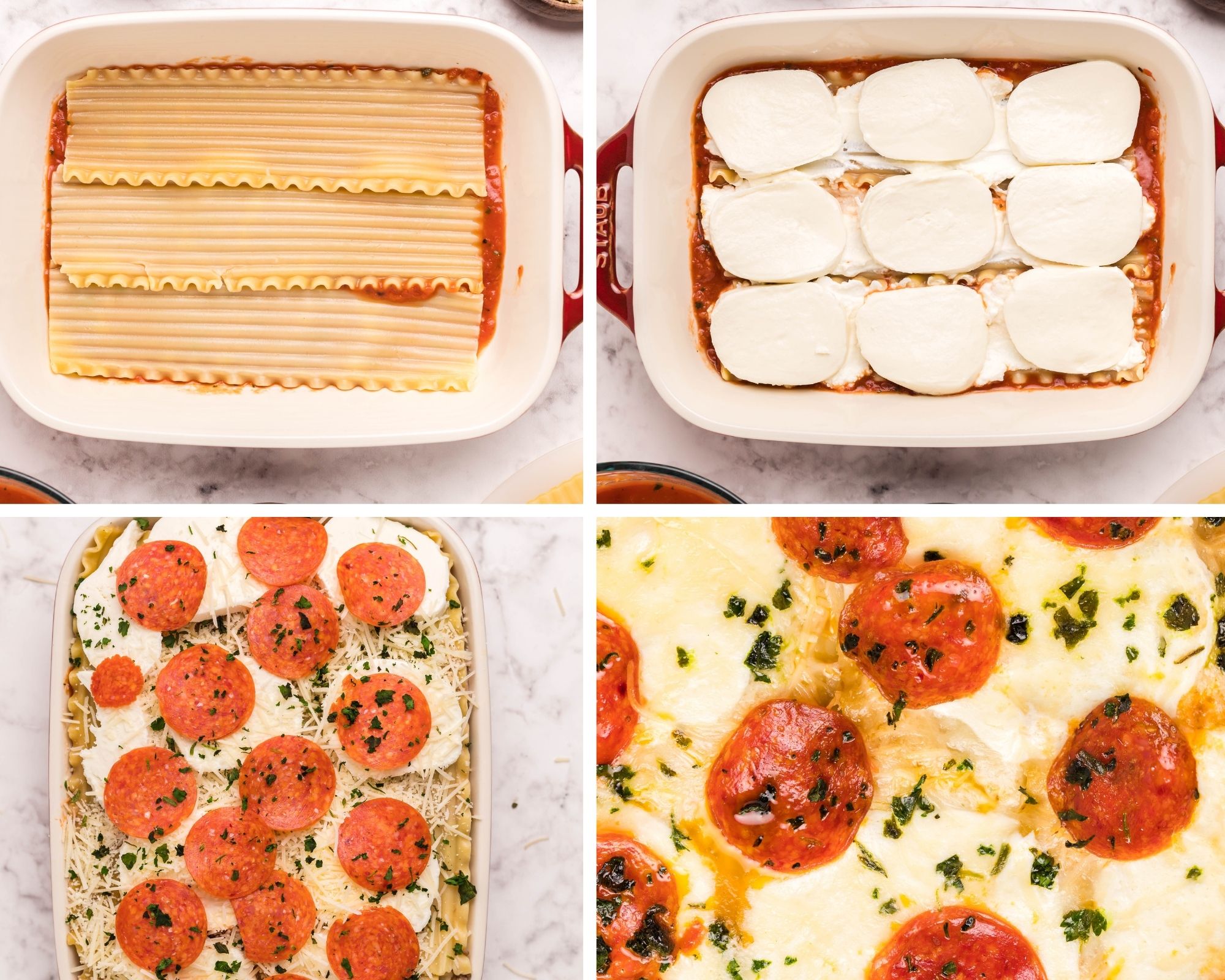 Top Tips and Recipe Variations for the Ultimate Pizza Lasagna
Make it normal lasagna – You can omit the pepperoni and make it a pretty average lasagna if desired. This will remove the stronger pizza taste if that's what you're going for.
Use bechamel sauce in place of ricotta – You can make your own homemade bechamel if you would like to go a more traditional route. 
Use cottage cheese in place of ricotta – If you're in a pinch, cottage cheese tastes pretty great in place of ricotta cheese for this recipe. 
Make it mild – Remove the crushed red pepper flakes for a milder end result. Even just a pinch of these flakes can add quite a bit of spice. So, removing it will make a big difference where the spice is concerned.
Use other cheeses – You can add other cheeses or swap out the mozzarella altogether. Just note that changing cheeses will adjust taste and texture. So be aware of this when choosing your cheese.
Use the sauce for other recipes – You could pair this sauce with just about any pasta and make a meal out of it.
What to serve with pizza lasagna? – Of course, cheesy garlic bread is the best go-to side for an Italian dish. However, you can never go wrong with an amazing salad either. My top choices are a

Vegetable Salad with Homemade Italian Dressing

 or

Tomato Avocado Salad

.
Is Lasagna Made with Ricotta or Bechamel?
For Americans, ricotta is a very common ingredient used in lasagna. Not to mention, it's an easier ingredient than bechamel. Of course, bechamel is common in a traditional lasagna recipe when going super specific. However, it's just as delicious and common to use ricotta. You can't go wrong and it definitely shaves a good chunk of time off of the cooking time. Definitely go with the sauce if you've got the time and would like to try it!
Do You Put a Layer of Pasta on the Bottom of Lasagna?
It depends on the recipe. However, for this lasagna recipe, you don't start with noodles. It's the second ingredient though, so it's close. Most recipes will use a bit of sauce first as this keeps the noodles from burning or sticking to the pan when baking. You're more than welcome to start with noodles if preferred. However, for the best results, start with some sauce first. It's great for the flavor as well!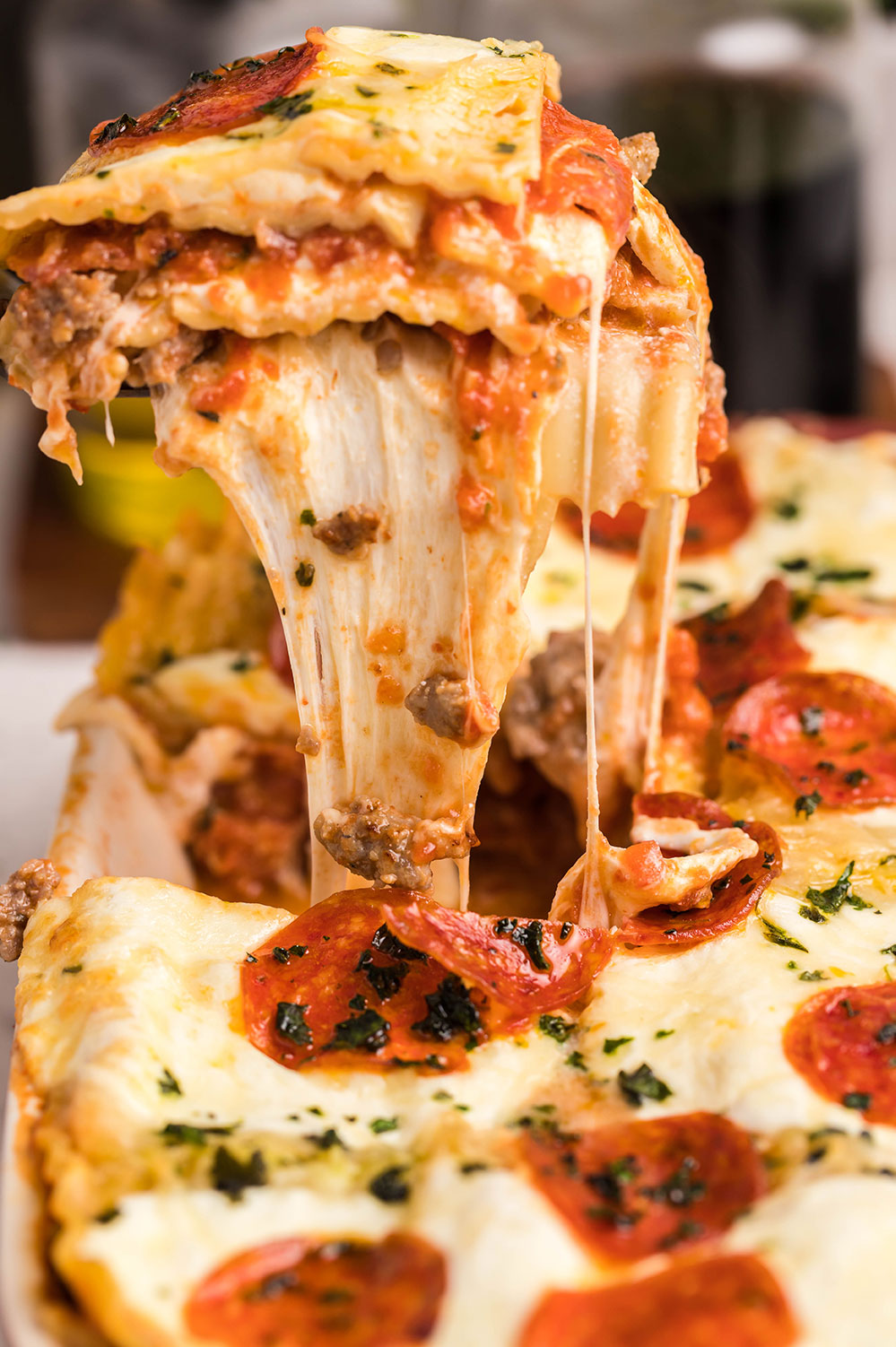 Storage
Fridge – Store in a sealed container for up to 4 days.
Freezer – Freeze in an airtight container for up to 2 months.
Reheating – Reheat in the microwave or oven.
Feel free to let me know in the comments below if you gave this pizza lasagna recipe a whirl or if you gave it your own adjustments!
You can find more delicious recipes and cooking tutorial videos on Youtube and Facebook.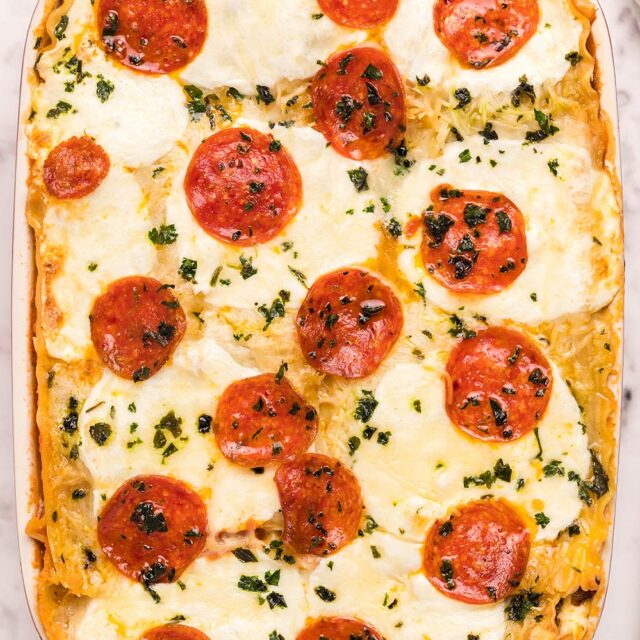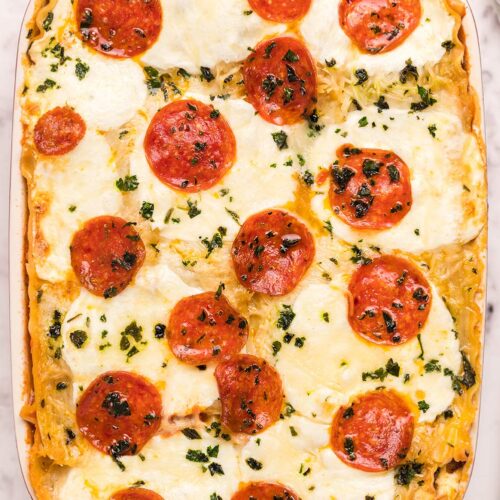 Print Recipe
Pin Recipe
Mix up your Italian dinner ideas with this pizza lasagna! Layers of pepperoni, pasta, mozzarella, and homemade tomato sauce make this recipe sing. All the classic flavors of pizza combined with your favorite Italian dish for one successful dinner. 
Ingredients
9

lasagna noodles

cooked al dente

1

cup

pepperoni

sliced

3

cups

tomato sauce

recipe follows

16

ounces

ricotta cheese

16

ounces

mozzarella

sliced

1

lb

Italian sausage

cooked

3/4

cup

parmesan cheese

1

tsp

Italian seasoning

salt and pepper to taste
Tomato Sauce
28

ounces

crushed tomatoes

canned

1/2

cup

onions

4

garlic cloves

finely minced

2

tbsp

olive oil

1

tsp

dried oregano

1/2

tsp

sugar

1

tbsp

fresh basil

1/2

tsp

red crushed pepper

optional

salt and pepper to taste
Instructions
Preheat the oven to 375 degrees. Cook and drain the Italian sausage. Place into a bowl and set aside. 

In a large saucepan, bring 6 cups of water to a boil and season generously with salt. Cook the lasagna noodles for 7 minutes or until al dente. Remove from water and cut to size. Prepare the tomato sauce. Heat a large skillet over medium-high heat and add 2 tbsp of olive oil. Add the onions and cook until translucent. Stir in the fresh garlic and red crushed pepper and cook until fragrant. Add the crushed tomatoes and remaining ingredients. Cover and cook for 20-25 minutes. 

In a 9 by 13 by 3-inch baking pan or dish, pour 1 cup of the Tomato Sauce in the bottom and spread to evenly cover the bottom. Layer lasagna noodles on the bottom of the pan, in a single pattern slightly overlapping. Add ½  of the ricotta and spread over the lasagna noodles. Next, add mozzarella slices, leaving 1" between each slice. Then, top with ½ of the sausage, ⅓ of the pepperoni, and ⅓ of the shredded Parmesan. Spoon 1 cup of tomato sauce over the top. Top with lasagna noodles and repeat. Cover the top sheet of lasagna noodles with remaining mozzarella slices, pepperoni, and parmesan. Sprinkle Italian herbs over the top. Bake for 45 minutes. Let cool for 10 minutes. Cut into sections and serve. Enjoy!
Nutrition
Calories:
696
kcal
|
Carbohydrates:
37
g
|
Protein:
36
g
|
Fat:
45
g
|
Saturated Fat:
20
g
|
Trans Fat:
1
g
|
Cholesterol:
123
mg
|
Sodium:
1628
mg
|
Potassium:
881
mg
|
Fiber:
4
g
|
Sugar:
9
g
|
Vitamin A:
1199
IU
|
Vitamin C:
16
mg
|
Calcium:
533
mg
|
Iron:
4
mg