These Salmon Burgers will take your BBQ days to an entirely new level. Fresh dill and salmon combine with capers, dijon mustard, and shallots to give you a patty bursting with flavor that only takes 8 minutes to cook. Simply mouthwatering. 
Ditch the typical beef burger for this perfectly seasoned salmon option instead.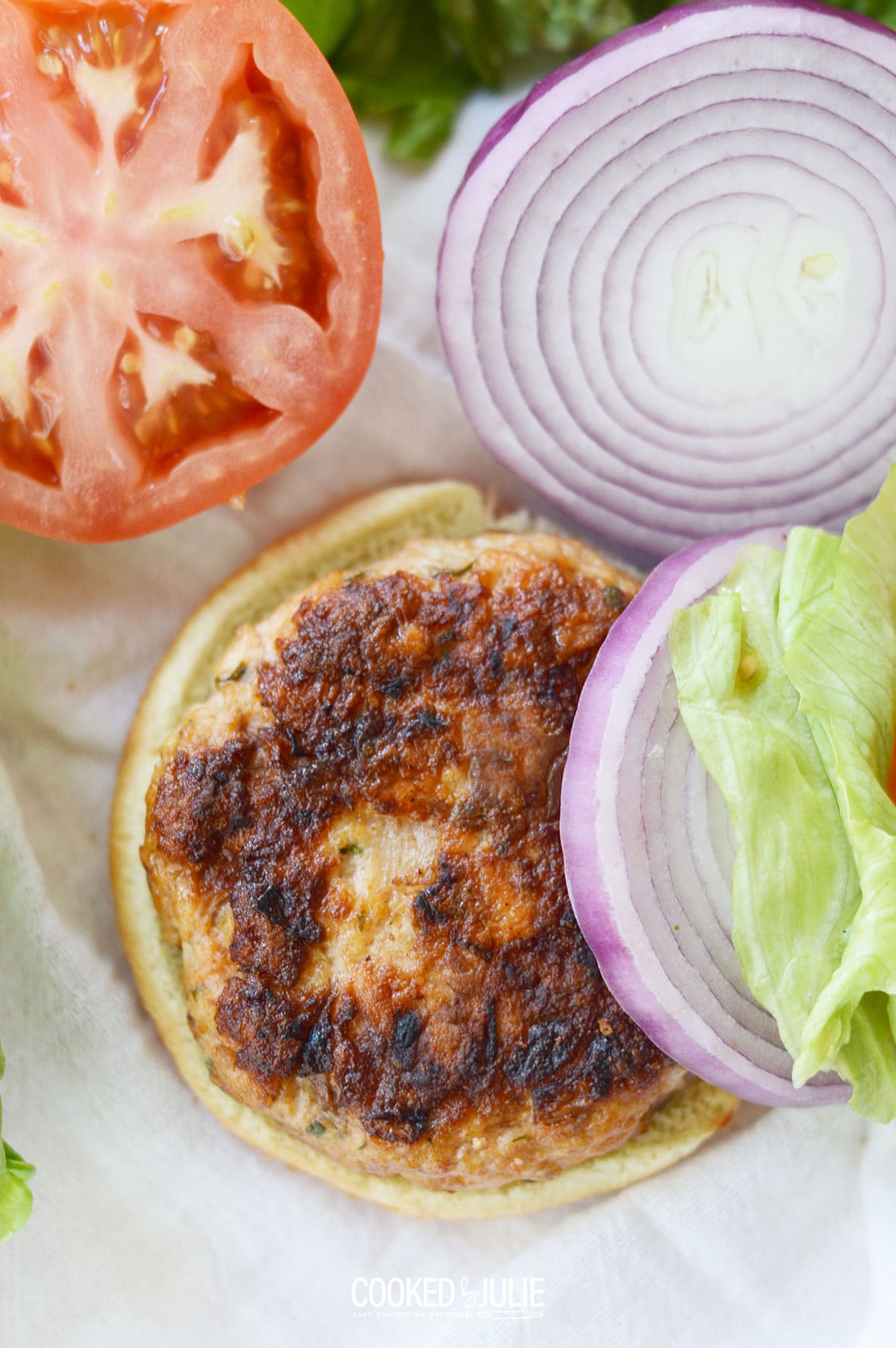 You can never go wrong with a good burger, especially when it comes to breaking out the grill. The concept of a hamburger has been around for quite some time, but not as long as you might guess.
The idea of a hamburger originated in Hamburg, Germany, where they would combine ground beef and other ingredients to make a patty called a Hamburg steak.
However, they didn't eat these with a bun, since the sandwich version of a burger didn't come until a little later.
Using salmon in place of beef is not only a much healthier substitute, but it also makes for a lighter burger with loads of flavor. 
How to Make Salmon Burgers
Making a Salmon Burger is just as easy as making your average, everyday hamburger.
Simply slice your salmon fillets into large chunks and place them in a food processor with all the ingredients except the bread crumbs.

Once you've pulsed the mixture a few times, place it in a large bowl with the bread crumbs and fold the ingredients together.

Form the mixture into four equal salmon patties and grill for four minutes on each side until golden and crisp.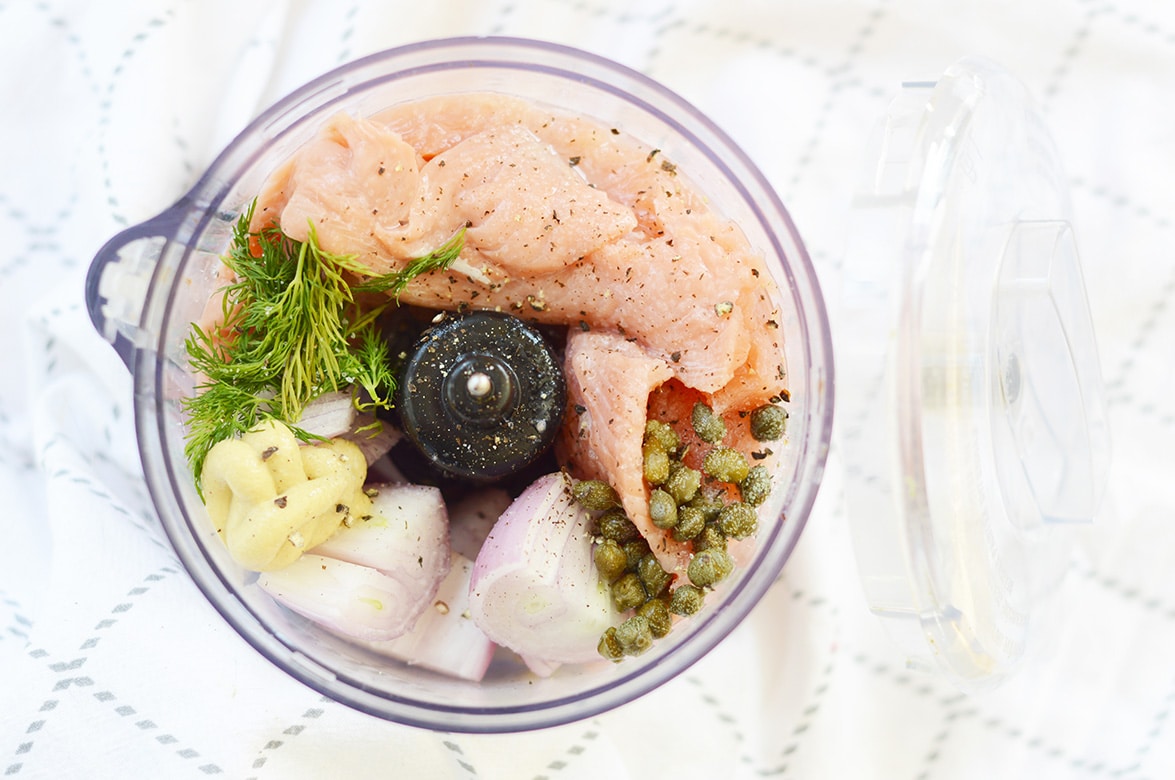 Tips for Making Salmon Burgers
You don't want the salmon to be processed too much. Try to leave it a little chunky, almost like canned tuna.

If your food processor is smaller, process the shallots and capers together first. Add the salmon and process it to the correct consistency. If need be, empty the processor each time.

If your patty gets too dark at 4 minutes on each side, simply adjust the time as needed to ensure the outcome is to your preferences.

For an extra flavor boost, use Italian style bread crumbs.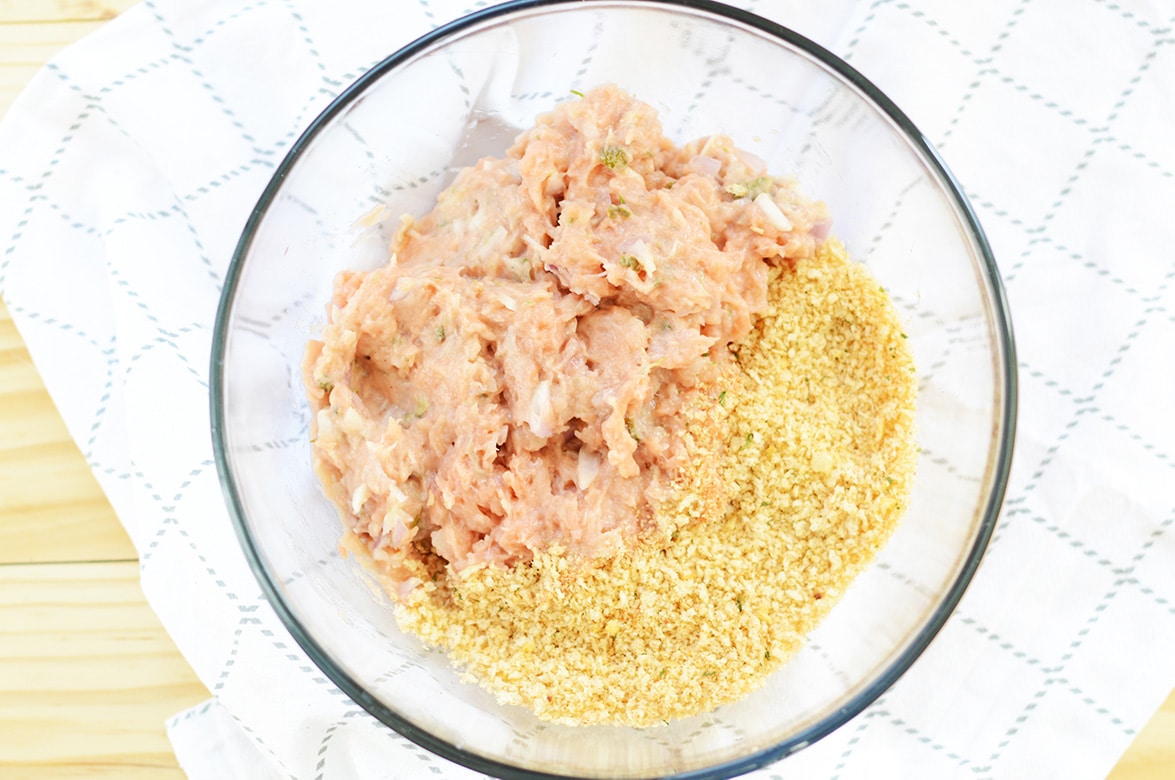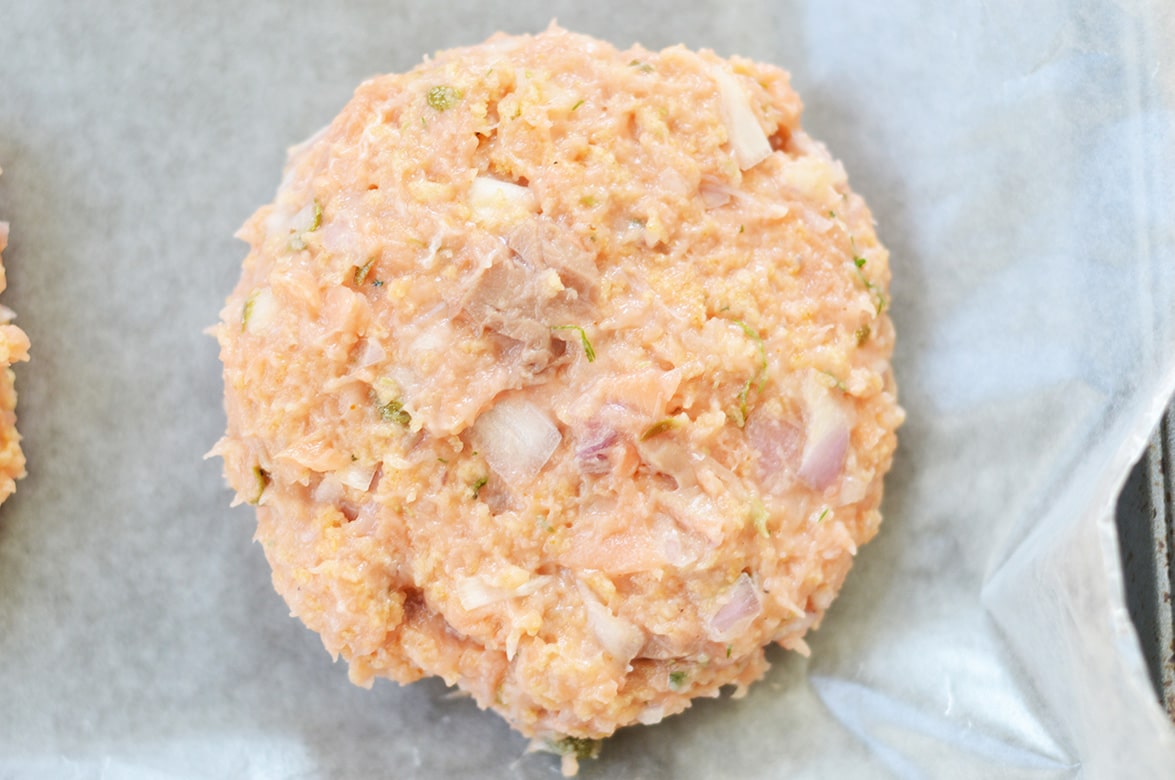 Are Salmon Burgers Healthy?
Absolutely! If you want to make salmon patties even healthier, take out the bread crumbs. Everything used in a salmon burger is a fresh and healthy choice even on the strictest of diets.
As mentioned, bread crumbs are excluded from that, but can easily be removed to make it quite the healthy dish.
Try replacing the bread with lettuce for a healthy sandwich-style salmon burger. Salmon patties themselves are a great choice, but it's hard to believe since their flavor is so satisfying.
Each salmon patty is loaded with so much flavor.
What Side Dish Goes with Salmon Burgers?
All your traditional burger side dishes are also a great side dish for salmon burgers. Asparagus and green beans are two of the most common pairings when it comes to salmon.
A nice pasta salad, fruit salad, potato salad, rice, fries, or similar sides will pair perfectly and it's hard to go wrong when coming up with ideas.
Oftentimes, a sweet and spicy flavored side dish goes a long way with a fish main course. Think pineapple salsa and you're barking up the perfect tree.
Salmon Burger Toppings
Lettuce – Adding some lettuce will provide freshness and a nice crunch.
Tomatoes – Make sure to season the tomatoes with a little salt.
Onions – Onions give salmon patties a little tang.
Cheese – I didn't use add cheese but feel free to add some yellow American cheese, cheddar, or any kind you'd like.
Mayo – A small serving of mayo works wonders on this sandwich.
Avocado – If using avocado, make sure to season it with salt.
What is the White Stuff That Comes out of Salmon?
The white foamy stuff is totally harmless. You see, salmon is chock full of protein which is why it's such a highly praised and encouraged food on most diets.
Sometimes, during the cooking process, that protein will coagulate and produce the white foam which is called albumin.
Don't be afraid to mix things up once in a while. If you're planning to change things up for dinner or grilling in general, give these Salmon Burgers a while and I promise you won't be disappointed.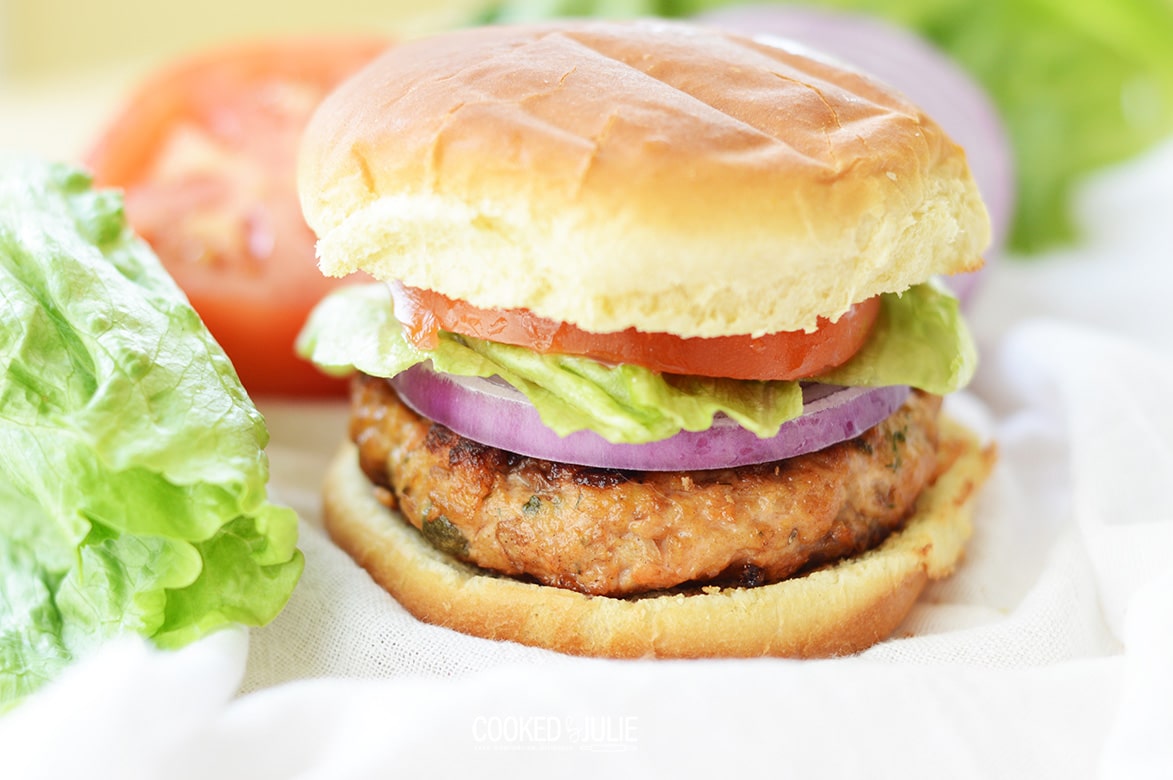 Other Salmon Recipes You'll Love:
You can find more delicious recipes and cooking tutorial videos on Youtube and Facebook.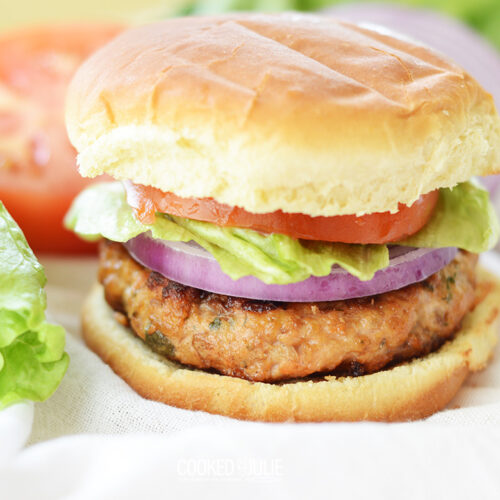 Print Recipe
Pin Recipe
Easy and delicious salmon burgers that are guaranteed to impress your family and friends at your next BBQ!
Ingredients
1

lb

salmon

skinless and cut into chunks

1/4

cup

shallots

1

tbsp

dill

fresh

1

tbsp

dijon mustard

1/2

cup

breadcrumbs

1

tsp

fresh lemon juice

salt and pepper to taste
Instructions
Place the salmon, shallots, mustard, capers, dill, lemon juice, salt, and pepper, in a food processor.

Blend until well combined, but do not overmix.

Combine the salmon mixture and breadcrumbs until well combined.

Evenly divide the salmon mixture into 4 patties. Grill for 4 minutes on each side or until fully cooked through.

Serve on a bun with lettuce, tomatoes, onions, and mayo, if desired.
Nutrition
Calories:
218
kcal
|
Carbohydrates:
10
g
|
Protein:
24
g
|
Fat:
8
g
|
Saturated Fat:
1
g
|
Cholesterol:
62
mg
|
Sodium:
191
mg
|
Potassium:
582
mg
|
Fiber:
1
g
|
Sugar:
1
g
|
Vitamin A:
45
IU
|
Vitamin C:
1
mg
|
Calcium:
38
mg
|
Iron:
2
mg