Go for the classic route this holiday season and make this delightful baked ham with brown sugar glaze. A spiral ham baked to perfection with a homemade glaze of brown sugar, mustard, and cloves. An extremely easy recipe that results in a very satisfying and succulent main course.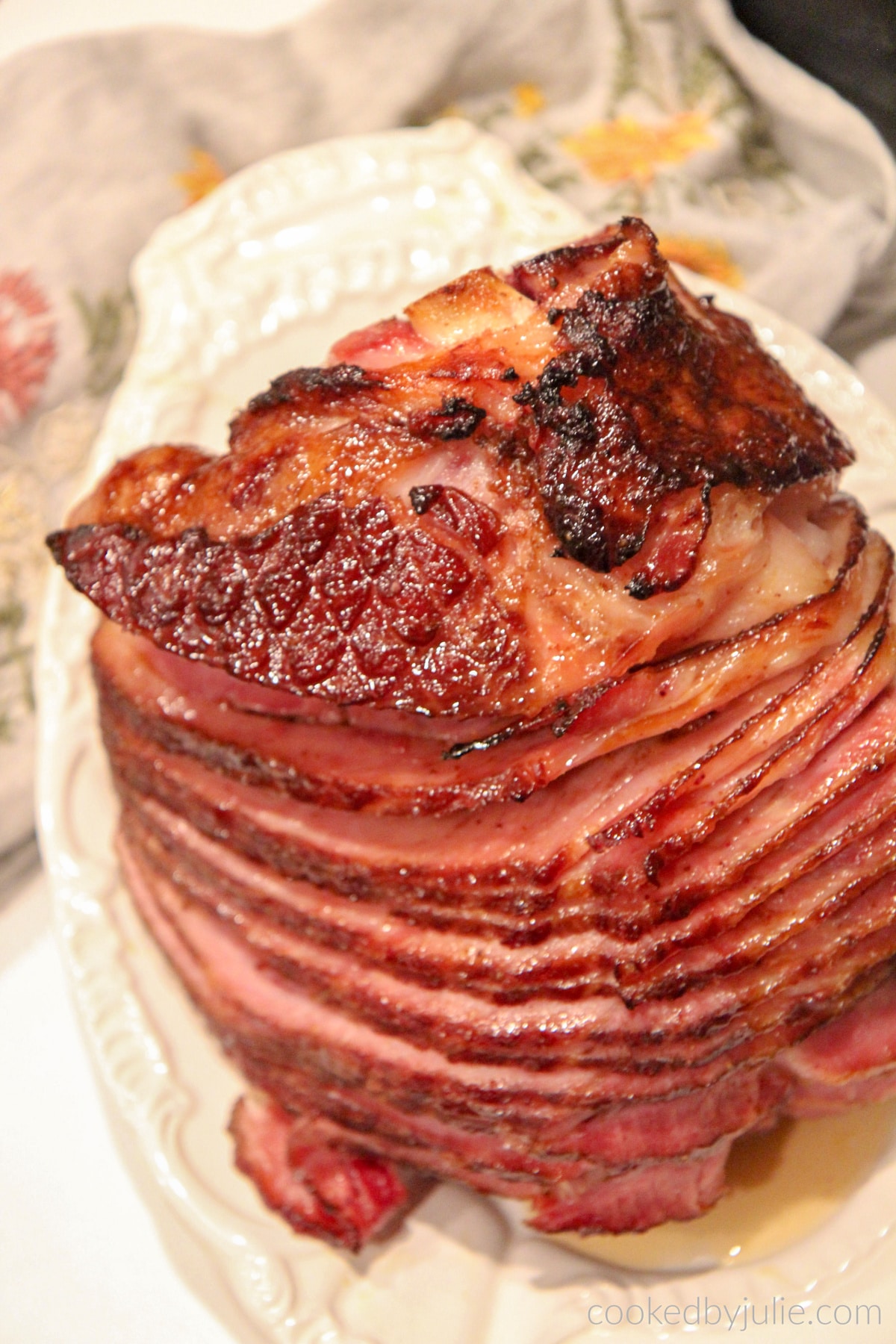 I am all about those meaty mains. I mean, that's not all I eat, but they're definitely one of my favorites. Some of the dishes I make constantly are Instant Pot Whole Chicken, Air Fryer Steak, Honey Sriracha Air Fryer Salmon, and Juicy Roast Turkey. I know, it sounds like I make meals going before a king at a giant feast. However, these are all so easy, that it's my way of making a "fancy meal" without all the work involved.
There's nothing better than spoiling your family (and yourself) with a stellar dinner without putting so much work into it. Don't get me wrong, I'm all about being in the kitchen, but I definitely need my breaks where I can catch them. This baked ham is one of the breaks I'm giving myself while also treating myself. Plus, it makes a holiday dinner that much easier and less stressful.
How to Make 
Bake – Preheat the oven to 350 degrees. Place the ham in a roasting pan and bake for 30 minutes.
Glaze – In a small dish, combine all the remaining ingredients. Pour over the baked ham.
Bake again – Cook for 10 minutes per pound of ham. Baste with the drippings every 20 minutes. Enjoy!
Top Tips and Recip Variations
Skip the glaze – If you don't want the glaze, you can just have regular baked ham. You'll want to still baste it throughout the cooking process to keep it from drying out.
Use other stocks or broth – If need be, you can use other stocks or even broth to replace the chicken broth. However, this could alter the taste a bit since other stocks will have varying flavors.
Check the internal temperature – If you're not sure whether or not your baked ham with brown sugar glaze is done or not, check the temperature. If it has reached at least 140 degrees in the middle of the ham, then you're good to go.
Side suggestions for baked ham – With a main course like this, it's easy to pick sides since the classics are always the best option. My favorites are

Creamy Mashed Potatoes

,

Mashed Sweet Potatoes

,

Cheesy Scalloped Potatoes

,

Cream Corn

, or

Creamed Spinach

.
Let's talk about the glaze…
I didn't cook the glaze on the stovetop because I felt it was unnecessary since it will cook in the oven anyway. The longer you let the glaze sit, the more it will thicken. You can certainly add some spice to the glaze if you'd like. Sriracha is a good option here. The glaze will be super sweet because the ham will be very salty.
You may rinse the ham and that will get rid of some of the salt. Make sure to pat the ham down with paper towel before placing it in the oven.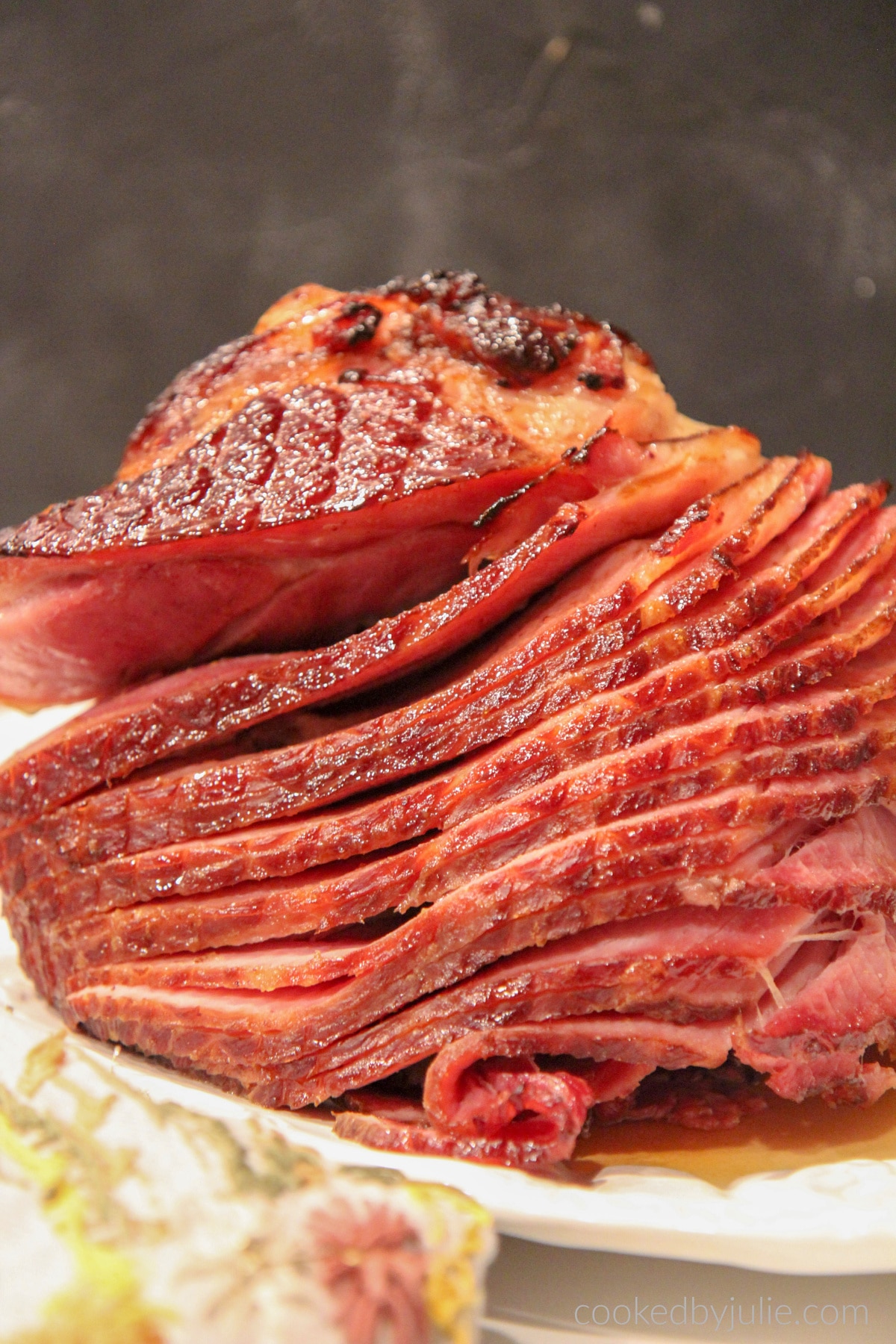 How Do You Cook a Ham Without Drying it Out?
The trick is to baste it throughout the process. It's difficult to not dry out large portions of meat like this ham. However, as long as you open up the oven and ladle some of the drippings over the top of it every once in a while, you should be good. I tend to go for every 20 minutes, but you can do it more often if you feel like you need to. You could also cover the ham for the later portion of the cooking period. This tends to keep moisture in.
Should I Cover The Ham?
I cook mine uncovered, but you can definitely cover your baked ham if preferred. If I cover mine at all, it's normally in the second half of the baking period to help ensure it doesn't try out. However, I usually keep it uncovered because it makes it a much easier process for basting. I don't normally have any issues with my ham being dried out, so I tend to go the easier route. If you have a larger ham than 10 pounds, then covering it might be more important. This is due to the longer cooking time it will need to undergo.
You can find more delicious recipes and cooking tutorial videos on Youtube and Facebook.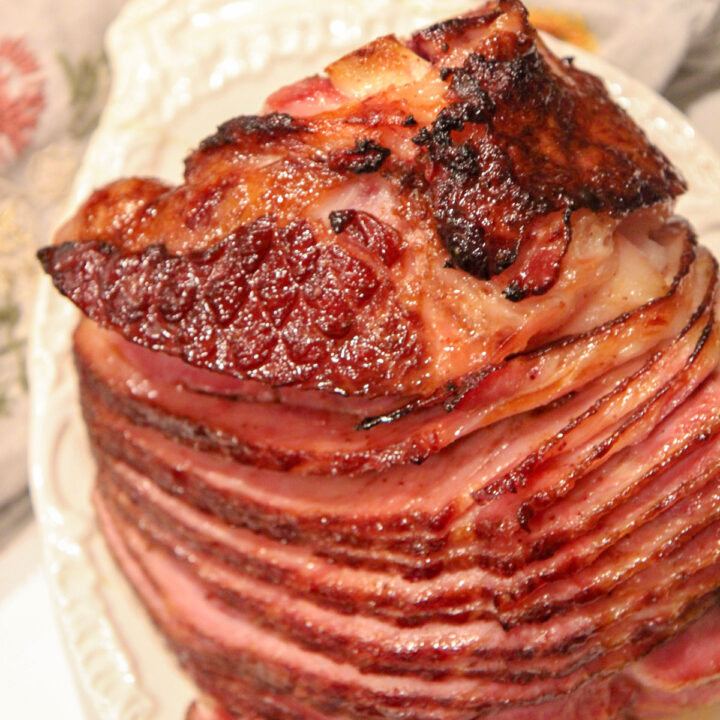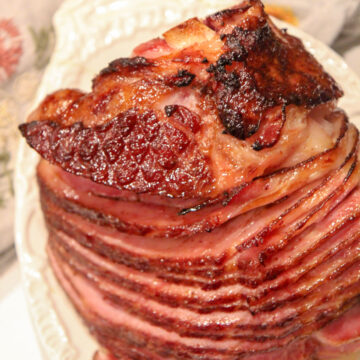 Baked Ham with Brown Sugar Glaze
Print Recipe
Pin Recipe
To make this succulent delicious ham, all you need to do is prepare a homemade glaze. The easiest and most delicious baked ham recipe.
Ingredients
9-10

lb

fully cooked spiral sliced ham

1

cup

brown sugar

1/4

cup

honey

2

tbsp

dijon mustard

6

cloves

1/2

cup

low sodium chicken stock
Instructions
Preheat oven to 350 degrees F.

Place the ham face down in a roasting pan and cook for 30 minutes.

While the ham cooks, combine the brown sugar, honey, chicken stock, cloves, and dijon mustard in a small bowl.

Ladle some of the glaze and ham drippings over the ham and place it back in the oven. Make sure the glaze gets into every slice of the ham. You want to do this every 20 minutes.

Cook the ham for 10 minutes per pound or until the ham registers 140 degrees F.

Enjoy!
Notes
Rinse the ham to get rid of any excess salt.
Nutrition
Calories:
94
kcal
|
Carbohydrates:
24
g
|
Sodium:
37
mg
|
Potassium:
39
mg
|
Sugar:
23
g
|
Calcium:
17
mg
|
Iron:
0.2
mg