These Cheesy Scalloped Potatoes are a classic side dish that everyone looks for at potlucks. It boasts layers upon layers of thinly sliced potatoes, covered in an unforgettable cheese sauce. It takes very few ingredients to toss together and everyone will be thrilled to see it on the dinner table.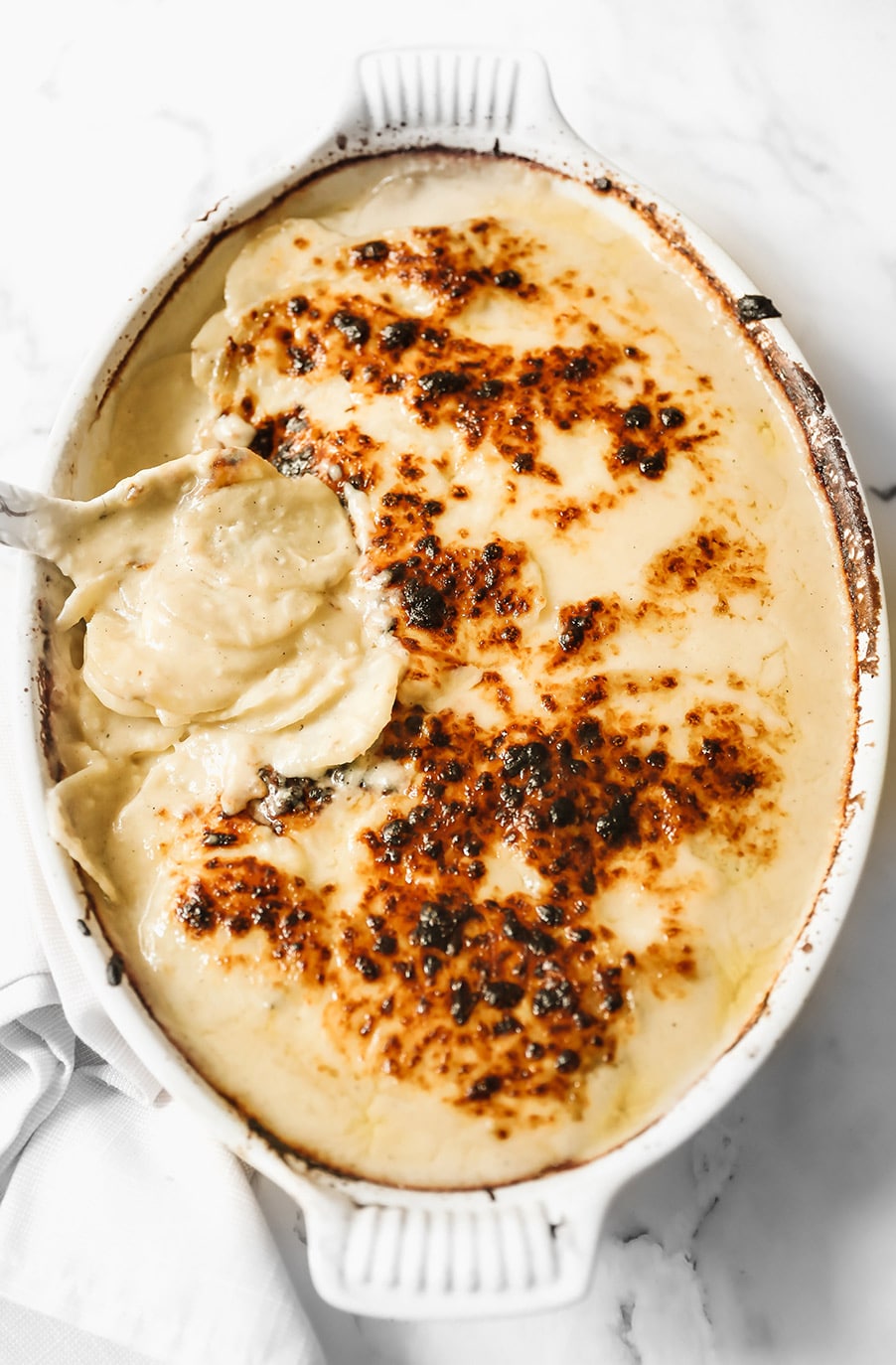 Who else walks into get-togethers or potlucks and starts looking for their favorite dishes? Ok, I can't see if you raised your hand, but I know in my heart you did. 
What if I told you your dish would be the coveted one if you started making these cheesy scalloped potatoes? The gooey cheesy perfectly softened potatoes are addicting, to say the least. What's great, is that you actually have a recipe to share with them! That way they don't have to guess at your recipe and be sad without their potato side. While you're at it, you'll want to add my Creamy Mashed Potatoes, Loaded Mac and Cheese, and Creamed Corn to your go-to list!
How to Make
Prep – Preheat the oven to 400 degrees and slice the potatoes.
Make the sauce – In a saucepan, heat the butter and add the flour. Add the garlic and cook a bit longer. Add the milk and lower the heat. Once it thickens, remove it from the heat, and add both kinds of cheese, the nutmeg, and salt.
Layer it – Place ¼ of the potatoes in a layer in the baking dish and pour a fourth of the sauce over the top. Sprinkle with a fourth of the cheese. Repeat until ingredients are depleted.
Bake – Cover and bake for 1 hour or until tender. Remove foil and bake for 10 minutes. Enjoy!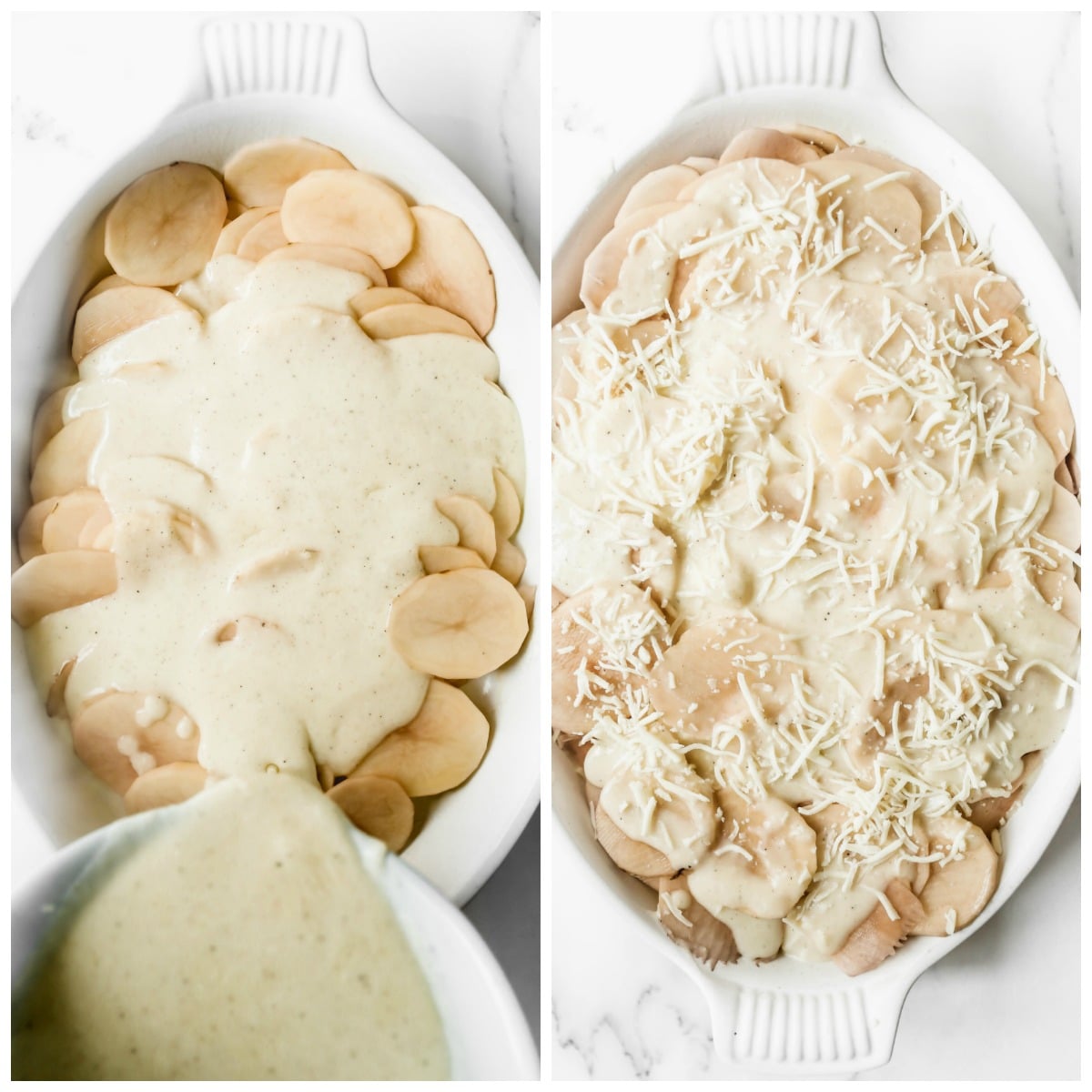 Tips for the Perfect Potatoes
Use other cheeses – If you want to get creative and break out from the traditional cheese choices, you can try other cheeses. Some fun and delicious options might be gouda, pepper jack, Mexican shredded cheese, etc.
Make a big batch – As long as you have a big enough dish, you can make a pretty big batch of these potatoes. Try not to layer them more than the recipe calls for though. Spread it out to make it bigger, don't stack more potatoes to make it bigger. This can cause a problem for cooking times otherwise.
Milk options – You should be able to use whatever milk preference you prefer. 
Make it vegan – You can make vegan-friendly scalloped potatoes by using the vegan version of the cheeses called for. You can also use vegan butter and almond or coconut milk in place of the other ingredients that need swapping.
Leave the potatoes unpeeled – If desired, you can definitely leave the peel on the potatoes. I don't prefer it that way, but many people don't mind it.
Why are my potatoes still hard? – This simply means they didn't cook long enough. It can take a little while in the oven for all the layers to soften up. You'll definitely want to check them with a fork at the one-hour mark before pulling them out. If you stack too many layers on top of each other will cause some potatoes to not cook properly as well.
Storage and Reheating
Fridge – Cover and store for up to 3 days, if they last that long.
Freezer – Place in an airtight container for up to 2 months.
Reheating – Reheat using the oven or microwave.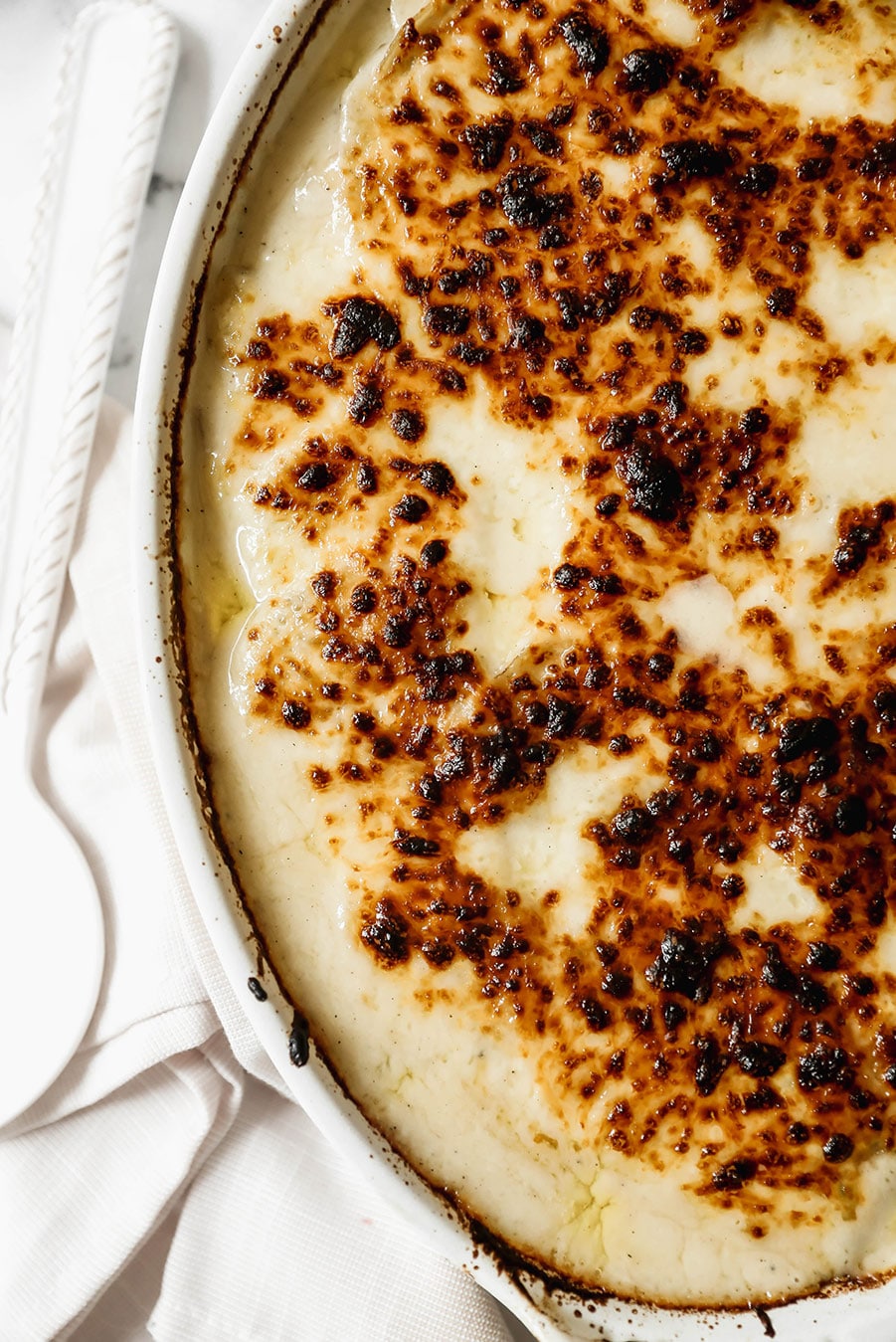 Serve This With…
WHEW! There's a lot that can go with scalloped potatoes, mainly because they're served as a sidedish. This means that they pair extremely well with a ton of main entrees. I would never be able to list all the dishes they go with. However, some of my favorite choices are Oven Baked BBQ Chicken, Jamaican Jerk Chicken, Chicken and Mushroom Skillet, and Honey Glazed Pork Chops.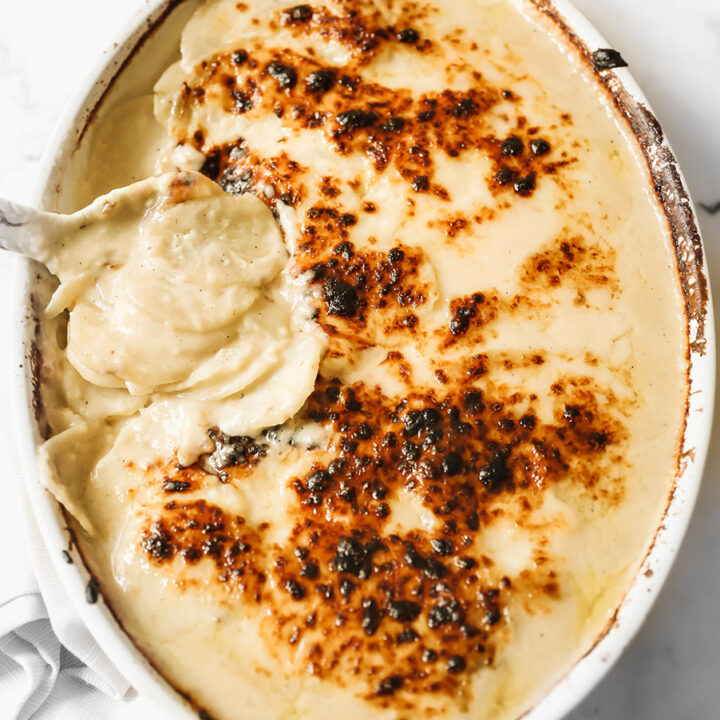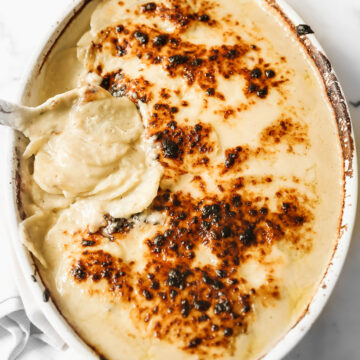 Cheesy Scalloped Potatoes
Print Recipe
Pin Recipe
Having the potatoes cut super thin through a mandolin, helps with laying flavor on flavor. This is cheesy potato goodness that's almost like a casserole. The ultimate Holiday side dish.
Ingredients
6-8

peeled potatoes

2

tbsp

all purpose flour

2

tbsp

butter

3

garlic cloves

1/4

tsp

nutmeg

3

cups

milk

3

cups

white cheddar

1/2

cup

mozzarella

Salt to taste
Instructions
Preheat oven to 400 degrees.

Using a mandolin, slice the peeled potatoes evenly.

In a medium saucepan over high heat, melt the butter and then stir in the all-purpose flour.

Add the fresh garlic and cook for an additional 30 seconds.

Stir in the milk and then lower the heat to medium.

Once the sauce thickens, turn off the heat and add the nutmeg, salt, cheddar, and mozzarella.

Place 1/4 of the potatoes in a greased baking dish, pour over 1/4 of the béchamel sauce, sprinkle 1/4 of the remaining cheese and then repeat until you reach the top.

Cover with aluminum foil and bake for 1 hour or until the potatoes are fork tender.

Remove the aluminum foil and bake for an additional 10 minutes or until the cheese is golden brown.
Nutrition
Calories:
374
kcal
|
Carbohydrates:
26
g
|
Protein:
19
g
|
Fat:
21
g
|
Saturated Fat:
13
g
|
Cholesterol:
66
mg
|
Sodium:
387
mg
|
Potassium:
831
mg
|
Fiber:
4
g
|
Sugar:
4
g
|
Vitamin A:
710
IU
|
Vitamin C:
18.6
mg
|
Calcium:
494
mg
|
Iron:
5.6
mg