If you're on the market for the best appetizer recipe, these BBQ Chicken Nachos won't disappoint. This dish is layered with freshly roasted chicken, homemade BBQ sauce, scallions, and cheese. Every bite is bursting with flavor, making this recipe an easy dinner choice as well!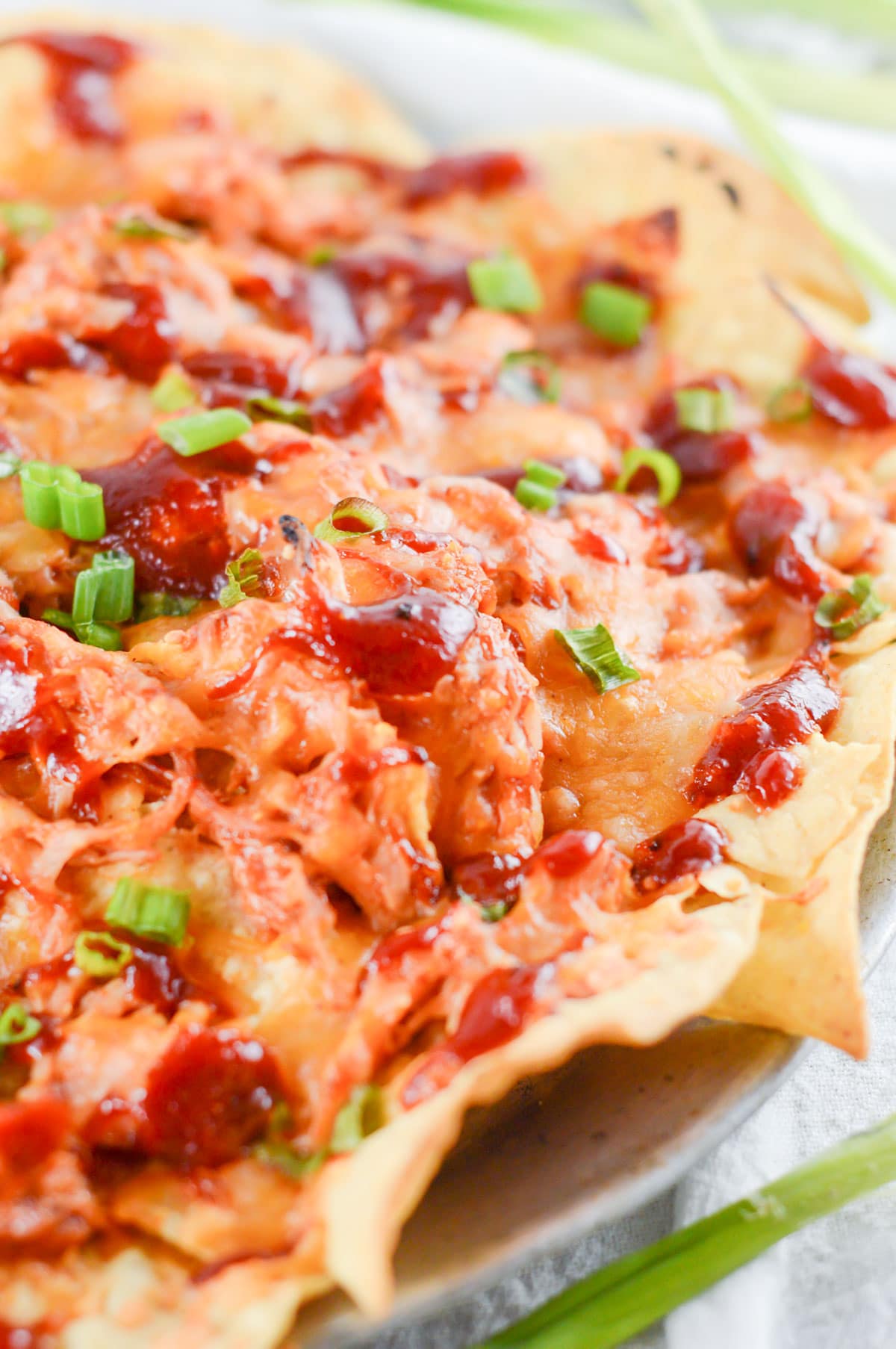 Nachos are a classic dish that's served just about every place you can go to eat. There are a ton of ways to make them, and countless ingredients and ways to customize them. I'm a huge fan of BBQ (like these BBQ Pulled Chicken Sandwiches) as well as a huge fan of nachos in general. So, I decided to mix these two favorites and came up with these easy nachos.
How to Make BBQ Chicken Nachos
Cook the chicken – Preheat the oven to 350 degrees. Drizzle the chicken with some oil and season it. Bake for 35 minutes or until cooked through. Shred the chicken and set aside.
Make the sauce – In a small saucepan, combine the ketchup, molasses, spices, vinegar, brown sugar, Worcestershire sauce, and water. Stir well and simmer for about 20 minutes.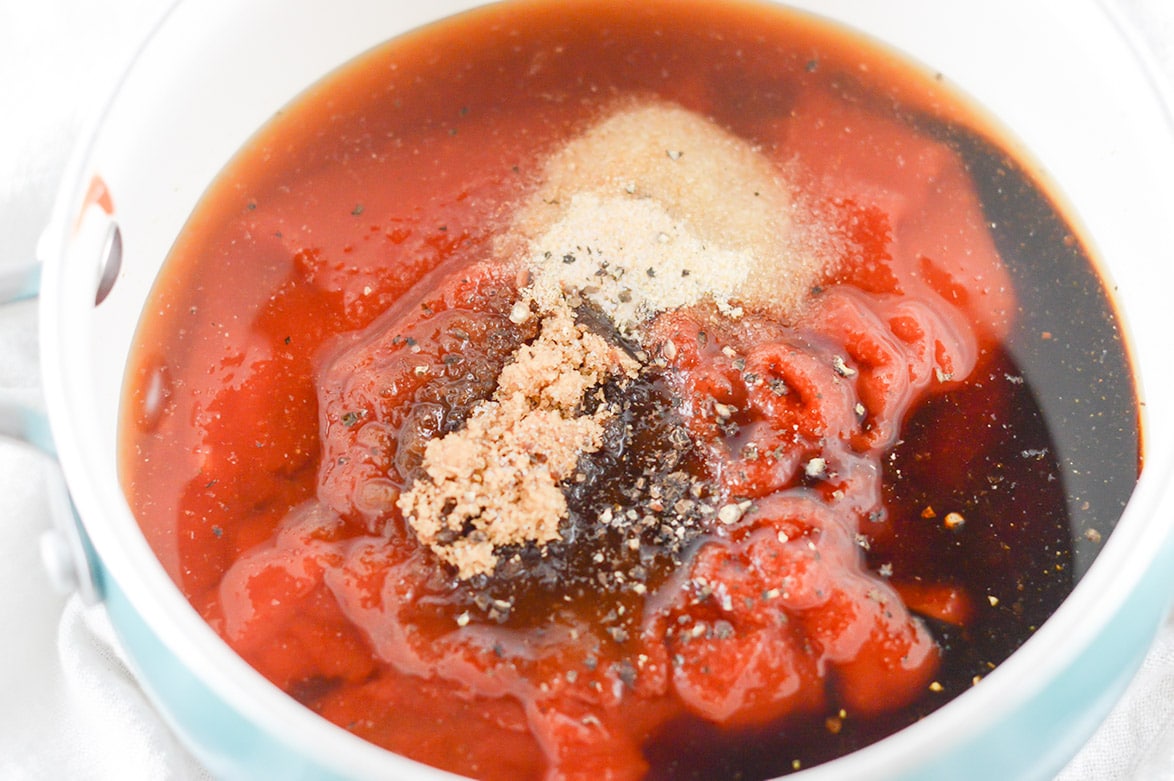 Assemble – Add about ¾ of the BBQ sauce to the shredded chicken and mix well. Pile your chips on an oven-safe tray and cover them with the chicken. Cover the chicken with cheese and scallions, then top it with the rest of the BBQ sauce. Bake for 10-15 minutes at 400 degrees.
Garnish and serve – Garnish with a few more scallions if desired, then serve and enjoy!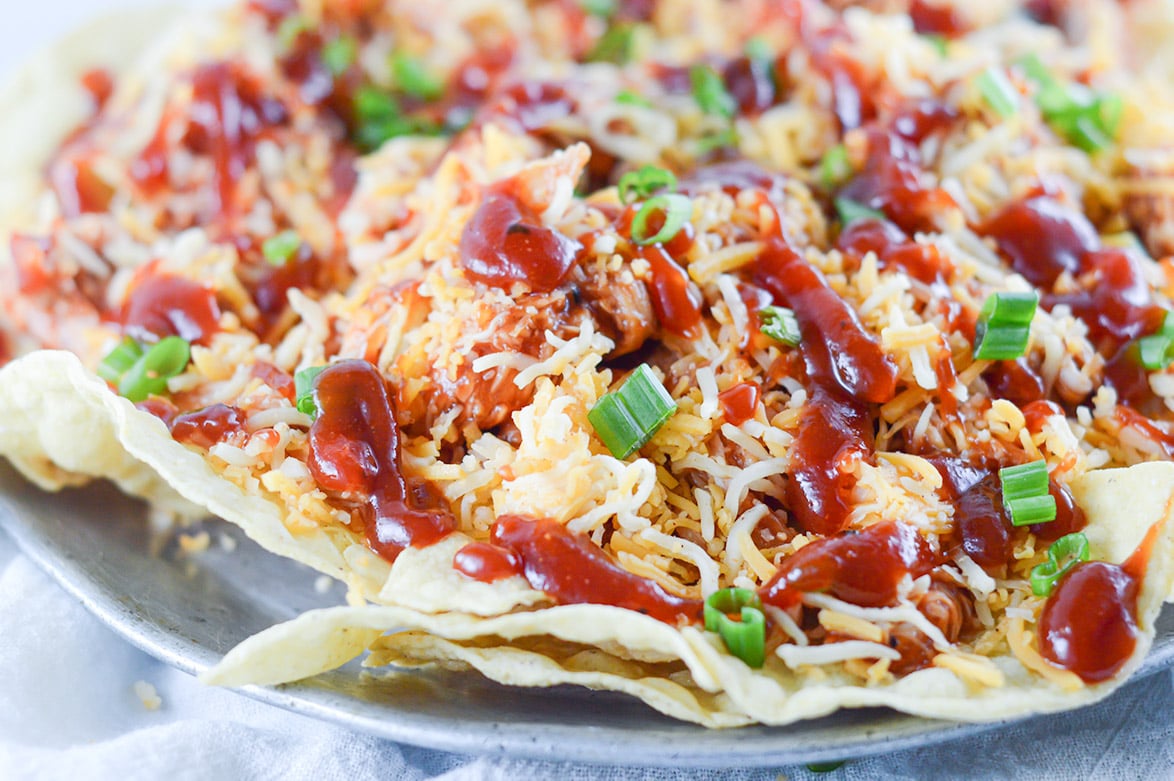 Tips and Recipe Variations
Make them spicy – Add in a diced or sliced jalapeno or other spicy peppers if you enjoy a kick to your nachos. You can also use pickled jalapenos, crushed red peppers, or a spicy cheese sauce.
Other meat options – You can always use

pulled

pork

in place of the chicken if preferred. Be careful substituting other meats as they may not taste good with the BBQ sauce.
Other additions – You can always add your other favorite nacho toppings such as shredded lettuce, salsa, other shredded cheeses, beans, etc. Just be sure they will pair with the BBQ sauce well.
Make-ahead – You can always make the BBQ sauce ahead of time and use it as needed. It should last up to a week or longer in the fridge as long as it's in a sealed, airtight container. This will make the nachos even quicker.
Other chicken options – If you want to make these nachos quicker, you can always use rotisserie chicken, or prep the chicken ahead of time. It will heat up when you bake the nachos after they're completely assembled.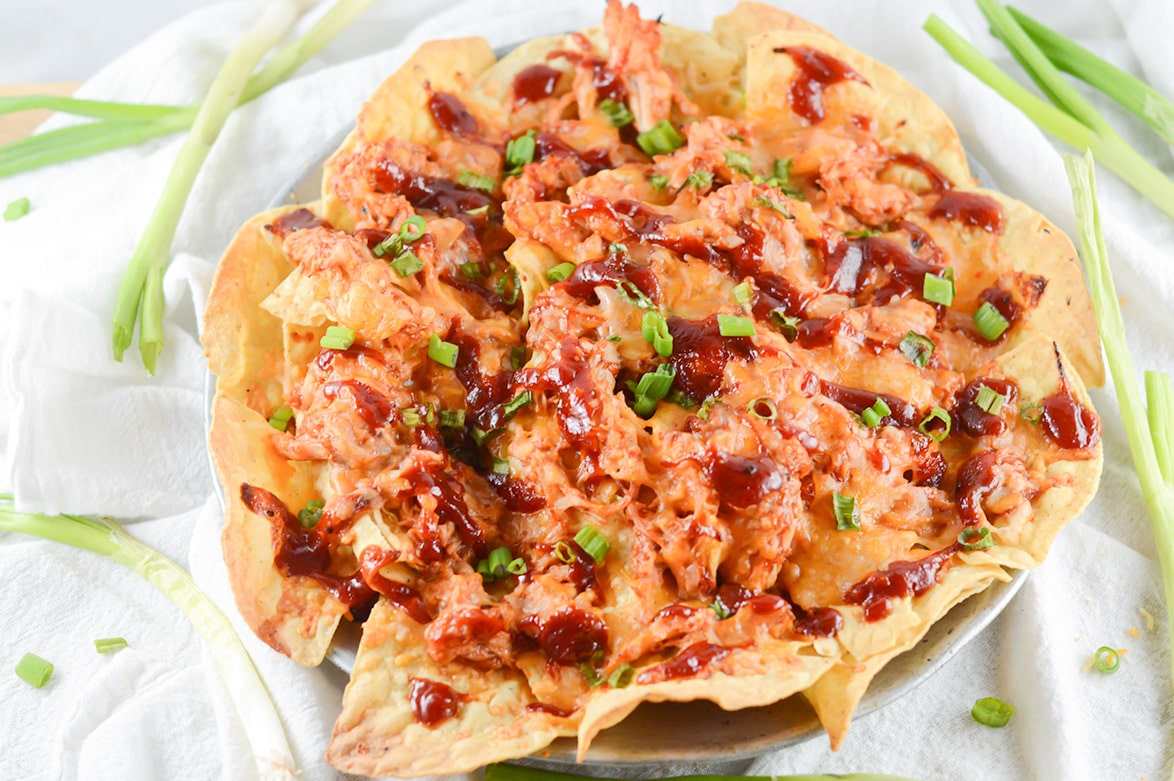 How To Avoid Soggy Nachos?
The best way to keep your nachos from getting soggy is to shield the chips from the liquid ingredients. This usually can be accomplished by placing layers appropriately. For example, if you're using a protein (this recipe uses chicken), you'll want to place that one first. The meat does a great job of helping shield the chips from the liquid. If you're using veggies or other solid ingredients, put those on next, then end with the liquid ingredients such as cheese sauce, salsa, etc.
What Cheese is Best for Nachos?
Really, you can use any cheese you like on nachos. However, a queso sauce will always be my number one choice when it comes to cheese on nachos. Queso, cheese sauces in general, and cheddar cheese are the more common choices in connection with most nacho recipes.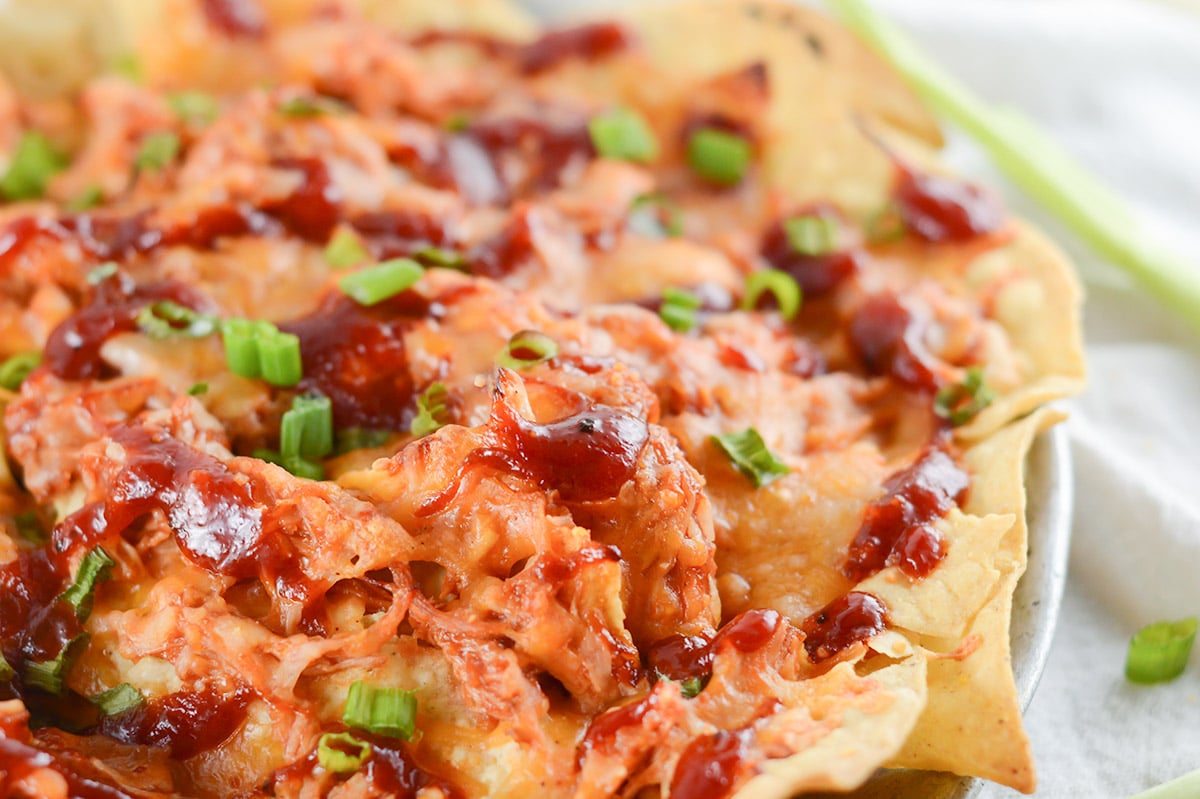 If you decided to give these tasty Homemade BBQ Chicken Nachos a try, let me know about your experience in the comments below!
Other Appetizer Dishes You'll Love:
You can find more delicious recipes and cooking tutorial videos on Youtube and Facebook.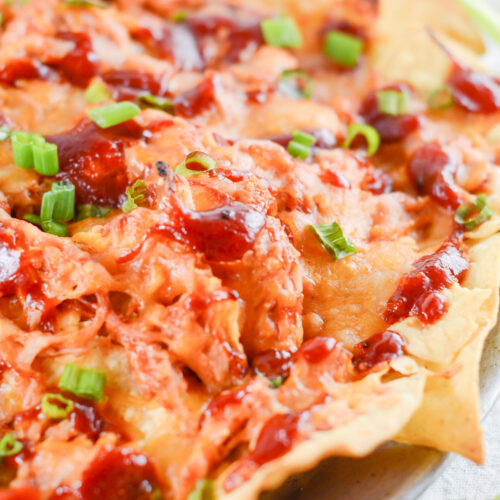 Print Recipe
Pin Recipe
This homemade game day recipe for cheesy BBQ chicken nachos will make everyone in the room go wild! Homemade BBQ takes this recipe to the next level.
Ingredients
1

cup

ketchup

3

tbsp

water

3

tbsp

brown sugar

3

tbsp

molasses

1

tbsp

vinegar

1

tsp

garlic powder

1

tsp

onion powder

splash of Worcestershire sauce

salt and pepper to taste

1-2

bone-in chicken breasts

tortilla chips

1-2

cups

cheddar cheese or spicy queso

2

tbsp

green onions
Instructions
Preheat oven to 350 degrees F.

Drizzle the chicken with olive oil and season with salt and pepper.

Place the chicken in the oven and cook for 35 minutes or until the chicken is fully cooked through.

Using two forks, shred the cooked chicken into bite-sized pieces and set aside.

To make the BBQ sauce, place the ketchup, water, molasses, brown sugar, vinegar, Worcestershire sauce, water, granulated garlic, onion powder, salt, and pepper in a medium saucepan and cook over low heat for 20 minutes. Stirring occasionally.

Season the chicken with chili powder if you'd like then add 3/4s of the BBQ sauce to the chicken. Mix until well combined.

Place the chips on an oven-safe platter and top it with the shredded chicken, cheddar cheese, scallions, and the remaining bbq sauce.

Bake at 400 degrees F for 10-15 minutes or until the cheese is completely melted.

Enjoy!
Nutrition
Calories:
114
kcal
|
Carbohydrates:
18
g
|
Protein:
5
g
|
Fat:
2
g
|
Cholesterol:
14
mg
|
Sodium:
291
mg
|
Potassium:
264
mg
|
Sugar:
16
g
|
Vitamin A:
190
IU
|
Vitamin C:
1.5
mg
|
Calcium:
26
mg
|
Iron:
0.7
mg