I absolutely love Puerto Rican cuisine and actually grew up eating it. Here are 20 of the best Puerto Rican recipes! You'll find everything from appetizers, beans, rice, soups, and desserts.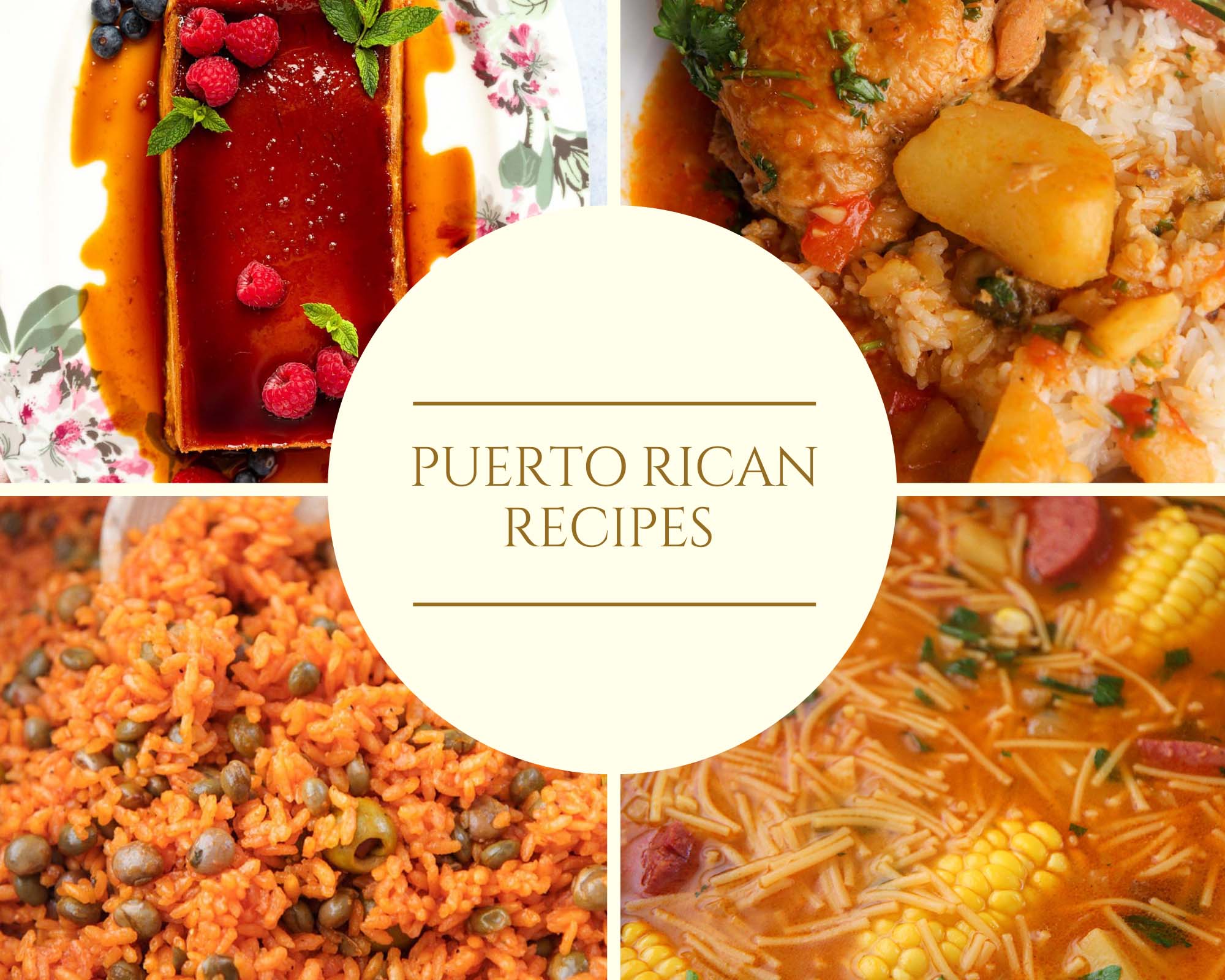 20 Best Puerto Rican Recipes
This is bone-in chicken stew simmered in a pot until the chicken falls off the bone. Made with carrots, potatoes, olives, and spices.
Perfectly seasoned bone-in pork chops fried to perfection. A quick and easy meal ready in under 10 minutes!
A hearty and delicious soup made with pork sausage, corn, noodles, and potatoes. A Puerto Rican classic soup that everyone will enjoy!
This yellow fluffy rice and pigeon peas dish can be served as a main course or side dish. Packed with flavor, super easy to make, and makes for the best leftovers!
A Puerto Rican sandwich made with flattened fried green plantains, churrasco, and condiments of your choice. It's crispy, savory, and insanely good. The perfect lunch or dinner option!
Fritters made from green plantains then stuffed with perfectly seasoned ground beef. Perfectly crispy and delicious.
A perfectly sweet bread made from scratch. But be careful, because once you make it at home, you'll never want to purchase it from a bakery. It's so good!
Pasteles are a classic holiday recipe! The dough is made from many different types of root vegetables and then stuffed with pork or chicken.
This macaroni salad is made with hard-boiled eggs, ham, and mayo. A party and cookout staple! It also goes great with rice and beans.
Flaky, sweet, and delicious cheese pastries. Perfect for breakfast, brunch, or dessert. Made with store-bought puff pastry, cream cheese, and sugar.
These codfish fritters are made with sofrito, adobo, and garlic. They are crunchy, savory, and the ultimate appetizer.
Marinated chunks of perfectly cooked pork on a stick! Juicy, tender, and super flavorful. You can enjoy these as an appetizer or with a side of rice and beans.
A holiday beverage made with three types of milk, cream of coconut, rum, and cinnamon. Place all of the ingredients in a blender and you have the creamiest most delicious drink.
Chunks of beef cooked in a large pot till tender. Made with potatoes, olives, and spices.
Hearty meat and vegetable stew that can be enjoyed as a soup or main course. My favorite way to serve sancocho is with fluffy white rice and ripe avocados.
A coconut pudding made with fresh coconut milk. This delicious dessert is called tembleque because it shakes like jello. It's one of my all-time favorite desserts!
This is Puerto Rican lasagna made with fried plantains, ground beef, and lots of cheese.
A sponge cake soaked in Puerto Rican eggnog then topped with homemade whipped cream. It's moist, delicious, and a must during the holidays!
A rich and creamy custard covered in homemade caramel sauce. It's milky, perfectly sweet, and a classic!
If you cook Puerto Rican recipes regularly then you're going to need this sofrito recipe! It's used in almost every single savory dish and for good reason. It adds so much flavor. Sofrito is an uncooked sauce made from blended onions, garlic, peppers, and herbs.
Tried any of these recipes? Please leave a star ⭐️⭐️⭐️⭐️⭐️ rating in the recipe card below and/or a review in the comments section further down the page. And consider following me on Facebook, Instagram, or Pinterest!