This Cajun seasoning recipe is super easy to make and way better than store-bought. Not too spicy and not too salty, this Cajun seasoning blend is perfectly balanced and delicious on just about everything!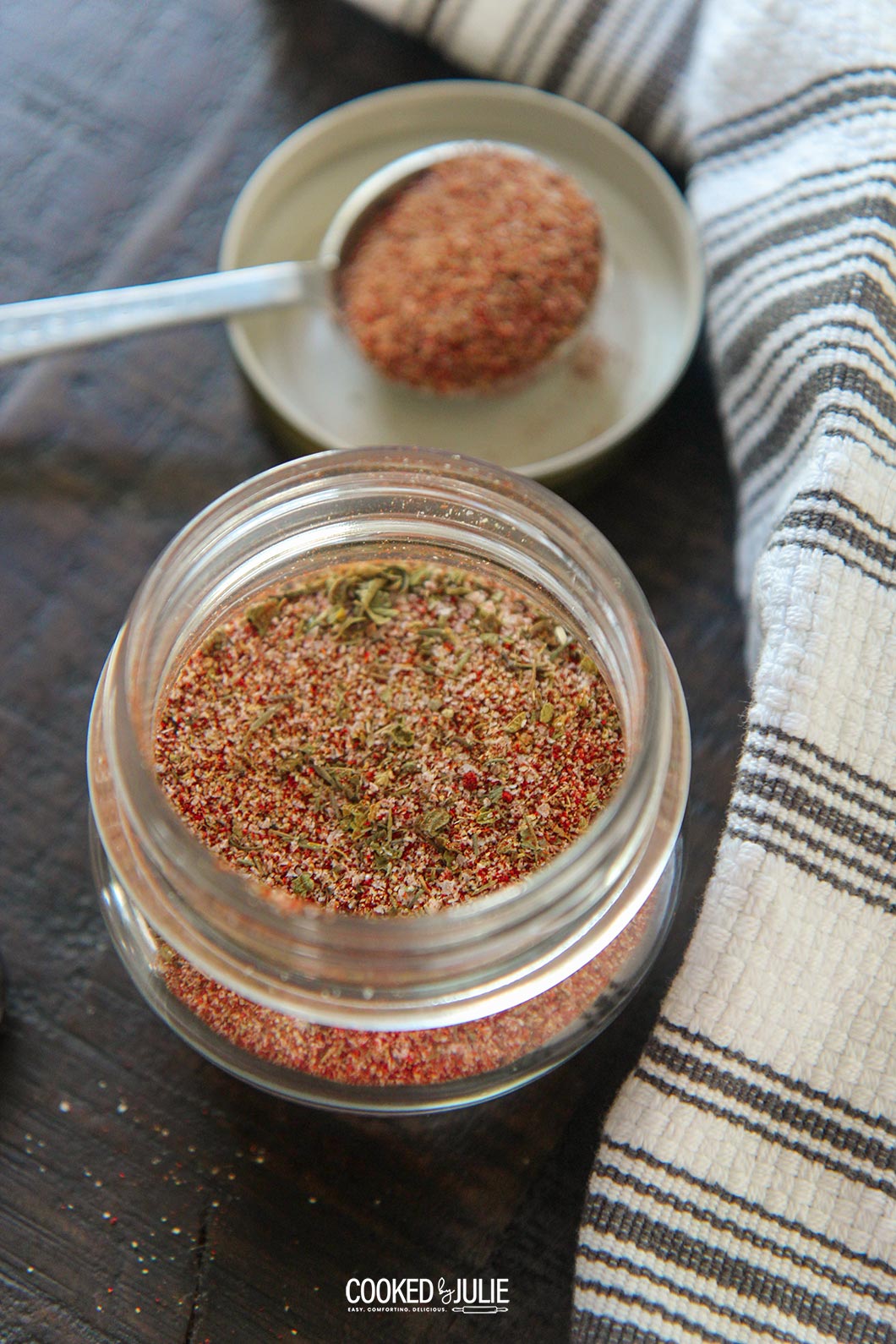 Cajun seasoning is one of the most flavorful spice combinations in the culinary world! A mixture of Paprika, Garlic, Herbs, and Cayenne pepper, this Cajun seasoning mix is a treat for the senses. Cajun Salmon and Shrimp and Cajun Beef Tacos are two of my most favorite Cajun recipes!
Where does Cajun spice come from?
Cajun cuisine originated in the South, but is most popular in Louisiana where the Cajun descendants of French settlers reside. Many recipes can be turned "Cajun style" by simply adding Cajun seasoning, bell peppers, onions, and garlic. Basically, it's well-seasoned food with lots of flavors.
Cajun Lasagna and Cajun Chicken Alfredo are examples of regular recipes with a Cajun twist. Since I love to create new recipes with Cajun flavors, I felt it was necessary to share an easy homemade Cajun seasoning recipe. You most likely already have everything you need to make Cajun seasoning in your pantry!
Feel free to play around with this recipe and adjust it to your liking. Like it spicier? Add more cayenne pepper. Want to add a little sweetness? Add a tablespoon of brown sugar. 
Make sure you label the spice jar with the date and name of the spice. Spices can either make or break your recipe and you don't want to use expired spices.
Ingredients in Cajun Seasoning:
Paprika
Kosher Salt
Granulated Garlic
Onion Powder
Oregano
Thyme
Cayenne Pepper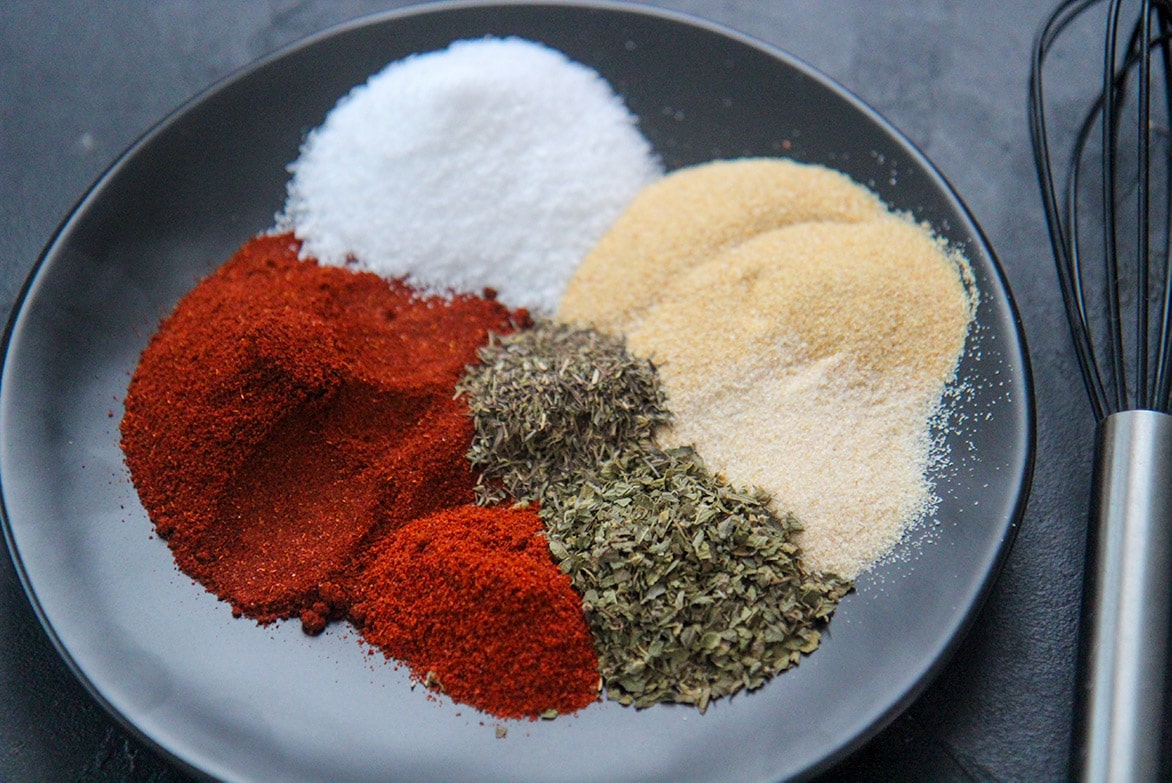 How to Make Cajun Seasoning: 
Add all of the spices to a bowl.
Whisk together to combine thoroughly and remove clumps.
Pour the mixture into an airtight spice jar until you're ready to use it.
Your homemade Cajun seasoning will stay fresh for up to 6 months after mixing.
How to Store Spices:
Keep spices in an airtight container.
Consider using glass spice jars with tightly sealed lids, as glass is not porous and won't allow air or moisture to get into the jar.
Keep spices in a cool, dark cupboard or shelf away from direct heat, sunlight, and moisture.
Cajun Seasoning Uses: 
If you're a fan of Cajun cuisine then a small jar of Cajun seasoning is a must in your pantry. Here's a list of some of the tasty foods you can season with Cajun spices:
Roasted, steamed, or grilled veggies
Salmon
Steak
Shrimp
Ground beef
Does Cajun seasoning have salt?
I included salt in this recipe but feel free to completely omit the salt and make this a salt-free cajun seasoning blend.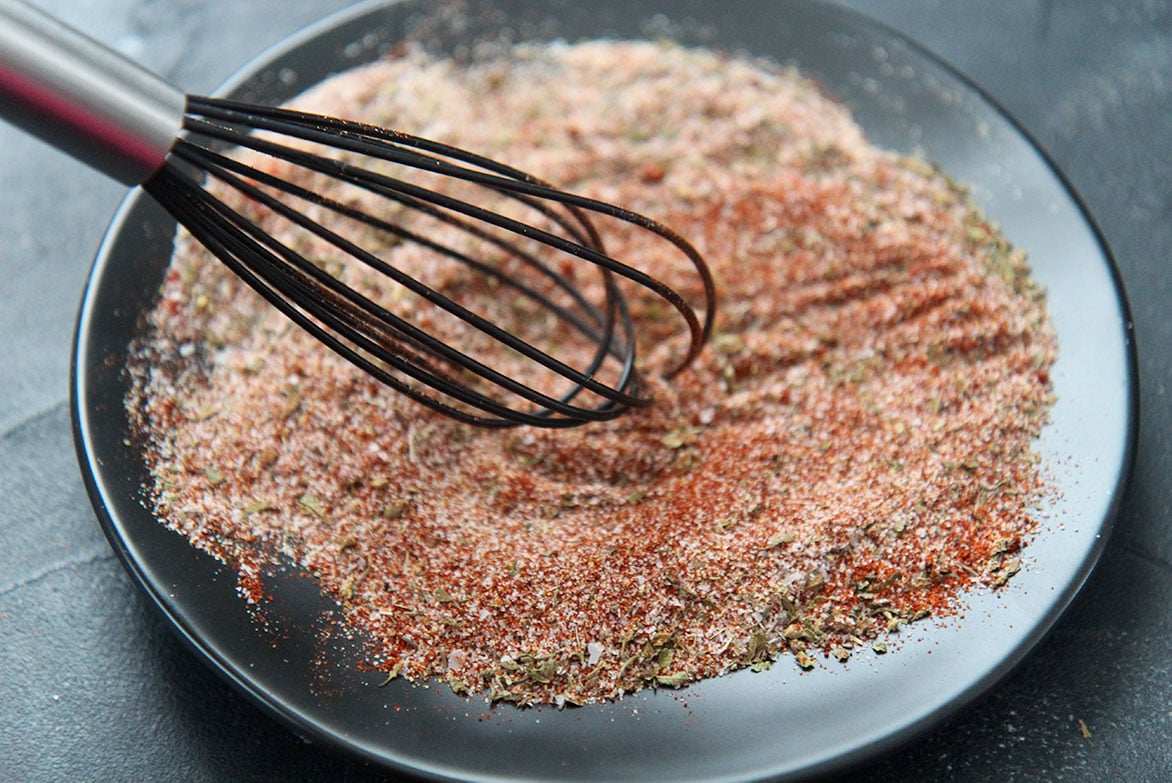 Try adding this easy homemade Cajun seasoning to these recipes for an extra kick of flavor!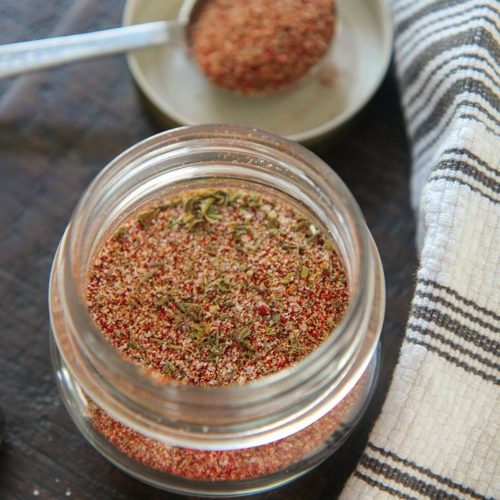 Print Recipe
Pin Recipe
This easy homemade Cajun seasoning is made with natural ingredients and no fillers. Use this delicious mildy hot seasoning to season chicken, pasta, shrimp, and vegetables!
Ingredients
3

tbsp

Paprika

2

tbsp

Kosher Salt

2

tbsp

Granulated Garlic

1

tbsp

Onion Powder

1/2

tbsp

Thyme

1

tbsp

Oregano

1/2

tbsp

Cayenne Pepper
Instructions
Combine all of the ingredients in a bowl and then transfer to an airtight container.
Nutrition
Calories:
7
kcal
|
Carbohydrates:
1
g
|
Protein:
1
g
|
Fat:
1
g
|
Saturated Fat:
1
g
|
Sodium:
583
mg
|
Potassium:
35
mg
|
Fiber:
1
g
|
Sugar:
1
g
|
Vitamin A:
475
IU
|
Vitamin C:
1
mg
|
Calcium:
7
mg
|
Iron:
1
mg