Classic chicken fried steak dipped in a buttermilk and egg mixture then coated with seasoned flour and fried to perfection. A hearty and delicious dish that will make your favorite recipe list!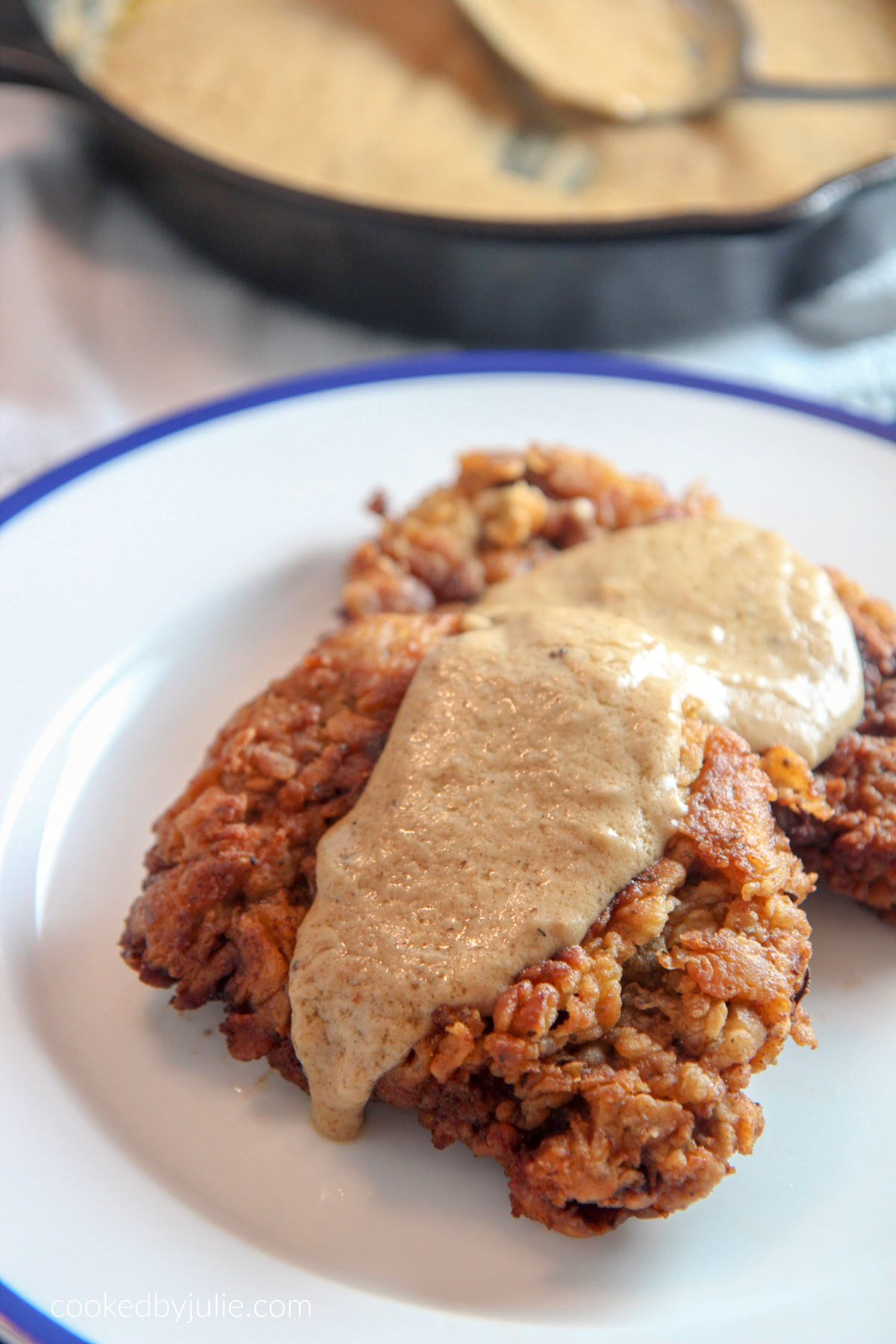 What is chicken fried steak?
Chicken fried steak is a tenderized piece of meat dipped in an egg mixture and served with a thick gravy made with milk. Country fried steak, on the other hand, is served with brown gravy and onions.
Neither is actually chicken, just the coating of the steak that resembles fried chicken is the reason it's called chicken fried steak.
Should I use any kind of beef?
Ideally, you want to use the thinnest and most tender piece of meat you can get your hands on. Your choice of beef will either make or break this dish. I recommend using bottom round cubed steak. The awesome part about this recipe is that the beef can have a little pink color to it.
Don't worry too much if you undercook the beef. Once I'm done frying the beef I like to place it on a baking sheet on a rack and place it in the oven while I prepare the gravy.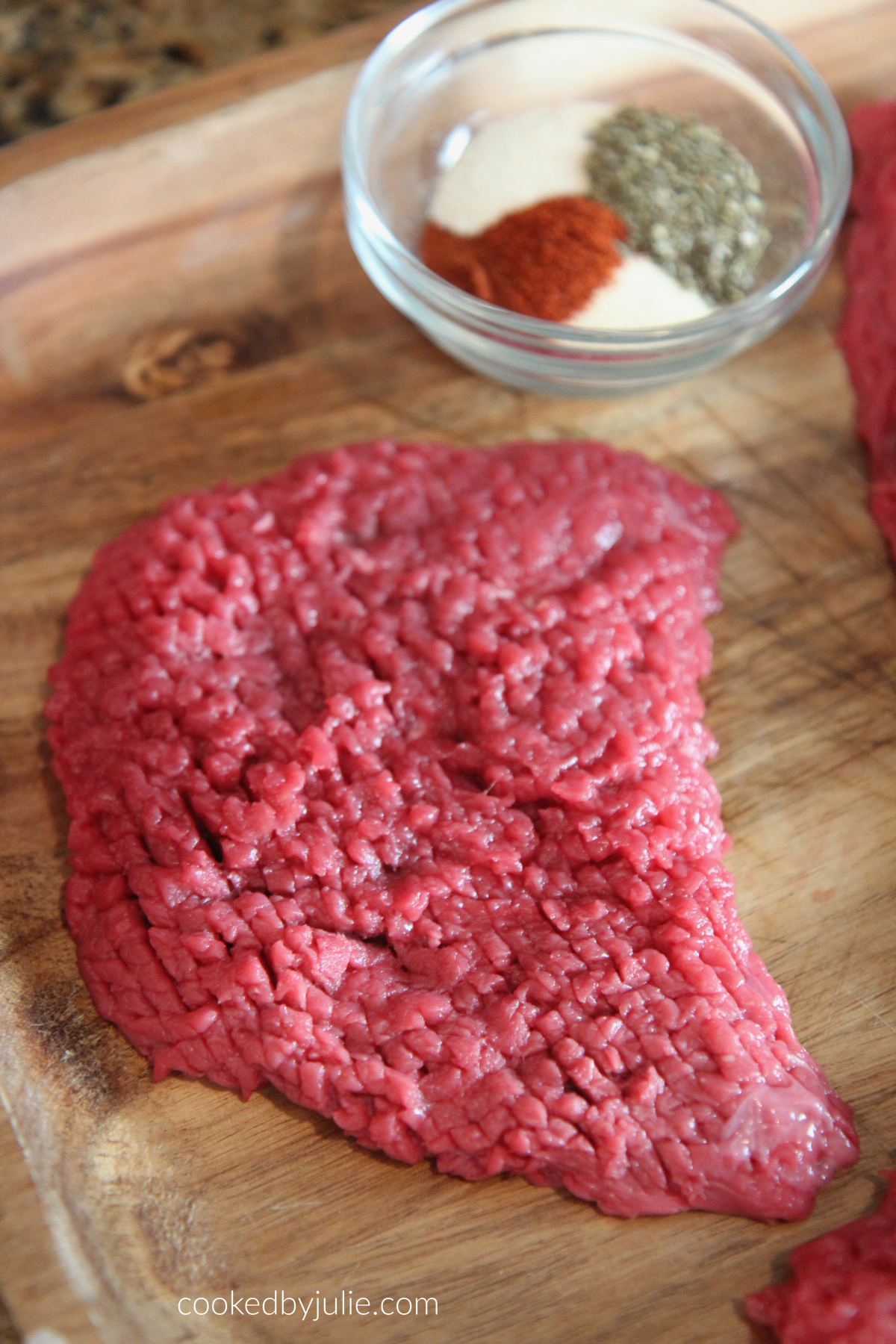 Serve this with some loaded mashed potatoes and creamed corn. Some people enjoy this for breakfast but I prefer this for dinner since it is a very filling meal.
I like a very seasoned chicken fried steak so I went ahead and seasoned both sides of the steaks with spices and I also seasoned the all-purpose flour.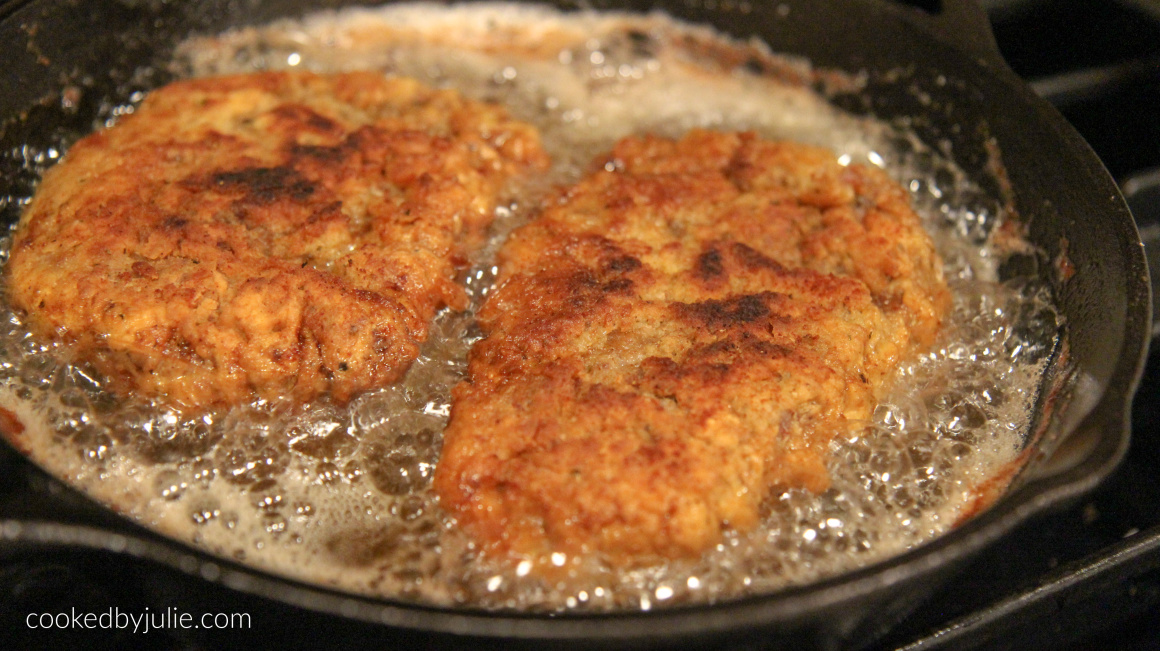 Tips for making delicious chicken fried steak: 
Use baking soda and baking powder to get that crust nice and crispy.
Season both sides of the steak and the flour as well.
Make sure you place the steaks in a preheated oven when they're done frying, so they remain warm while you prepare the gravy.
What can I say about chicken fried steak? Honestly can't get enough of it. It's so darn good! Dipping each bite into that creamy gravy is the way to go. It's just not as good without the gravy, sorry.
A lot of you guys have been requesting this recipe for a while now and I'm not quite sure why it's taken me this long to finally share this recipe.
To be honest, I didn't know what this was until a couple of years ago. Jersey girl here and chicken fried steak isn't something I can find at restaurants here.
I'm 99.9% sure you and your family will love this recipe.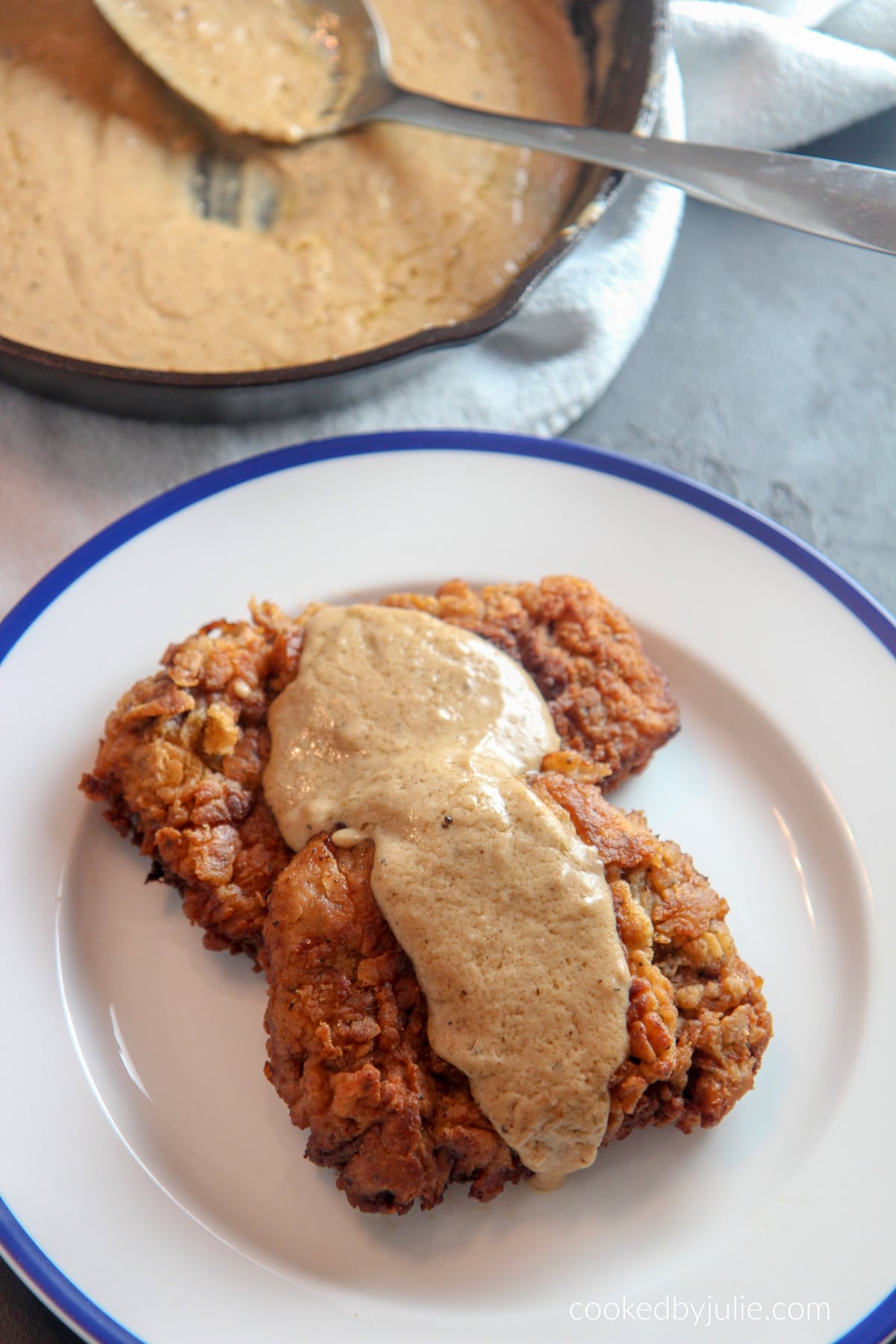 You can certainly throw in some mushrooms, peas, and spinach in the gravy if you'd like. Not everything has to be authentic and traditional. The best part about home-cooked meals is playing with recipes. Adding or omitting anything you'd like. Looking for something low carb for the new year? Check out these delicious keto friendly creamy baked chicken legs. 
Check out these other delicious recipes: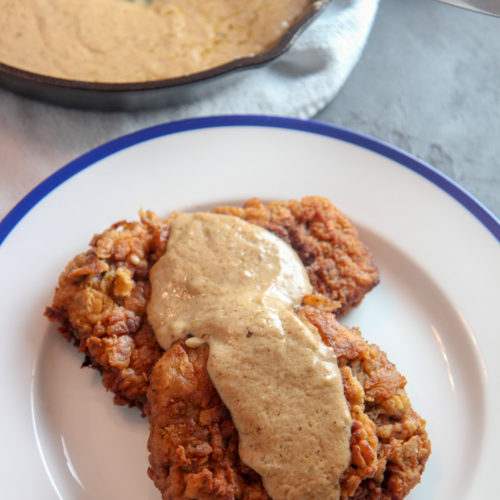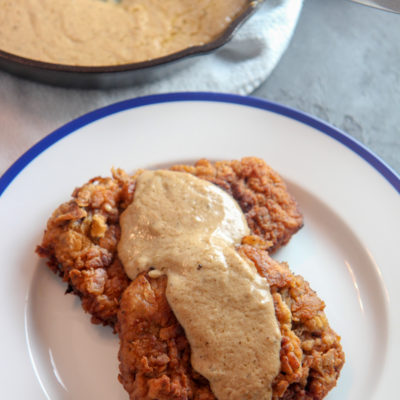 Chicken Fried Steak with Gravy
Print Recipe
Pin Recipe
This easy buttermilk chicken fried steak will be a hit at your dinner table. Make this in under 30 minutes!
Ingredients
Chicken Fried Steak:
3-4

thin cubed steaks

2

tsp

granulated garlic

2

tsp

onion powder

2

tsp

Italian seasoning

1/2

tsp

paprika

1/2

tsp

cayenne pepper

2

cups

all-purpose flour

1/2

tsp 

baking powder

1/2

tsp 

baking soda

1

cup

buttermilk

2

eggs

Salt and pepper to taste

White Gravy

3

tbsp

leftover oil

3

tbsp

leftover seasoned flour

1/2

cup

chicken stock

1

cup

whole milk

salt and pepper to taste
Instructions
Preheat oven to 225 degrees F.

To prepare the seasoning, combine the paprika, cayenne pepper, granulated garlic, onion powder, and Italian seasoning in a small bowl.

Season the steaks on both sides with the seasoning blend, salt, and pepper to taste.

In a large bowl, combine the all-purpose flour, baking soda, baking powder, salt, pepper, and the remaining seasoning blend. Set 3 tbsp aside for later.

In a separate bowl, combine the buttermilk and eggs.

Dredge the steaks in the seasoned flour shaking any excess flour, then in the buttermilk mixture, then again in the seasoned flour.

Fry the steaks for 3-4 minutes on each side in a skillet over medium-high heat. Reserve 3 tbsp of the oil. Place the steaks on a baking sheet in the oven while you prepare the gravy.

To make the gravy, add the 3 tbsp of leftover flour to the remaining oil in the skillet and stir. Stir in the chicken stock and milk. Cook for an additional 3-5 minutes or until nice and thick. Season with salt and pepper.

Serve the chicken fried steak with the gravy on top and enjoy!
Nutrition
Calories:
473
kcal
|
Carbohydrates:
38
g
|
Protein:
32
g
|
Fat:
20
g
|
Saturated Fat:
9
g
|
Cholesterol:
132
mg
|
Sodium:
282
mg
|
Potassium:
565
mg
|
Fiber:
1
g
|
Sugar:
4
g
|
Vitamin A:
395
IU
|
Vitamin C:
0.2
mg
|
Calcium:
145
mg
|
Iron:
4.6
mg