Enjoy this classic egg salad recipe for lunch or dinner. Made with hard-boiled eggs, mustard, mayo, dill, scallions, and shallots. 
Simple, creamy, full of flavor, and super filling. Enjoy this on crackers, toast, soft bread, or on its own.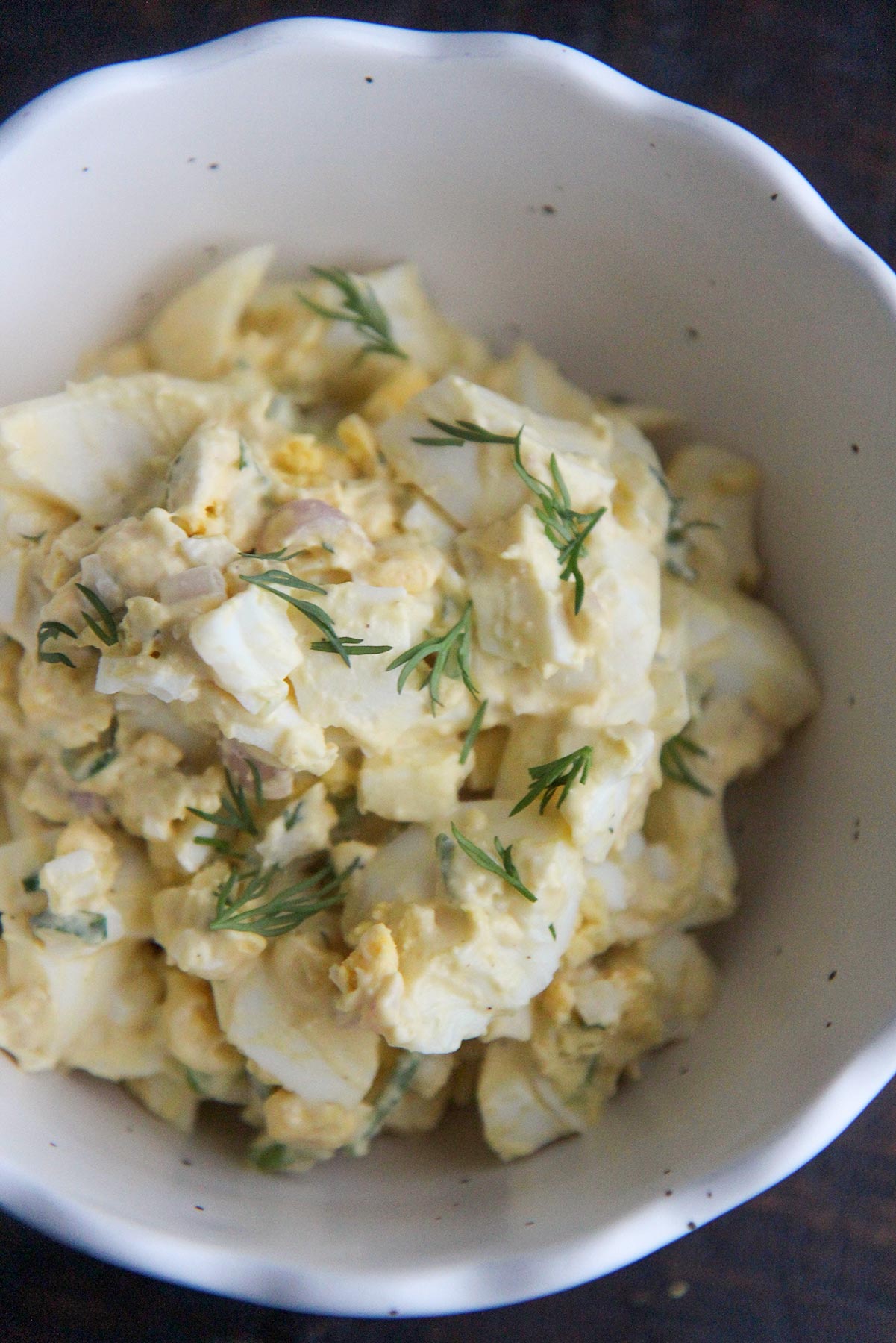 When I think of a quick easy meal that's comforting but low in carbs I immediately think of egg salad. Nothing beats a bowl of homemade egg salad.
Last year I shared a quick and easy egg salad sandwich recipe but I wanted to share a more adult recipe that included shallots and dill.
Although eggs are pretty much my go-to breakfast almost every day I will never turn down a bowl of egg salad for lunch or dinner.
Eggs are good for you and according to WebMD, an egg has 7 grams of protein. Not only are eggs delicious but they're good for you if consumed in moderating.
My favorite way to serve egg salad is on toast with some butter lettuce. So good! Although a soft bread egg salad sandwich is a close runner up.
The best part of egg salad is that its low carb, keto-friendly, and gluten-free.
Ingredient's You'll Need
Preparing this all American classic has never been easier! All you need is fresh ingredients and a little love. Here's all you have to do:
Perfect Hard-Boiled Eggs – How to boil eggs perfectly every single time.
Shallots – You may substitute this for celery or red onions if you like crunch but aren't a fan of shallots.
Scallions
Fresh Dill – adds incredible flavor and freshness.
Mayo – If trying to eat lighter, Greek yogurt works perfectly.
Dijon Mustard – Spicy mustard or yellow mustard are awesome as well.
Salt and Pepper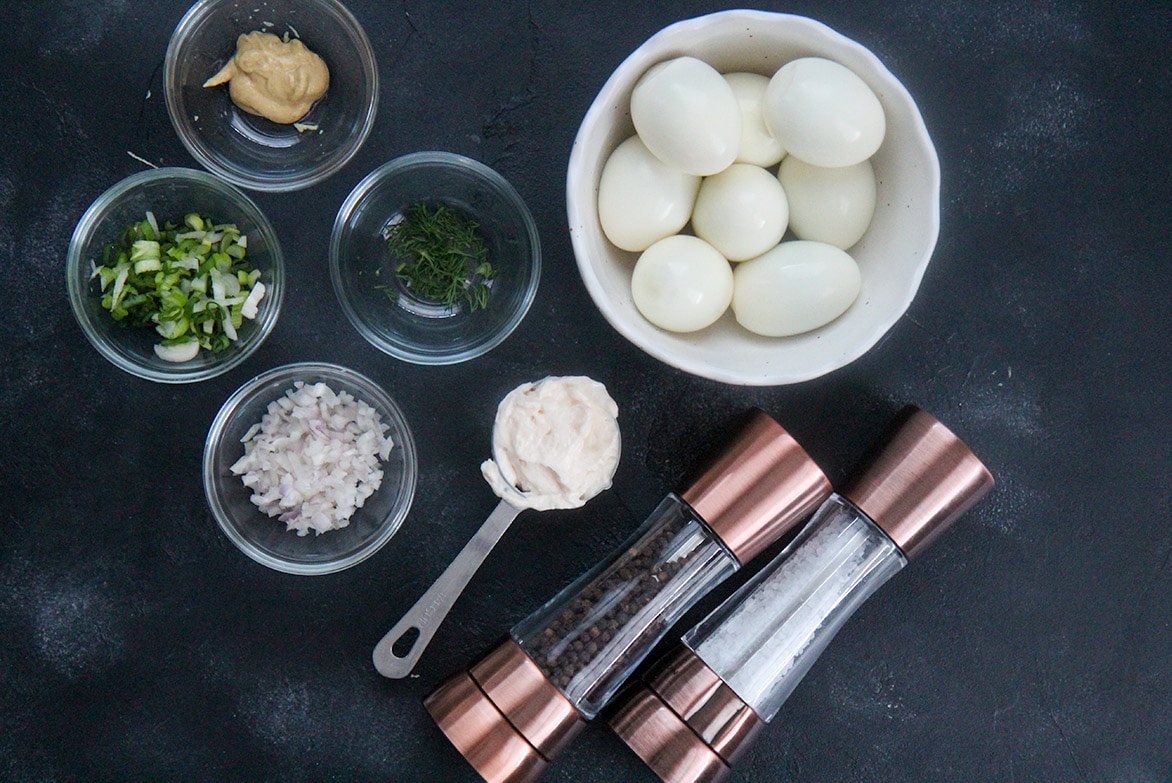 How to Make Classic Egg Salad
Place the eggs in a saucepan and cover with room temperature water. Bring to a boil and let it boil for about 8 minutes. Run the eggs under cold water for 1-2 minutes or place them in a bowl of ice water before peeling.
In a large bowl, mix the mayo, green onions, shallots, dill, and dijon mustard. Season with salt and pepper.
Chop the eggs into small pieces using a knife. I like it a little chunky. Fold the eggs into the mayo mixture and add more salt and pepper if needed.
Recipe Variations:
I believe the 8 eggs to 1/4 cup of mayo ratio is absolutely perfect. Although you may add less or more depending on your personal taste.
To add more flavor and creaminess you may add 1/2 of a smashed avocado to this.
Sprinkle a little paprika on top for color and add a couple of splashes of hot sauce for a bit of a kick.
Add a squeeze of fresh lemon juice for a little tang and extra freshness.
Top Tip:
Fresh eggs should always sink in water. If an egg rises up to the top when placed in water that means they're expired and aren't fresh.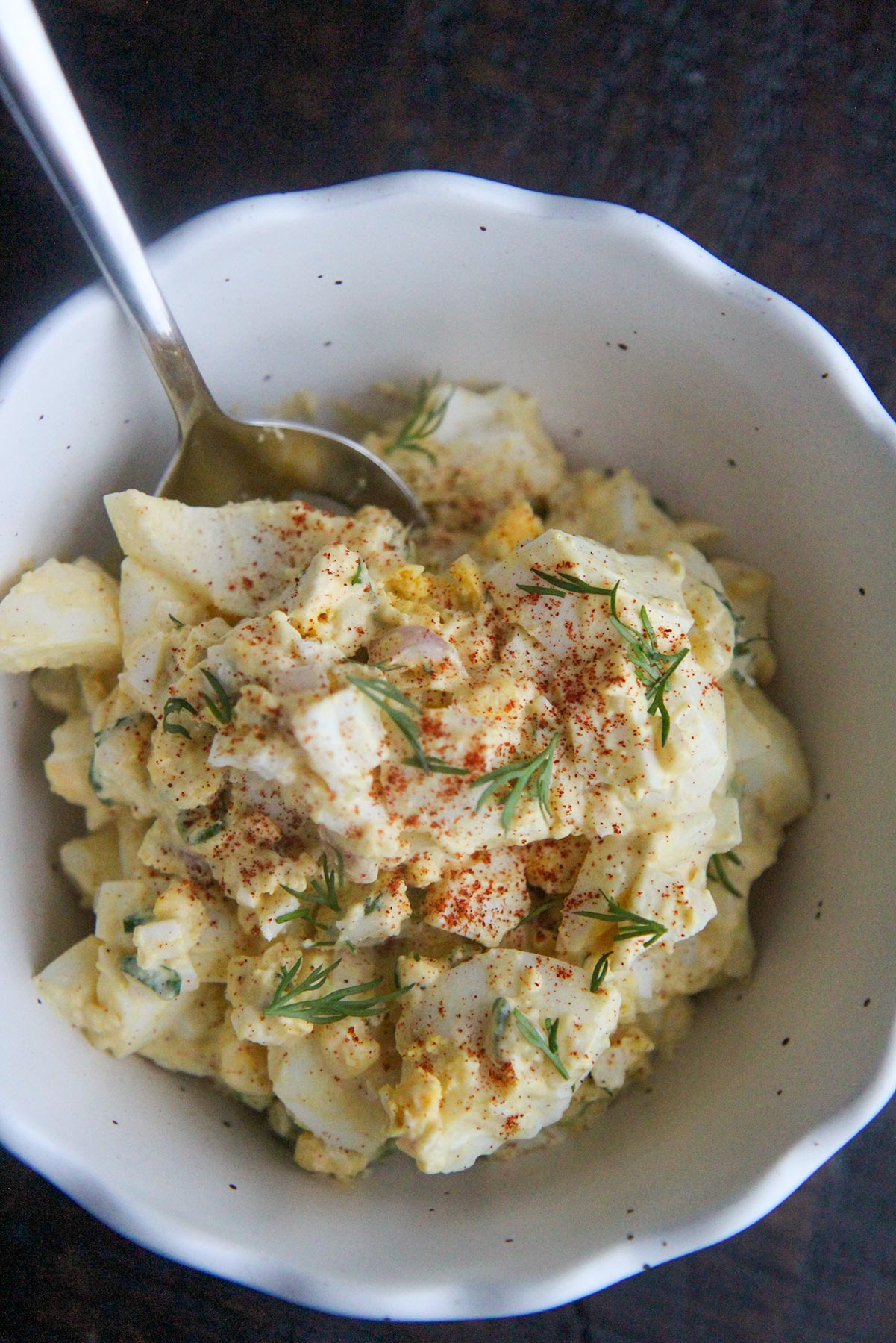 How long does egg salad last for? 
Place the egg salad in an airtight container and refrigerate for up to 3 days.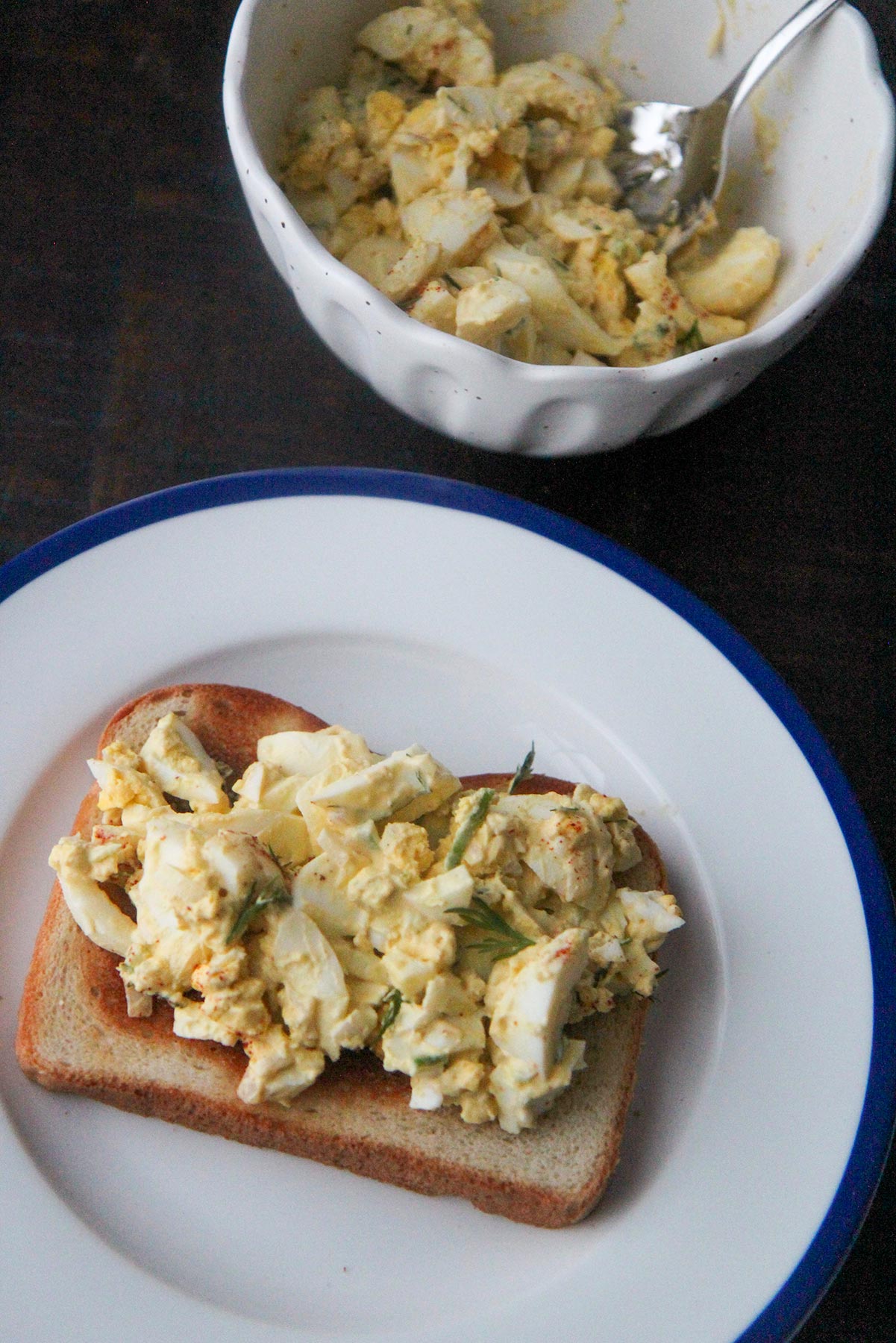 More Salads
You can find more delicious recipes and cooking tutorial videos on Youtube and Facebook.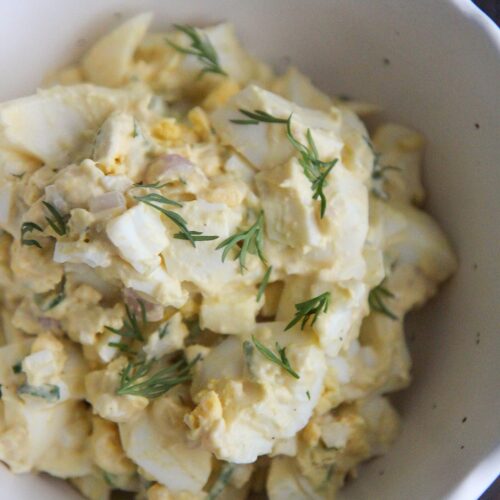 Print Recipe
Pin Recipe
A simple classic egg salad loaded with shallots, fresh dill, scallions, mayo, and dijon mustard! Enjoy as a snack, lunch, or dinner.
Ingredients
8

eggs

hardboiled

1/4

cup

mayo

1/2

tbsp

dijon mustard

2

tbsp

shallot

1

scallion

finely chopped

1/2

tsp

fresh dill

1/4

tsp

paprika

optional

salt and pepper to taste
Instructions
In a large bowl, mix the mayo, dijon mustard, shallots, fresh dill, scallions, and season with salt and pepper.

Fold in the chopped boiled eggs into the mayo mixture until well combined.

Add some paprika if desired and enjoy!
Nutrition
Calories:
227
kcal
|
Carbohydrates:
2
g
|
Protein:
11
g
|
Fat:
19
g
|
Saturated Fat:
4
g
|
Cholesterol:
333
mg
|
Sodium:
236
mg
|
Potassium:
138
mg
|
Fiber:
1
g
|
Sugar:
1
g
|
Vitamin A:
567
IU
|
Vitamin C:
1
mg
|
Calcium:
49
mg
|
Iron:
2
mg