These Honey BBQ Boneless Wings are entirely homemade, including the sweet and zingy sauce. This recipe is perfect for an appetizer or main course and is a hit every time. Hands down my all-time favorite game day recipe!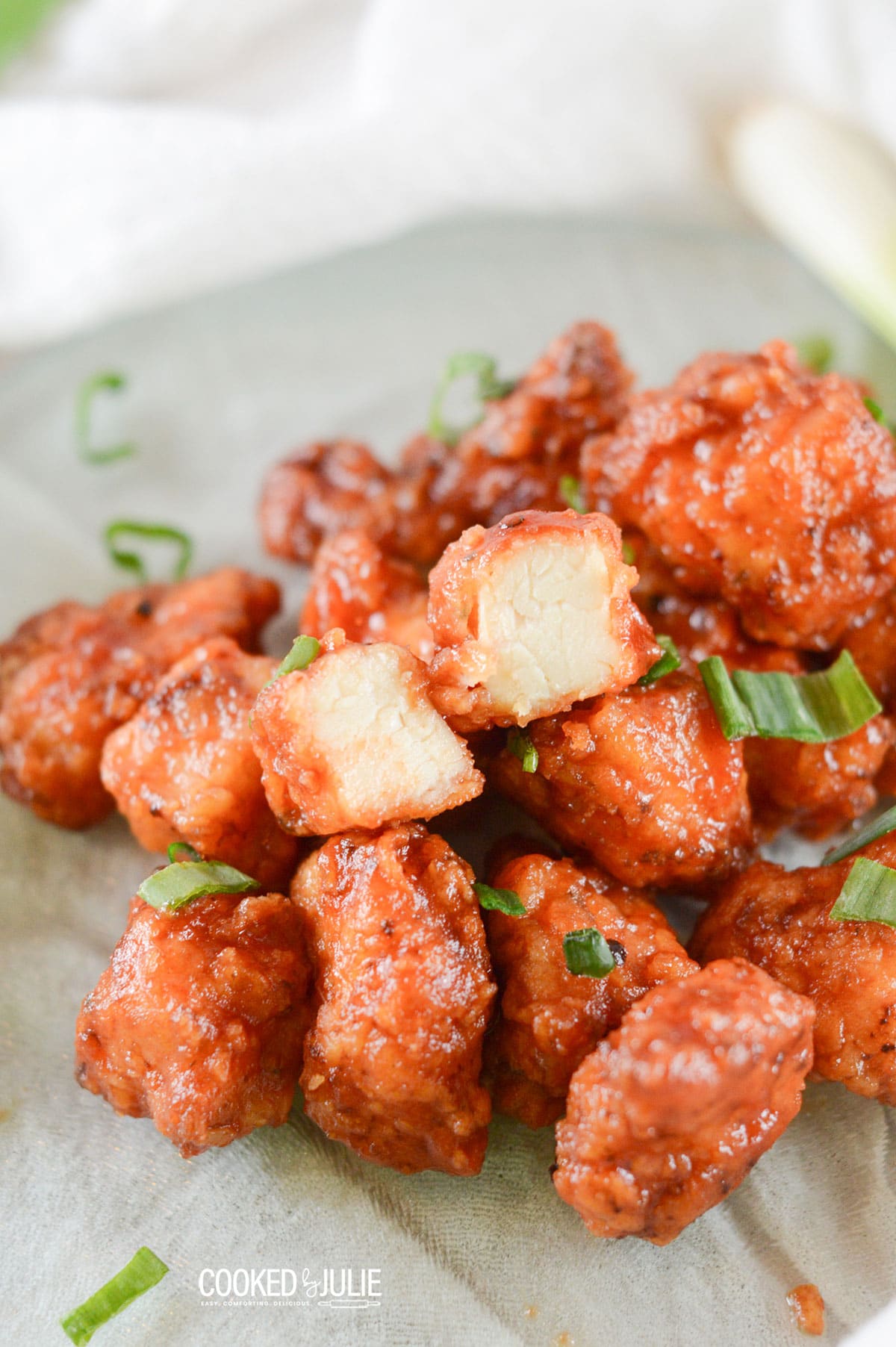 Boneless chicken wings have become more and more popular over the last few years. Let's be honest, bone-in wings are delicious, but there's really no way around getting super messy while eating them.
That's why boneless chicken wings are my favorite wings. The crispy pieces of chicken are delicious on its own but the barbecue sauce takes it over the top. Making barbecue sauce is super easy and rewarding.
I absolutely love this easy honey barbecue sauce. The barbecue sauce is rich and tangy with a touch of sweetness.
Ingredient's You'll Need: 
Boneless Chicken Breasts
Buttermilk
Paprika
Granulated Garlic Powder
All-Purpose Flour
Salt and Pepper
Tomato Paste
Rice Vinegar or White Vinegar
Corn Syrup
Brown Sugar
Honey
Onion Powder
Water
Vegetable Oil
How to Make Honey BBQ Boneless Wings
Prepare the chicken – Cut the boneless skinless chicken breasts into bite-size pieces. Place the chicken, spices, and buttermilk in a bowl. Mix and chill in the fridge for about 4 hours or overnight.
Prepare the sauce – Place all the ingredients for the BBQ sauce in a saucepan and bring to a good boil before reducing the heat and allowing it to simmer for an hour.
Coat and fry the chicken – In a bowl, mix together the flour and season it with salt and pepper. Remove the chicken from the bowl, coat in flour, and fry until golden brown.
Toss in Sauce – Allow the chicken to cool then toss it in the BBQ sauce, garnish with chopped chives, and enjoy!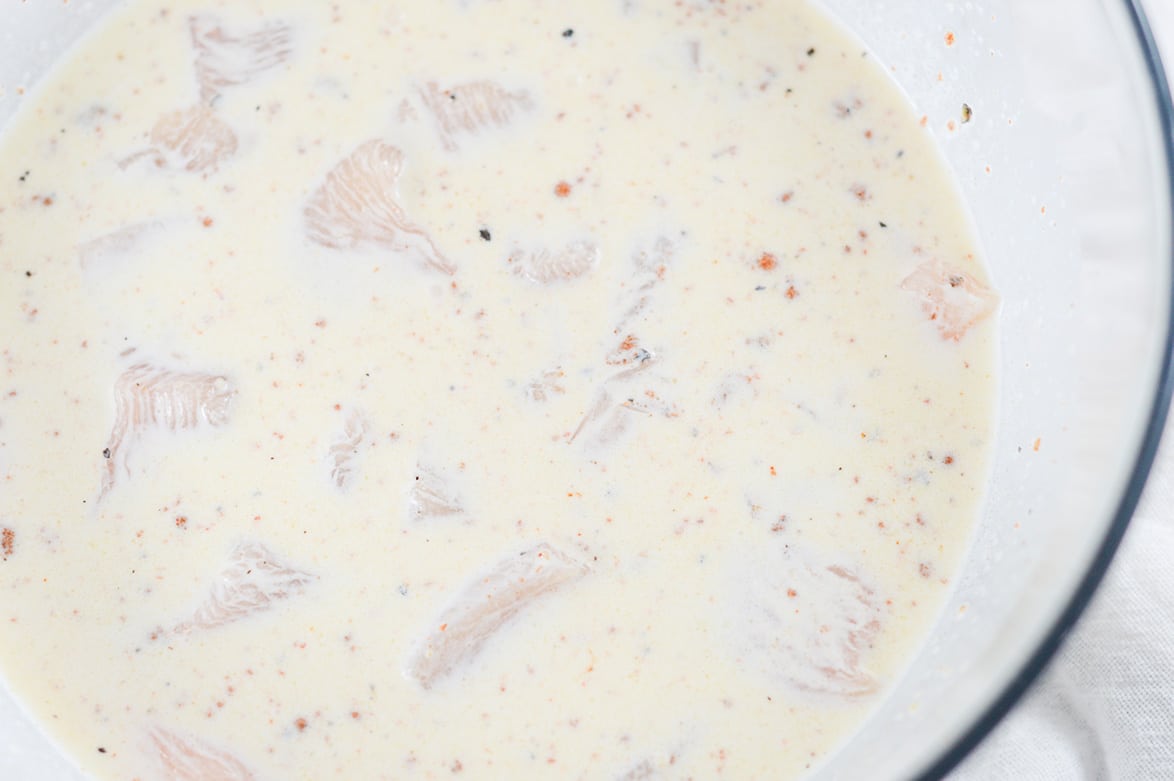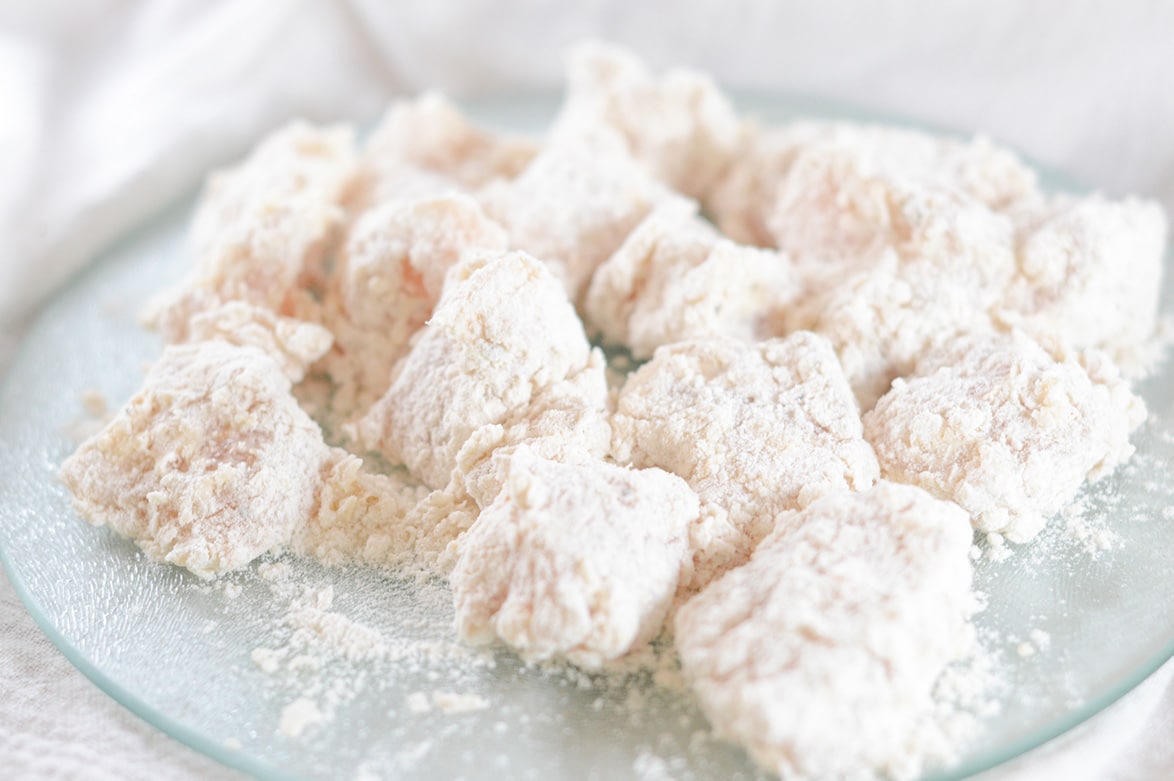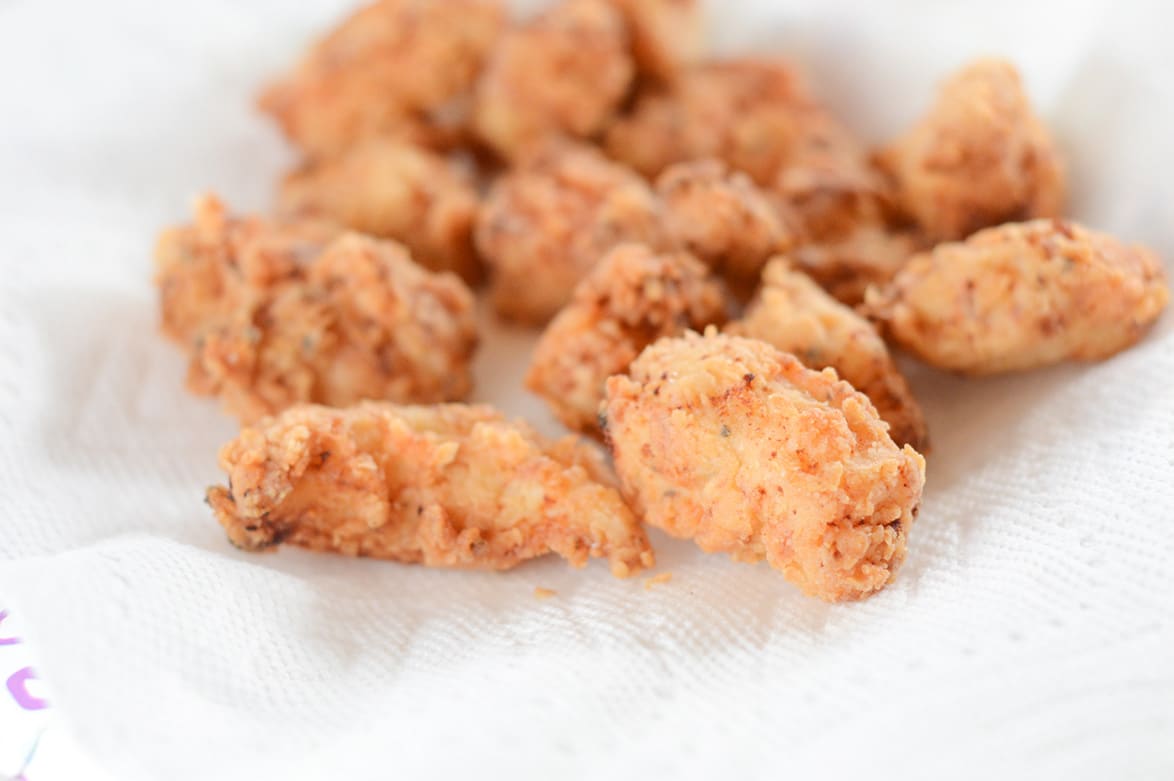 Tips and Recipe Variations
Use any sauce you want – If you're not a fan of honey BBQ sauce, you can nix the sauce and use whatever sauce you like. The base chicken recipe will work for any type of sauce you prefer.
Don't cut the chicken too small – When we think bite-size pieces, we often end up cutting things pretty small. Remember that most meats shrink as they're cooked, so don't cut the chicken pieces too small. Go a touch bigger than what you first thought you should cut them at and you should be good.
Don't air fry them – Many people think that you can use an air fryer interchangeably with recipes that call for frying in oil. This isn't the case with many recipes, including this one. I love using an air fryer, but the chicken in this recipe won't turn out right if fried in the air fryer.
Make it spicy – If you like a little kick to your wings, add some crushed red pepper flakes to the sauce or a little bit of jalapeno juice. It won't take much.
The sauce will thicken – If your sauce seems thin while you're cooking it, don't worry, if you followed the recipe, it will thicken the more it cooks. Allow it to cool a bit before attempting to thicken it as the sauce will thicken a bit more when it cools as well.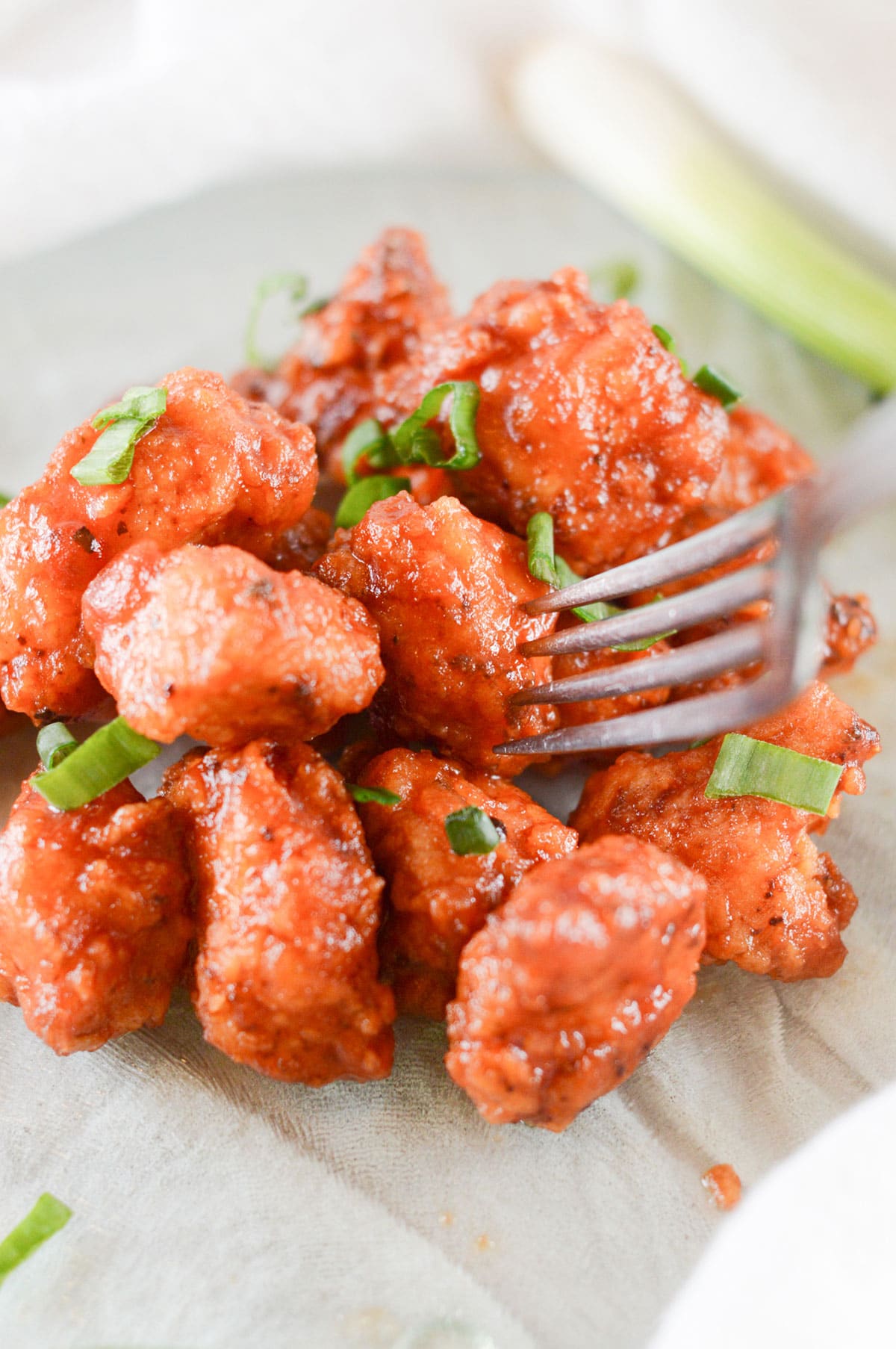 What's the Difference Between Boneless Wings and Chicken Tenders?
Chicken nuggets are usually a mixture of meat and bits of the chicken that are breaded then fried. Chicken nuggets aren't coated with any flavoring – they're served plain with a dipping sauce.
However, boneless wings are white chunks of breast meat that have a different type of breading and are coated in various wing-style sauces before being served. So, although similar, chicken nuggets and boneless chicken wings are definitely a different dish.
There's nothing better than sitting down to a game or even a family game night, with a big plate of wings. In order to make it easier for everyone next time around, opt for these Honey BBQ Boneless Wings instead of the traditional wings you're used to.
Everyone will enjoy a bowl of these honey fried chicken wings.
Other Wing Recipes You'll Love:
You can find more delicious recipes and cooking tutorial videos on Youtube and Facebook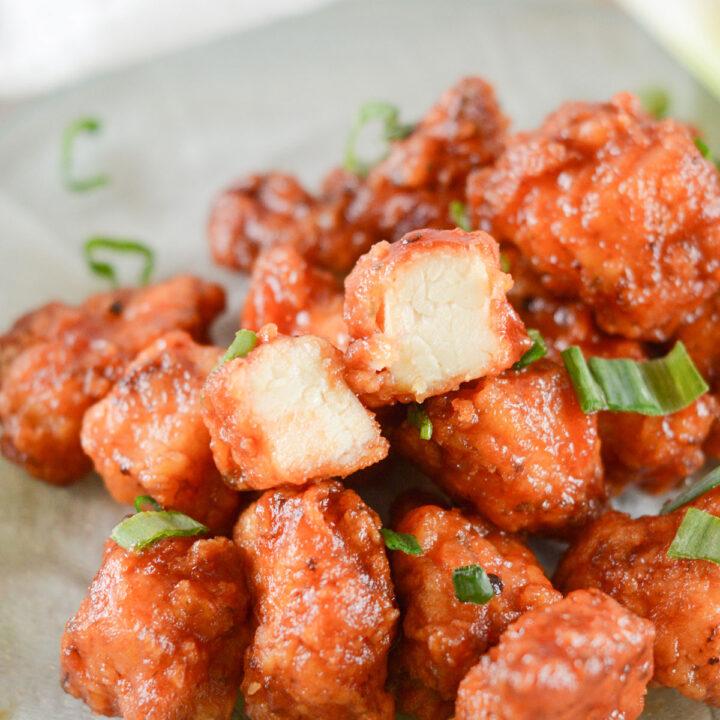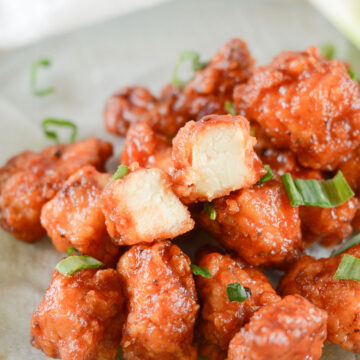 Print Recipe
Pin Recipe
Crispy chicken wings coated in a homemade honey bbq sauce. The only Honey BBQ WIng recipe you'll ever need.
Ingredients
Chicken
3

boneless chicken breasts

1/2

cup

buttermilk

2

tsp

salt

1

tsp

black pepper

1

tsp

paprika

1

tsp

granulated garlic

1

cup

all purpose flour

6

cups

vegetable oil
Honey BBQ Sauce
1/3

cup

tomato paste

1/3

cup

rice vinegar or white vinegar

1/3

cup

corn syrup

1

tbsp

brown sugar

1/2

cup

honey

1/2

tsp

salt

1/2

tsp

black pepper

1/2

tsp

granulated garlic

1/2

tsp

onion powder

2

cups

water
Instructions
Slice chicken breasts into bite sized pieces

Add the salt, pepper, paprika, granulated garlic, and buttermilk.

Refrigerate chicken for about 4 hours

To make the Honey BBQ sauce add all of the BBQ sauce ingredients to a sauce pan and cook over high heat until it turns into a rapid boil, then lower the heat to medium low and cook for 1 hour

Season the all purpose flour with salt and pepper

Remove each piece of chicken from the buttermilk and coat each piece of chicken with the seasoned flour.

Fry the chicken in vegetable oil at 375 degrees for about 5-6 minutes or until chicken is fully cooked through

Coat the fried chicken pieces in the honey bbq sauce and enjoy
Nutrition
Calories:
405
kcal
|
Carbohydrates:
45
g
|
Protein:
11
g
|
Fat:
21
g
|
Saturated Fat:
14
g
|
Cholesterol:
28
mg
|
Sodium:
869
mg
|
Potassium:
262
mg
|
Fiber:
1
g
|
Sugar:
31
g
|
Vitamin A:
370
IU
|
Vitamin C:
2.5
mg
|
Calcium:
33
mg
|
Iron:
1.5
mg