These Keto Chocolate Glaze Donuts will keep your sweet tooth quiet while also keeping you in ketosis. Eat what you like without all the guilt attached by whipping up these delectably chocolatey, healthy doughnuts. Rich, soft, and satisfying, this dessert will have you looking at keto in a new light.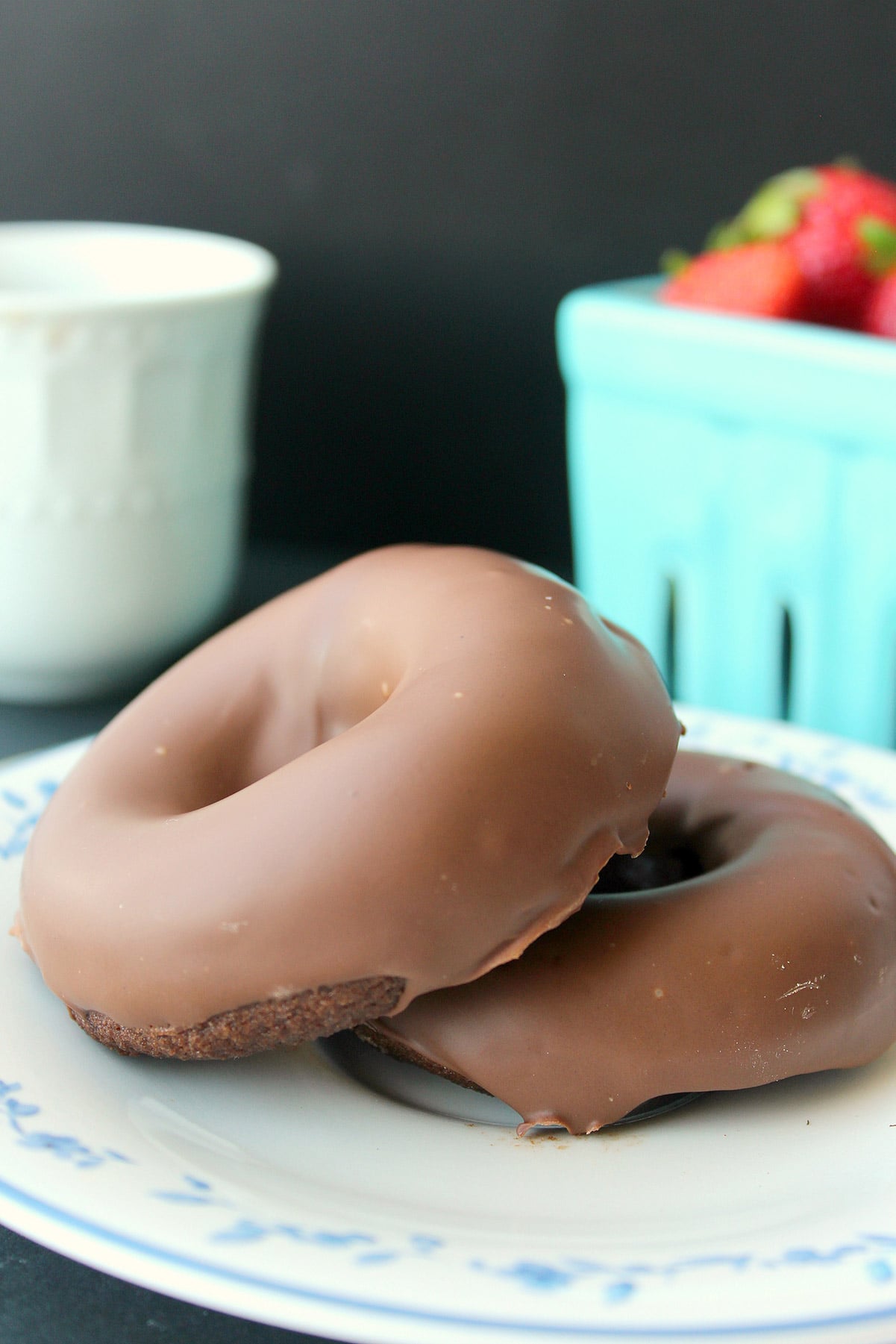 Trying to keep track of calories, carbs, sodium intake, etc. can all be a little overwhelming. That's why I enjoy keto so much. It's less keeping track of the numbers and more of just sticking to a list of good foods and bad foods. I feel like I understand what I'm doing and what's happening to my body when I'm doing keto. It's one of the nicest "dieting" experiences I've ever had.
Now, it's not for everybody, and you should definitely check with your doctor before tackling it. However, I can't say enough good things about the keto lifestyle. I mean, I'm getting to eat donuts for goodness sakes – how much better can it get? Oh wait, I'm losing weight and getting to eat chocolate donuts – that's how it's better.
How to Make Keto Chocolate Donuts
Prep – Preheat the oven to 325 degrees and grease a donut pan.
Make the batter – In a medium bowl, combine all the dry ingredients for the donut batter and mix well. Add in the butter, vanilla, and eggs until combined before adding in the coffee and water and mixing until just combined again.
Bake – Place the batter in a piping bag and pipe the batter into the donut pan, keeping each crevice equal on the amount of batter. Bake for up to 20 minutes or until they're firm to the touch. Let cool in the pan for 5 minutes then move to a wire rack to finish cooling.
Make the glaze – In a shallow bowl, combine the chocolate chips and coconut oil. Cook for 30-second intervals in the microwave, stirring in between until the chocolate is nice and smooth. Add the vanilla and swerve then whisk until combined.
Dress the donuts and enjoy – Dip the top of each donut in the chocolate glaze and set aside for about 30 minutes for the chocolate to firm up. Once they're set, enjoy your Keto Chocolate Glaze Donuts!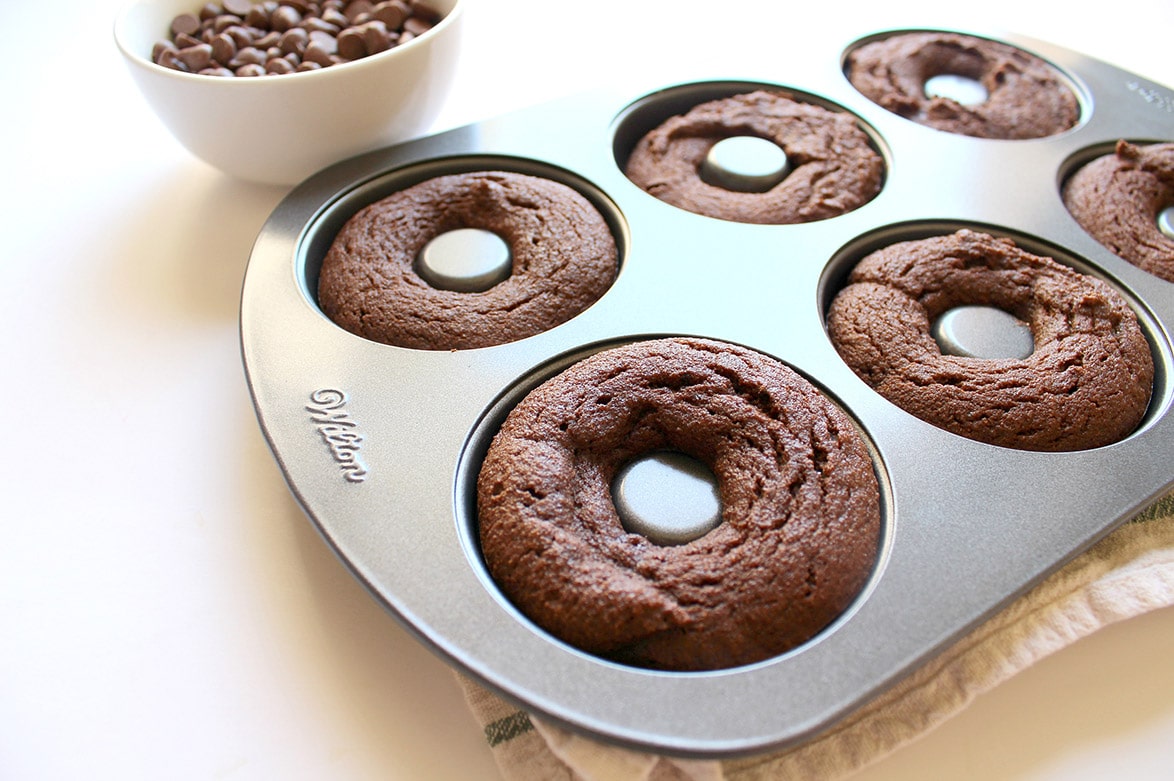 Recipe Tips and Variations
Add fresh fruit – If you want to add even more to your donuts, you can top them with fresh fruit before the chocolate dries. Other keto-friendly garnishes can be added as desired, just know this changes the nutritional outcome for each donut.
Place in the fridge for quicker donuts – If you need your donuts quicker than 30 minutes, you can place them in the fridge to let the chocolate firm up quicker.
Storage – Keep donuts in an airtight container in a dry, cool place for up to 5 days. These can be frozen in an airtight container for up to 3 months. Reheat by letting them come to room temperature on their own and heating in the microwave for a few seconds. Be careful to not melt the frosting when reheating.
Piping – Of course, you can just spoon the batter into the donut pan, but I have found that using a piping bag is much easier.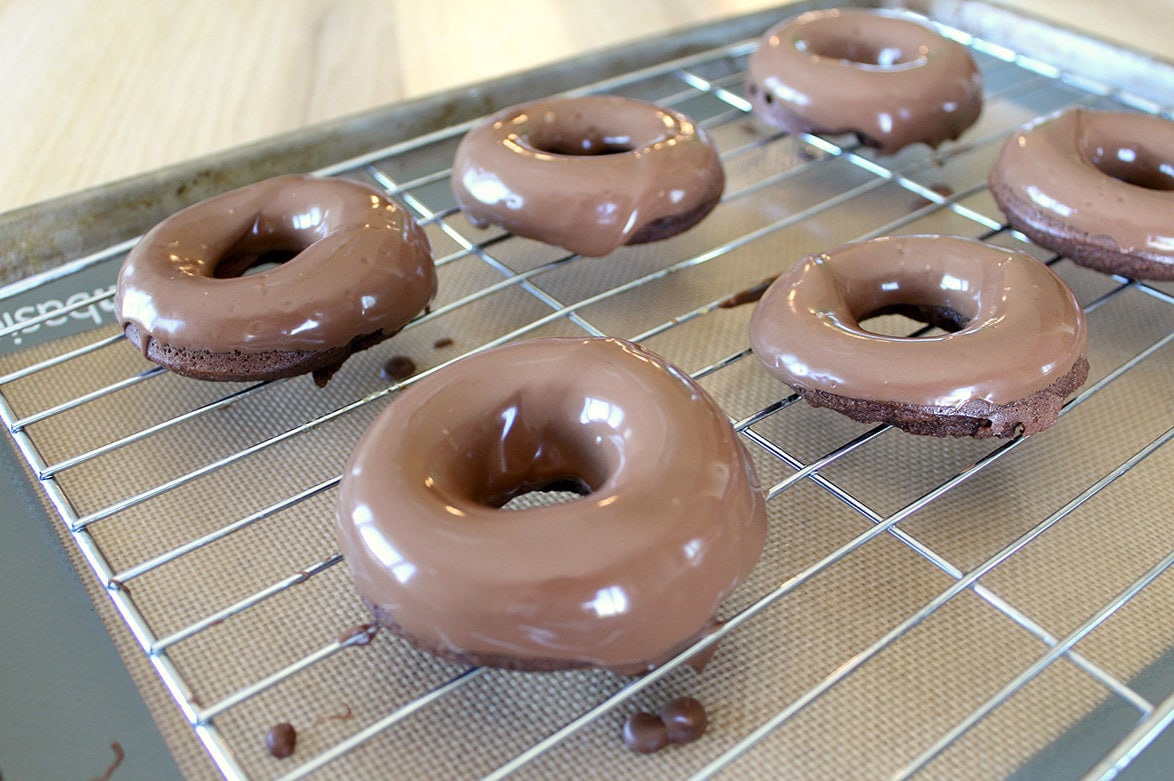 Can You Eat Doughnuts on Keto?
When it comes to your run of the mill, traditional doughnuts like these Baked Chocolate Donuts, no, you can't eat those on keto. However, what's great, is that donut recipes are pretty easily adjusted to be keto-friendly.
You just have to look at the ingredients list and swap out the not so keto-friendly ingredients with ingredients that are keto-friendly. This gets easier the more you do it.
When it comes to doughnuts, the main thing you'll be needing to switch out is the flour and the sugar so that they're keto-friendly. Most grocery stores like Walmart, carry plenty of flour and sugar replacements that will work. So, in short, some donuts are ok, some aren't – just look for the kind that won't bring you out of ketosis.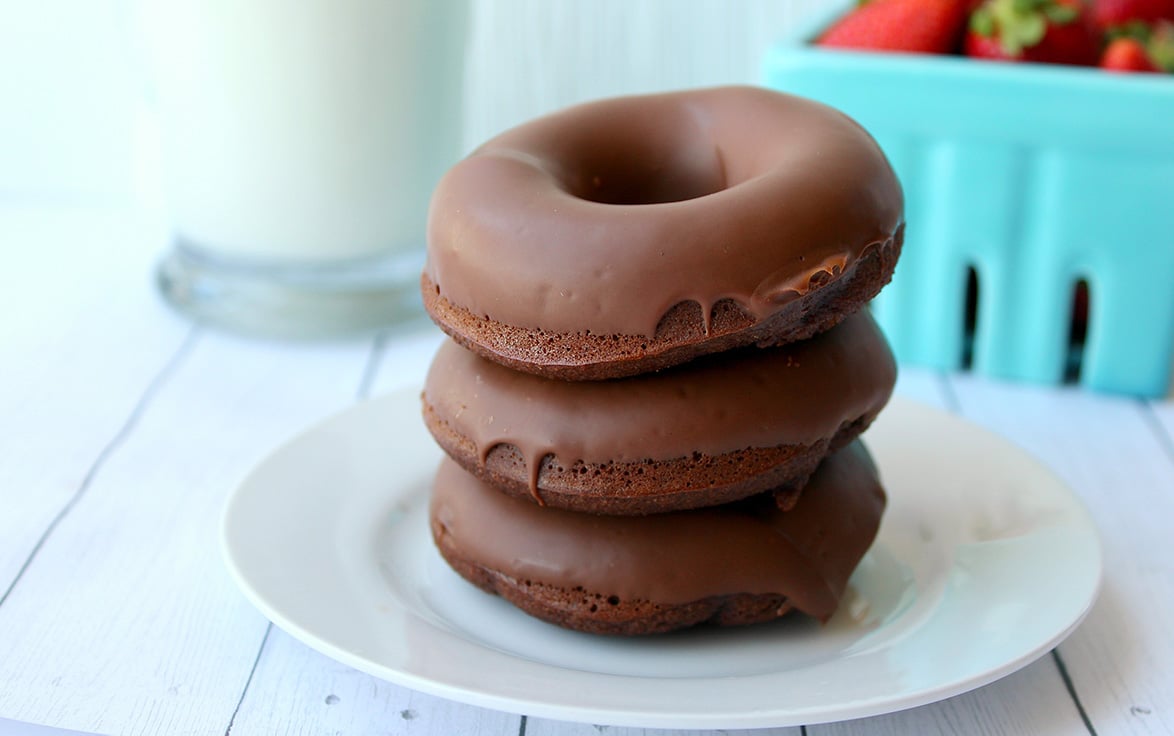 More Delicious Keto Recipes: 
You can find more delicious recipes and cooking tutorial videos on Youtube and Facebook.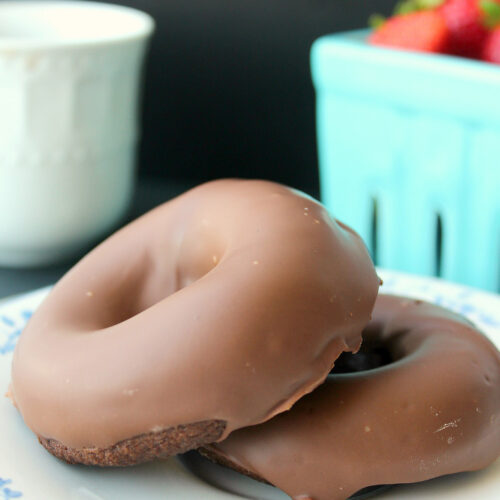 Print Recipe
Pin Recipe
These are the most delicious keto donuts ever! Rich, fluffy, chocolaty, and incredibly easy to make.
Ingredients
1/3

cup

coconut flour

1/3

cup

swerve sweetener

3

tbsp

cocoa powder

1

tsp

baking powder

1/4

tsp

salt

4

eggs

1/4

cup

melted butter

1

tsp

vanilla extract

6

tbsp

coffee or water
Chocolate Glaze
2/3

cup

sugar-free chocolate chips

1

tsp

vanilla extract

3

tbsp

swerve sweetener

1

tbsp

coconut oil
Instructions
Preheat the oven to 325 F and grease a donut pan if needed.

In a medium bowl, add the coconut flour, sweetener, cocoa powder, baking powder, and salt, whisk until well combined. Stir in the eggs, melted butter, and vanilla extract, stir in the cold coffee or water until well combined.

Divide the batter and pipe into your donut pan. Bake 16 to 20 minutes, until the donuts are firm to the touch. Remove and let cool in the pan for 5 minutes, then flip the pan and allow to finish cooling on a wire rack.

To make the chocolate glaze, In a shallow bowl, add in the chocolate chips and coconut oil.

Microwave in 30-second increments until chocolate chips are melted, add in the vanilla extract and swerve sweetener and whisk.

Dip the tops of each donut into the glaze and let set. I found the chocolate firmed up in about 30 minutes. You can also put them in the refrigerator to set them up quicker.
Notes
Please consult with a medical professional before starting a keto diet.