This Meatloaf Parmesan is a delicious spin on that traditional meatloaf we all know and love. Bursting with flavor, three types of meat, and two types of cheese – this recipe will make your dinner a success. Spice up meatloaf night and give this rendition a whirl!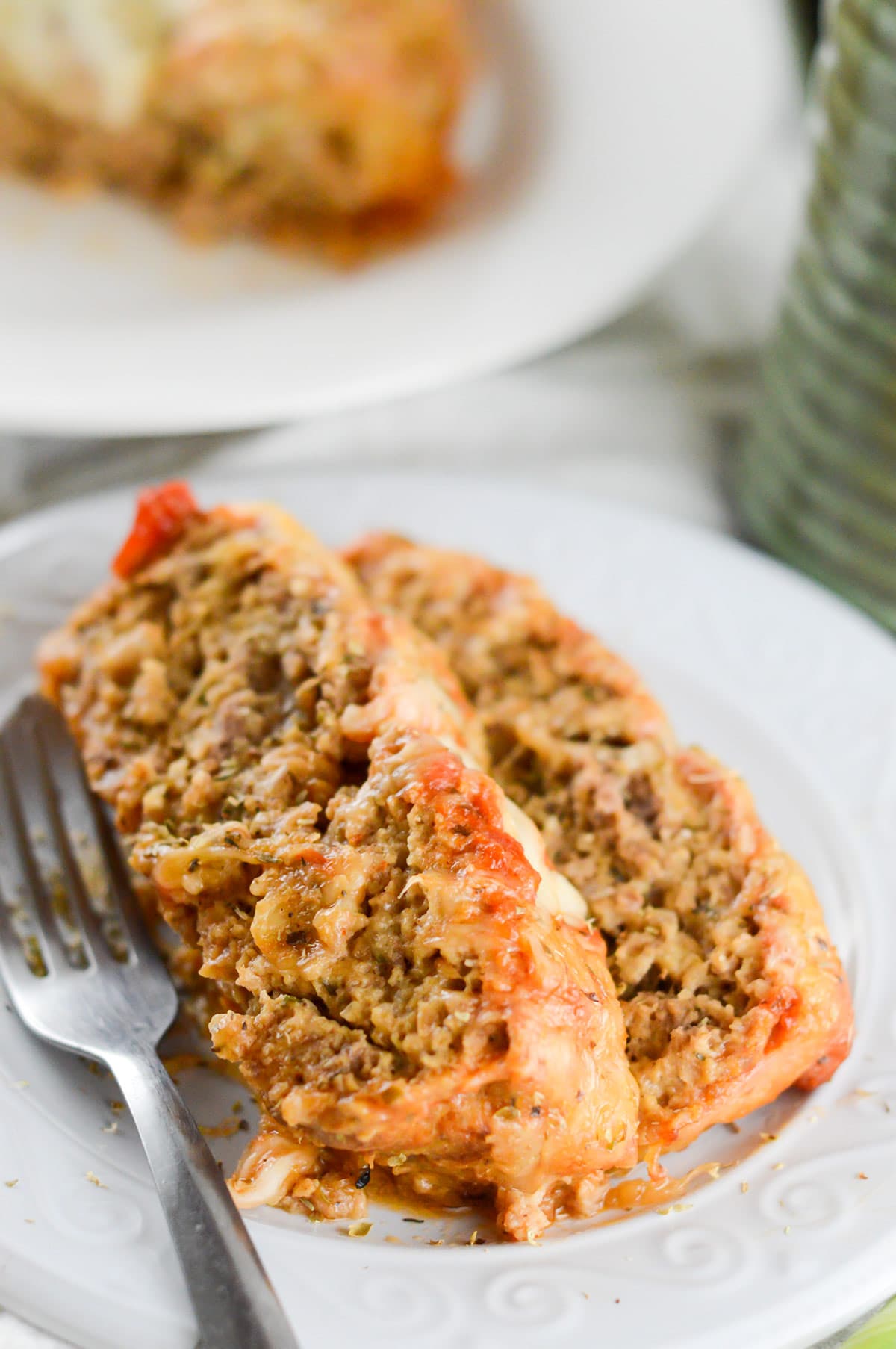 I'm a lover of traditional recipes. However, I often like to put little twists on them like this Chocolate Chip Banana Bread or Honey Jalapeno Cheddar Cornbread. That's exactly what I've done with this Meatloaf Parmesan recipe. I've taken that traditional recipe all of us are used to and put my own spin on it. I promise that it only makes it better and it will forever be my favorite meatloaf recipe.
When it comes to dinner recipes, I'm all about that bold flavor. That's why I've added some bold and favorite flavors to this recipe. The marinara sauce adds zest in place of ketchup and you can never go wrong with cheese. Either way, I have no doubt this will become a favorite in your house.
How to Make Meatloaf Parmesan
Prep – Preheat the oven to 350 degrees and line a loaf pan with parchment paper. Tear up the bread, place it in a bowl with the milk, and set aside.
Mix the meat – In another bowl, combine all the ingredients except the cheese and marinara sauce, including the bread mixture. Mix well.
Cook – Place the mixture in a loaf pan and brush the top with marinara sauce. Sprinkle with parmesan cheese and bake for 45 minutes. Remove, drain grease, and top with more marinara sauce, and both kinds of cheese. Bake for another 15 minutes.
Serve – Serve the meatloaf parmesan as soon as it comes out of the oven. Top with chopped oregano if desired and enjoy!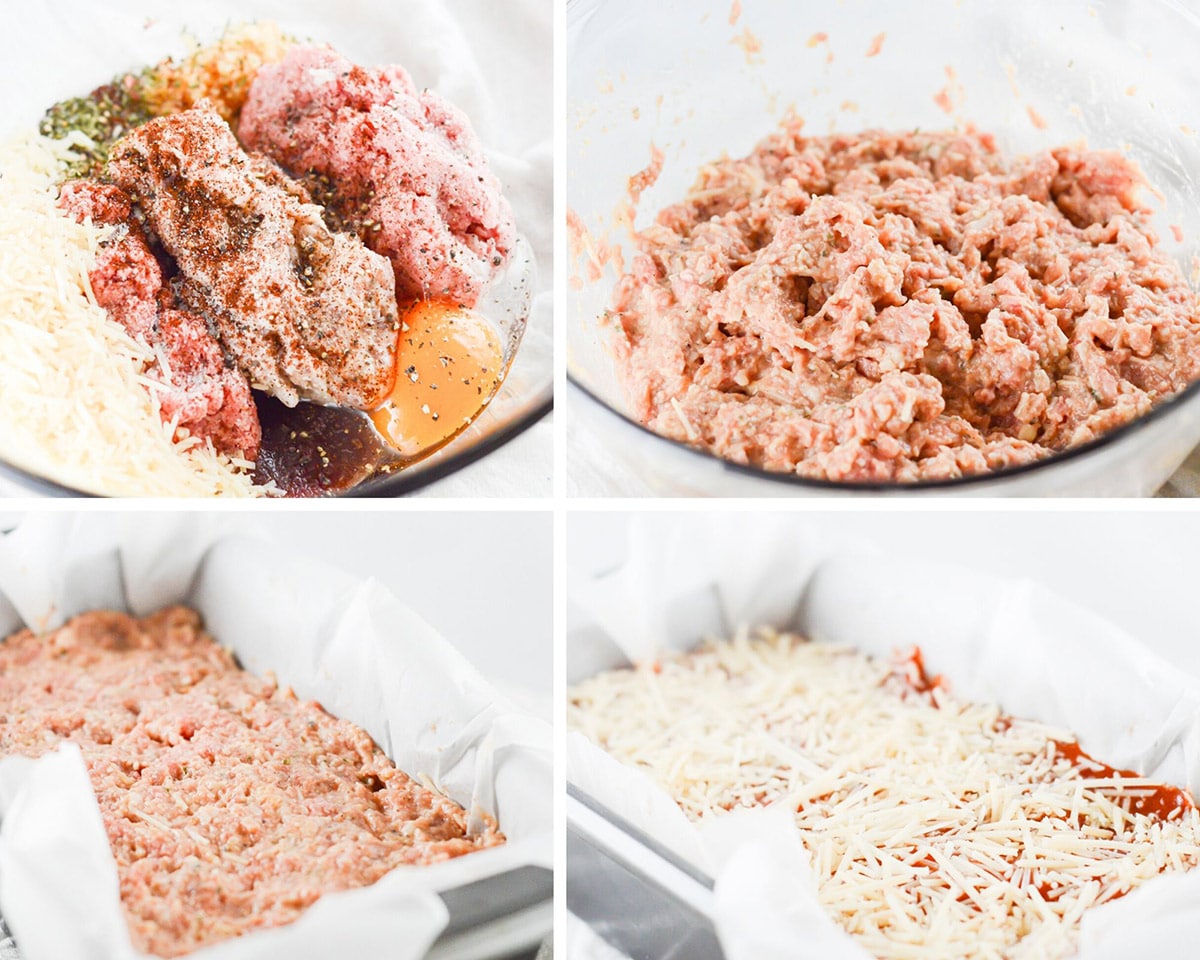 Recipe Tips and Variations
Storage – It's best to store this meatloaf parmesan recipe in an airtight container in the fridge for up to 4 days. You can freeze it in an airtight container for up to 2 months. Do not leave it outside the fridge or freezer as it will not be any good if you do.
Reheating – You can either place it in the oven and preheat it at 350 degrees for about 15 minutes or place it in the microwave with a damp napkin over the top of it. If it is coming from the freezer, let it thaw up on its own and then follow the steps above.
How do I mix all the ingredients? – The best way to mix ingredients for meatloaf is with your hands. Nothing compares to it. It's the best way to ensure all the ingredients really get mixed into each other and the meat.
How do I remove the meatloaf from the pan? – The parchment paper will come in handy for this part. Simply grab the sides of the paper evenly and lift it out. It should slip right out.
What if I can't find veal? – If you can't get your hands on veal, you can always swap it out for more ground beef in the same amount.
What Can I Use if I Don't Have a Meatloaf Pan?
A meatloaf pan isn't absolutely necessary to make a successful dinner. You can either cook it in a dish with sides, including glass. As long as it's oven safe and has higher sides, you can simply form the mixture into a meatloaf shape and bake it that way. If you don't have a pan with higher sides, you can also use a baking sheet, it might just take a touch longer to bake.
Do You Cover Meatloaf When Baking?
It's not necessary to cover meatloaf when it's baking. However, if you are wanting the cheese on the top of this meatloaf recipe to be crispier or browned more, you can cover it for the last 15 minutes of cooking. If you're cooking without cheese on the top, you can always cover it to help it cook faster if desired. However, in general, you don't need to cover meatloaf when baking it.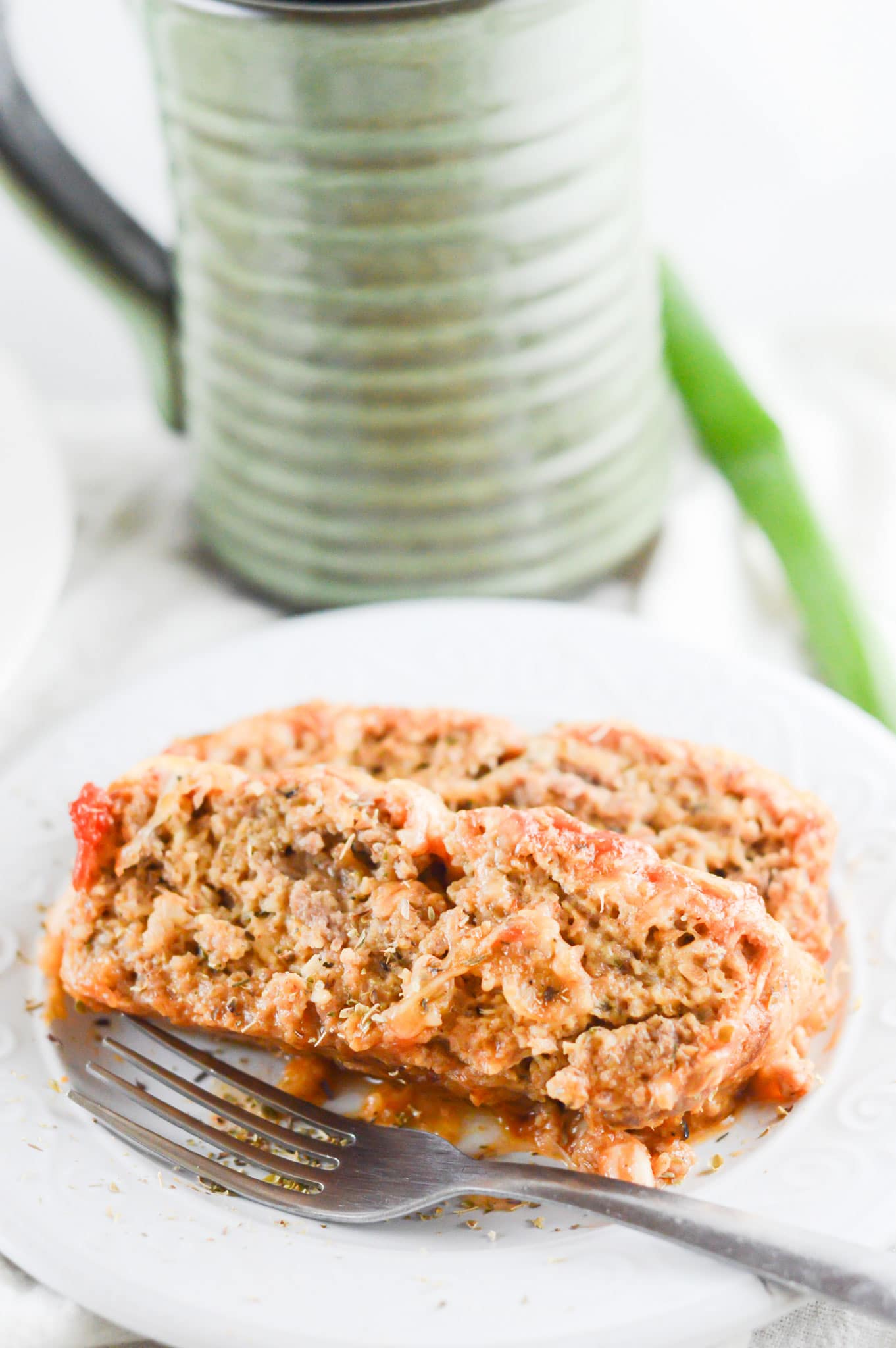 If you gave this Meatloaf Parmesan a whirl, please feel free to share your experience in the comments below!
More Dinner Recipes You're Sure to Love:
You can find more delicious recipes and cooking tutorial videos on Youtube and Facebook.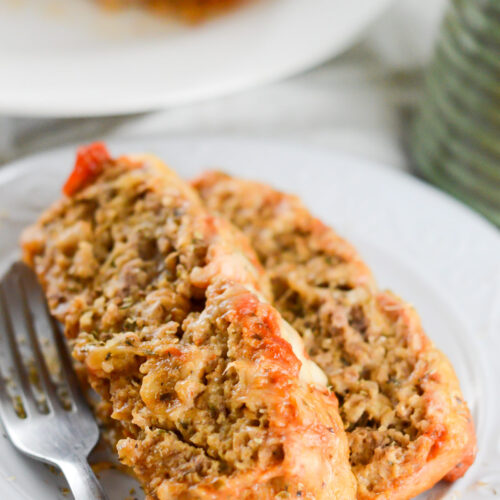 Print Recipe
Pin Recipe
Cheesy and tender meatloaf. An amazing twist on classic meatloaf.
Ingredients
1/2

lb

beef

1/2

veal

1/2

pork

3

slices

of bread

1/2

cup

milk

2

garlic cloves minced

3

tbsp

parsley

1

egg

1/2

cup

parmesan cheese

2

tbsp

barbecue sauce

1/8

tsp

chili powder

salt and pepper to taste

3/4

cup

marinara sauce

1

cup

mozzarella cheese

1

tbsp

parmesan cheese

1

tsp

oregano
Instructions
Preheat oven o 350 degrees F.

Using your fingers tear up 3 slices of bread into small pieces.

Pour the milk over the bread and set aside.

In a separate bowl, combine the pork, veal, beef, garlic, parsley, chili powder, bbq sauce, egg, parmesan cheese, bread mixture, salt, and pepper.

Place the meat mixture in a loaf pan with parchment paper and smooth out the top.

Brush the top with marinara sauce, then top with parmesan cheese and bake for 45 minutes.

Remove the meatloaf from the oven, discard any excess oil it released, brush it with some extra marinara sauce and top it off with mozzarella and parmesan cheese.

Bake for an additional 15 minutes.

Serve immediately and enjoy!
Nutrition
Calories:
234
kcal
|
Carbohydrates:
5
g
|
Protein:
16
g
|
Fat:
15
g
|
Saturated Fat:
7
g
|
Cholesterol:
78
mg
|
Sodium:
530
mg
|
Potassium:
285
mg
|
Sugar:
4
g
|
Vitamin A:
585
IU
|
Vitamin C:
4.7
mg
|
Calcium:
248
mg
|
Iron:
1.5
mg