This easy No-Bake Cheesecake is going to seem too good to be true because of how simple it is. Bursting with flavor, this recipe takes little effort, few ingredients, and only a touch of patience to let it chill. Great for a make-ahead recipe or even as a quick base cheesecake recipe.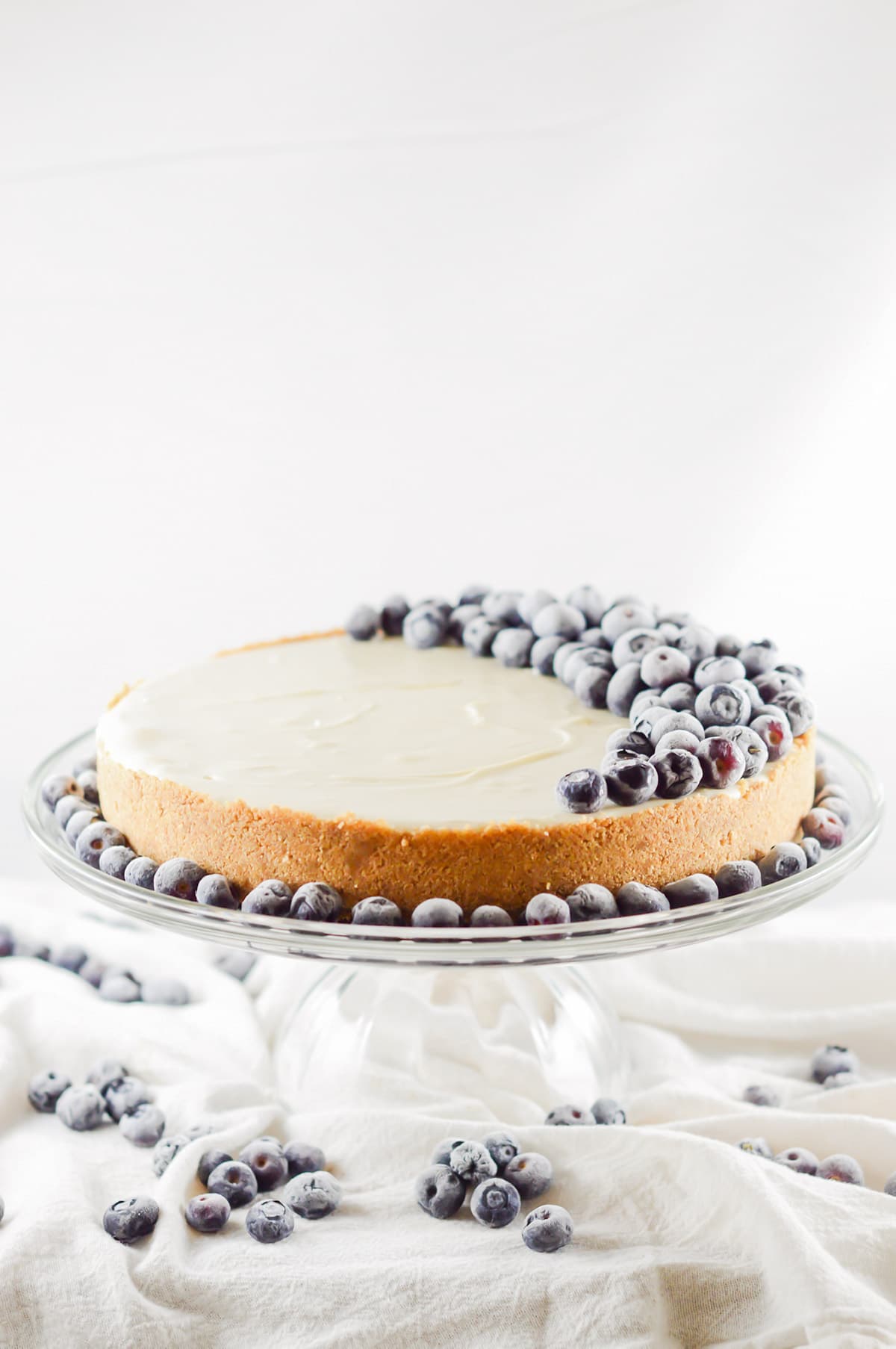 I absolutely love cheesecake. I mean, that's obvious by the multiple cheesecake posts I have on my blog like this Instant Pot Salted Caramel Cheesecake. This cheesecake is creamy, rich, and super delicious. Made with Philadelphia cream cheese because let's face it, it's the best cream cheese and very easy to find. 
However, making the traditional form of cheesecake can seem time-consuming. Although I feel this specific dessert is worth the time and effort, sometimes I just don't have the time and effort to give. So, I like to have recipes on hand that taste just as good but are easier to tackle and enjoy. No-Bake Cheesecake is how that's accomplished.
Tell me what's better than a slice of plain cheesecake with fresh blueberries? Nothing. You may certainly decorate this with any type of fresh fruit you'd like. You may even add fruit or sprinkles to the filling. Decorate it with fresh whipped cream, berries, and sprinkles if you want to get fancy.
The only thing about this recipe and with most no-bake recipes for cheesecake is the fact that you have to let it chill to set up. Outside of that, it should only take you a few minutes to whip the dish up and get it in the fridge. I will often make this recipe ahead of time for holidays, especially because I can decorate it to match any holiday I want. It's definitely been a handy recipe to have around, which is why I had to share it with you.
How to Make No-Bake Cheesecake
Make the crust – In a large bowl, mix together the brown sugar, graham cracker crumbs, and butter. Pour the mixture into a pie pan, springform pan, or whatever pan you have that is similar in size. Press the mixture into an even layer on the bottom of the pan and about an inch up the sides.
Make the filling – Using a hand mixer or a stand mixer, beat the softened room temperature cream cheese until it's nice and smooth before adding in the powdered sugar and vanilla extract and beating again. Add the cream and beat on low until it's thoroughly mixed, then beat on high until the mixture turns fluffy. Taste and adjust sugar amounts at this point.
Chill – Pour the cheesecake mixture into the prepared my crust, spread evenly and place in the fridge to chill for at least 6 hours. Overnight gains the best results and turns out perfectly every single time. 
Garnish and enjoy – Garnish if desired, serve, and enjoy!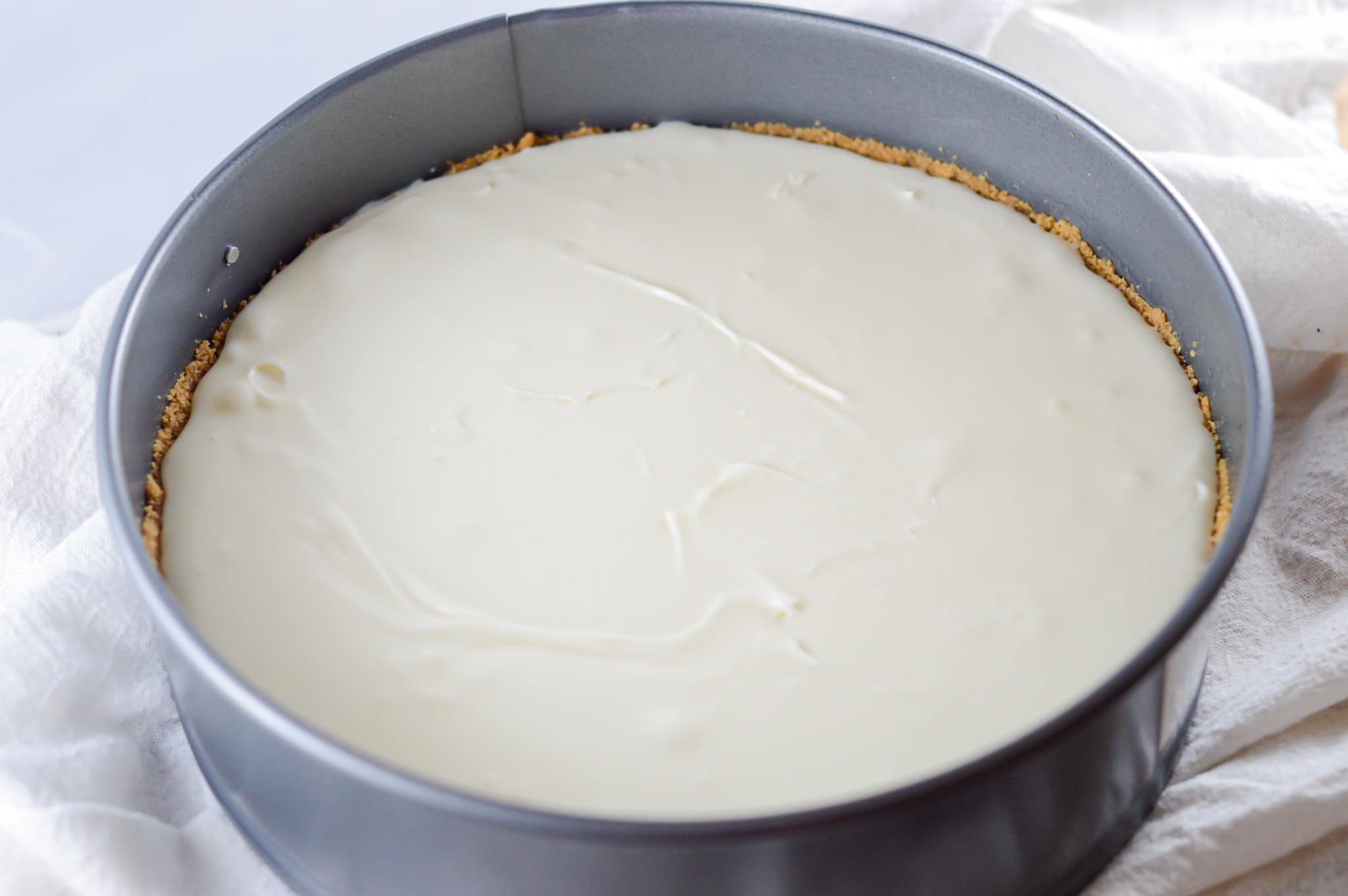 Tips and Variations
Garnish with fruits – You can garnish your cheesecake with various fruits of your choosing. If you have a party theme or holiday, you can match the fruit to those events. You can even top with canned pie filling, cookies, whipped cream, frosting dollops, etc. The list is endless.
Use food coloring – If you want your cheesecake a specific color, simply add in the food coloring of that desired color during the mixing process. Super simple and great for matching to themes!
Storage – Keep this cheesecake in the fridge, in an airtight container, or covered with plastic. You can also freeze it in an airtight container for up to 3 months. It will keep in the fridge for up to 5 days.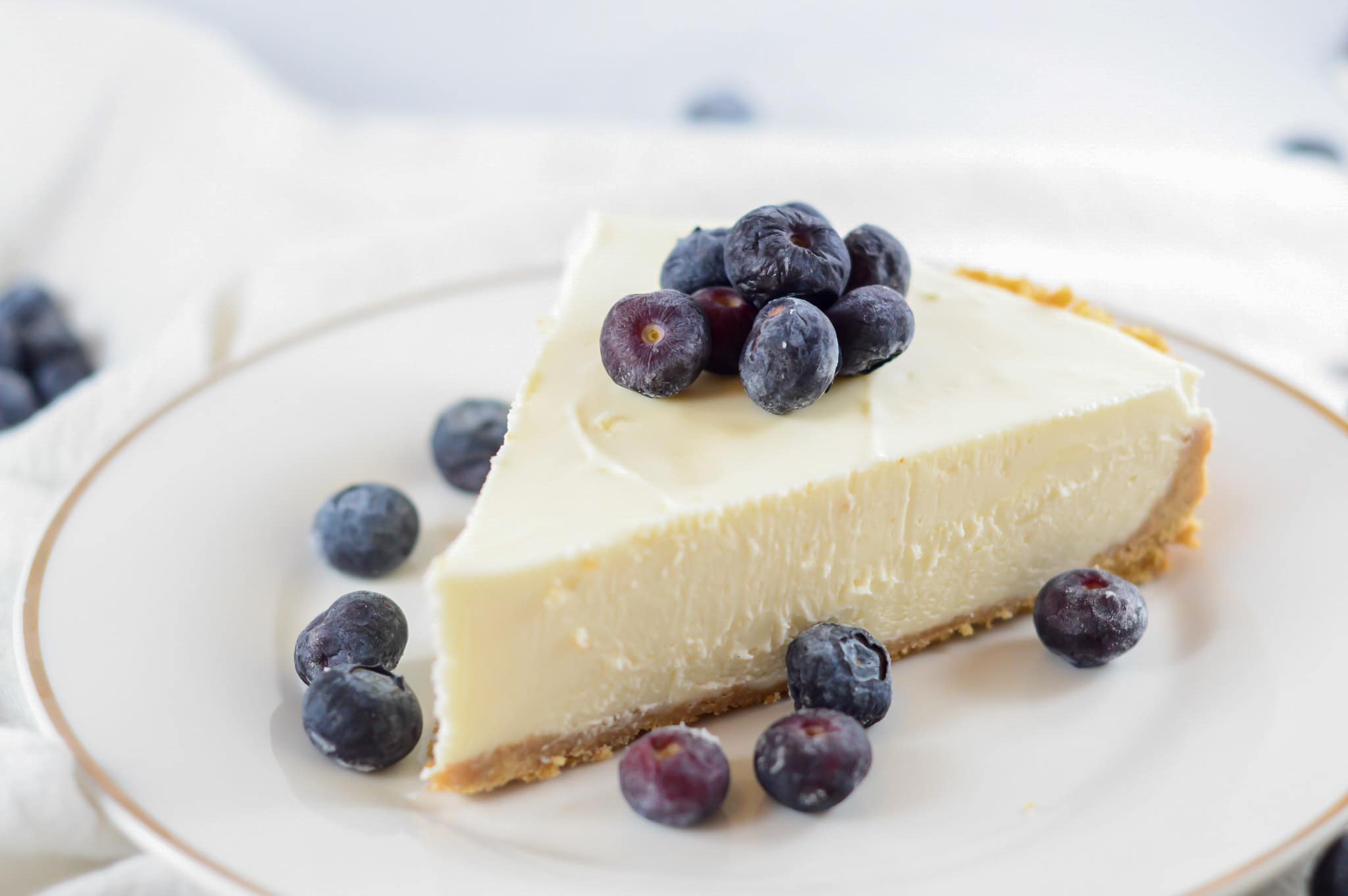 How to Make a Perfect No-Bake Cheesecake?
Making the perfect no-bake cheesecake simply takes patience. It's super easy to make, but some people don't have the patience to mix it for as long as it needs to be or to let it chill long enough either. If you mix the ingredients until they're fluffy and allow it to chill long enough, you can make a perfect no-bake cheesecake. However, it largely depends on your ingredients as well. A cream cheese based recipe usually sets up better than other recipes that use softer ingredients like whipped cream. Another aspect to making the perfect cheesecake is how it looks. Spreading the cheesecake filling to a smooth and even top while also giving it a few taps to settle evenly before letting it chill will help you achieve a nice looking cheesecake.
Can I Freeze No-Bake Cheesecake?
Absolutely, just make sure you cover the cheesecake well and place it in an airtight container otherwise the cheesecake can get freezer burn.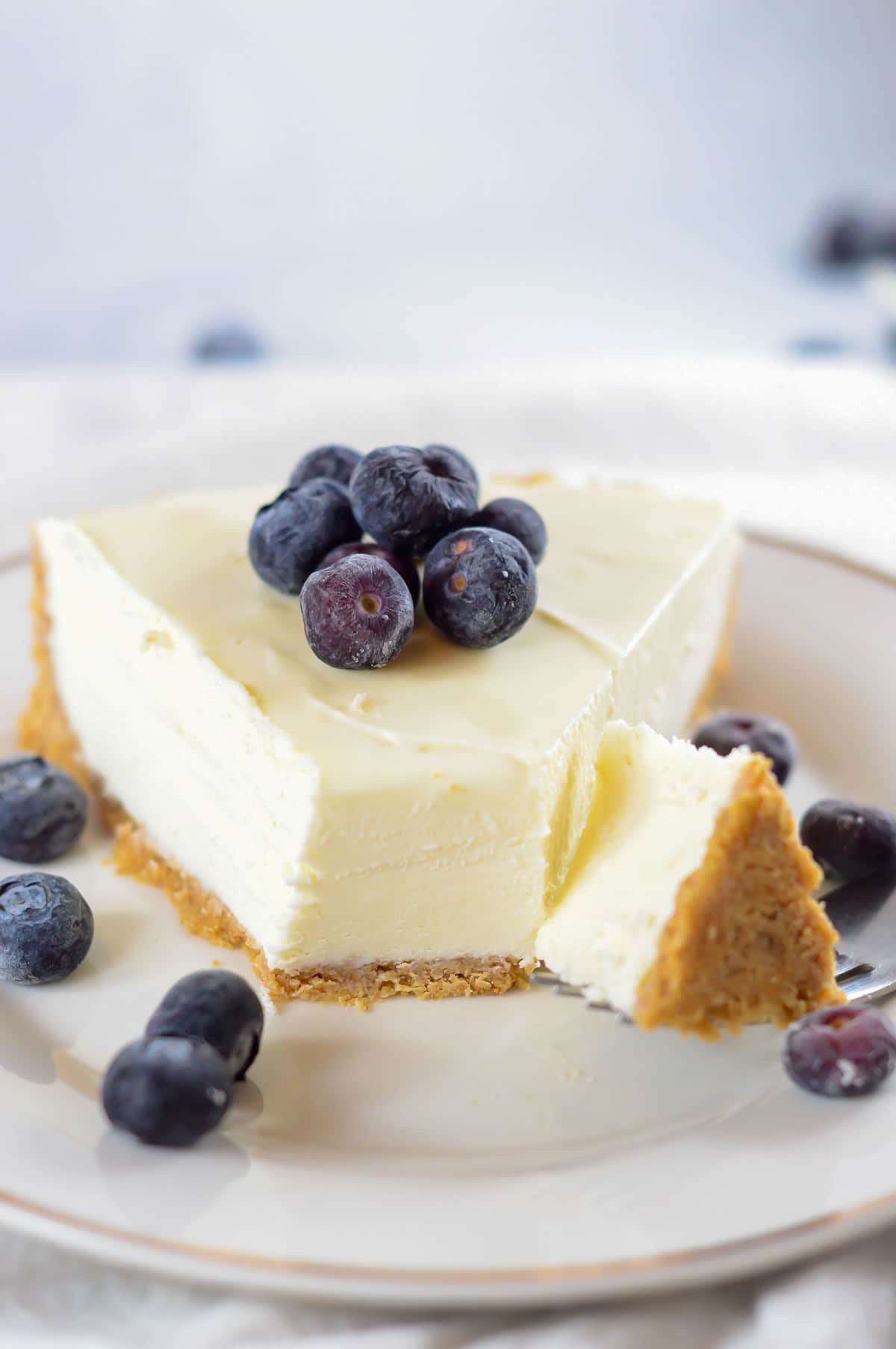 More Cheesecake Recipes You're Sure to Love:
You can find more delicious recipes and cooking tutorial videos on Youtube and Facebook.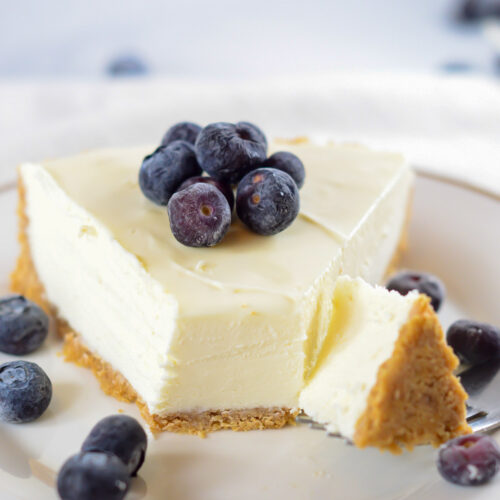 Print Recipe
Pin Recipe
A creamy, rich, and delicious no-bake cheesecake that will satisfy the entire family. Made with just a handful of ingredients.
Ingredients
Graham Cracker Crust
2 1/2

cups

graham cracker crumbs

1/2

cup

melted butter

unsalted

2

tbsp

brown sugar
Cheesecake Filling
24

ounces

packages cream cheese

1 1/2

cups

powdered sugar

1

cup

heavy cream

2

tsp

vanilla extract
Instructions
In a large bowl, mix the graham cracker crumbs, brown sugar, and melted butter. Mix well.

Add the cracker mixture to an 8 inch springform and pack it in very tightly. Place it in the fridge while you prepare the cheesecake filling.

In a large bowl, beat the room temperature cream cheese until nice and smooth. Add the powdered sugar and vanilla extract and beat until well combined.

Add the heavy cream to the cream cheese mixture and beat until it's nice and fluffy.

Pour the cream cheese filling into the prepared crust, smooth the top, and refrigerate for a minimum of six hours or preferably overnight.

Garnish with fresh fruit and whipped cream, if desired.
Notes
Adjust the sugar quantity to your liking. 
Nutrition
Calories:
419
kcal
|
Carbohydrates:
46
g
|
Protein:
3
g
|
Fat:
25
g
|
Saturated Fat:
15
g
|
Cholesterol:
72
mg
|
Sodium:
288
mg
|
Potassium:
69
mg
|
Fiber:
1
g
|
Sugar:
31
g
|
Vitamin A:
792
IU
|
Vitamin C:
1
mg
|
Calcium:
46
mg
|
Iron:
1
mg