If you want dinner to be a hit for everyone in the family, these stuffed shells with meat will do the trick. They're large pasta shells, stuffed with a delicious slow-cooked meat sauce and plenty of gooey cheese. Top off the entire dish with even more cheese, and you have a winning meal.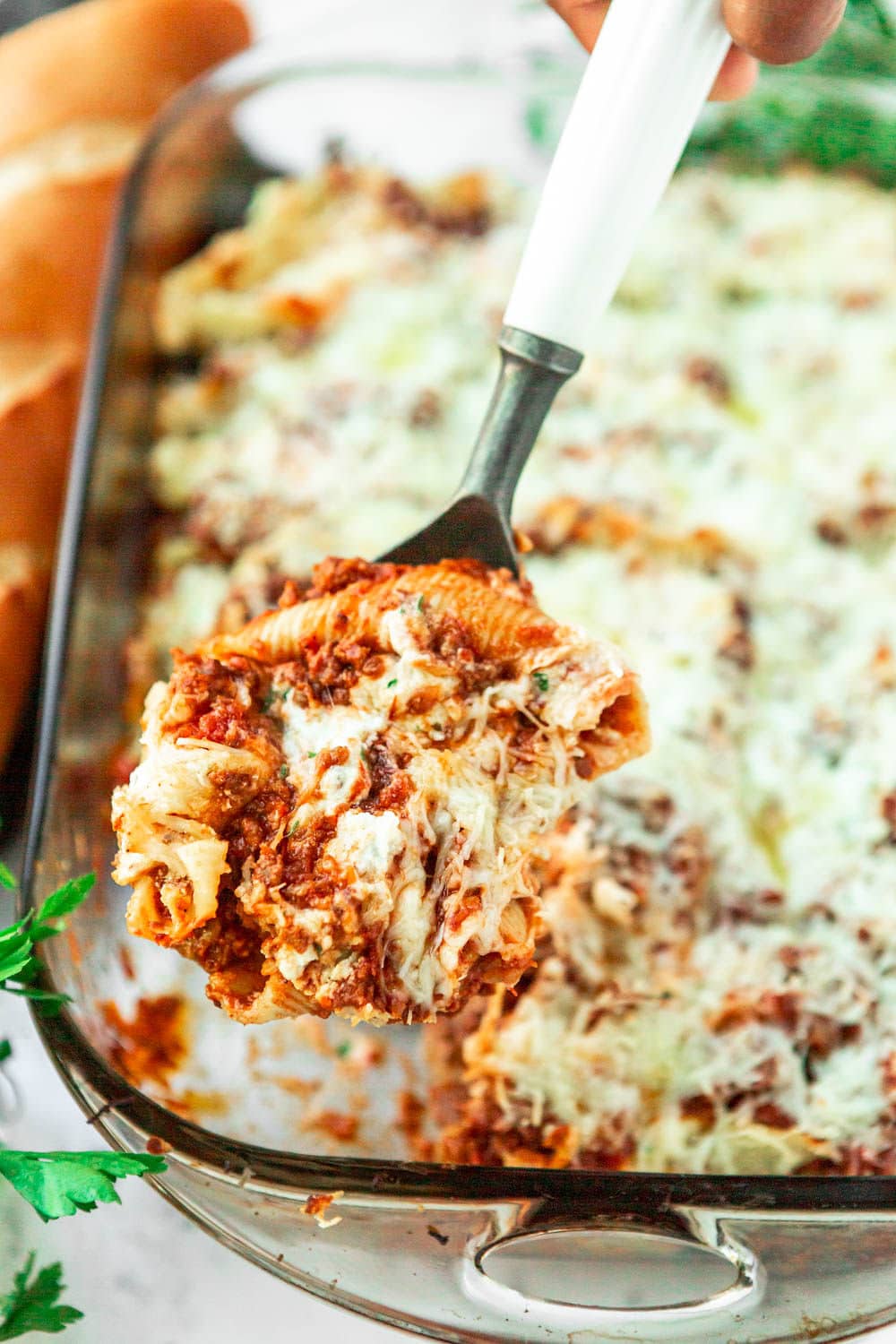 I think I've mentioned before about my love of cheese. I know I'm not the only one who's obsessed with it. Cheese has the ability to take a dish from good to great in a flat second. However, sometimes, cheese alone can leave something to desire. I'm used to stuffed shell recipes only using a cheese mixture to fill the pasta. I often felt like it needed more of something, which is when this recipe was born.
Homemade marinara sauce adds so much more flavor to the dish than store-bought sauce. I use homemade sauce in my recipes a lot, my Creamy Spicy Shrimp Spaghetti, and Rigatoni al Forno being two of them. So, I decided that a similar meat sauce is exactly what those cheesy stuffed shells needed to take them to the next level.
How to Make Stuffed Shells
Cook the meat – Brown the ground beef and Italian sausage and remove from the pan. Cook the onions until translucent. Add the garlic and cook until fragrant. Add the meat back to the pan.
Make the meat sauce – Add the wine to the meat and let it cook until reduced by half. Add the red pepper, oregano, tomatoes, sugar, water, salt, and tender. Stir and simmer for an hour.
Make the stuffing – Preheat the oven to 350 degrees. In a large bowl, combine the ricotta, parsley, granulated garlic, both kinds of cheese, egg, salt, and pepper. Mix well.
Stuff the shells – Place one cup of the meat sauce in the bottom of the baking dish. Place a tablespoon of the meat sauce and a tablespoon of the cheese mixture in each shell. 
Bake – Top with parmesan cheese and bake for 20 minutes. Top with mozzarella, oil, and oregano. Bake for another 10 minutes. Enjoy!
Top Tip: Cook the shells in boiling salted water until the pasta is al dente while the meat sauce cooks.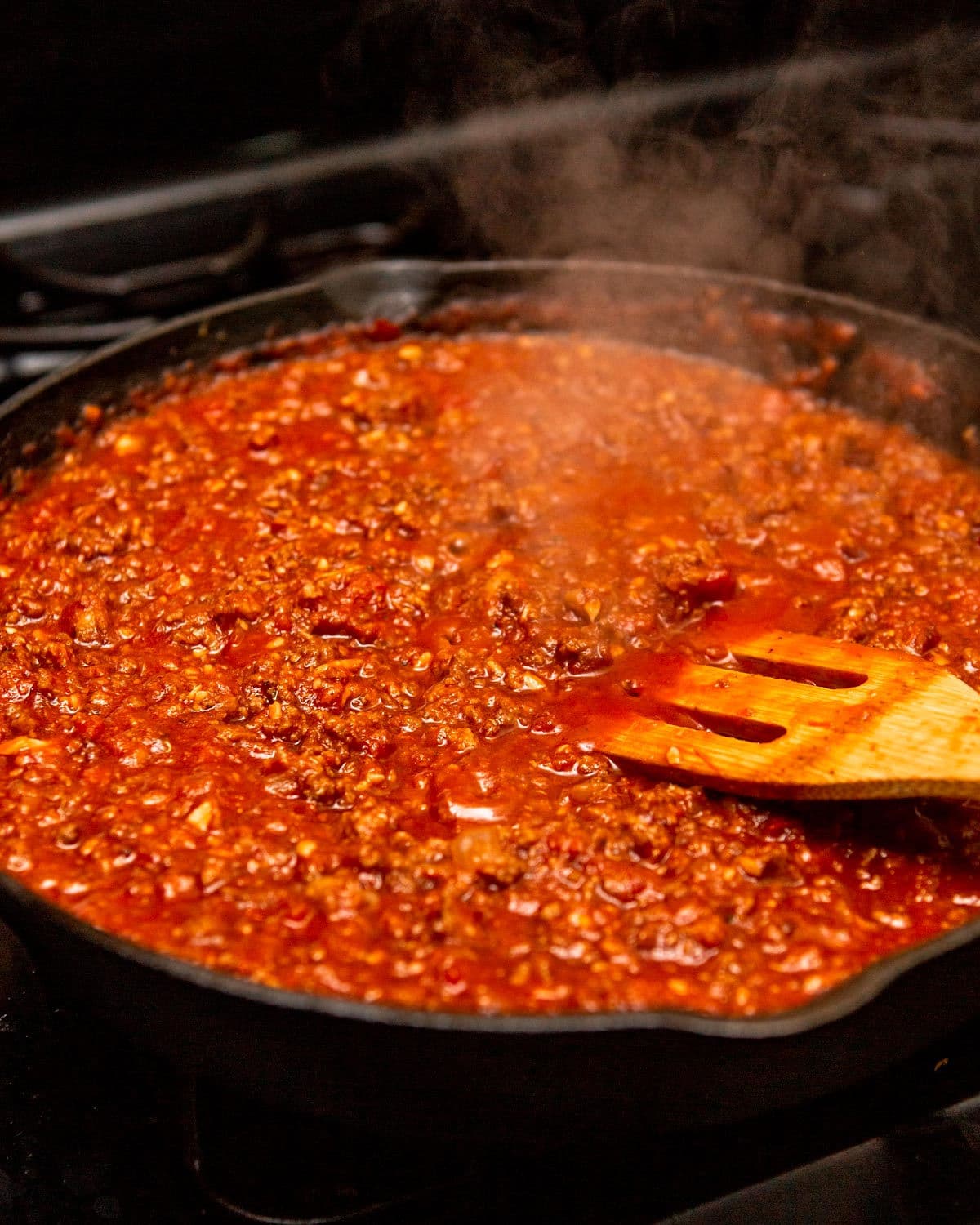 Recipe Tips and Variations
Storage – Store in an airtight container in the fridge or freezer. Will keep in the fridge for up to 5 days and the freezer for up to 2 months. Do note that the freezer changes the consistency of the noodles. Some don't mind it while others don't like it.
Reheating – If frozen, let the stuffed shells thaw on their own before microwaving them. If coming from the fridge, simply heat using the microwave – there's no need to let them thaw first. 
Make it mild – The crushed red pepper flakes add a touch of spice to the pasta sauce. If you want to remove this spice, simply leave out the crushed red peppers.
Make it thicker – If your sauce is a little thin, let it cook uncovered a little longer to evaporate some of the excess liquid. If it's a little thin, this won't ruin anything.
Make it thinner – A thicker meat sauce is never a bad thing. However, if you prefer it a little thinner, you can add a touch more water.
Is this gluten-free? – This recipe isn't gluten-free unless you use gluten-free large pasta shells. These should be relatively easy to find as they're a common item these days. Check your other ingredients to make sure they weren't made around gluten, making them contaminated. Some brands will note this on the back of their packaging.
Use other cheeses – The cheeses I used in this Italian shells recipe are classic for this dish. Mozzarella cheese and ricotta cheese are essential when making this however if you want to mix it up and try some new cheese options, go right ahead! Some great options are goat cheese, pepper jack, cheddar, gouda, etc.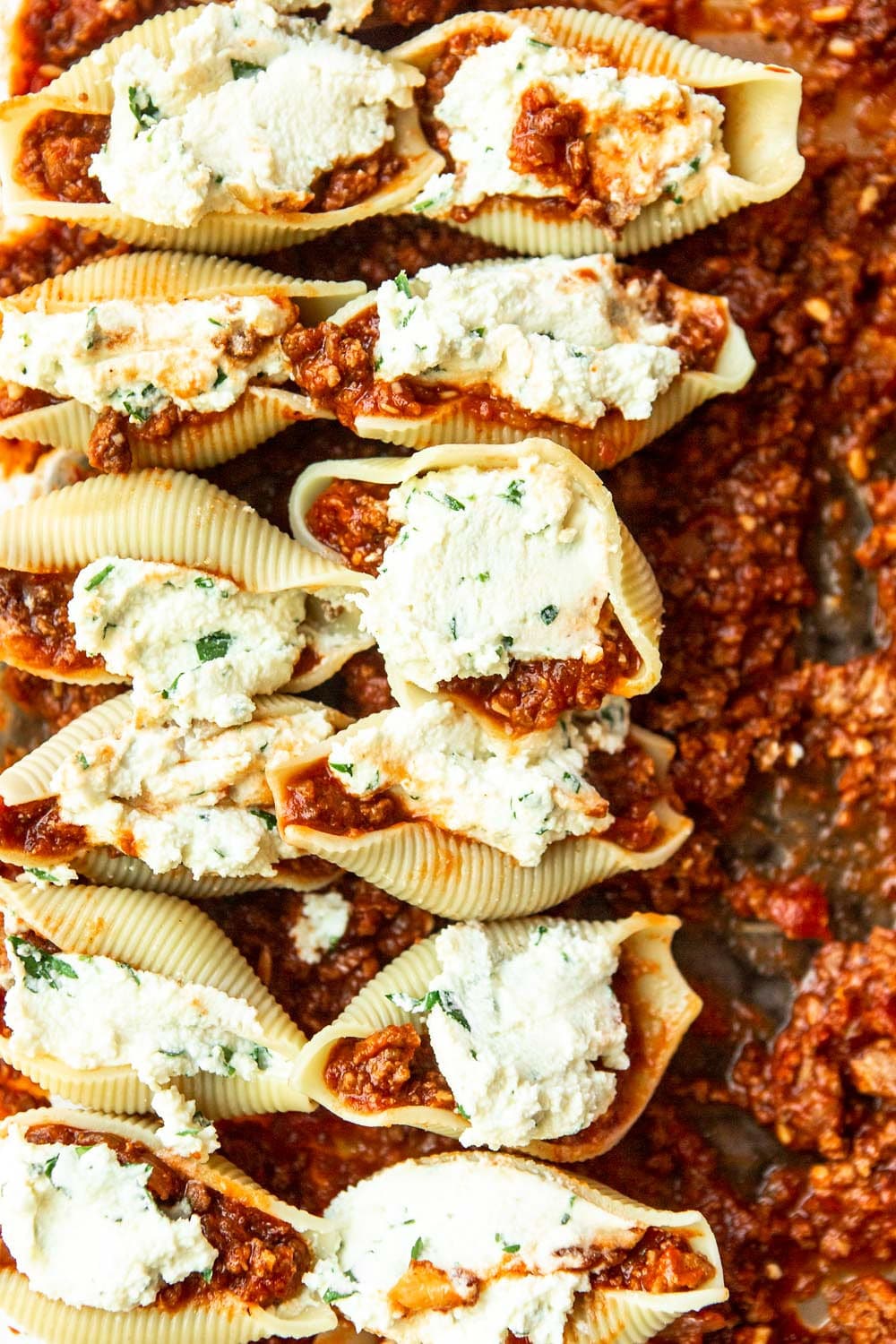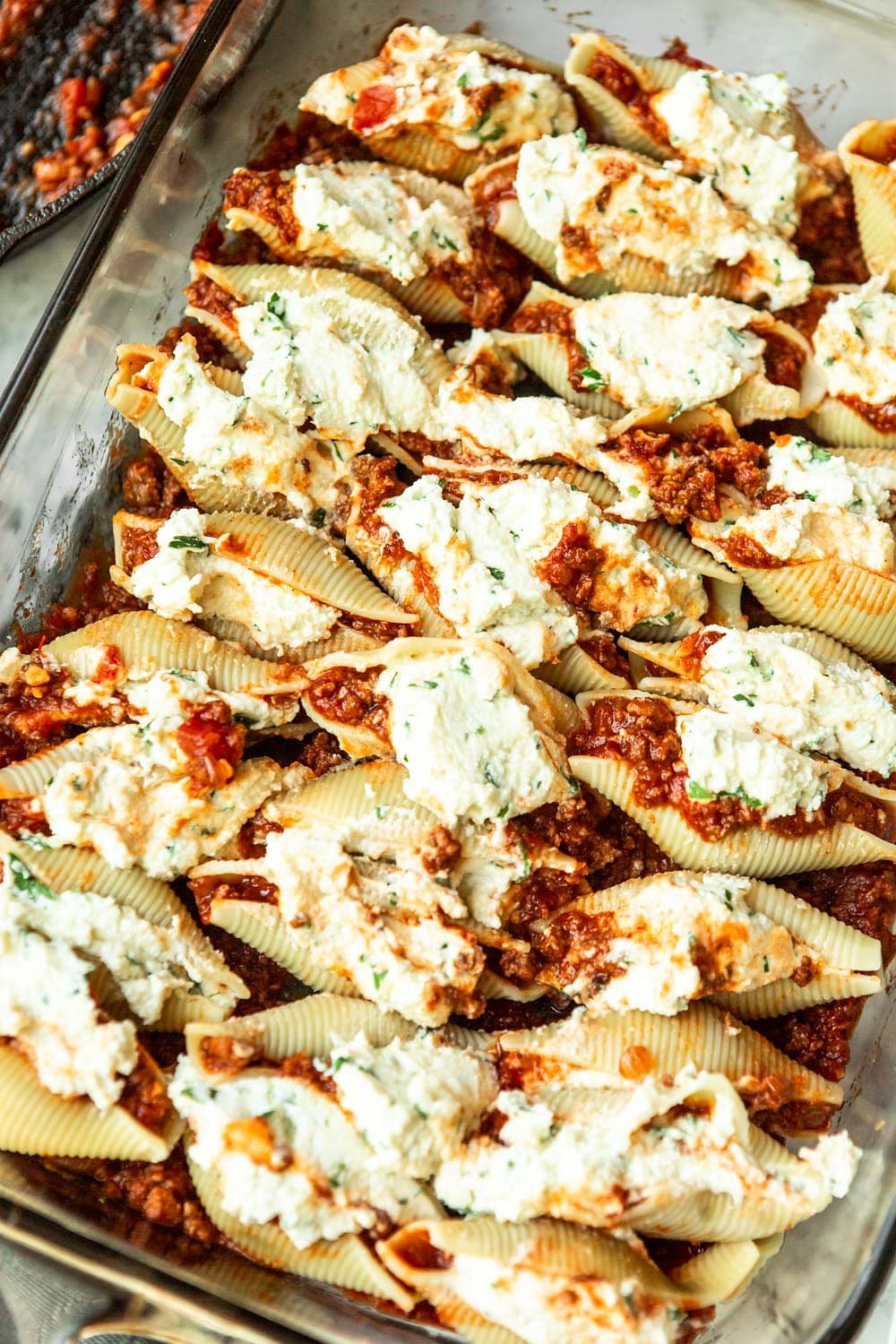 What Can I Serve This With?
Stuffed Shells are a delicious and classic Italian dish that is paired well with popular Italian side dishes. Think of what they serve you when you go to an Italian restaurant, and odds are, it will pair well with this dish. You can serve a variety of breads such as this Easy Cheesy Garlic Bread, Spinach Artichoke Dip Bread, or Cheese Garlic Biscuits. Don't forget that a light salad like this Tomato Avocado Salad or Vegetable Salad with Homemade Italian Dressing is always a hit with Italian food.
Did you enjoy these stuffed shells? Let me know in the comment section down below! You can find more delicious recipes and cooking tutorial videos on Youtube and Facebook.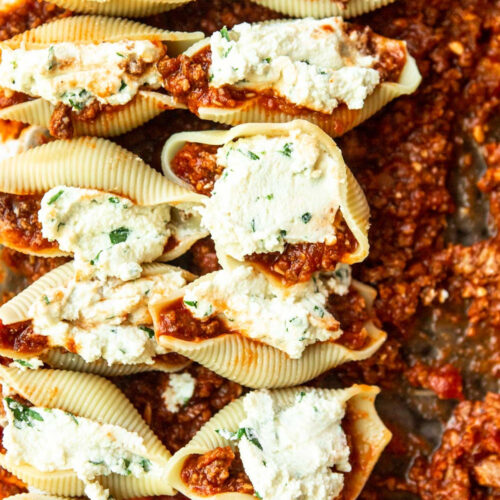 Print Recipe
Pin Recipe
These cheesy stuffed shells are filled with a delicious slow-cooked, homemade meat sauce. Customize this recipe with your choice of meat for your own twist on this easy recipe.
Ingredients
1

box of pasta shells

1

lb

ground beef

1/2

lb

Hot Italian Sausages

1

small onion

3

garlic cloves minced

1/4

cup

red wine

1/4

tsp

red pepper flakes

1

tsp

oregano

42

oz

crushed tomatoes

1/2

cup

water

1

tbsp

sugar

32

oz

ricotta cheese

1/4

cup

parsley

1/2

tsp

garlic powder

1

egg

1/2

cup

parmesan cheese

1/2

cup

mozzarella cheese

1

tbsp

olive oil

salt and pepper to taste
Instructions
Cook the ground beef and sausage over medium heat until well browned.

Remove the beef and sausage from the skillet and set aside.

Add the onions to the skillet and cook until translucent.

Stir in the fresh garlic and cook until fragrant.

Place the beef and sausage back in the skillet.

Add the wine and let it reduce by half.

Add the red pepper flakes, oregano, crushed tomatoes, sugar, water, salt, and pepper.

Reduce the heat to low and cook for 1 hour or until the beef and sausage are fork tender.

In a large bowl, combine the ricotta cheese, parsley, granulated garlic, egg, parmesan cheese, mozzarella cheese, salt, and pepper.

Add about 1 cup of the meat sauce to a casserole dish.

Fill the cooked shells with 1 tbsp of meat sauce and 1 tbsp of the ricotta filling.

Top the shells with the remaining sauce and sprinkle some parmesan cheese on top.

Bake in a preheated oven for 20 minutes at 350 degrees F.

Sprinkle some fresh mozzarella cheese on top, oregano, olive oil and then place it back in the oven for an additional 10 minutes.

Serve immediately and enjoy!
Nutrition
Serving:
6
g
|
Calories:
629
kcal
|
Carbohydrates:
22
g
|
Protein:
39
g
|
Fat:
42
g
|
Saturated Fat:
21
g
|
Cholesterol:
171
mg
|
Sodium:
646
mg
|
Potassium:
995
mg
|
Fiber:
3
g
|
Sugar:
11
g
|
Vitamin A:
1505
IU
|
Vitamin C:
21.6
mg
|
Calcium:
550
mg
|
Iron:
5.1
mg