Combine two of the best desserts ever invented when you bake up these Cheesecake Brownies. Thick swirls of creamy cheesecake fill this classic, homemade, and rich dessert. Easy to make and no long chilling periods makes this recipe a keeper for all your get-togethers.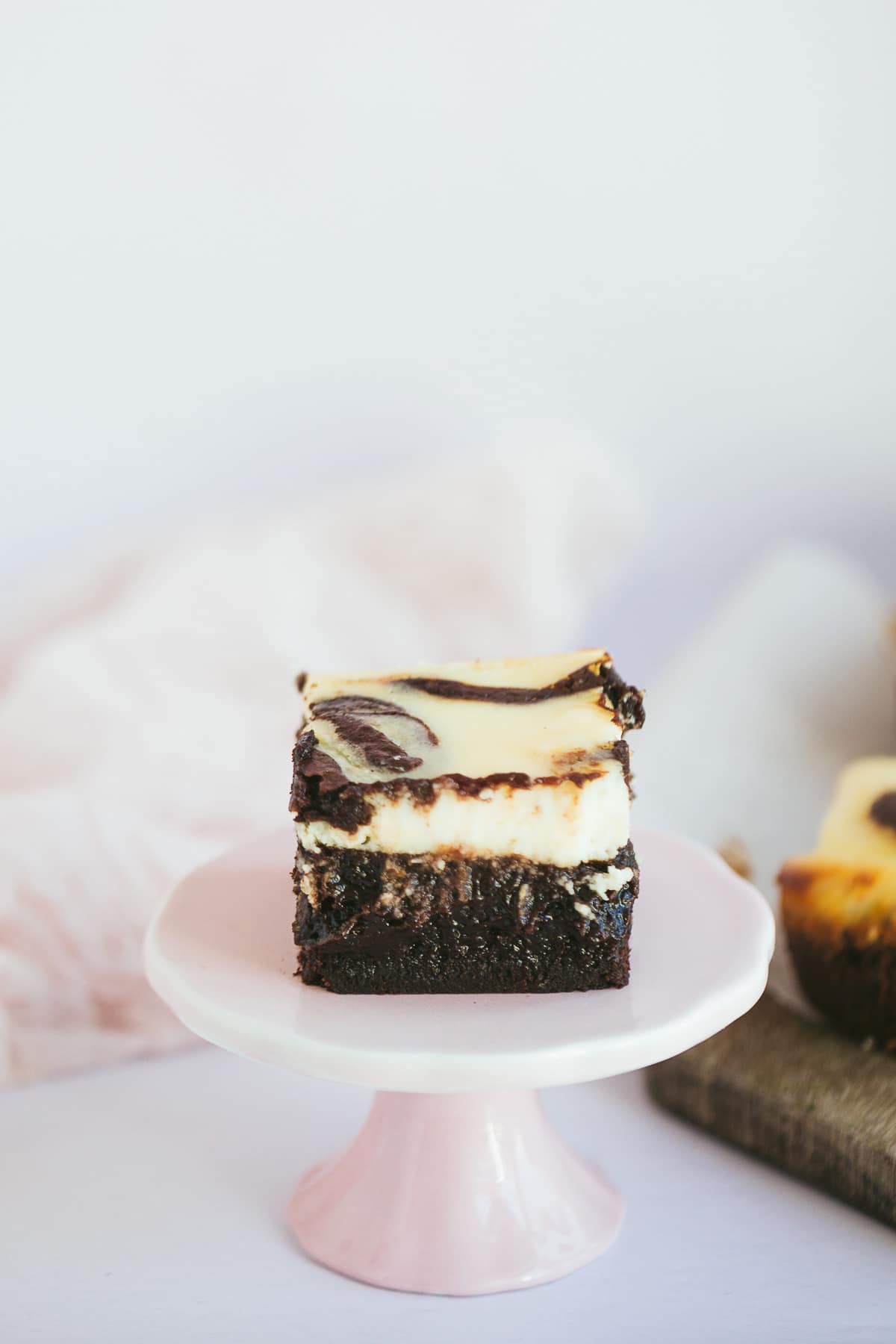 These Cheesecake brownies hit the spot every single time! Of course, I have other go-to's like my Deep Fried Oreos, Chocolate Chip Banana Bread, or Double Chocolate Cookies. In general, if it contains chocolate and is homemade, I'm in heaven and always satisfied.
I'm kind of a brownie freak and tend to make all sorts of brownies. There are a ton of these brownie recipes that I haven't gotten around to adding to the site yet. However, in the meantime, you can enjoy my M&M Brownies, Cosmic Brownies, or Chocolate Fudge Brownies. Now, you can also enjoy this new brownie recipe on top of the others! I know, it's pretty exciting (wink, wink).
How to Make Cheesecake Brownies
Prep – Grease your baking dish and preheat the oven to 350 degrees. Mix together the flour, cocoa powder, and salt in a large bowl. Set aside.
Make the chocolate – Melt the chocolate and butter in a bowl over a pot of boiling water. Stir until smooth. Add in the sugar. Stir and let sit before adding in the eggs one at a time, mixing in between. Add the vanilla.
Add the flour – Add the prepared flour mixture to the chocolate. Mix well.
Make the cheesecake – Combine all the ingredients for the cheesecake and mix well.
Layer – Pour ¾ of the brownie batter into the prepared pan. Pour the cheesecake mixture over the top. Spread even then dollop the rest of the brownie batter on top. Swirl the batter.
Bake – Bake for 40-45 minutes or until a knife comes out clean.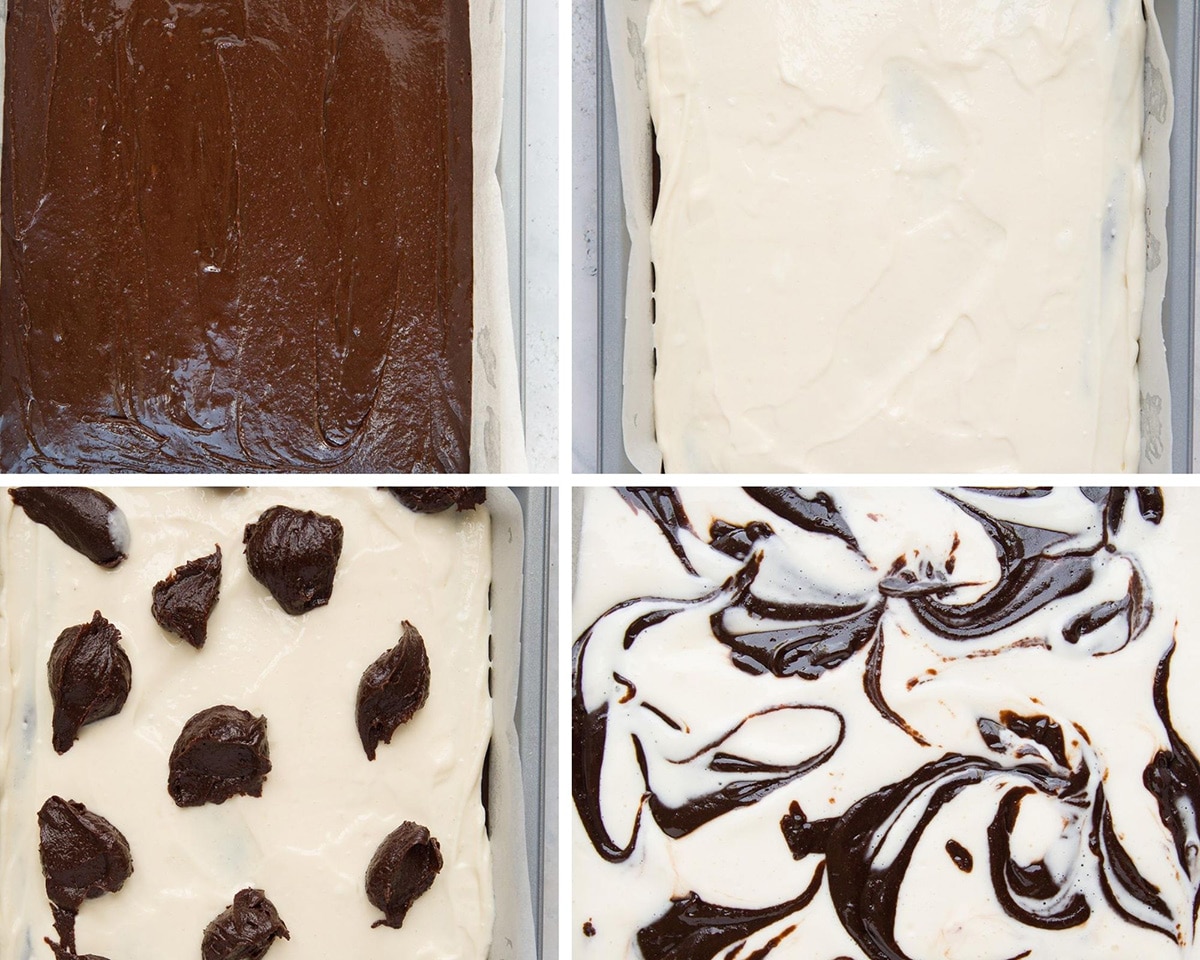 Tips and Variations
Storage – Store in a cake keeper or sealed container in a cool, dry place for up to 4 days. You can also store these in a sealed container in the fridge for up to a week or in the freezer for up to a month.
Reheating – Let thaw naturally when reheating from the freezer, then heat in the microwave for a few seconds. Follow the microwave method when heating from the fridge or pantry as well. Be careful as it only takes a few seconds to heat these brownies and you can make them get very hard if they're overcooked.
Use other types of baking chips – If you want to experiment with other brownie flavors, you can swap the dark chocolate out. Some fun substitutions would be butterscotch chips, white chocolate, salted caramel, etc.
Skip the cheesecake – If you just want normal brownies, you can skip the cheesecake part and cook them for less time.
Please serve these at room temperature for the best results.
How Can You Tell When Brownies are Done?
You can check the progress of your brownies by inserting a metal butter knife into the middle. If it comes out clean, they're done and you can pull them out of the oven. But be careful not to overtake these. It's okay if the knife isn't completely clean. 
Do I Need to Refrigerate These?
You can refrigerate your cheesecake brownies if you prefer. However, I have had no problem simply storing them in a cake keeper or sealed container in the pantry. A cool dry spot is key. They've kept for up to 4 days. However, there's no problem storing them in the fridge or freezer in a sealed container either. It's totally up to you!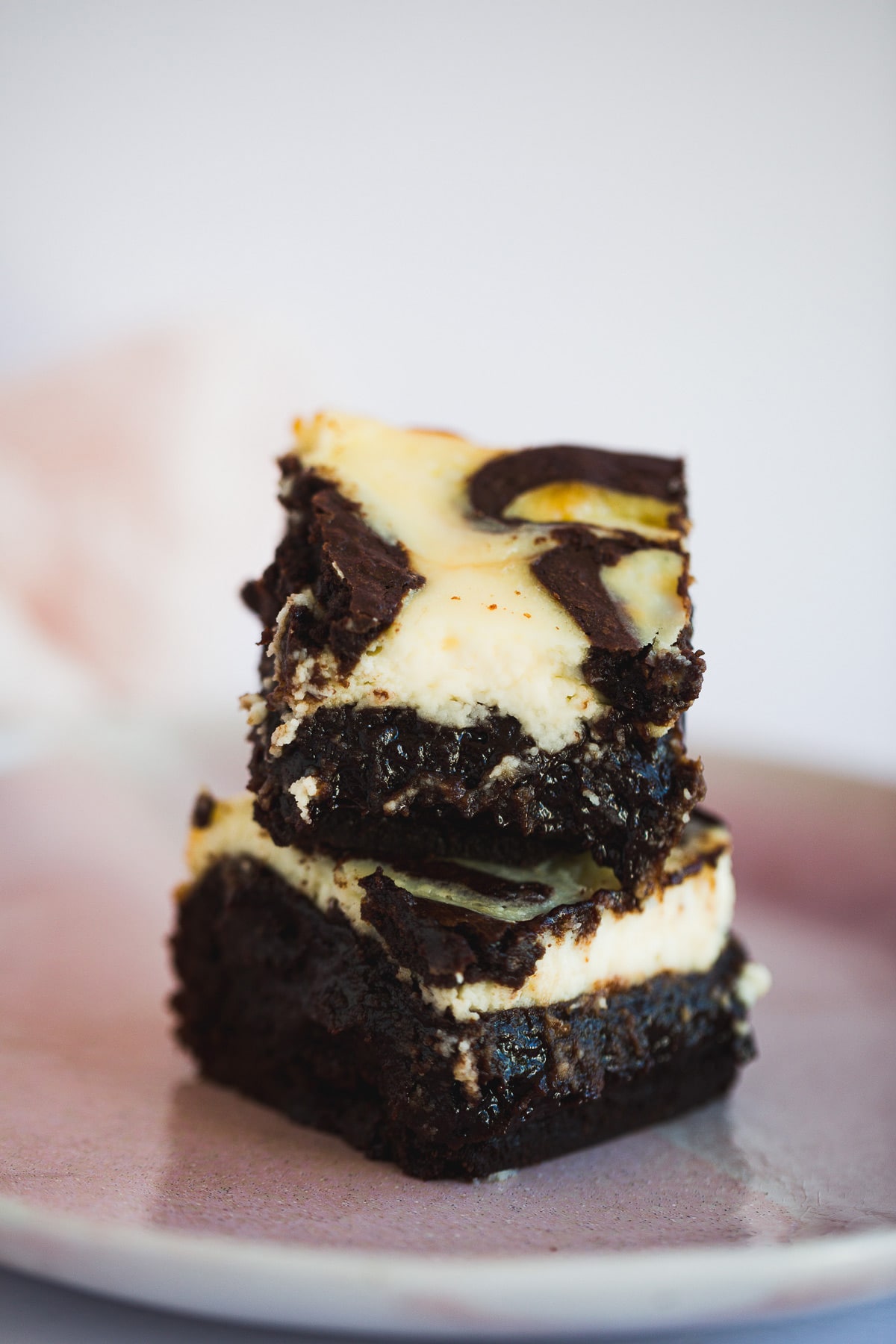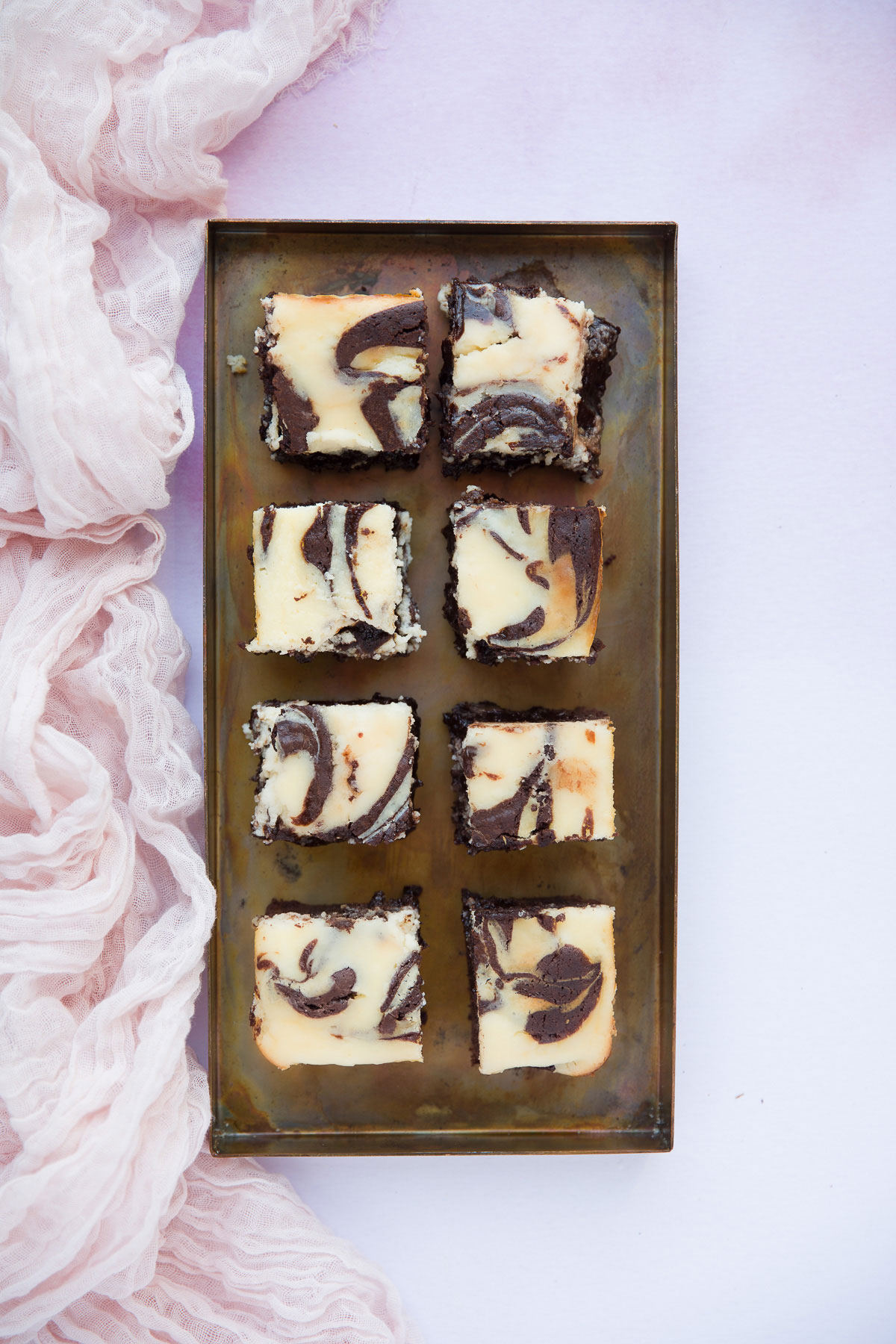 If you enjoyed these sinfully rich and decadent cheesecake brownies please leave a comment down below! You can find more delicious recipes and cooking video tutorials on Facebook and Youtube.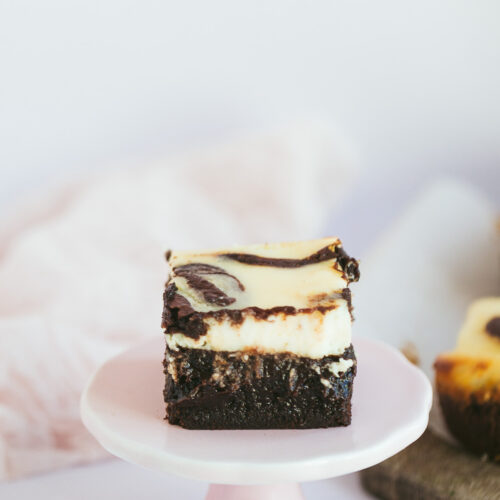 Print Recipe
Pin Recipe
These rich and fudgy cheesecake brownies are super rich and decadent. The ultimate brownie recipe made with ingredients that you probably already have on hand.
Ingredients
1 1/4

cup

all purpose flour

1

tsp

salt

2

tbsp

unsweetened cocoa powder

12

ounces

dark chocolate

1 1/2

sticks unsalted butter

6 ounces

1 1/2

cups

sugar

1/2

cup

brown sugar

5

eggs

2

tsp

vanilla extract
Cheesecake:
8

ounces

softened cream cheese

1/4

cup

sour cream

1

egg

1

tsp

vanilla extract

1/3

cup

sugar
Instructions
Grease an 8-inch baking pan set aside.

Preheat oven to 350 degrees F.

In a large bowl, combine the all-purpose flour, salt, and cocoa powder. Set aside.

Melt butter and chocolate in a heatproof bowl over a pot of simmering water, making sure the water doesn't touch the bowl. Stir until smooth.

Stir in the sugar and then remove from the heat.

Let the sugar and chocolate mixture cool down a bit.

Add the eggs one at a time and mix until well incorporated.

Stir in the vanilla extract.

Fold in the flour mixture then pour 3/4's of the batter into the greased baking dish.

In a separate bowl, combine the softened cream cheese, vanilla extract, sugar, sour cream, and egg.

Spread the cream cheese mixture all over the brownies batter.

Using a spoon, dollop the remaining 1/4 of the brownie batter on top of the cream cheese mixture and then use a skewer to swirl the cream cheese mixture and brownie batter.

Bake for 45-50 minutes or until done.
Nutrition
Calories:
361
kcal
|
Carbohydrates:
48
g
|
Protein:
6
g
|
Fat:
16
g
|
Saturated Fat:
9
g
|
Cholesterol:
80
mg
|
Sodium:
224
mg
|
Potassium:
229
mg
|
Fiber:
3
g
|
Sugar:
35
g
|
Vitamin A:
310
IU
|
Calcium:
51
mg
|
Iron:
3
mg