Classic Deviled Eggs make the ultimate side dish or appetizer! Made with just a handful of ingredients and in under 20 minutes.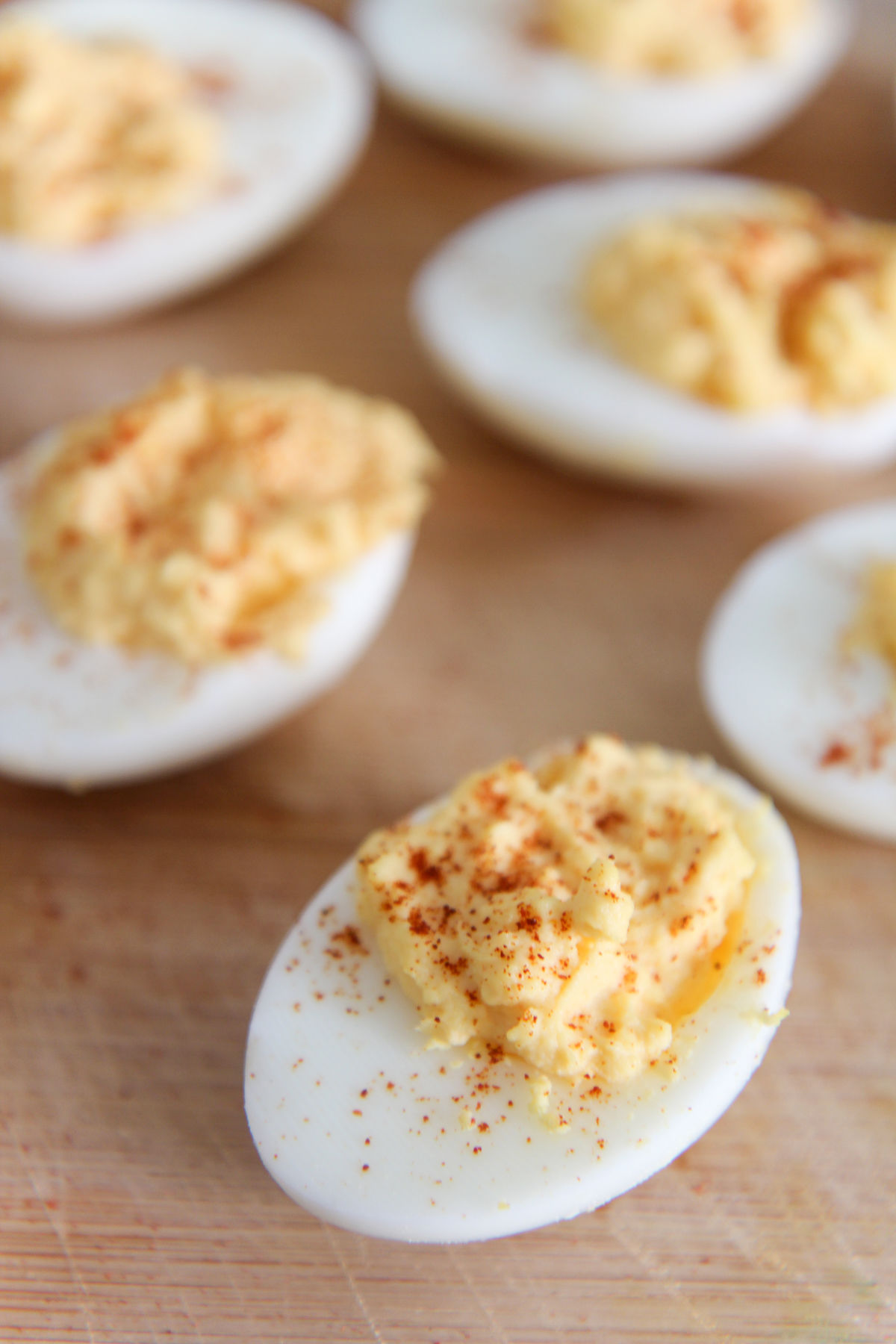 There are so many variations of deviled eggs, however classic deviled eggs are my go-to recipe when I'm in a rush. Aside from classic deviled eggs, Fried Deviled Eggs are my absolute favorite!
Deviled Egg Pasta Salad is another favorite of mine. I just love anything "deviled". What I love most about deviled eggs is the fact that I usually always have all of the ingredients on hand. 
Did I mention that these delicious eggs are low carb and keto-friendly? Enjoy these as often as you'd like. You may serve these cold or hot, completely optional. Although, I prefer them at room temperature.
What are deviled eggs? 
Russian Eggs, Dressed Eggs, or Deviled Eggs are hard-boiled eggs cut in half and filled with a mixture made from egg yolks, mayo, and mustard. Although you may add whatever other ingredients you'd like to the egg yolk mixture. Some people add sweet relish, crab, bacon, green onions, hot sauce, etc.
How long do you boil the eggs for? 
I covered the eggs with cold water by 1 inch, covered them, and brought them to a roiling boil. Once the water started boiling, I cooked the eggs for 6 minutes.
How long do deviled eggs last? 
These eggs can last up to 2 days. However, I highly recommend you keep the yolk mixture separately from the egg whites. Place the yolk mixture in an airtight container and wrap the egg whites with plastic wrap so they don't become rubbery.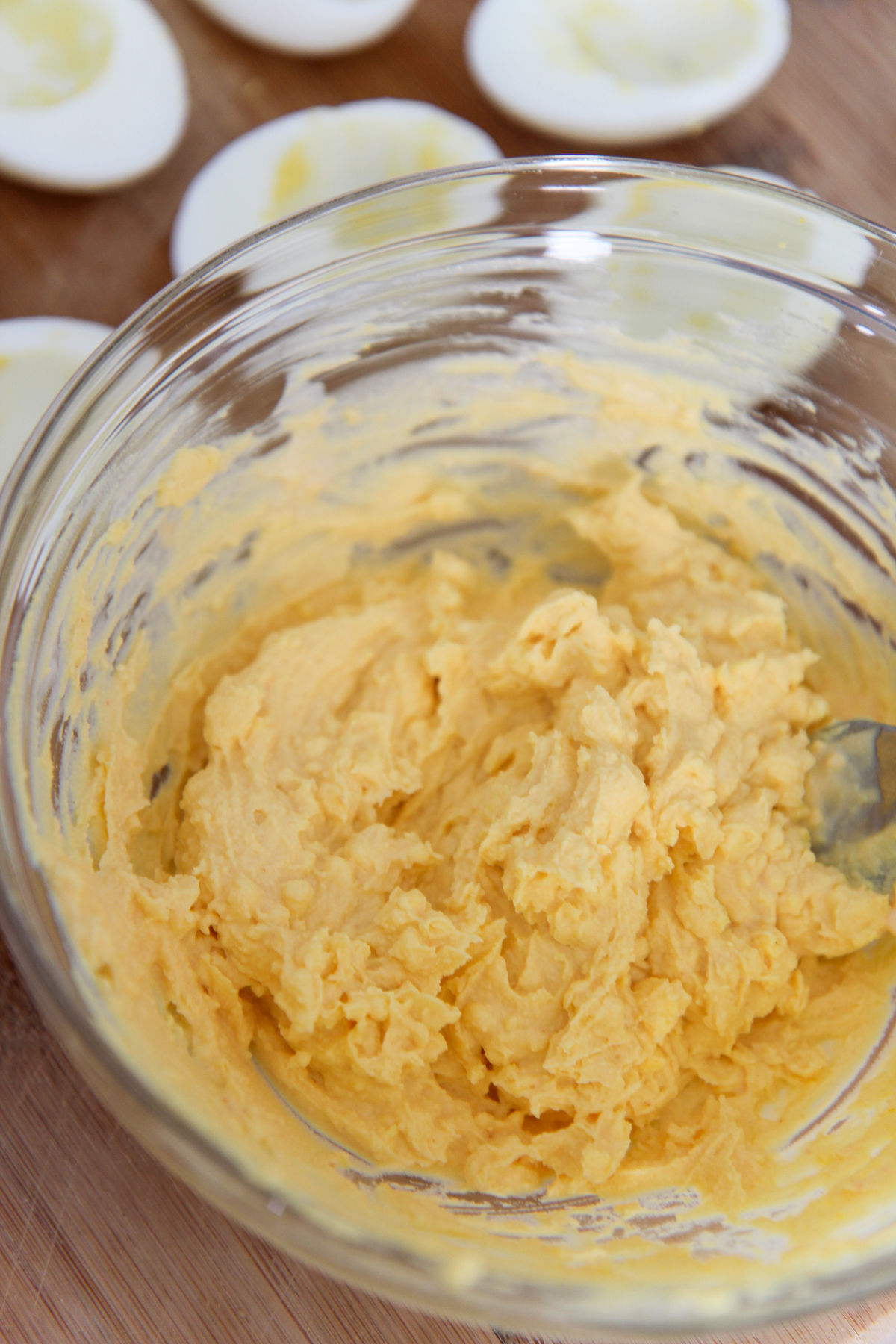 What other ingredients can I add to deviled eggs? 
Bacon
Chives
Cheese
Avocado
Scallions
Shrimp
Crab
Lobster
Tips: 
Avoid fresh eggs, older eggs peel a lot easier.
Place the boiled eggs into an ice bath immediately after they're done cooking. That will make for easier peeling.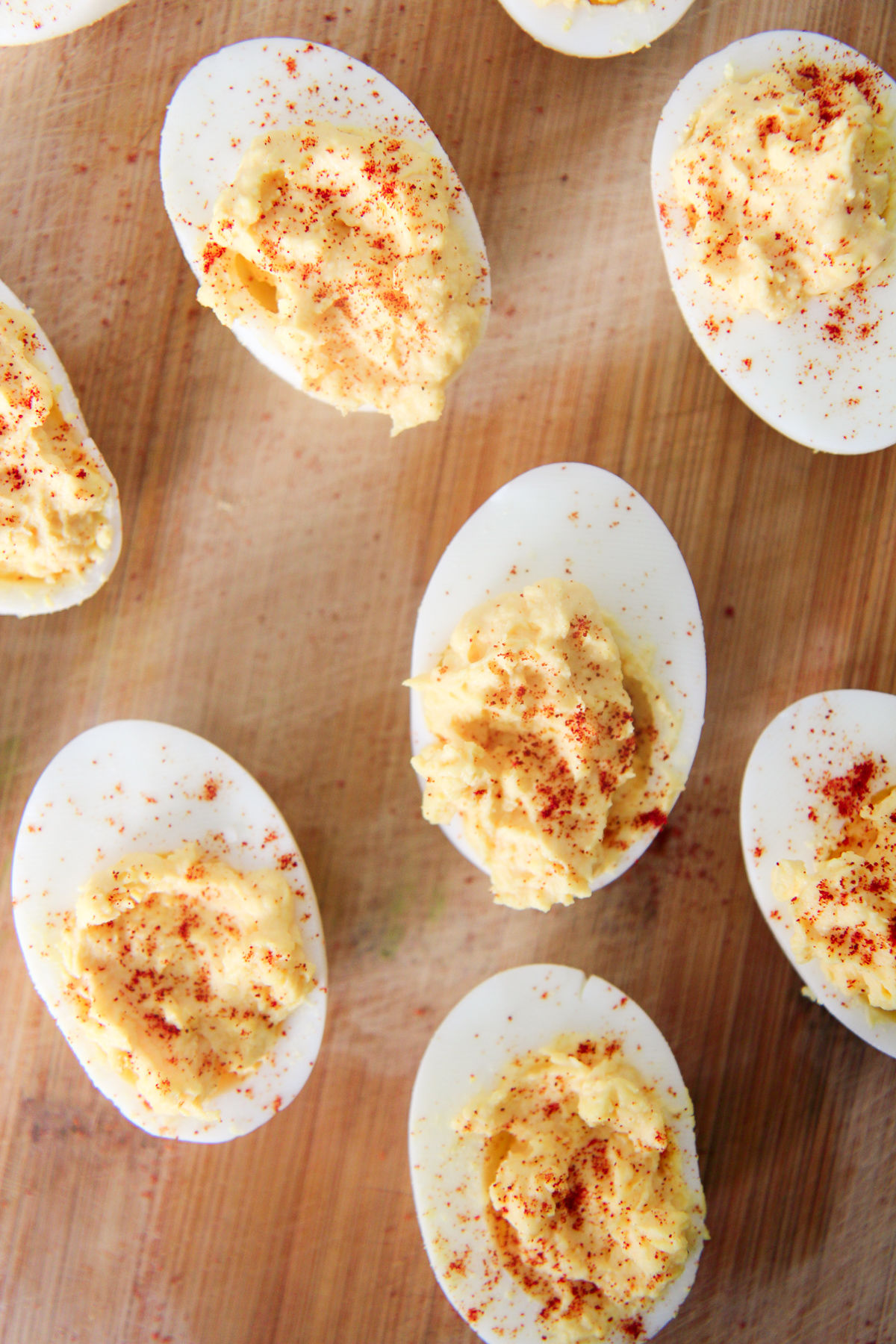 More Delicious Appetizers You'll Enjoy: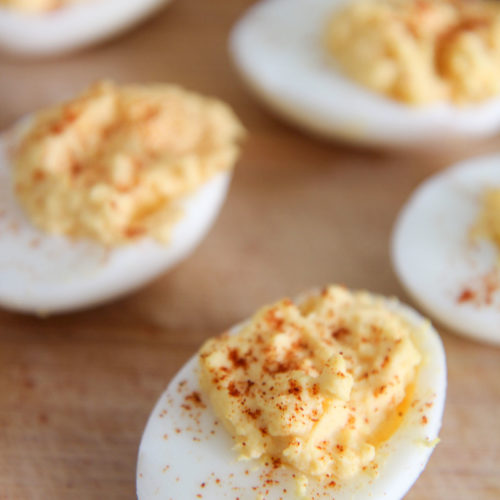 Print Recipe
Pin Recipe
Delicious and easy deviled eggs that will satisfy even the pickiest eaters!
Ingredients
6

eggs

3

tbsp

mayonnaise

1

tsp

dijon mustard

1/2

tsp

hot sauce

salt and pepper to taste

paprika, to taste
Instructions
Place eggs in a saucepan and cover with water.

Bring the water up to a rolling boil and cook for 6-7 minutes.

Place the eggs in cold water and then peel them.

Slice the eggs lengthwise and scoop out the yolk and place it in a bowl.

Mash the yolks using a fork. Add the mayo, salt, pepper, hot sauce, and dijon mustard.

Evenly disperse the yolk mixture into the egg whites. Garnish with paprika, if desired.
Notes
Avoid fresh eggs, older eggs are a lot easier to peel. 
Nutrition
Calories:
55
kcal
|
Carbohydrates:
1
g
|
Protein:
3
g
|
Fat:
5
g
|
Saturated Fat:
1
g
|
Cholesterol:
83
mg
|
Sodium:
63
mg
|
Potassium:
30
mg
|
Sugar:
1
g
|
Vitamin A:
119
IU
|
Vitamin C:
1
mg
|
Calcium:
12
mg
|
Iron:
1
mg