This Classic Rice Pudding is a creamy and comforting treat. This old-fashioned recipe takes very few ingredients and little effort to whip up. Long grain white rice pairs with whole milk, cinnamon, and vanilla to make one delicious dessert.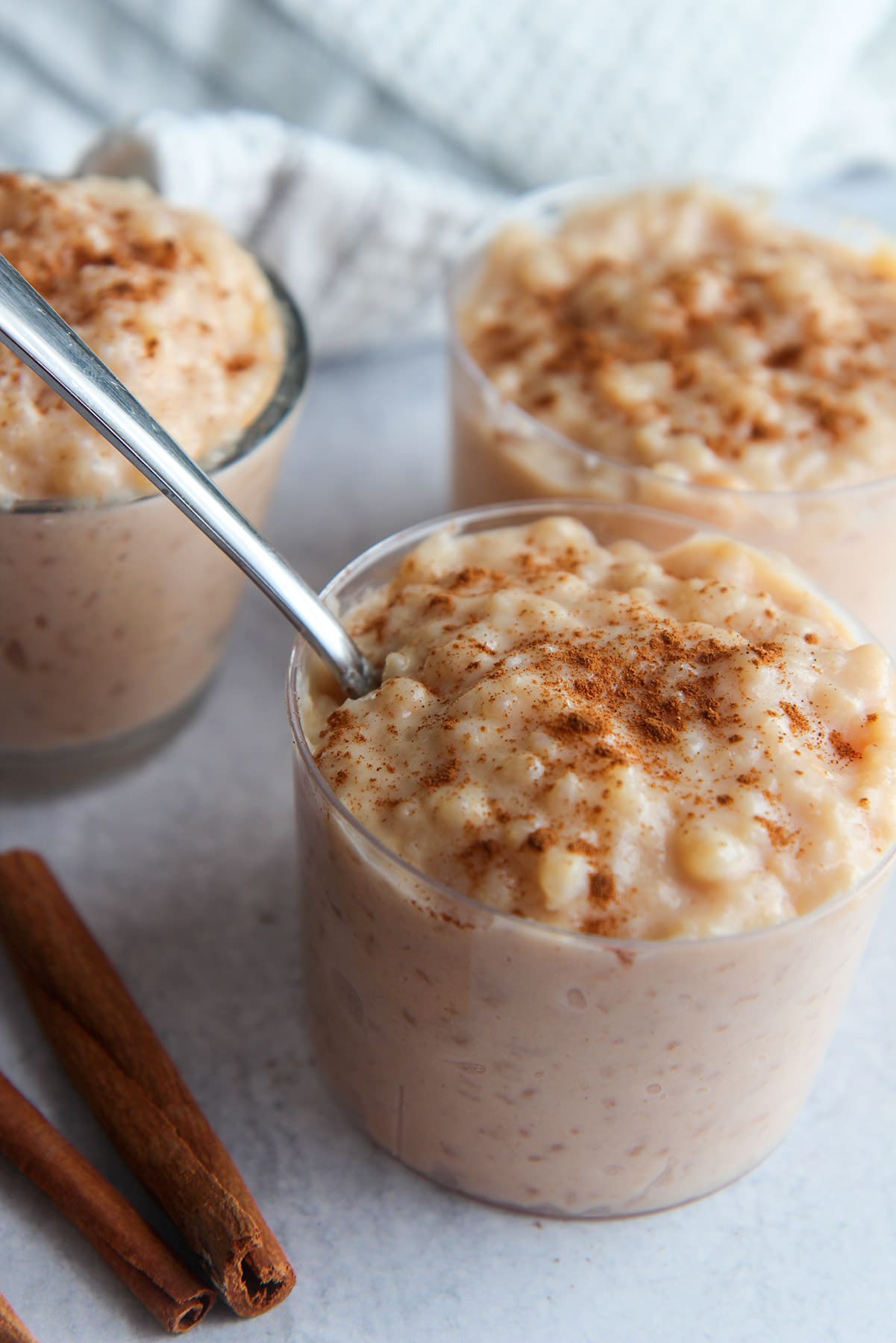 Rice pudding is basically sweetened rice and milk. Over the years, recipes always change or have their variations, but rice pudding hasn't changed much, if at all. It's definitely one of those recipes that stands the test of time and never gets old.
This classic rice pudding is super creamy, delicious, and easy to make. I didn't add sweetened condensed milk like I normally do because I wanted to keep things super easy. Although, if you have some sweetened condensed milk and don't know what to do with it you may want to check out this instant pot arroz con leche recipe.
How To Make Classic Rice Pudding
Combine ingredients

– In a medium saucepan, combine all the ingredients except the ground cinnamon and vanilla. Stir and let simmer for an hour or until it reaches the consistency of yogurt. 

Remove from heat

– Remove the rice mixture from the heat and immediately stir in the ground cinnamon and vanilla. 

Cool and chill

– Leave the pudding recipe to sit until it's around room temperature, then place it in the fridge to chill.

Serve

– Once chilled through, garnish with a sprinkle of cinnamon if desired, serve, and enjoy!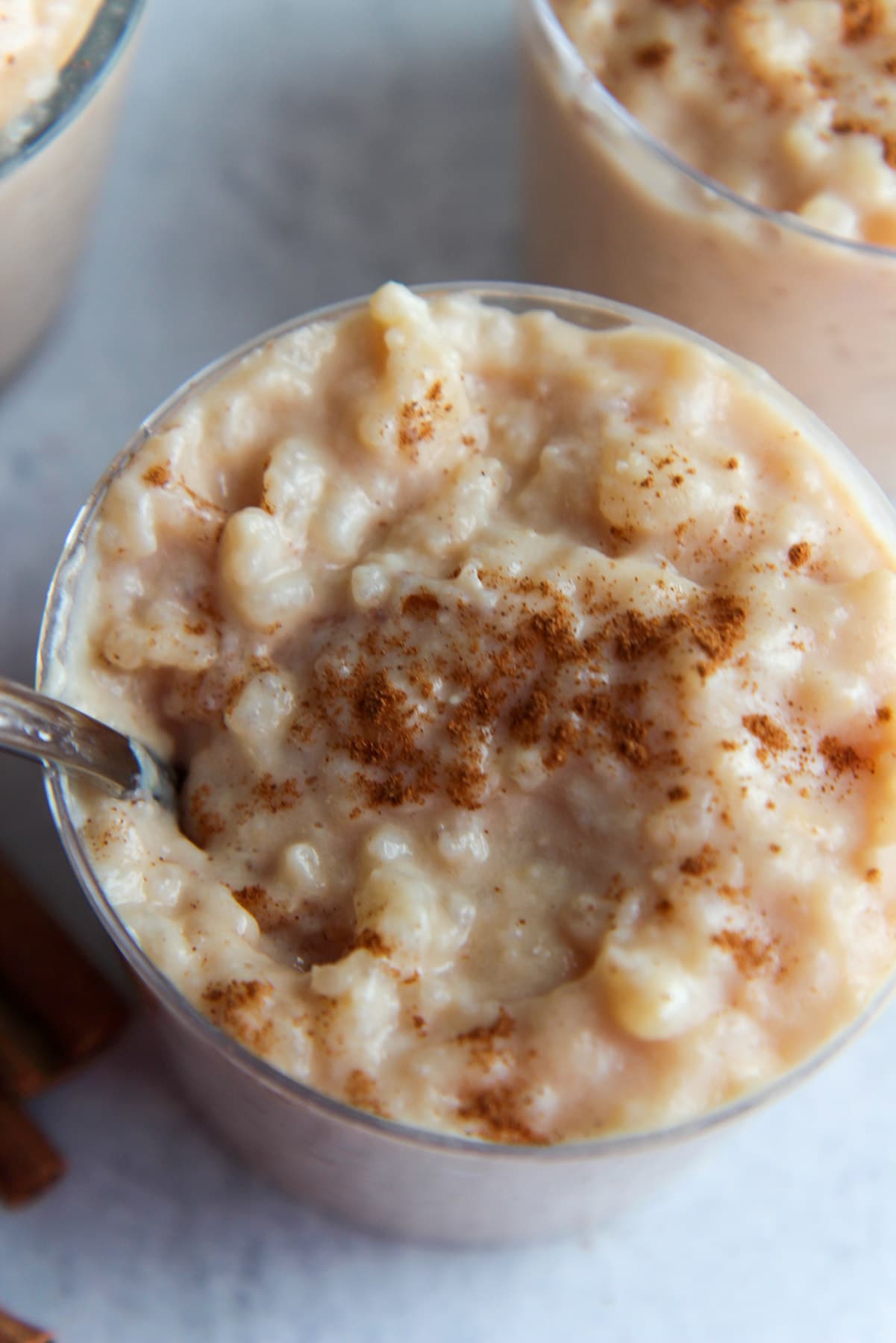 Tips and Variations
Add more spices

– If you prefer even more flavor in your rice pudding, you can add other spices such as nutmeg or ginger.

Add other extract flavors

–  If you would like to deviate from the original vanilla extract for this pudding recipe, you may use other flavors of extract. Be aware that I haven't tested any other flavors to see which pair well, but I can imagine many of them are fabulous. For example, coconut extract, lemon extract, orange extract, and so on. All sound like delicious choices to go along with rice pudding.

Eat it warm

– If you don't like to eat the rice cold, you can always eat it after it's come to room temperature and thickened a bit. Each person is different in how they prefer it. Try it both chilled and warm to see which way you like it more!

Add fruit

– You can add fruit to this dish if desired. You can follow the directions on how to do that in my

Rice Pudding with Peaches

recipe!
Top Tip: 
Enjoy with some fresh whipped cream! My all-time favorite way of serving this.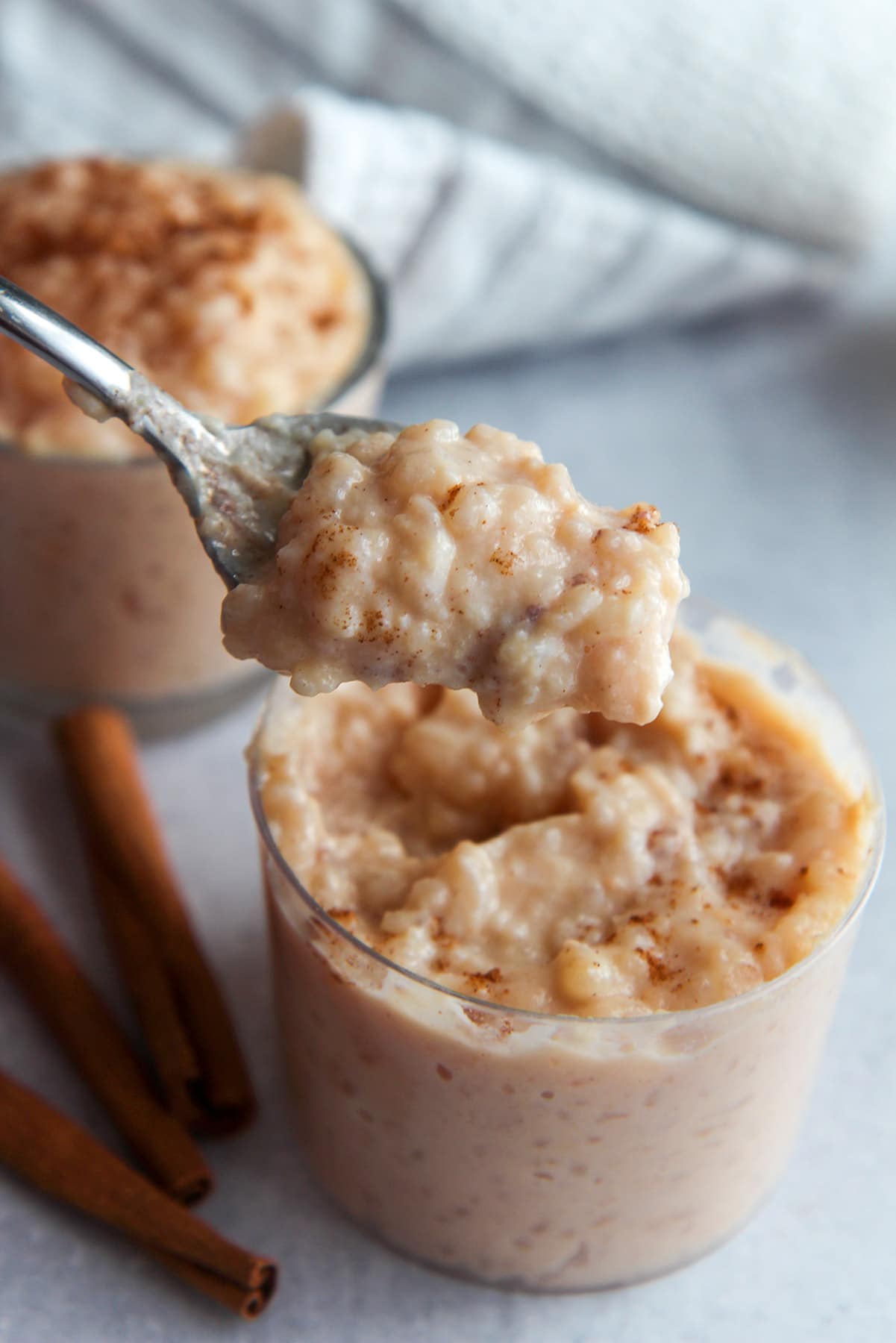 Why is Rice Pudding Classified as a Pudding?
The term "pudding" used to be a British term that referred to a meat-filled animal stomach. The actual word they used was "poding." However, it soon became a common word for desserts or the last, sweet dish at the end of dinner.
Over time, this term became synonymous (mainly just for Americans and Canadians) for a milk-based dessert with a thicker consistency. Of course, Americans don't use the term "poding" as overtime, it was adjusted to "pudding."
Now, even the British use the term in this manner but use it more broadly than Americans and Canadians. 
A Little Rice Pudding History…
Rice pudding has been around for a very long time. When I say a long time, I mean, centuries. It's been around so long that many historians debate where it actually originated from.
However, it's agreed that the recipe definitely originated in either India or China. This is because both countries have a very deep and rich rice culture that reaches back to ancient days.
However, many historians lean towards India as the rightful place of origin because it also has an ancient sugar culture. 
More Dessert Recipes You'll Love:
You can find more delicious recipes and cooking tutorial videos on Youtube and Facebook.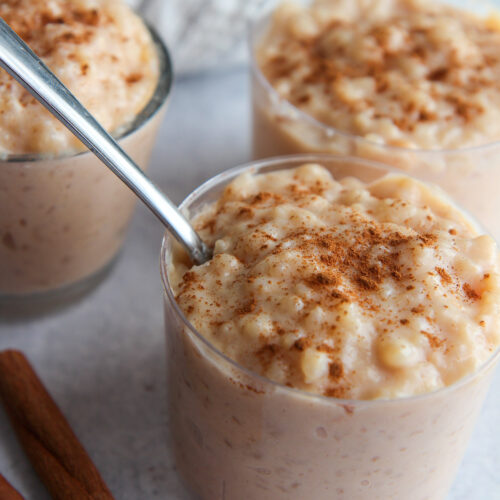 Print Recipe
Pin Recipe
A delicious old fashioned classic rice pudding that will satisfy the entire family. Super creamy, rich, and thick. A guaranteed hit!
Ingredients
1/2

cup

long grain rice

6

cups

whole milk

1

cinnamon stick

1/2

cup

sugar

1/4

tsp

ground cinnamon

1/2

tsp

salt

2

tsp

vanilla extract
Instructions
Place the milk, rice, sugar, cinnamon stick, and salt in a medium sauce pan and cook over medium-high heat.

Cook for about 1 hour stirring frequently. Cook until the mixture thickens and resembles yogurt.

Remove the saucepan from the heat and stir in the ground cinnamon and vanilla extract.

Let the rice pudding come to room temperature before refrigerating.
Nutrition
Calories:
207
kcal
|
Carbohydrates:
31
g
|
Protein:
7
g
|
Fat:
6
g
|
Saturated Fat:
3
g
|
Cholesterol:
18
mg
|
Sodium:
225
mg
|
Potassium:
255
mg
|
Fiber:
1
g
|
Sugar:
22
g
|
Vitamin A:
296
IU
|
Calcium:
214
mg
|
Iron:
1
mg