These crispy chicken sliders are the perfect appetizer, snack, or even dinner. Thick slices of breast meat soaked in a buttermilk mixture and coated with just the right seasonings. The chicken is then fried to perfection and served on a slider bun with all the fixings.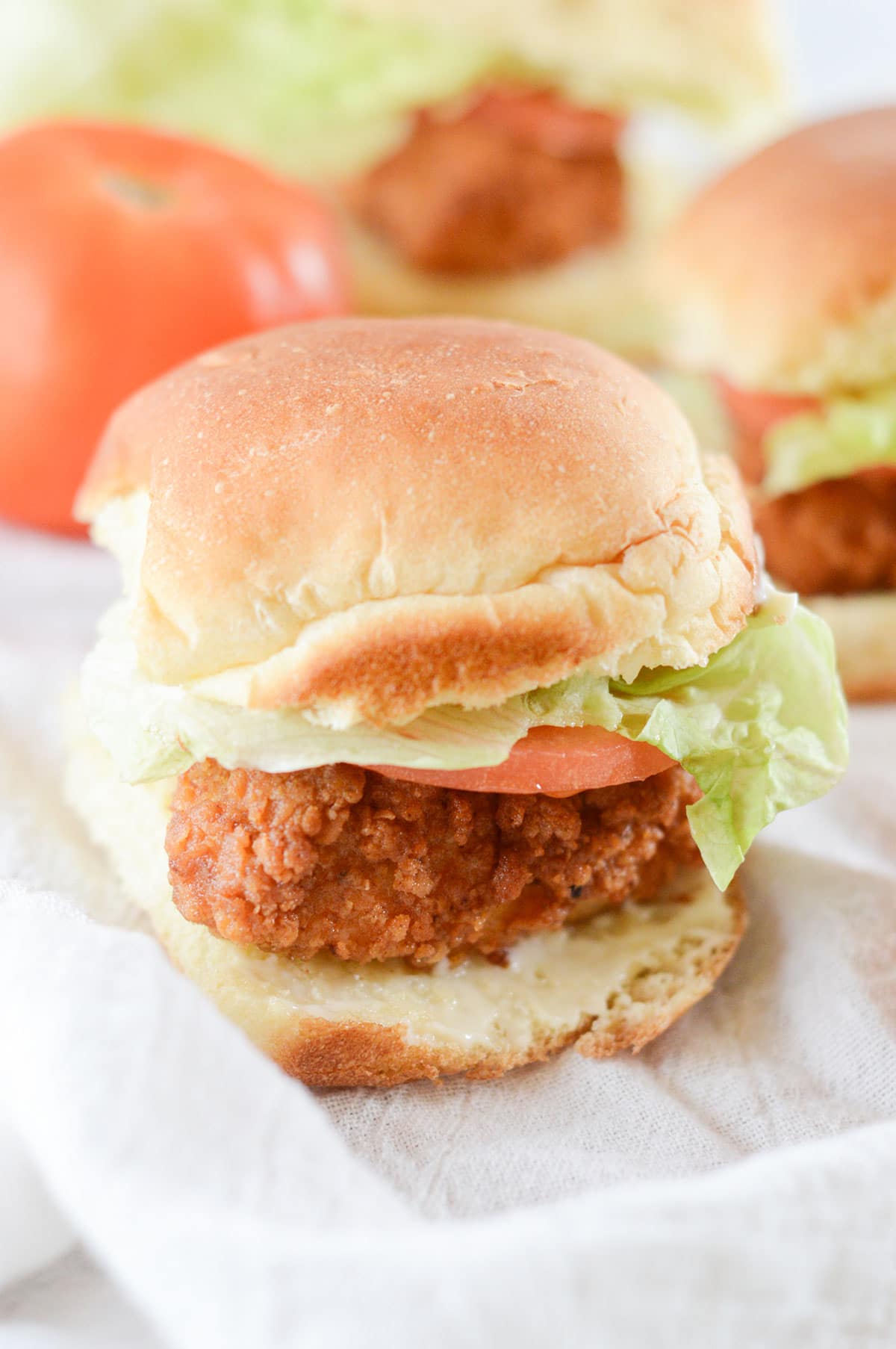 I've always loved sliders, but I've had people ask, "Why not just get a normal-sized burger or chicken sandwich instead?" I promise sliders are amazing – they're meant to be more of an appetizer rather than a full meal. They satisfy your burger or chicken sandwich craving without being a full-size meal and that's why they're so great.
What is the secret to crispy fried chicken?
Use baking powder for a crispy chicken crust and fry the chicken in oil using a thermometer to measure the temperature. Ideally, the oil should be at 350 degrees F oil.
What oil should I use? 
I used vegetable oil but feel free to use canola oil or peanut oil.
What kind of bread do you use for sliders?
Any bun around the size of a dinner roll will do just fine. My favorite buns of choice are Hawaiian Rolls as they have the perfect hint of sweetness that takes the slider to a new level. These Soft Onion Rolls or Rosemary and Garlic Rolls will do the trick as well.
How to make
Prepare the chicken – Slice each chicken breast into 4 equal pieces. Coat the chicken with the seasonings then toss it in the mustard. Place the buttermilk in the bowl with the chicken and chill for at least 2 hours.
Coat and fry the chicken – Add the flour and spices to a bowl and mix well. Remove the chicken from the bowl and coat in the flour mixture before frying it to a nice golden brown.
Serve on buns – Coat the slider buns with mayo and add the chicken, a slice of tomato, and lettuce. Serve and enjoy!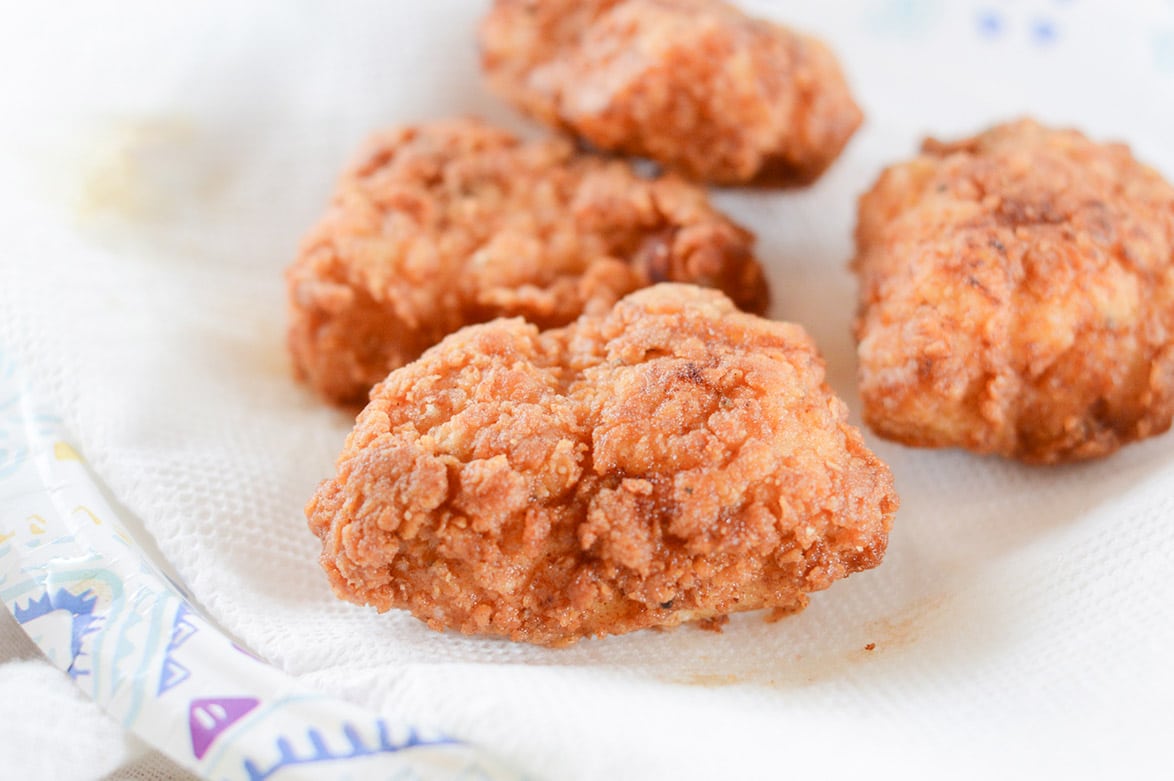 Tips and Recipe Variations
Use Hawaiian Rolls – Hawaiian rolls are sweet and add the perfect addition of flavor to these already delicious crispy chicken sliders. These rolls don't come pre-sliced, so you'll need to cut them in half to use them as a slider bun.
Use the condiments you prefer – You don't have to use what I suggest as far as what you put on your slider. Mustard and pickles are also a popular combination of chicken sandwiches, but you can use whatever you prefer.
Make it spicier – If you want more of a kick with your chicken slider, add some crushed red peppers to the flour or add jalapenos or even hot sauce to the sandwich.
Make it quicker – You can prepare the chicken the night before while making dinner so that it's ready the next evening to just coat and fry. If the marinating is out of the way, you can have dinner or a snack on the table in 15 minutes.
Storage – It is best to store these chicken sandwiches before they're placed on the bun. If you have leftover chicken, simply store it in the fridge in an airtight container, for up to 5 days.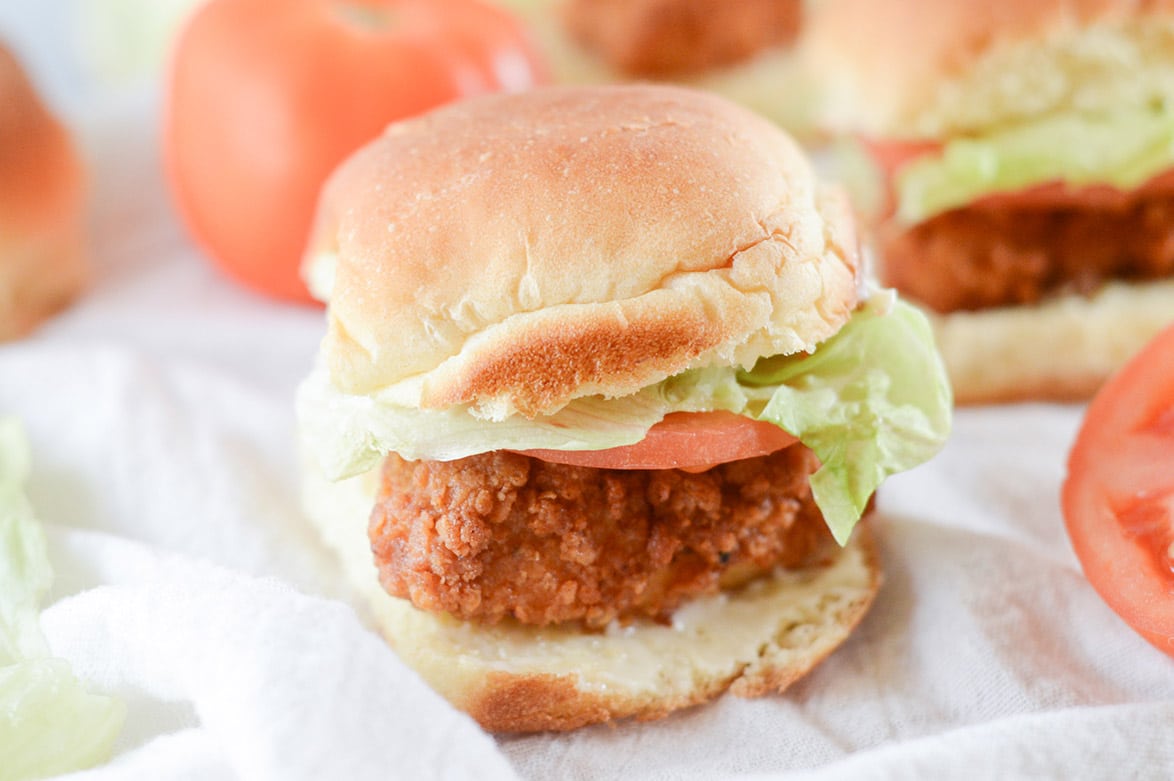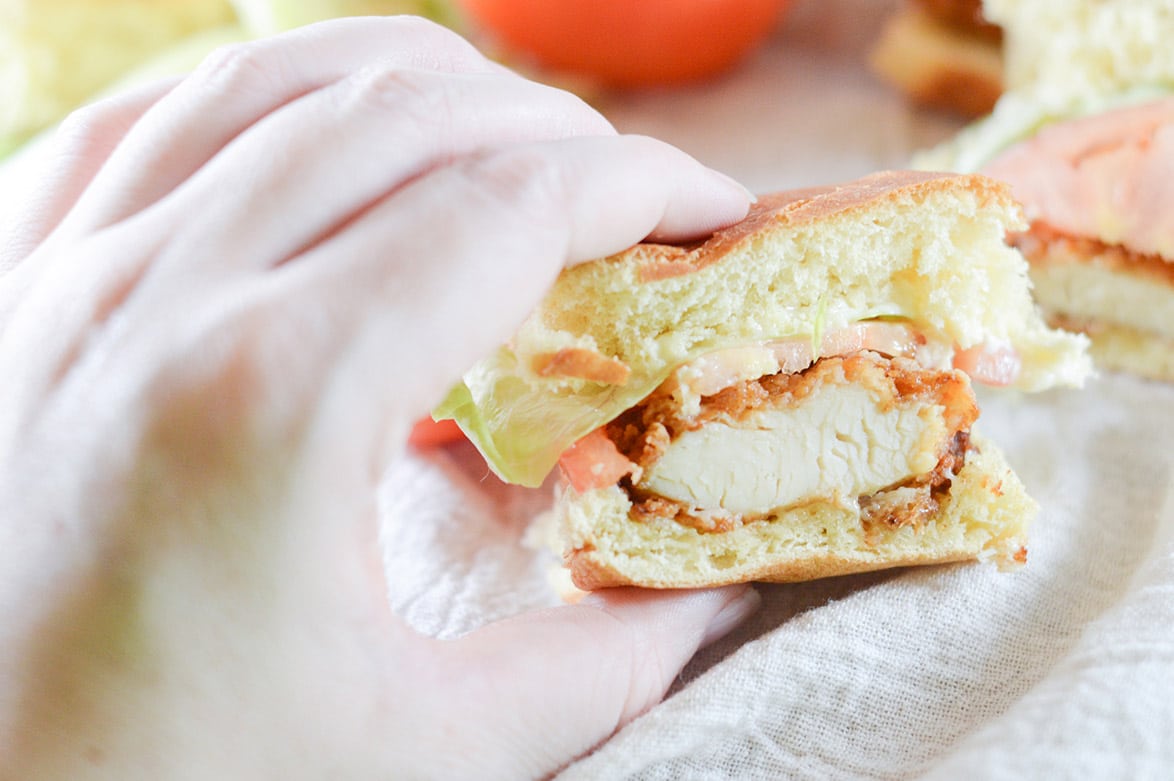 More Slider Recipes You'll Love:
You can find more delicious recipes and cooking tutorial videos on Youtube and Facebook.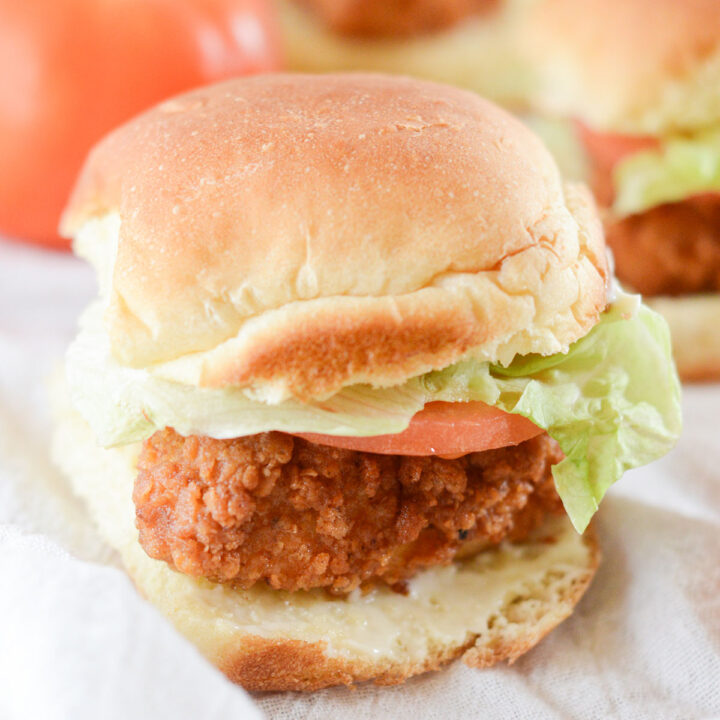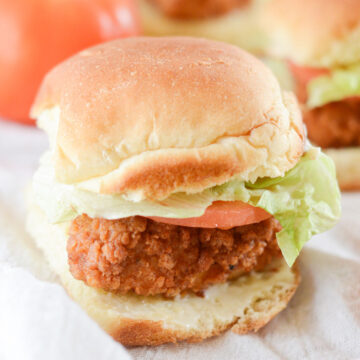 Print Recipe
Pin Recipe
Perfectly seasoned buttermilk crispy chicken sliders. Perfect for parties or any day of the week.
Ingredients
2

thick skinless chicken breasts

1/2

cup

buttermilk

1 1/2

cup

all-purpose flour

1

tbsp

dijon mustard

1

tsp

baking soda

1

tsp

baking powder

1

tsp

paprika

1

tsp

cayenne pepper

2

tsp

garlic powder

Salt and pepper to taste

Oil

for frying
Instructions
Slice each chicken breast into quarters.

Season the chicken with 1/2 tsp paprika, 1/2 tsp cayenne pepper, 1 tsp granulated garlic, salt, and pepper on both sides.

Place the chicken in a bowl and coat with mustard.

Add the buttermilk and mix it thoroughly. Cover and refrigerate for a minimum of 2 hours.

Season the all purpose flour with 1/2 tsp paprika, 1/2 tsp cayenne pepper, 1 tsp granulated garlic, salt, pepper, baking soda, and baking powder.

Let the chicken come to room temperature and then coat in flour, removing any excess flour.

Fry the chicken for 6-7 minutes on each side.

Serve on slider rolls, top with lettuce, tomato, and mayo, if desired and enjoy!
Nutrition
Serving:
4
g
|
Calories:
329
kcal
|
Carbohydrates:
39
g
|
Protein:
30
g
|
Fat:
4
g
|
Saturated Fat:
1
g
|
Cholesterol:
75
mg
|
Sodium:
523
mg
|
Potassium:
675
mg
|
Fiber:
1
g
|
Sugar:
1
g
|
Vitamin A:
555
IU
|
Vitamin C:
1.7
mg
|
Calcium:
101
mg
|
Iron:
3
mg