These Chicken Parmesan Sliders will have you hooked on the first bite. This recipe is super easy to make and ready in about 35 minutes. The marinara sauce combined with crispy chicken and gooey cheese to make a delightful dinner or appetizer.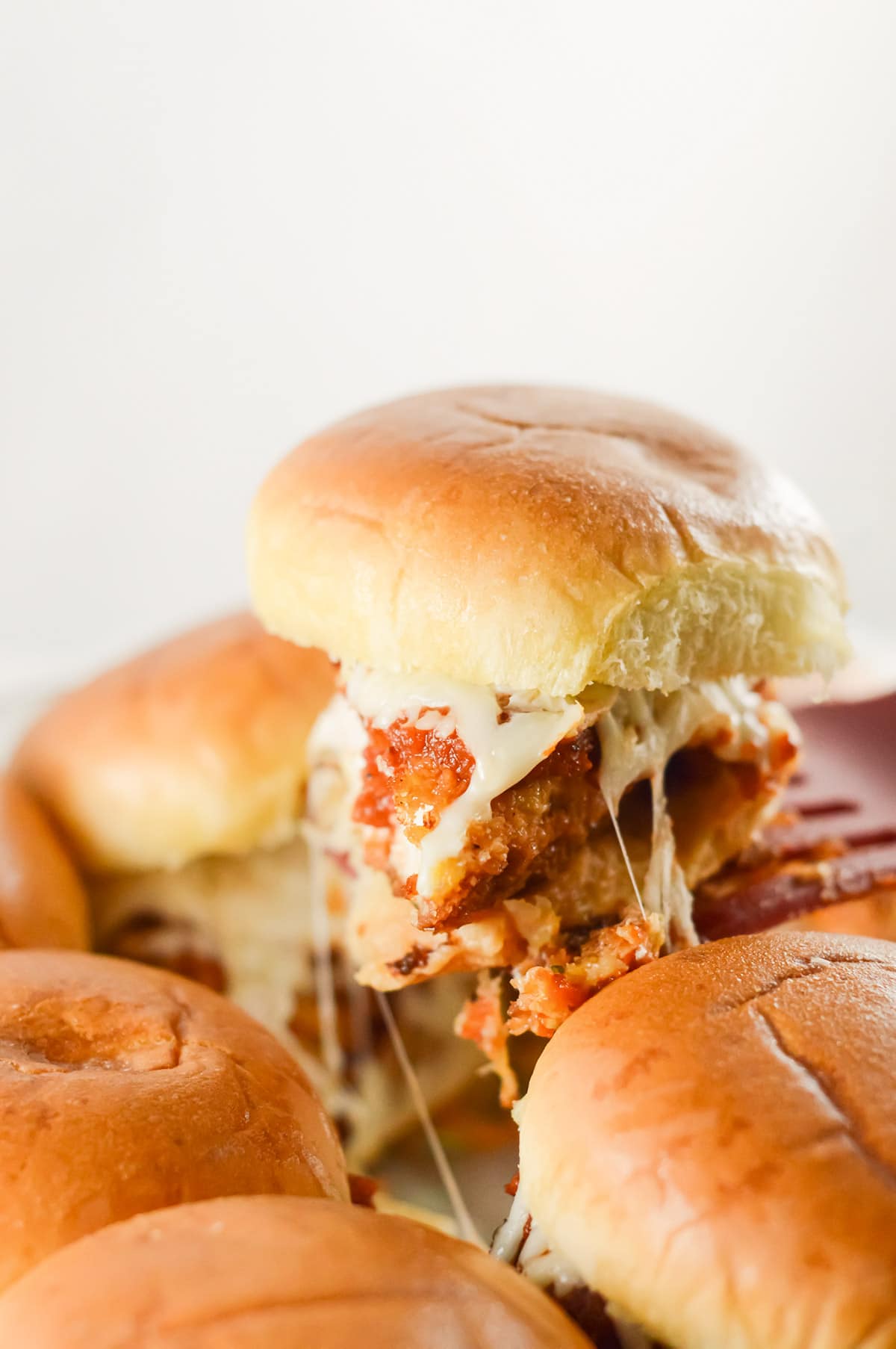 I am one of those people who love appetizer recipes and will often eat them in place of dinner. I mean, who hasn't done this a time or two? There are so many appetizers that are easily turned into a main meal. It's hard to resist the urge, especially when there's no need to! If no one has told you, you're free to eat appetizers for dinner!
How to Make Chicken Parm Sliders
Prep – Preheat the oven to 400 degrees and heat oil in a large skillet over medium heat.
Make the sauce – Place the shallots, garlic, and red pepper flakes in the skillet and saute/cook for about 10 seconds. Add the sauce, oregano, salt, pepper, basil, and red wine. Stir well and simmer for about 20 minutes.
Make the chicken – Season the chicken breasts, flour, and bread crumbs with salt and pepper. Coat the chicken in the flour and shake off the excess. Dip the chicken in the egg then coat it in the bread crumbs. Fry the chicken in oil, over medium heat, in a large skillet, until cooked through and golden brown.
Make the sliders – Slice the chicken into three pieces so it fits on the buns better. Place the bottom of the dinner rolls in a casserole dish or on a baking sheet then top with the chicken, marinara sauce, mozzarella cheese, and parmesan cheese. Place in the oven and bake for 4 minutes or until the cheese is melted. Add the slider bun tops to the dish and brush with melted butter. Bake another 3 minutes and serve!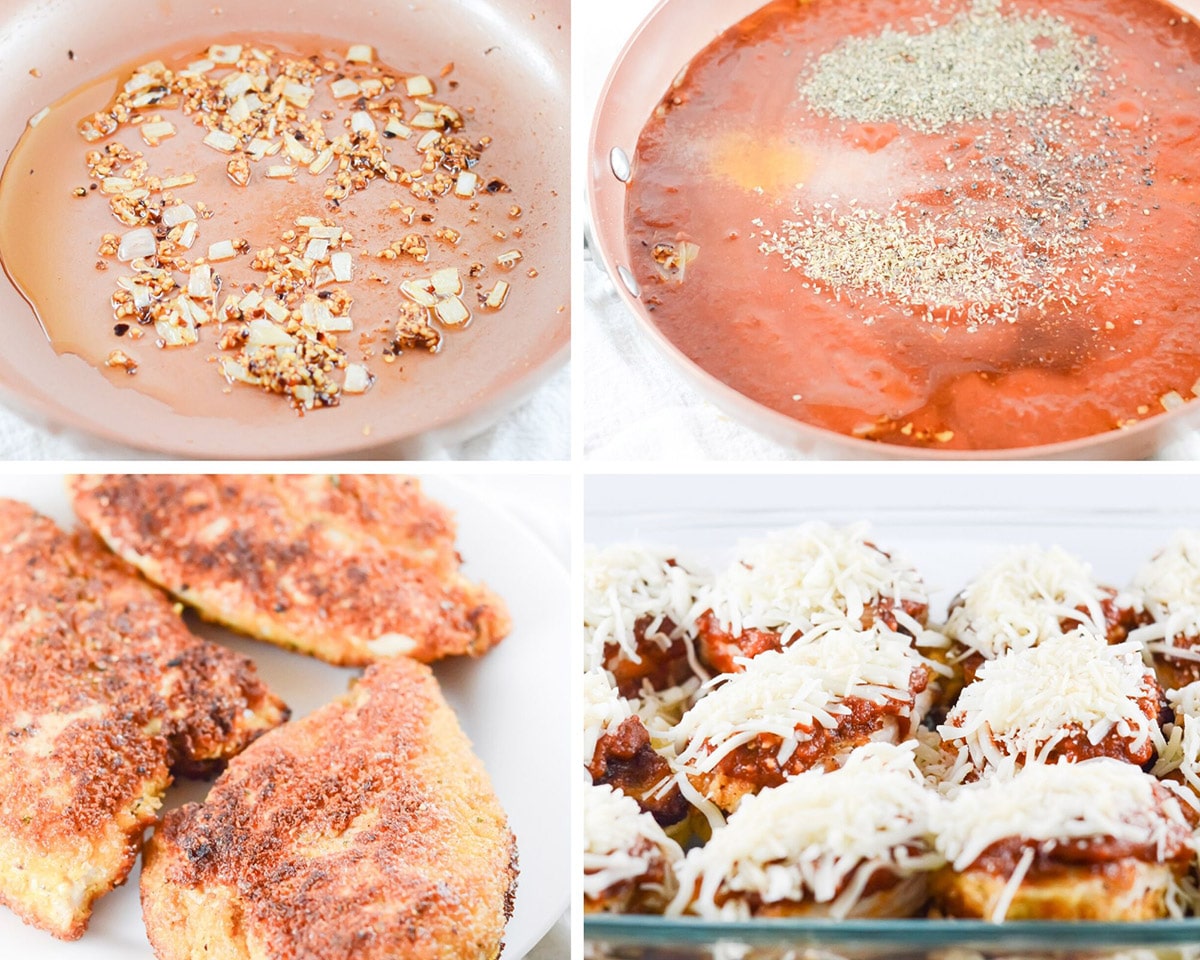 Tips and Recipe Variations
Make your own rolls – You can either use butter rolls or other slider buns you find at the store. However, if you want to go fully homemade, you can always use your own dinner rolls. I like to sometimes use these

Garlic Parmesan Dinner Rolls

,

Onion Rolls

,

Hawaiian Sweet Rolls

, or

Rosemary and Garlic Rolls

.
Use jarred marinara sauce – If you're trying to move even quicker, you can always skip making the sauce and just heat up some jarred sauce. This will save you a bit of time, although I prefer homemade sauce more. 
Make it spicy – If you like a little more kick to your chicken parm, you can always dice up a fresh jalapeno and add it into your sauce.
Make it milder – If you prefer no kick at all, you can remove the crushed red pepper flakes. There's no need to replace them with another ingredient.
How To Store, Freeze, and Reheat Chicken Parm Sliders 
Storage – These are best eaten right after they're made since the sauce can cause the buns to get a little soggy. However, you can store them or freeze them in an airtight container if desired. In the fridge, they will keep up to 4 days and in the freezer, 2 months.
Reheating – No matter how you heat these chicken parmesan sliders up, they will most likely be a little soggy on the bottom. The best way to reheat is to let them come to room temperature on their own and then bake them at 350 degrees for about 10 minutes. You can always heat them in the microwave for a couple of minutes as well, but this will only cause the bun to be even soggier.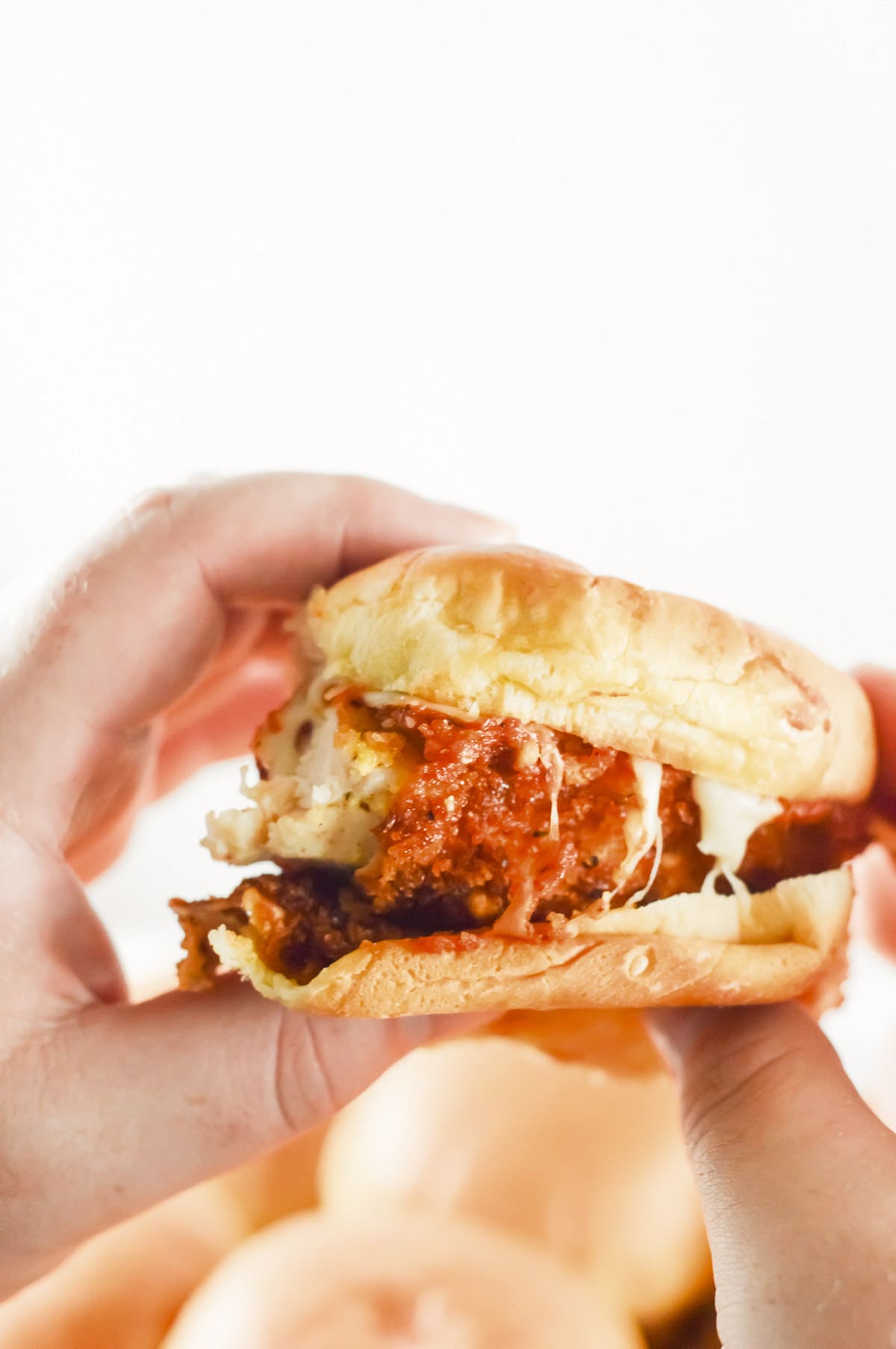 These chicken parm sliders rank up there on my list as a top favorite. However, they tie with Bang Bang Shrimp and Honey BBQ Boneless Wings. If I'm being honest, there are a ton of other recipes that rank up there on my favorites!
If you gave these Chicken Parm Sliders a try, feel free to let me know about your experience and the adjustments you tried, in the comments below!
More Sliders Recipe Ideas
You can find more delicious recipes and cooking tutorial videos on Youtube and Facebook.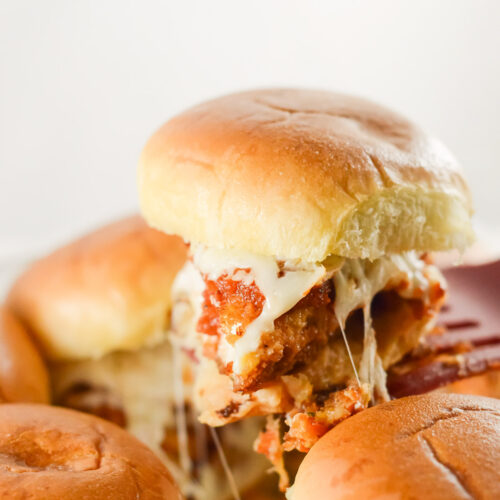 Print Recipe
Pin Recipe
Easy crispy chicken parmesan sliders. Perfect for any gathering. Your guests will be thrilled with these little delicious sliders.
Ingredients
1

lb

chicken breast

28

oz

crushed tomatoes or jar sauce

1/2

small shallot

2

cloves

garlic

1

tsp

red pepper flakes

optional

1

tsp

oregano

1/4

cup

red wine

1

tbsp

basil

salt and pepper to taste

1

cup

seasoned all-purpose flour

1

cup

seasoned bread crumbs

2

eggs

1

dozen butter rolls

1

tbsp

melted butter

2

cups

mozzarella cheese

1/2

cup

parmesan cheese
Instructions
Preheat oven to 400 degrees F.

Heat a large skillet with olive oil over medium heat.

Add the shallots, red pepper flakes, garlic and cook for 10 seconds or until fragrant.

Stir in the sauce, add the oregano, red wine, salt, pepper, basil, and simmer for 20 minutes.

While the sauce simmers, season the chicken on both sides with salt and pepper.

Season the all-purpose flour and bread crumbs with salt and pepper as well.

Coat the chicken in the seasoned flour on both sides, shaking off any excess flour.

Dip the chicken in the egg and then coat the chicken with the bread crumbs.

Heat a large skillet with vegetable oil over medium-high heat.

Fry the chicken for about 3-4 minutes on each side or until fully cooked through.

Slice each chicken breast into 3 pieces so they'll fit on a slider bun.

Place the slider bottom halves in a casserole dish and top them off with the chicken, sauce, and cheese.

Bake for 4 minutes or until the cheese melts completely.

Place the slider buns on top, brush with melted butter and bake for an additional 3 minutes.
Nutrition
Calories:
235
kcal
|
Carbohydrates:
21
g
|
Protein:
18
g
|
Fat:
7
g
|
Saturated Fat:
3
g
|
Cholesterol:
69
mg
|
Sodium:
474
mg
|
Potassium:
409
mg
|
Fiber:
2
g
|
Sugar:
3
g
|
Vitamin A:
430
IU
|
Vitamin C:
6.9
mg
|
Calcium:
197
mg
|
Iron:
2.4
mg