Make breakfast or dessert a success when you toss together these Nutella Stuffed Donuts aka bombolini! This recipe has a classic doughy outside that envelops a decadent serving of Nutella. Top it off with granulated sugar for one of the most delicious treats you'll ever have.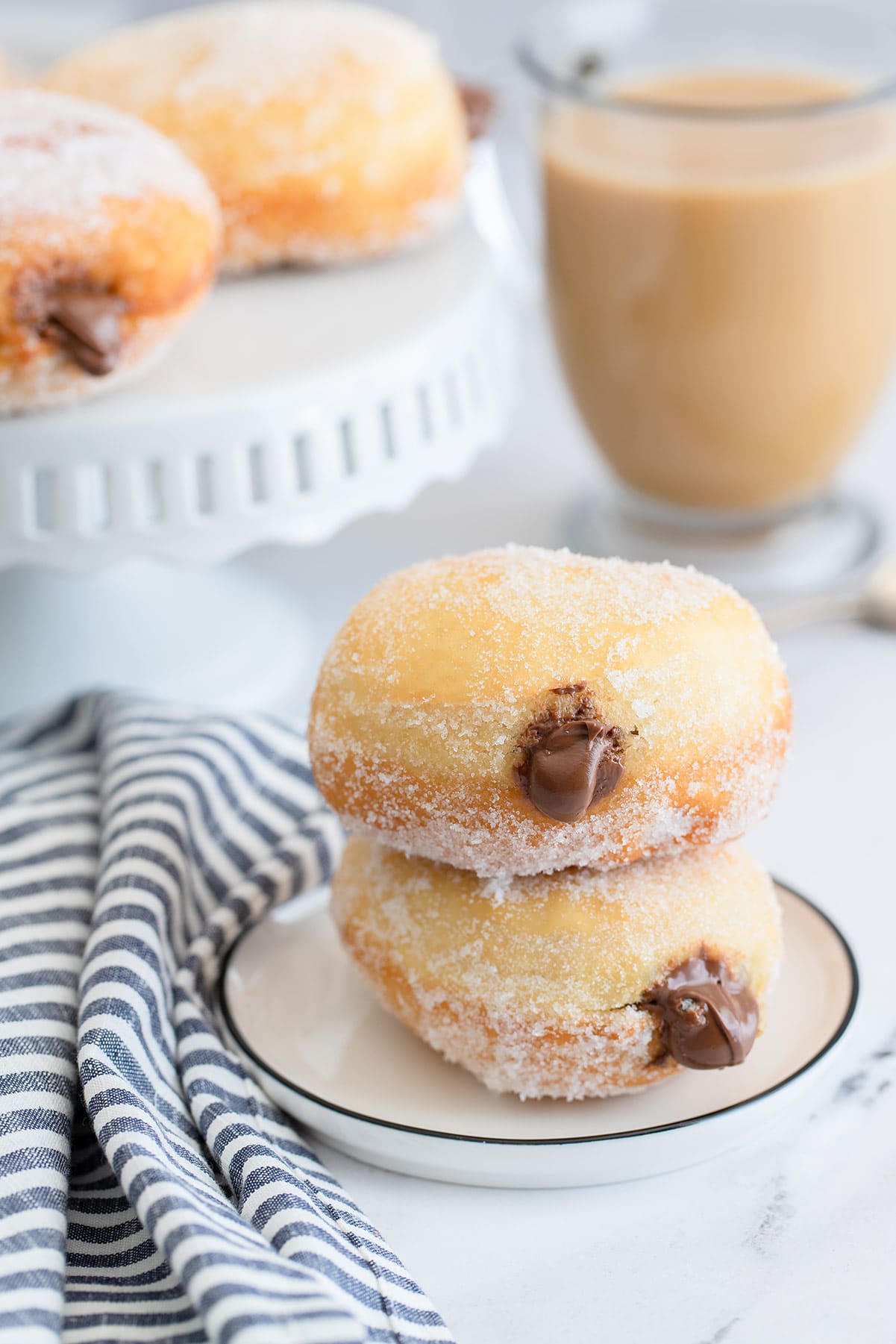 Excuse me while I take a second to compose myself long enough to write this out for you. I'm more than slightly obsessed with hazelnut spread. Everything it touches becomes just as precious as gold. By the way, these also go by Italian fried doughnuts or bombolini.
Nutella stuffed donuts are probably one of my favorite Nutella recipes I've made, to date. However, that's hard to peg down since I've made countless recipes and I'm still going! If you take a quick look at my recipes, you'll see that I'm not kidding. If I had to narrow it down to a top three, these donuts, Nutella Cupcakes, and Nutella Mousse would definitely top the chart. 
How to Make Nutella Stuffed Donuts
Mix the yeast – In a stand mixer, combine the warm water and sprinkle the yeast over the top of it. Let it sit until foamy – about 5 minutes.
Make the dough – Add the rest of the ingredients except the Nutella, granulated sugar, and half of the flour. Mix until a sticky dough forms.
Work the dough – Cover the dough, let it rise for 2 hours, or until doubled in size. Remove, knead for a few minutes, then roll out to about ½ inch thick. Cut the donuts out.
Make the donuts – Cover the donuts with plastic wrap and let it rise for 45 minutes. Fry for about 2 minutes or until golden brown on each side in vegetable oil that's about 350 degrees. Place the fried donuts on a wire rack or a plate with a paper towel. Coat with granulated sugar.
Fill with Nutella – Use a skewer to make a hole and fill it with Nutella. Serve immediately and enjoy!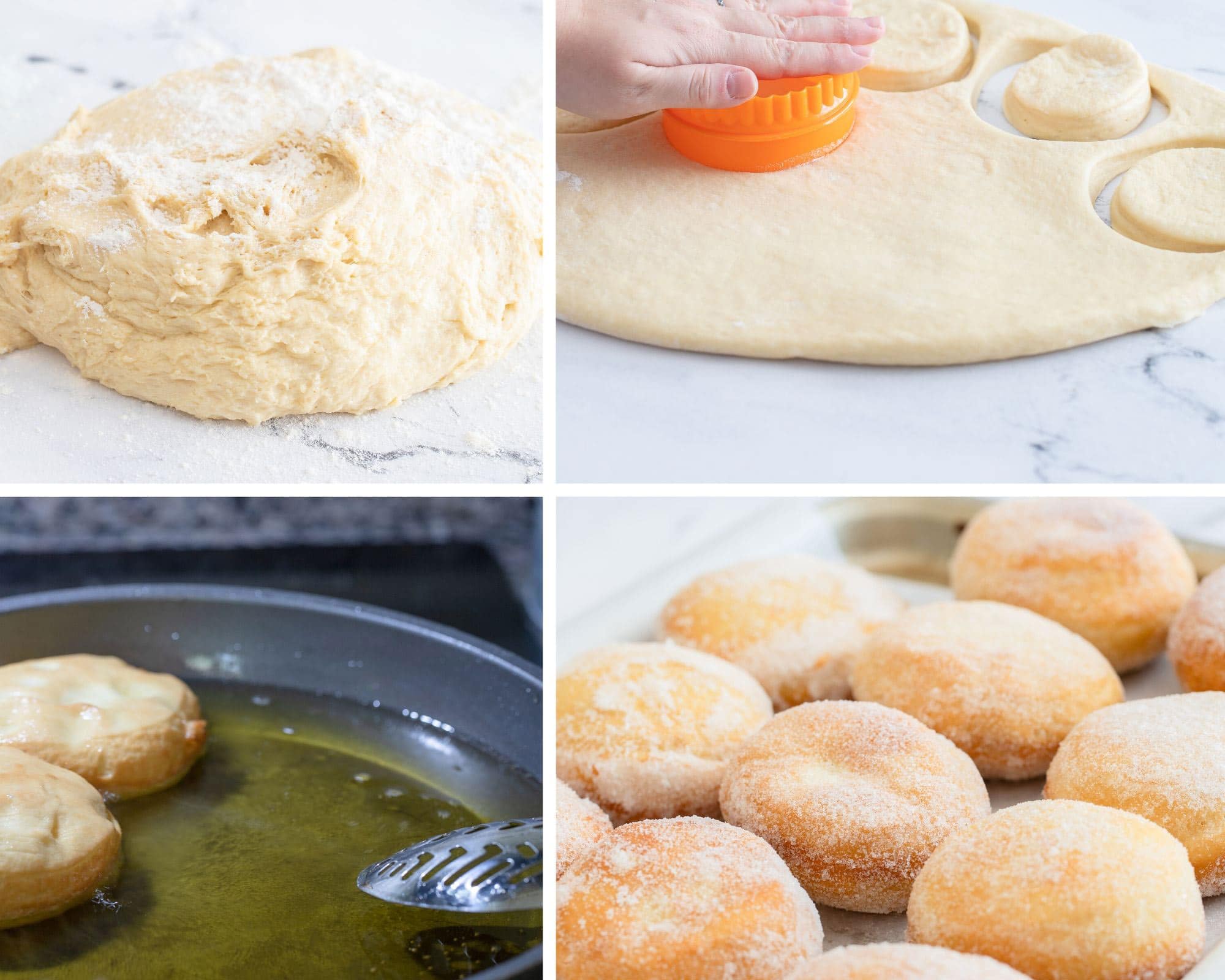 Tips and Variations
Storage – Store in an airtight container in the fridge or pantry (cool, dry place). Keep in the fridge for up to a week and in the pantry for up to 2 days. Freeze in an airtight container for up to a month.
Reheating – Reheat, from the fridge, in the microwave, for only a few seconds. I wouldn't suggest heating this donut if you're grabbing it from the pantry. If reheating from the freezer, let the donuts thaw on their own before using the microwave. 
Nutella substitute – If you don't prefer hazelnut spread, you can fill the donuts with pudding, custard, jam, jelly, peanut butter, etc. Lots of options to choose from!
How do I cut the donuts? – You can use a

donut cutter

or simply use a drinking glass. Be sure the drinking glass is about the normal size of a donut and not too small or too large.
What do I use to add the Nutella? – I used a piping bag, but if you don't have one of those, you can use a baggie with the corner cut off. You can also use a baking syringe.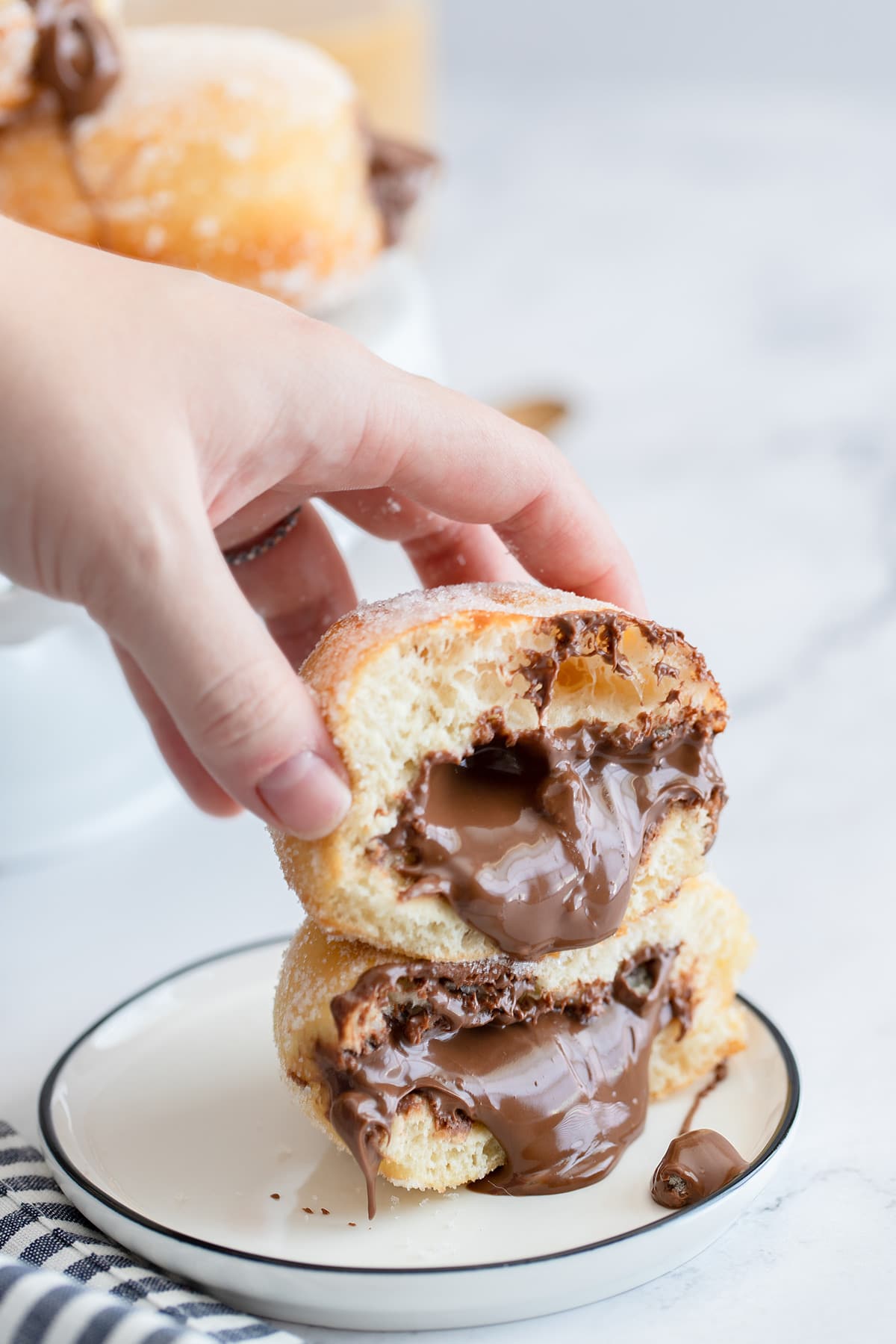 What is the Difference Between a Donut and a Doughnut?
There's not one difference between a donut and a doughnut. They're both the same thing. Americans are well known for their slang or the shortening of words. That's what we have in this situation. The proper spelling of the dessert is "doughnut," but it has been shortened to "donut" by the US. In fact, it's quite a bit more common to see the slang term rather than the official term.
Why are Donuts Called Donuts?
There was no real planning to the name of this popular dessert food. It was simply a term coined by Washington Irving in the early 1800's. He spoke of the dessert we call donut holes now, so they have the appearance of peanuts. Although there's no real information about why he called them that, it's pretty plain to see how he might think donut holes have a peanut appearance.
If you loved these Nutella Stuffed Donuts as much as I did or simply have a question or two, let me know in the comments below or hit me up on social media!
More Donut Recipes You're Sure to Love:
You can find more delicious recipes and cooking tutorial videos on Youtube and Facebook.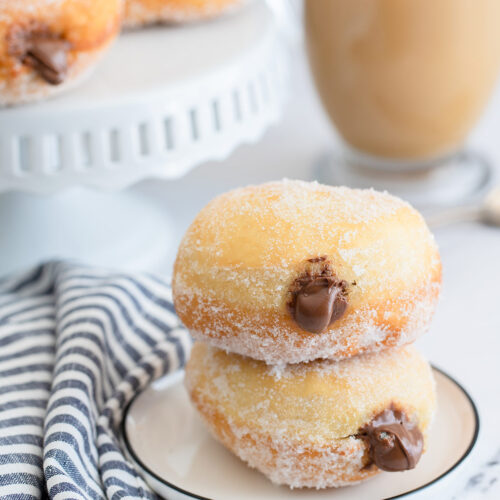 Print Recipe
Pin Recipe
These light and fluffy donuts are filled with the creamiest Nutella filling, perfect for a deliciously sinful treat.
Ingredients
1

envelope of dry active yeast

1/4

cup

warm water

1 1/2

cup

milk

1/2

cup

sugar

1

tsp

salt

1/4

cup

shortening

2

eggs

5

cups

all purpose flour

1/4

cup

powdered sugar

1/2

cup

Nutella
Instructions
In a large bowl, add the warm water and sprinkle over the yeast. Set aside for 5 minutes so it can activate.

Once the yeast activates and becomes foamy add the milk, melted shortening, sugar, salt, eggs, and 1/2 of the all purpose flour. Mix until everything is well incorporated.

Add the remaining all-purpose flour and mix until the dough is smooth and slightly sticky.

Place the dough into a greased bowl, cover it, and let it rise for 2 hours.

Lightly flour your working surface and knead the dough for a minute or two.

Gently roll the dough 1/2-inch thick with a floured rolling pin.

Cut donuts using a donut cutter or round drinking glass.

Cover the donuts and let them rise for 45 minutes.

Heat some vegetable oil to about 350 degrees and then fry the doughnuts for about 2 minutes on each side or until golden brown.

Sprinkle some powdered sugar on top of the donuts.

Using a skewer make a hole on the side of the donut and then stuff it with Nutella using a piping bag.
Nutrition
Calories:
366
kcal
|
Carbohydrates:
59
g
|
Protein:
7
g
|
Fat:
10
g
|
Saturated Fat:
5
g
|
Cholesterol:
30
mg
|
Sodium:
223
mg
|
Potassium:
156
mg
|
Fiber:
2
g
|
Sugar:
19
g
|
Vitamin A:
90
IU
|
Calcium:
60
mg
|
Iron:
3.1
mg