These Homemade Beignets will make you feel like you're in France, enjoying a light brunch. These pastries have a lightly crisp outside, with an invitingly soft inside. Finish them off with a coating of powdered sugar and you have the perfect dessert, breakfast, brunch, or snack.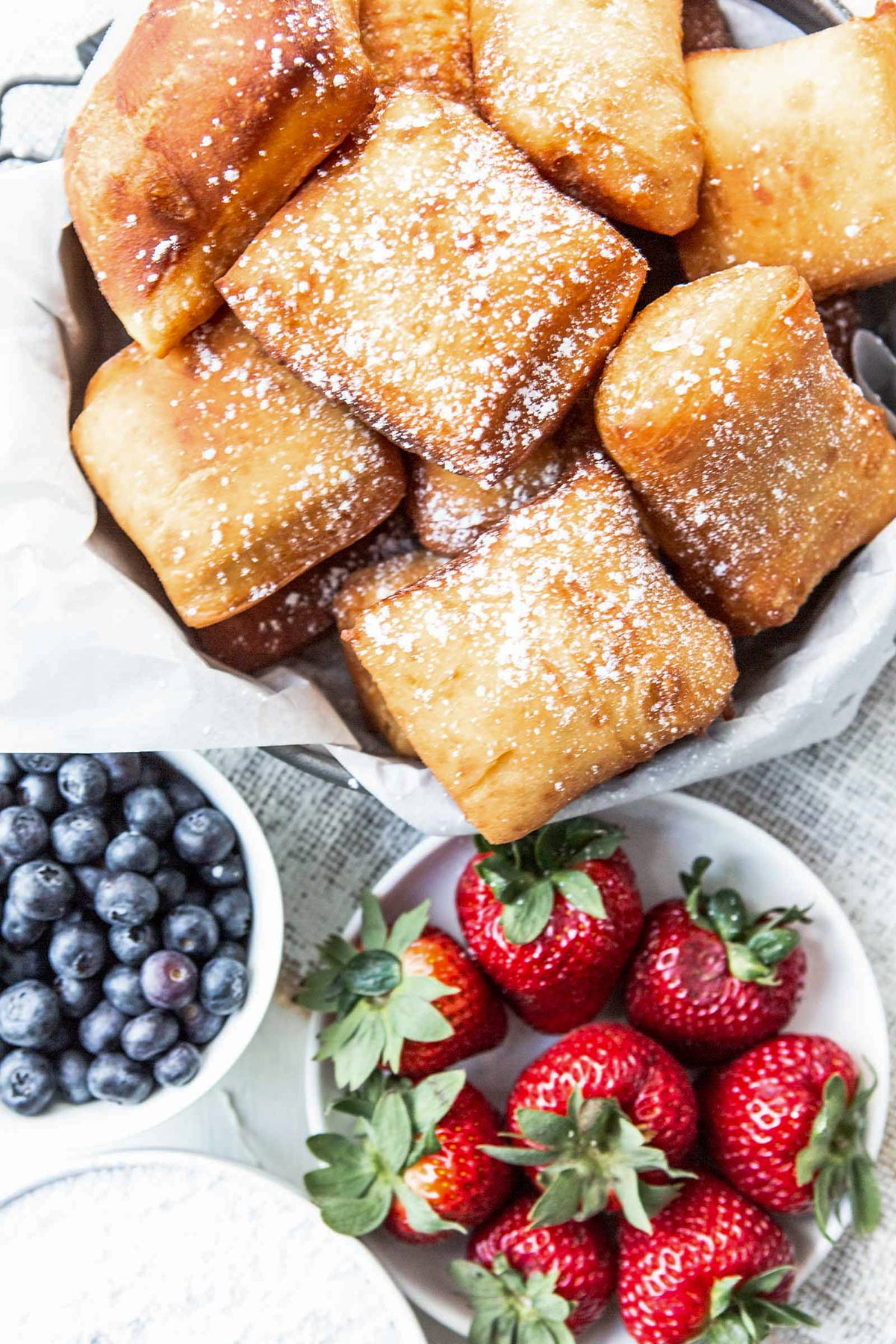 I have a confession: I love deep-fried desserts. I mean, think about it, some of the most loved desserts are deep-fried. My favorites tend to be Deep Fried Oreos, Apple Fritters, or these homemade beignets. I seriously can't get enough of them and have to make them in smaller batches so I don't eat too many!
How to Make Homemade Beignets
Mix the yeast – In a bowl, combine the yeast and warm water. Dissolve the yeast and add a teaspoon of sugar. Set aside for 10-15 minutes.
Start the dough – In a separate bowl, combine the eggs, rest of the sugar, and evaporated milk. Mix well. Add the egg mixture to the yeast mixture and whisk well.
Finish the dough – Add all of the shortening and half of the flour. Mix well. Add the rest of the flour and mix again. Beat until smooth. Turn onto a floured surface and beat until elastic.
Let the dough rise – Place the dough in a greased bowl. Cover and let rise for an hour. Oil the top of the dough and leave to continue rising for another hour. Punch down the dough, roll out on a floured surface, and cut into squares.
Fry and serve – Deep fry each dough square in oil for about 2-3 minutes or until golden brown. Remove and place on a paper towel to drain. Coat in powdered sugar, serve, and enjoy!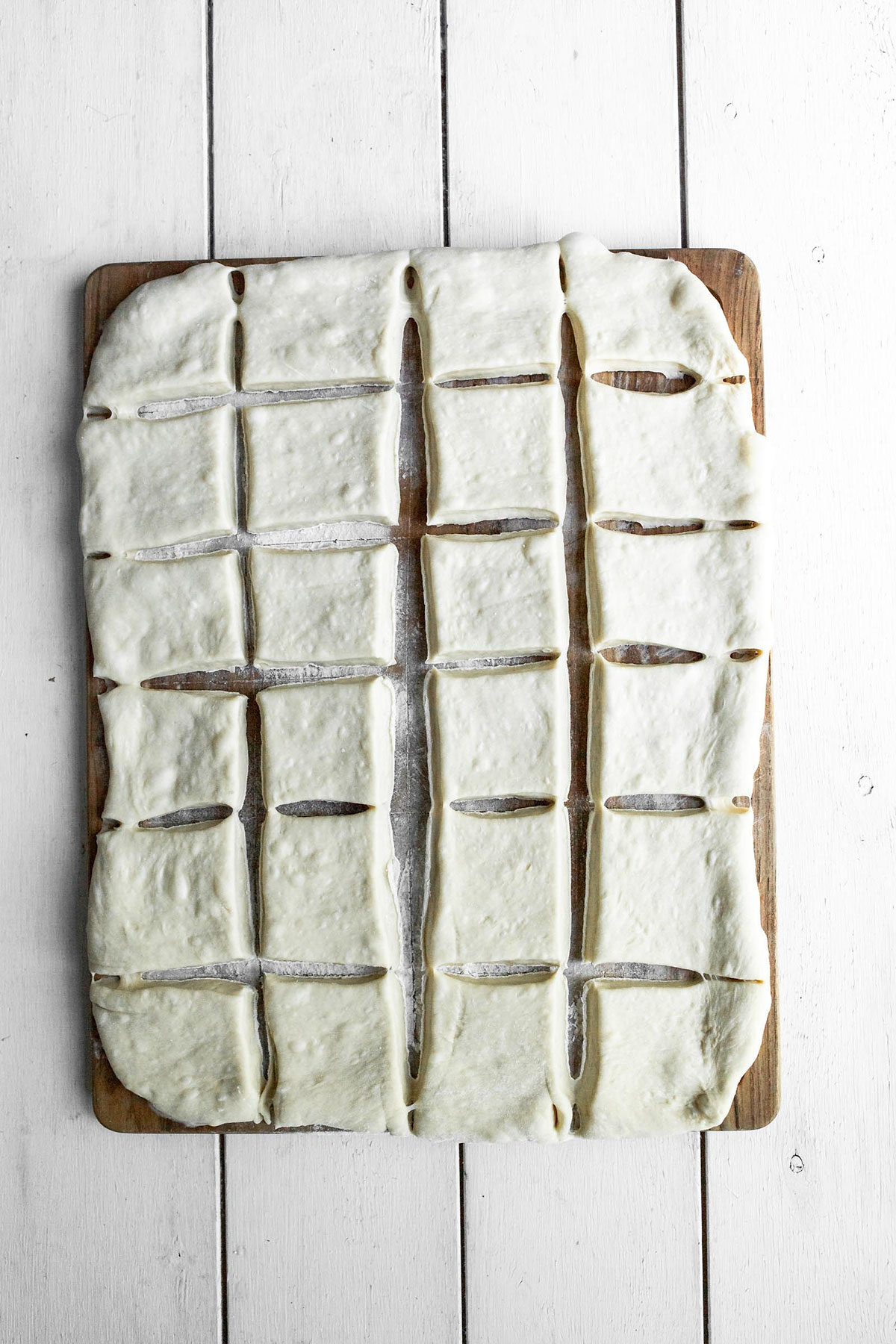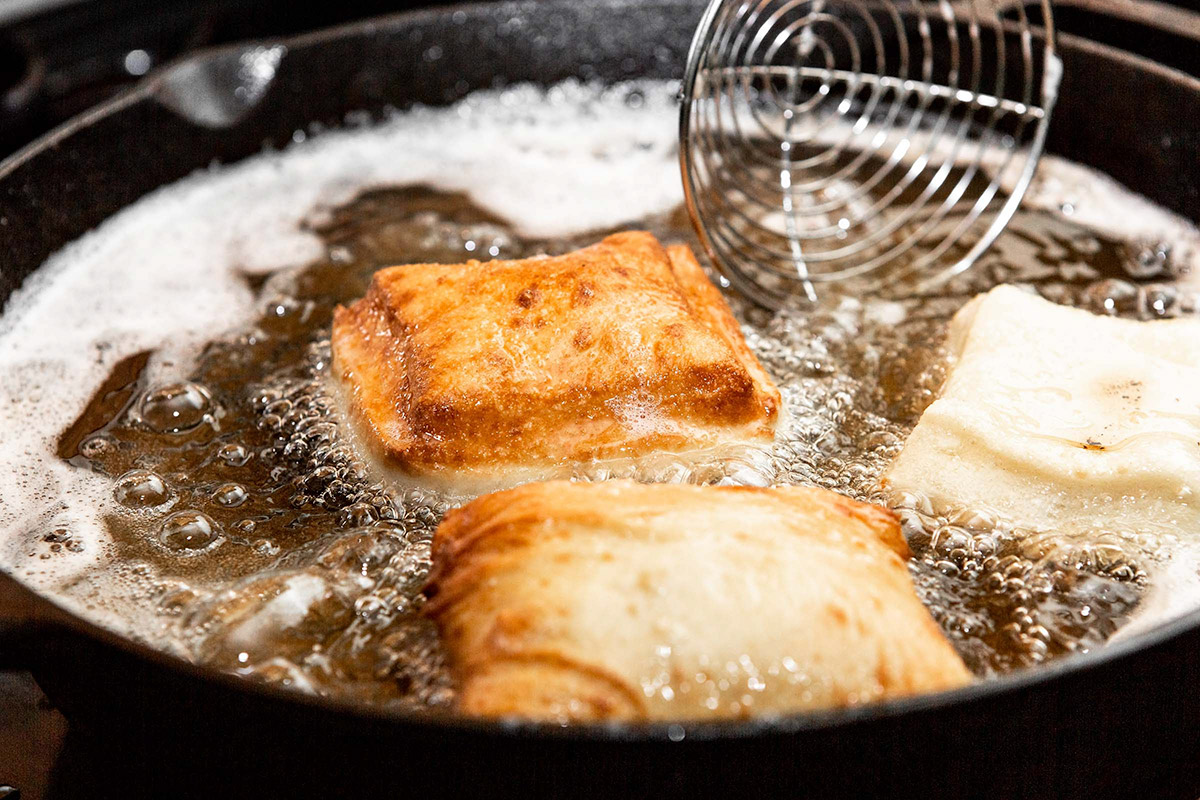 Top Tips and Recipe Variations
Storage – Cover in plastic wrap and store in the fridge, freezer, or pantry. In the fridge, they will last up to 2 weeks. In the freezer, they will last up to 3 months. In the pantry, they should last up to 5 days.
Reheating – If reheating from the fridge or pantry, simply heat in the microwave for a couple of seconds; it doesn't take much. If reheating from the freezer, let them come to room temperature on their own before heating in the microwave for a few seconds.
Other toppings – You can also top these pastries with some chocolate syrup or use it as a dipping sauce. You can do the same with caramel sauce or even marshmallow sauce. Fresh fruit is also a great topper for this dessert.
Can I keep the dough for later? You should be able to wrap the dough in plastic wrap and freeze it for later use. Be sure to let it thaw and rise before following the steps of punching it down and cutting it.
Is there a no yeast option? – I do not have a no yeast option for this recipe as it's vital to the rising and softness of the pastry.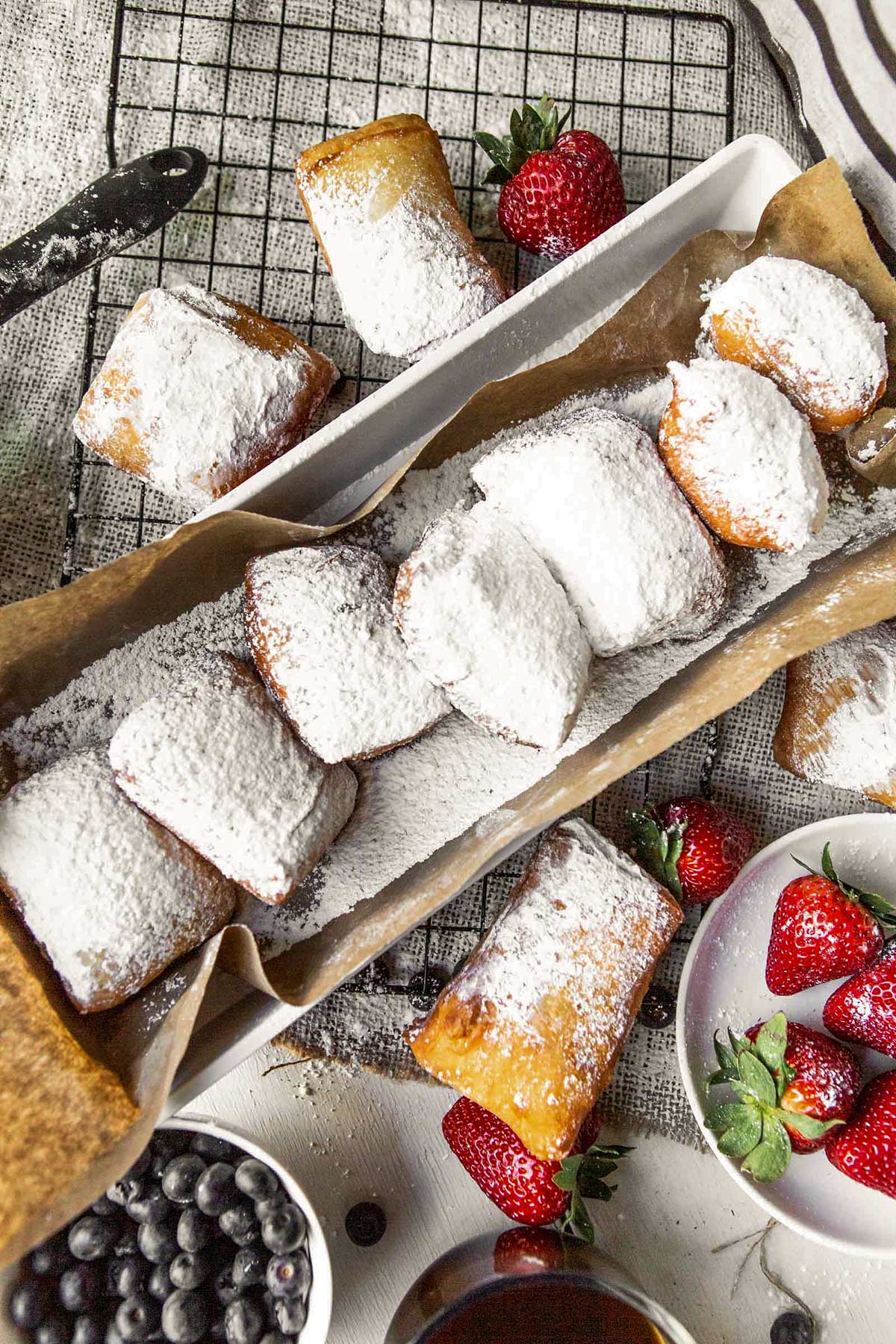 What is a Beignet from New Orleans?
This recipe is similar to the one they sell at Cafe du Monde in New Orleans. Even if you've had a beignet before, you haven't had a true beignet until you've hit up the French Quarter in New Orleans and tried their version. Although they use the same basic recipe as all other beignets, they've mastered the process to produce the perfect outcome. It's on my bucket list and you should definitely think about adding it to yours.
What is the Difference Between a Donut and a Beignet?
Donuts and beignets are very similar in that they're fried dough with a "dressing" on the outside like confectioner's sugar. However, beignets tend to be a bit chewier and heartier than a traditional donut. Although there are many types of donuts these days, some have come to be more like beignets over the years. These Nutella Stuffed Donuts, for example, remind me a lot of beignets.
Go ahead and give these Beignets a whirl and let me know what you think in the comments below!   
More Pastry Style Recipes You're Sure to Love:
You can find more delicious recipes and cooking tutorial videos on Youtube and Facebook.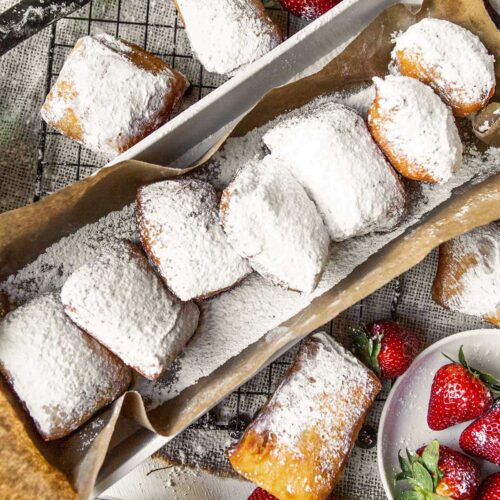 Print Recipe
Pin Recipe
Delicious yeast homemade beignets are just as good as the ones on the streets of New Orleans. Try these sweet treats for a weekend breakfast or brunch!
Ingredients
2

tsp

dry active yeast

1/2

cup

white sugar

1 1/2

cups

warm water

pinch

of salt

2

eggs

1

cup

evaporated milk

1/4

cup

shortening

5 1/2

cups

bread flour

Powdered Sugar to Taste
Instructions
In a large bowl, dissolve the dry active yeast in warm water. Add a tsp of sugar and let it sit for about 10-15 minutes

In a separate bowl, add the condensed milk, eggs, and remaining sugar and mix.

Add the wet ingredients to the yeast mixture and give it a whisk.

Add half of the bread flour and the shortening and mix

Add the remaining flour and mix until well incorporated

Beat until nice and smooth, you want a soft, slightly sticky ball of dough

Turn onto a floured surface, knead until smooth and elastic

Place in a greased bowl, turning once to grease the top, cover and let it rise in a warm place for 2 hours

Punch dough down, Turn onto a floured surface, roll the dough out with your floured rolling pin and then cut into small squares or rectangles.

Fry in vegetable oil for about 2-3 minutes on each side

Sprinkle with powdered sugar and enjoy!
Nutrition
Calories:
318
kcal
|
Carbohydrates:
52
g
|
Protein:
9
g
|
Fat:
7
g
|
Saturated Fat:
2
g
|
Cholesterol:
33
mg
|
Sodium:
34
mg
|
Potassium:
138
mg
|
Fiber:
1
g
|
Sugar:
10
g
|
Vitamin A:
90
IU
|
Vitamin C:
0.4
mg
|
Calcium:
68
mg
|
Iron:
0.7
mg