Impress your family with this amazing Honey Roasted Chicken Recipe for dinner! It takes a few ingredients and is much easier than it looks. A classically stuffed, whole chicken, with a spicy, honey sauce to top it off and bring it to perfection.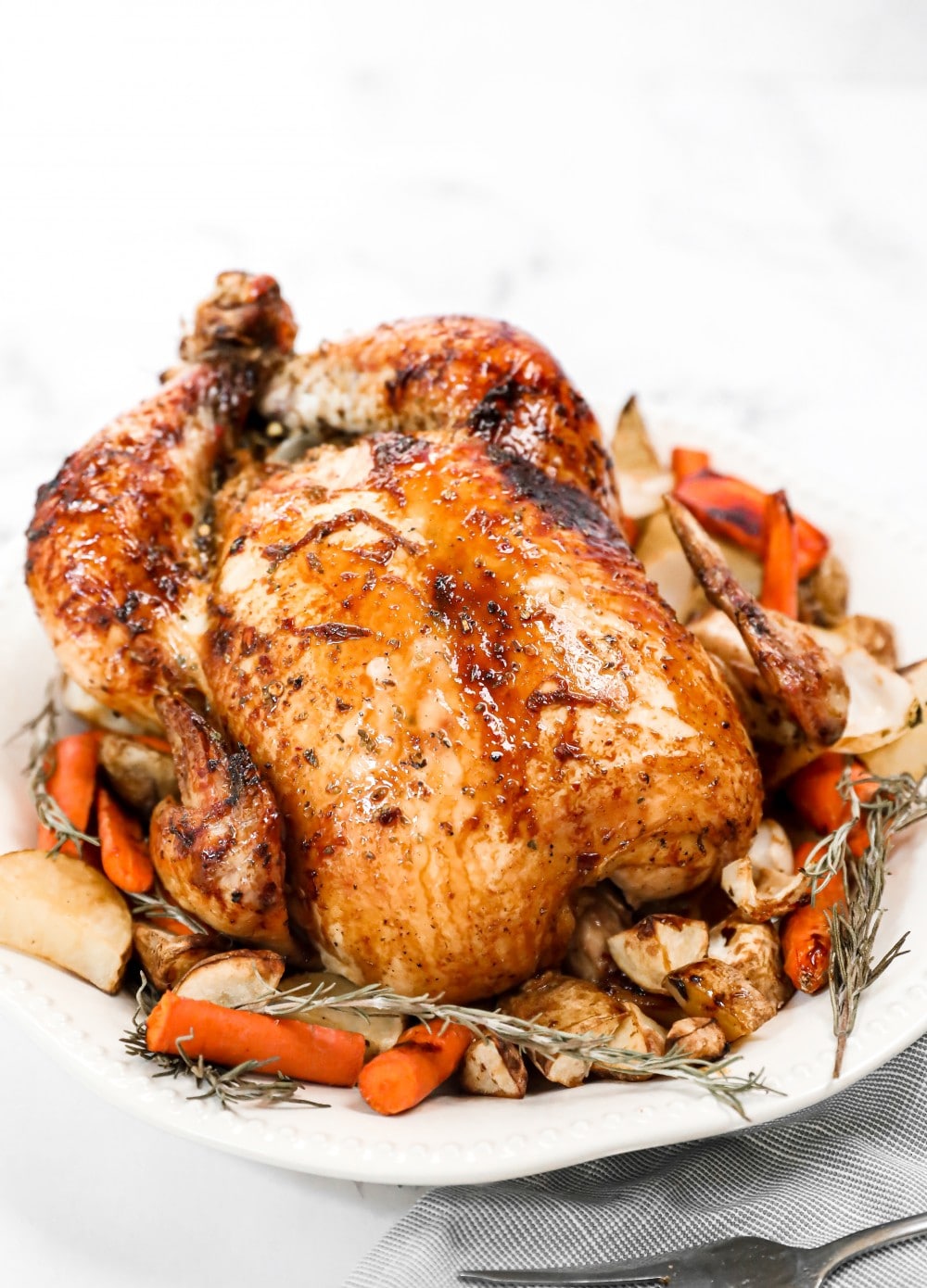 Have you ever been intimated by attempting to cook a whole chicken or turkey? I will be honest and say that the first couple of times I did it, I felt so lost. It was new territory for me, but I knew if I got it right, it would be worth the learning curve. Boy, was I right! It took very little time at all to get the steps down since there are only a couple. Once I figured out how to prepare the chicken, the rest was a breeze and I haven't looked back since.
Fast forward and I'm making so many delicious recipes including whole turkeys and chickens, I'm unstoppable! Two of my favorites are this Maple Glazed Turkey Breast and Thanksgiving Roasted Turkey. Pair that with my Creamy Mashed Potatoes, Creamed Corn, and Loaded Mac & Cheese, and you've got a meal that will blow people away. Tiny newsflash…you don't have to wait until the holidays to make these amazing meals!
How To Make Honey Roasted Chicken 
Prep – Preheat the oven to 375 degrees and remove the giblets and excess fat from the chicken.
Prep the chicken – Pat the chicken dry and stuff the chicken with onions and garlic.
Butter the chicken – In a small bowl, combine the butter, rosemary, oregano, thyme, salt, and pepper. Rub the mixture over the chicken, then salt and pepper it generously. Tie the legs and tuck the wings.
Bake – Cover the chicken in foil and bake for 45 minutes.
Make the chili mixture – In a small bowl, combine the chili flakes, soy sauce, and honey. Coat the entire chicken then bake again for 30 more minutes.
Rest and serve – Allow the chicken to rest once outside the oven for about 15 minutes then serve and enjoy!
Top Tips 
Stuff the chicken with more ingredients – You can always add items such as celery or carrots to the inside of the chicken as well. This will add more flavor and more veggies to the dish.
Use other seasonings – You can always swap out my seasoning mixture and use other herbs and seasonings if desired. There are some great seasoning mixes you can get at most grocery stores.
Make it mild – If you don't want it to be spicy, you can remove the chili flakes from the glaze.
My chicken is dry – If your chicken is dried out, you can try injecting it with melted butter before cooking. Sometimes overcooking it will make it dry no matter what you do, so be sure not to overcook it.
I don't see any giblets – Sometimes, whole chickens come with these already removed. So, don't worry if you don't spot any.
Adjust cooking time based on the size of chicken – Whole chickens can vary in weight widely, which means you'll need to adjust the cooking time accordingly. You'll know a chicken is finished cooking once the juices run clear.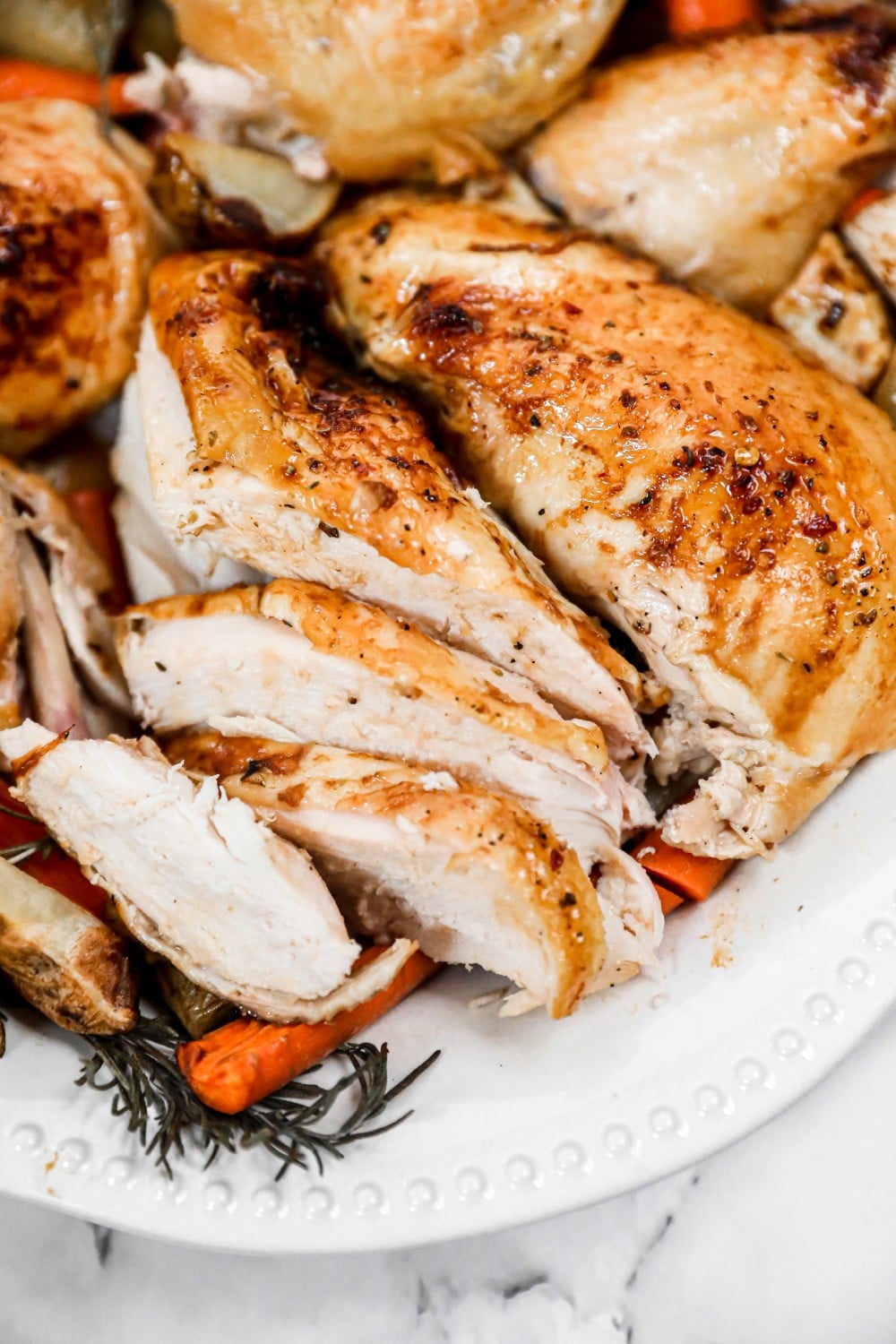 Storage and Reheating 
Fridge – If placing in the fridge whole, cover with plastic or aluminum foil for up to 3 days. For best storage, slice the chicken completely into pieces and store in a sealed container for up to 3 days.
Freezer – Freeze after sliced in an airtight container for up to 2 months. I would not suggest freezing it whole once it's been cooked.
Reheating – Reheat in the oven or microwave.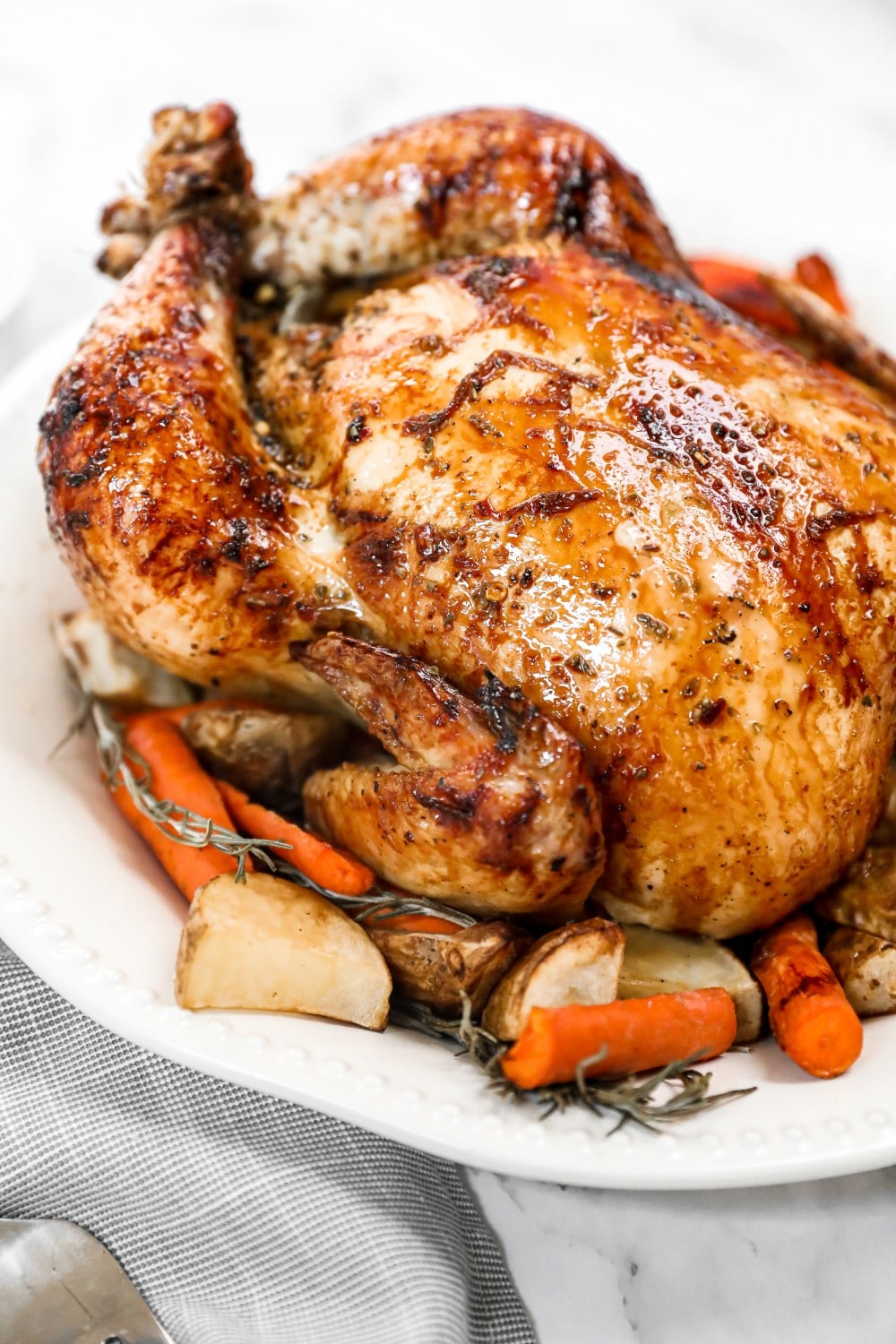 What To Serve This With…
I listed a couple of options above for great sides, however, there are quite a few more that go with honey roasted chicken. Let me start by saying that salads of all kinds are always a perfect side for dishes like this one. Some of my go-tos are Vegetable Salad with Homemade Italian Dressing, Paneer Salad, or Tomato Avocado Salad.
It's never a bad idea to go with a potato side either. My Sweet Potato Casserole, Roasted Garlic Potatoes, and Cheddar Garlic Mashed Potatoes are always a hit!
When in doubt, go with a bread side as it's always perfect for soaking up extra juices or complimenting a hearty meal. Some tasty ideas are my Spinach Artichoke Dip Bread, Honey Jalapeno Cheddar Cornbread, or my Cheesy Garlic Monkey Bread. You can't go wrong with any of these choices!
You can also find other delicious recipes and cooking tutorial videos on Youtube and Facebook.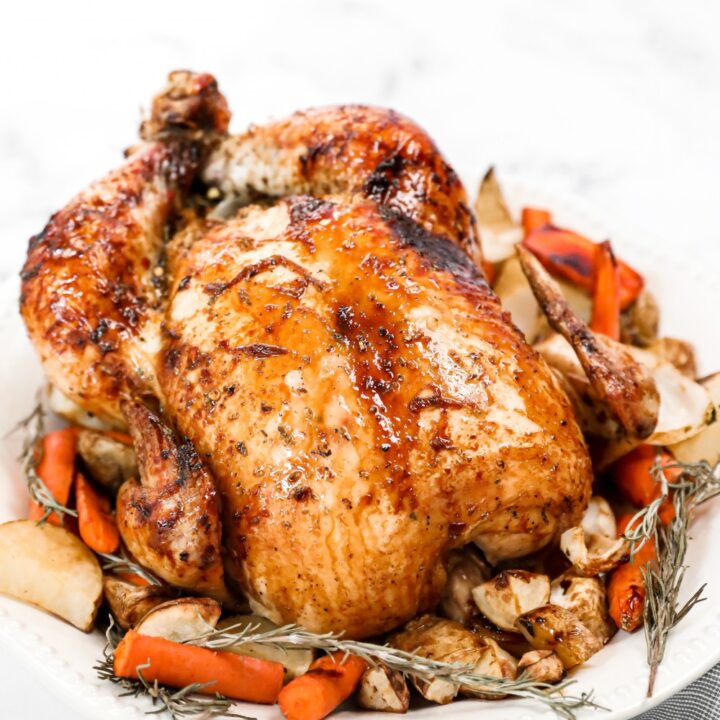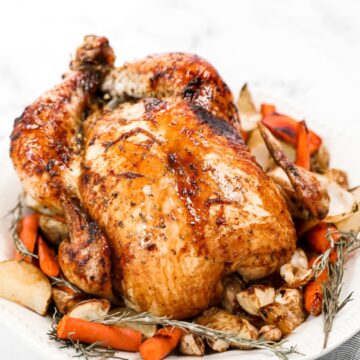 Print Recipe
Pin Recipe
This honey glazed chicken is roasted to perfection with crispy skin and super moist meat. No more dried out roasted chicken, not with this recipe! Serve with creamy mashed potatoes and veggies for a delicious chicken dinner.
Ingredients
5-6

lb

Chicken

4

tbsp

softened butter

1

tsp

dry thyme

2

tsp

dry oregano

2

tsp

dry rosemary

1

cup

honey

2

tbsp

soy sauce

1

tbsp

red chili flakes

1

onion

2

cloves

garlic

salt and pepper to taste
Instructions
Preheat oven to 375 degrees F.

Remove the chicken giblets and excess fat.

Pat the outside of the chicken dry and set aside.

In a small bowl, combine the softened butter, dry thyme, dry rosemary, oregano, salt and pepper.

Stuff the cavity with onions and garlic.

Smear the prepared butter all over the chicken and then season generously with salt and pepper.

Tie the legs together with kitchen twine and tuck the wings under the chicken.

Cover the breast with aluminum foil and place in the oven for 45 minutes

While the chicken cooks, combine the honey, soy sauce, and red chili flakes in a small bowl.

Brush the honey soy all over the chicken and cook for an additional 30 minutes or until the juices run clear.

Remove the chicken from the oven to a platter and let it rest covered for 15 minutes.

Serve with vegetables and mashed potatoes for maximum delight.
Nutrition
Calories:
484
kcal
|
Carbohydrates:
37
g
|
Protein:
26
g
|
Fat:
26
g
|
Saturated Fat:
9
g
|
Cholesterol:
117
mg
|
Sodium:
416
mg
|
Potassium:
328
mg
|
Sugar:
35
g
|
Vitamin A:
665
IU
|
Vitamin C:
3.6
mg
|
Calcium:
27
mg
|
Iron:
1.7
mg