Get the best of multiple worlds when you create this shrimp pesto pasta recipe. A classic Italian dish with a seafood twist and neverending flavor. Fresh basil, parmesan cheese, perfectly cooked pasta, and delectable shrimp come together to make the perfect dinner.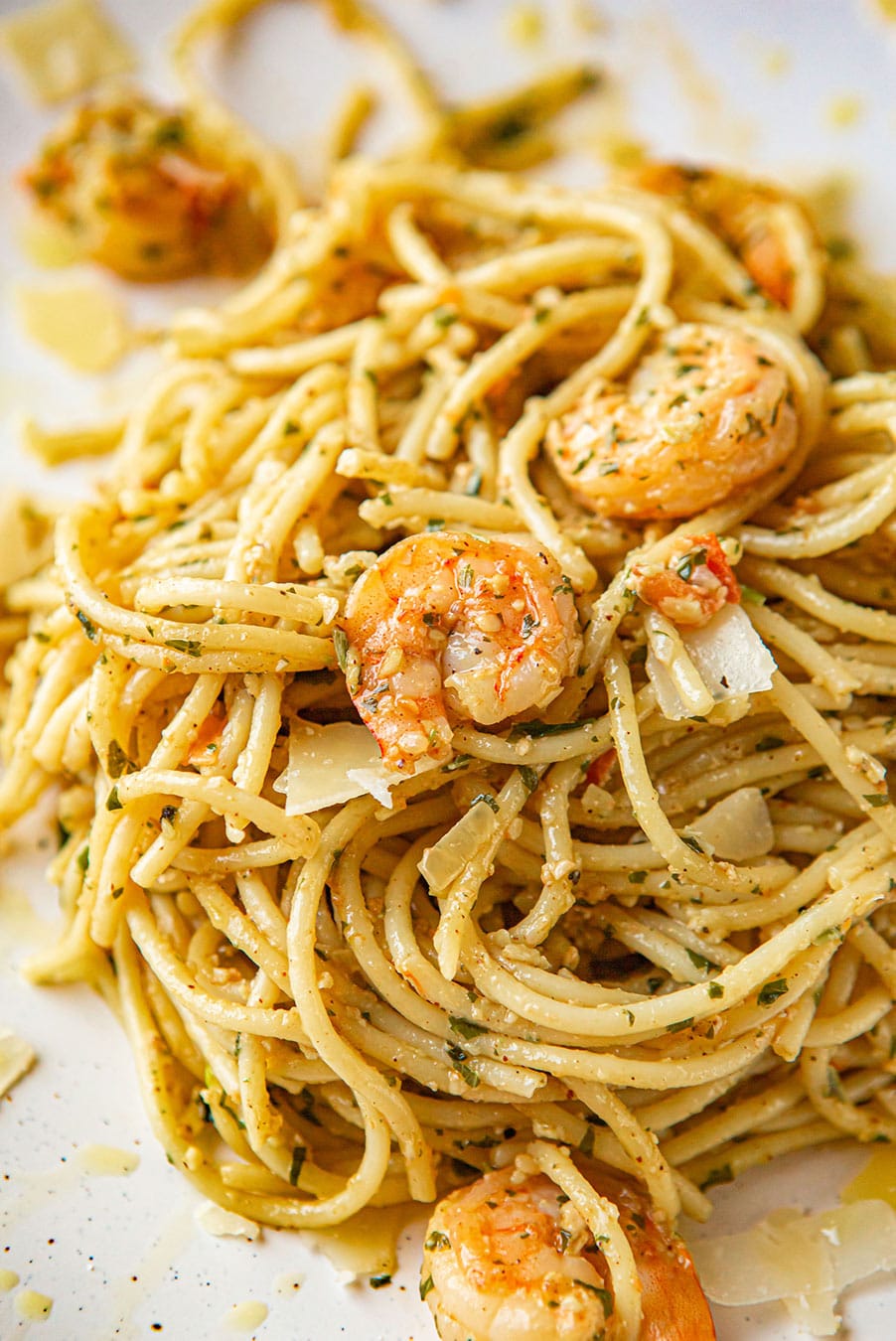 Looking at my recipe list, it's no secret that I'm obsessed with pasta and seafood. I often mix the two like this recipe, my Creamy Shrimp Alfredo Pasta, or my Instant Pot Shrimp Alfredo Pasta. There are countless more delicious and addicting recipes to choose from, but you get the idea. In my opinion, pasta and seafood were meant for each other and make quite the perfect pair.
Can I just admit that my homemade pesto is some of the best I've ever had? I'm a big fan of homemade options over other options already, so that could be part of it. Either way, I'm pretty sure you're going to love this pesto shrimp spaghetti.
How to make
Make the pesto – Cook the pine nuts in a skillet for one minute. Combine all the pesto ingredients except the oil, in a blender. As they blend, drizzle the olive oil in the feed tube. Add salt and pepper.
Make the shrimp – Heat butter and oil in a skillet until the butter fully melts. Add the onions. Cook until translucent. Add the shrimp. Season and cook for 2 minutes on each side.
Add the rest – Add the pesto and cook for 1 minute. Add the cream and tomatoes. Cook for 15 seconds and toss in the pasta. Stir and serve!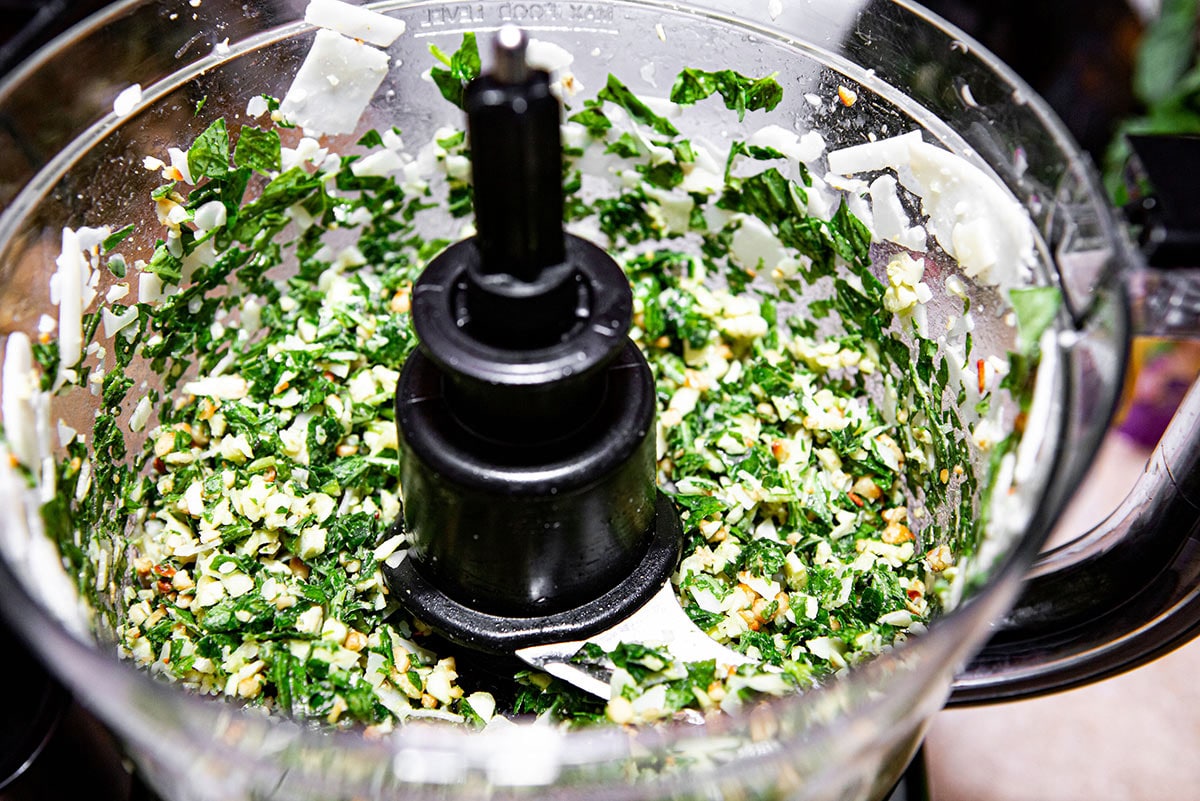 What pasta is best with pesto?
Pesto is often served over pasta more than anything. You can use any pasta you like. I often like using spaghetti or short pasta such as bowtie, penne, elbow macaroni, etc. It also tastes amazing when added to bread or used as a dip. Cheesy Garlic Bread is one of my favorites to eat it with.
Is pesto healthy?
Pesto sauce is made with all fresh ingredients and is a very healthy recipe! Of course, every recipe is different. However, pesto, across the board, is usually quite healthy. If salt is included, you can always omit it to reduce the sodium intake. This will make it even healthier.
Top tips for the perfect shrimp pesto pasta
Use other pasta – If you don't have spaghetti on hand, you can use just about any other pasta. If you want pasta similar to spaghetti, you can use linguine or angel hair pasta. If you don't care if it's similar to spaghetti, you can use short pasta such as rigatoni, corkscrew, penne, etc.
Make it spicy – You can add some crushed red peppers to the pesto or straight to the pain with the rest of the ingredients. This will add a spicy kick to your dish.
Olive oil substitute – If you prefer an oil other than olive, you can use sunflower oil, avocado oil, coconut oil, vegetable oil, etc. I do love my avocado oil and use it quite often in place of my olive oil.
What sides can I serve with pesto shrimp spaghetti? – Some classic Italian sides would be a great idea! I love serving this

Keto Cheese Bread

,

Spinach Artichoke Dip Bread

,

Cheesy Garlic Monkey Bread

, or these

Cheese Garlic Biscuits

. You can never go wrong with a nice salad either, like this

Vegetable Salad with Homemade Italian Dressing

,

Paneer Salad

, or

Tomato Avocado Salad

.
Storage
Store in the fridge in an airtight container for up to 4 days. I do not suggest freezing this pesto pasta. The texture of the pasta changes and I'm not a huge fan of the flavor change in the shrimp after being frozen. Simply reheat using the microwave. To keep the pasta moist, you can lay a damp paper towel over the top of the plate when heating.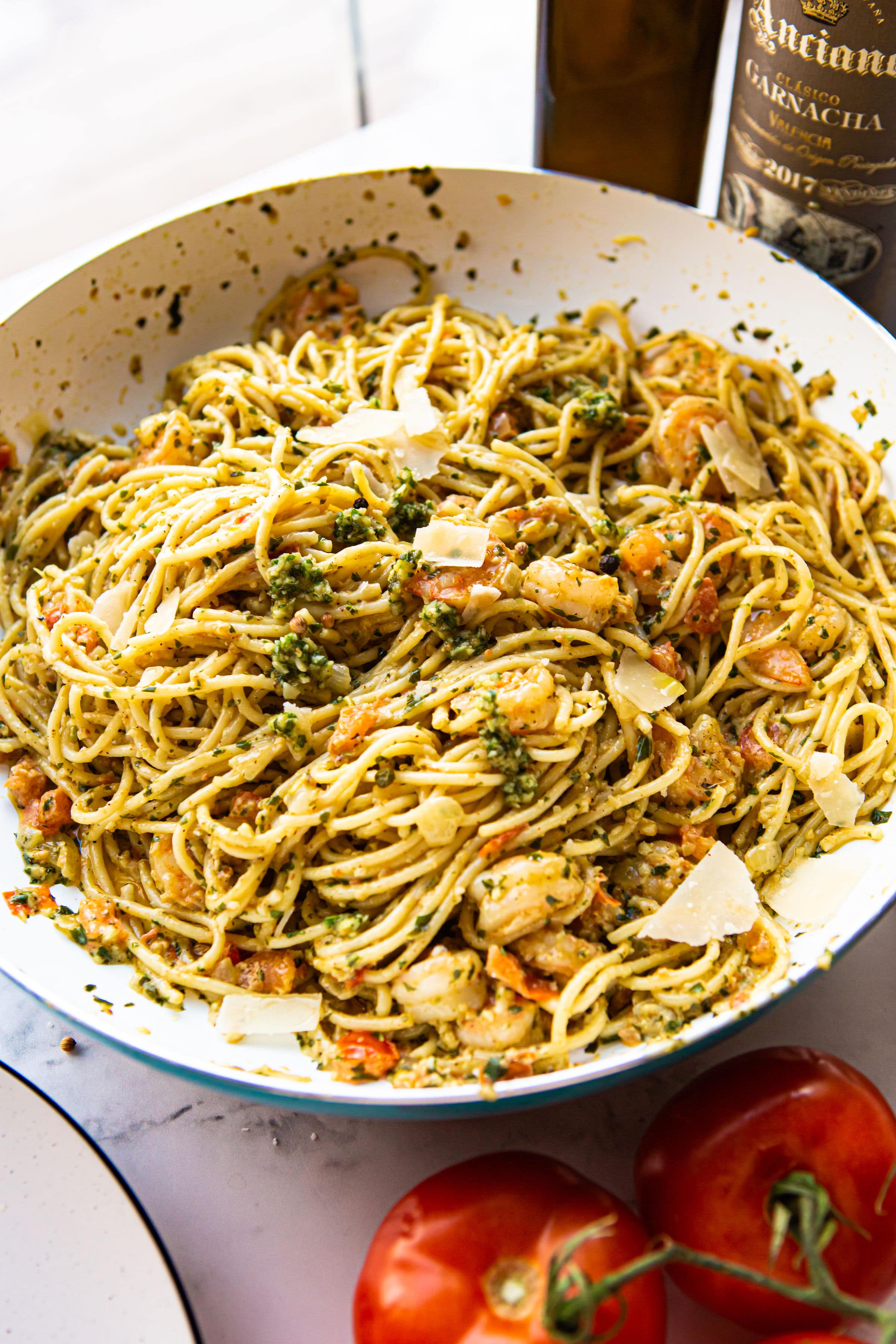 If you love pasta recipes then you will love this creamy chicken and bacon pasta. This buffalo chicken pasta is another reader favorite. You can find more delicious recipes and cooking tutorial videos on Youtube and Facebook.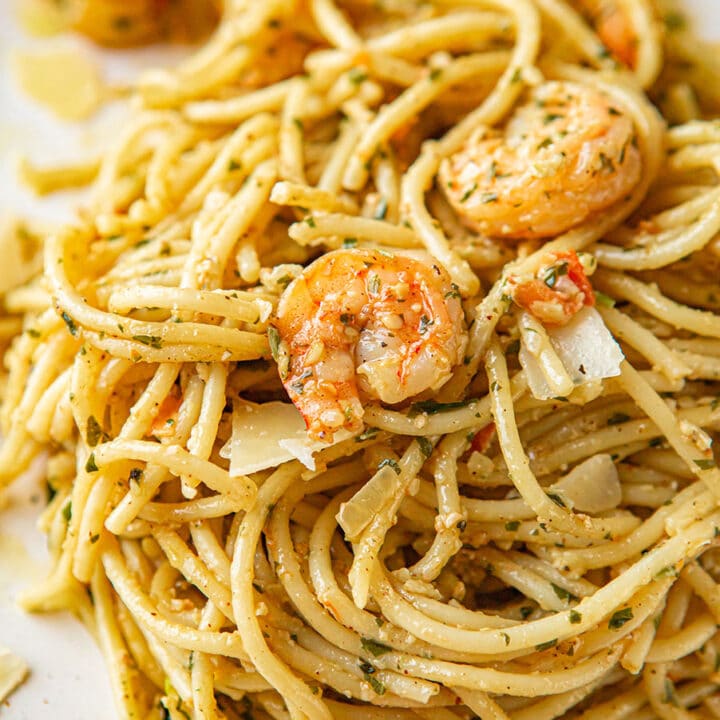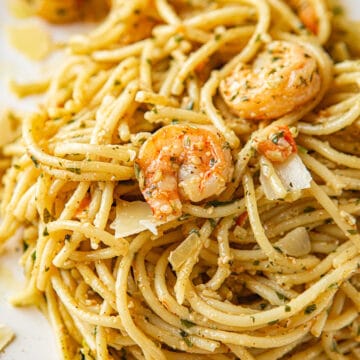 Print Recipe
Pin Recipe
Nothing better than coating some pasta and shrimp in homemade pesto.
Ingredients
1/2

lb

shrimp

1

tbsp

heavy cream

1

small onion

1

small tomato diced

1/2

tsp

chili powder

1/2

lb

spaghetti

salt and pepper to taste
Pesto
2

cups

fresh basil leaves

2

garlic cloves

1/2

tbsp

lemon juice

2/3

cup

olive oil

1/4

cup

pine nuts

1/2

cup

parmesan cheese

salt and pepper to taste
Instructions
Cook the pine nuts in a small skillet over medium-high heat for about 1 minute.

To make the pesto, place the basil, pine nuts, garlic, lemon juice, and parmesan cheese in a food processor and blend.

While the mixture blends, drizzle the olive oil through the feed tube.

Place the pesto in a bowl, season with salt and pepper and set aside.

Heat some oil and butter in a large skillet over medium heat and cook until the butter melts completely.

Place the onions in the skillet and cook for 3 minutes or until translucent.

Add the shrimp to the skillet, season with salt, pepper, and chili powder.

Cook the shrimp for about 2 minutes on each side then add the pesto to the skillet.

Cook the pesto along with the shrimp for about 1 minute.

Once the pesto is nice and hot, add the heavy cream.

Add the tomatoes and cook for 15 seconds.

Stir in the spaghetti and mix until the spaghetti is well coated with the pesto.

Serve with extra parmesan cheese and enjoy!
Nutrition
Calories:
767
kcal
|
Carbohydrates:
45
g
|
Protein:
36
g
|
Fat:
48
g
|
Saturated Fat:
8
g
|
Cholesterol:
299
mg
|
Sodium:
1093
mg
|
Potassium:
314
mg
|
Fiber:
2
g
|
Sugar:
2
g
|
Vitamin A:
885
IU
|
Vitamin C:
8
mg
|
Calcium:
348
mg
|
Iron:
4.4
mg